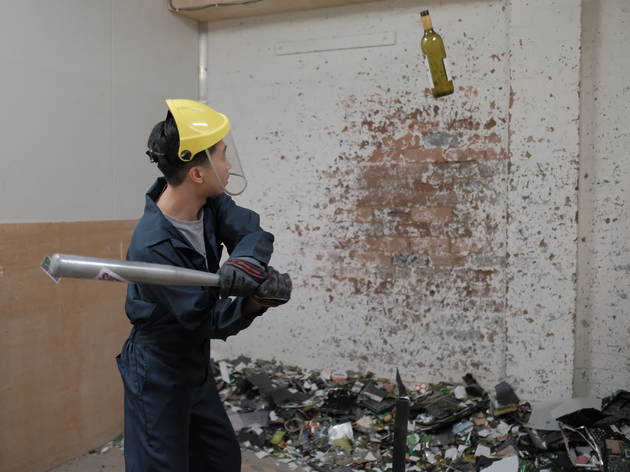 Time Out says
Pick up your trusty baseball bat, a milk crate of breakables and begin the onslaught
At the Smash Brothers break room you're encouraged to go berserk, smashing the hell out of glass bottles, crockery and electronics until the day's frustrations dissipate.
Kitted out in overalls, tough-man gloves and something similar to a welding mask, you enter one of the two small rooms on an adrenaline-fuelled solo mission. A standard evening of smashing includes one crate of old crockery and glassware (all sourced from local recycling or waste), which you can stack up on the tee-ball stand and thwack into dust, as well as one larger object like a thick old television or mini fridge to rip into.
On our visit we opted for one of their additional inclusions: an old laptop, which we remembered struggling with throughout high school (payback time). Extras like keyboards, printers and flat screens will cost you anywhere between $5-$45, on top of your $40 fee for the ten-minute session (or go as a couple for $70).
The wounded walls inside a warehouse hidden in the back streets of Kogarah clearly show the growing popularity of this liberating activity. The space below the wall you're aiming at is littered with murdered beer bottles and broken plates from smashers past.
One of the company co-founders Johnny Li says they'd originally planned the experience as a three-month pop-up, but now hope to keep the break room open and even expand to meet the city's demand for breaking stuff. He says they see groups getting their work frustrations out, but also welcome many couples and families – it's an over 18s adventure – into the break room.
"It's all about the fun and the adrenaline rush, but some are here to be angry and break stuff and you can see the difference," says Li.
Smash Brothers emerged from lunchtime office banter between Li and his now business partner Russell Dunn. The two work in digital marketing and saw a space for this new stress-relieving outlet for busy Sydneysiders. Plus they just love smashing things.
"At the very beginning, we couldn't believe we were talking about starting a business where you break stuff. Normally people are like – let's start an accounting firm or restaurant – but yeah, we're just breaking stuff."
Li still recommends all the normal wellbeing activities – jogging, yoga and the gym – but says this is a rather special cathartic experience.
"It's the kind of activity which people can't do daily. You can break stuff without feeling guilty or having to clean it up."
Details
Address:
2/1
Phillips Rd
Kogarah
Sydney
2217

Price:
$40
Contact:
Opening hours:
Friday 6.30-10.30pm; Sat, Sun 10am-6.30pm
Best selling Time Out Offers