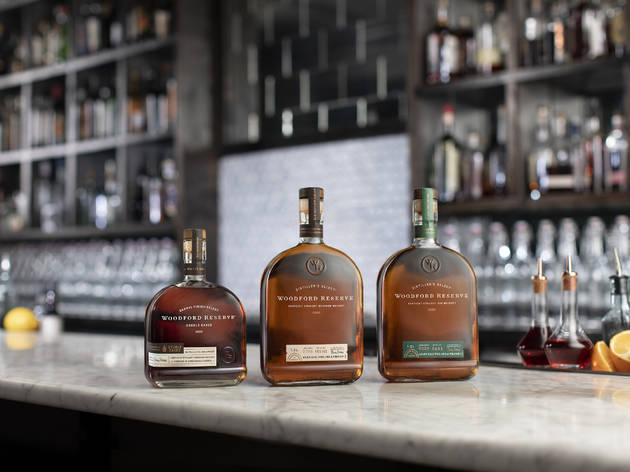 Snap your homemade cocktail to win the Woodford Reserve range
Join us on our live cocktail masterclasses on Instagram and show us your own drinks for the chance to win primo bottles of whiskey
Like a lot of us, you're probably wondering what to do with all the time you have at home at the moment. We've seen so many people bake sourdough loaves and embark on DIY projects big and small, but have you thought about putting that energy into making bar-quality cocktails at home?
Trust us, it's doable. And we want you to give it a go, which is why we've partnered with Woodford Reserve to bring you three live cocktail masterclasses on Instagram. Every Friday, we'll be going live with expert mixologist and Woodford Reserve brand ambassador Thalita Alves. Alves will be showing us how you can make a whiskey cocktail at home while giving us some background info on American whiskey and Woodford Reserve. Prop your phone up in the kitchen (or wherever you designate your home bar) and follow along. Can't make it? No worries, we'll be sharing the video on IGTV for you to catch up.
Alongside our weekly cocktail masterclasses with Woodford Reserve, we're also hosting a little competition to test your skills and create a fun at-home cocktail community while we're at it.
Simply snap a pic of your Woodford Reserve cocktail once you've participated in Alves' masterclass and share it on your own Instagram account using the hashtag #WoodfordReserveFridays. Don't have a bottle of Woodford Reserve? You're going to want to hop over to BoozeBud tout de suite to get one. They will deliver your Woodford Reserve in around one business day (depending on where you live) and are offering a ten per cent discount if you enter the special code "TIMEIN" at checkout.
We'll pick the winning Instagram post from this cocktail competition on Monday May 18 and Woodford Reserve will reward you with a stellar Woodford Reserve set worth a total of $231 RRP so you can make more bar-quality cocktails at home. The set includes:
- Woodford Reserve Distiller's Select, Kentucky Straight Bourbon
- Woodford Reserve Double Oaked, Kentucky Straight Bourbon
- Woodford Reserve, Kentucky Straight Rye
Make sure you tune into our cocktail masterclasses on Instagram and start making your Woodford Reserve cocktails!