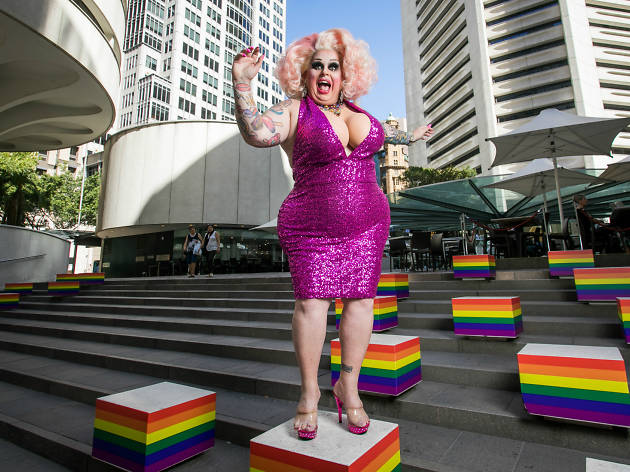 [Sponsored] The MLC Centre stairs have gone rainbow for Mardi Gras
Next time you're strolling through Martin Place you might notice a little more colour than usual. The MLC Centre stairs (which are jointly owned by the GPT Group and Dexus) have been transformed into quite literally every colour of the (pride) rainbow to celebrate and show support for the LGBTI community in the lead up to Mardi Gras 2018.
The stairs were unveiled by larger-than-life glamourpuss and drag queen Maxi Shield on Friday February 16 alongside members of the GPT Group's LGBTI Awareness and Diversity (GLAD) network. Just like Maxi Shield, the MLC Centre want to encourage the public to come down and enjoy the stairs with a couple (or a lot) of snaps to get in the Mardi Gras spirit.
The 2018 Mardi Gras marks the 40th anniversary of the iconic Sydney celebration. Since the first march in 1978 the event has evolved from protest to pride and now attracts thousands of visitors to Sydney every year for parties, performances, family events and of course the grand and glitzy Mardi Gras parade. The whole town turns multicoloured, with the MLC Centre stairs joining dozens of other public spaces that are decking themselves in rainbows for the festival.
Want to check out the pride stairs for yourself? They're available for Instagramming 24 hours a day, seven days a week outside the MLC Centre at Martin Place. You've got until Monday March 5 to take a selfie with the rainbow steps and show your support for the LGBTI community.