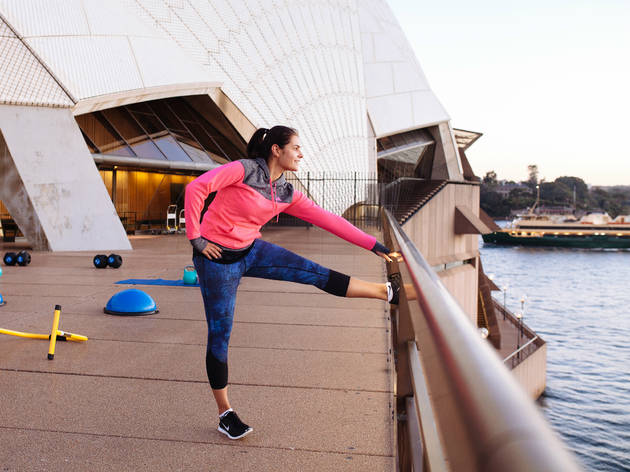 Salute the sun as it rises behind one of the most recognised buildings in the world
Sydney Opera House is launching a new series of fitness and wellbeing classes on weekday mornings. Starting in April and running until the end of May, the 60-minute workouts will take place on the steps of the House with views of the Botanic Gardens and Sydney Harbour.
You can book into high intensity interval training (HIIT) on Monday mornings, yoga on Tuesday and Thursday mornings and functional fitness classes on Wednesdays and Fridays. All classes start at 7am and cost $22 (or gratis if you work at the House). Plus, you get a 15 per cent discount on takeaway coffee and brekky at Opera Bar if you need a quick refuel before hitting the office.
The idea for Sunrise on the Steps came from Sydney Opera House CEO Louise Herron AM, who gets to work in one of the most recognised buildings in the world every day. As a yoga and fitness enthusiast, Herron wants to open up the space to other early risers and fitness fanatics to enjoy professionally-led classes in one of the best locations in the world.
These sessions are a trial for Sydney Opera House, so if you want to experience a training session on the steps of an icon it's advised to book in advance.