Sydney Cebu Lechon x Lechon Diva: A Filipino Feast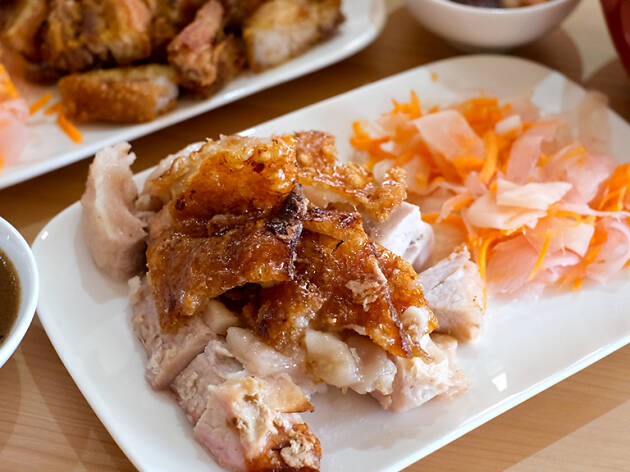 Time Out says
One of Manila's culinary superstars is collaborating with a renowned Sydney Filipino restaurant for a three-night pork-heavy extravaganza
With a long history that began as a catering company since 1991, Sydney Cebu Lechon opened the doors of its cosy corner eatery in Newtown just last year, and has attracted quite the buzz in the time since for its hero dish – Cebu-style lechon. The family-run business is known for serving up plates of spit-roasted whole suckling pig that's equally crisp and tender, inspired by the centrepiece of many Filipino celebrations. Now, they're teaming up with one of the Philippines' major talents, Dedet de la Fuente, whose winning take on the dish in a cooking competition (the Ultimate Taste Test, Manila's longest running taste event) gave rise to an affectionate alias, Lechon Diva, and made her something of a household name.
Beginning Monday, March 23, the Diva herself – owner of famed Manila restaurant Pepita's Kitchen – will bring her authentic Filipino flavours to the Inner West and join forces with Sydney Cebu Lechon for an exclusive dining event across three consecutive nights. The feast will consist of eight courses, kicking off with chircharon, or deep-fried pork rinds, and moving through hits like Cebuano chorizo fried rice, fried pork belly in spicy coconut curry and Fuente's signature suckling pig with truffle rice – which has earned thumbs-ups from Anthony Bourdain, Martha Stewart and Man v Food's Adam Richman.
Tickets cost $155 and include three rounds of housemade non-alcoholic drinks (think iced tea flavoured with calamansi fruit). There's only one sitting per night, commencing at 6pm, and they're limiting this one to just 22 seats – so if you're keen to roll up your sleeves and get some pork on your fork, don't delay.
Details
Users say