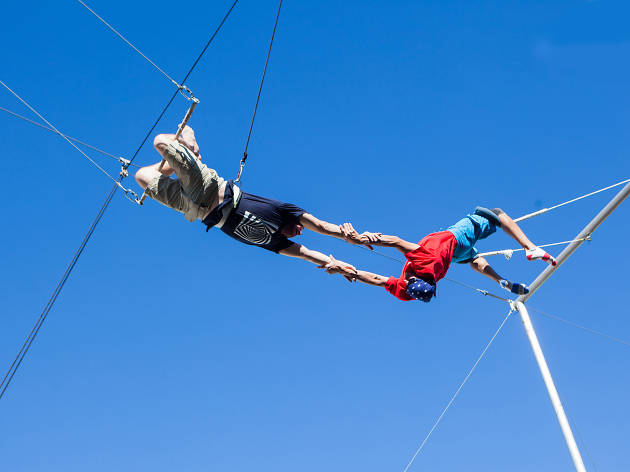 Sydney Olympic Park for adventure addicts
Test your skills and leave your comfort zone behind with wild rides and new sports experiences at Sydney Olympic Park
You'll want to pack gear to suit all terrains for your adrenaline-fuelled visit to Sydney Olympic Park. Feed your thrillseeking soul by getting active with extreme sports and adventures around the Park. You don't need to be an expert in any field – there's circus classes and BMX trails for every skill level – and you can enjoy an adventurous day of activities with friends or as a solo explorer.
Wake up
Photograph: Brandon Rooney
After a restful night at the Pullman at Sydney Olympic Park, burst into the day with an early morning dip at the Aquatic Centre. Beat your personal best in the competitive lap pool, or feel your heart thump into your throat as you leap from the ten-metre diving board. Sooth your hard-worked muscles in the sauna or spa, before returning to the hotel for a well-deserved buffet breakfast.
As you set out for your day of adventure, stop by Mellow Me Café and Dessert Bar for some takeaway caffeine. This relaxed joint also makes sweet treats that'll keep your blood sugar levels high enough for the day's activities.
Morning
Photograph: Brandon Rooney
The sun shining down on the green expanse of the archery fields is a beautiful sight, and clear skies will help you to start hitting bullseyes. An archery session at Sydney Olympic Park is a great way to start the day, bringing friends together with novelty group games and making you a stronger adventure team than Robin Hood and his Merry Men. Sessions run for two hours, teaching the basics of the sport and giving you free range on the field.
Midday
Photograph: Creative Commons
Keep the action going and tackle the courses at Urban Jungle. There are more than 50 tree-top ropes activities, flying foxes and aerial challenges to test your strength and ingenuity. It's suitable for all ages and skills, and you can get tangled in the trees any day of the week.
But if you can't get enough dizzying heights, run away to the circus. Well, to the Circus Arts activities and workshops, that is. Learn how to balance on the tightrope, juggle, hurl and twirl hula hoops and fly on the trapeze. Flinging yourself across an empty expanse is particularly daunting, but this heart-stopping experience is suitable for complete novices, and the expert staff keep you well secured at all times. You'll be doing backflips and straddle knee hang catches in no time at the one-and-a-half hour classes.
When your stomach stops churning, stop in at Abattoir Blues for one of their house-made pies with a rich injection of gravy. This local favourite is hidden in the heritage precinct and is a good spot to take stock of your adventures so far and prepare for an afternoon of fun.
Afternoon
Photograph: Supplied
Just because it's getting late doesn't mean you should start winding down. Instead, wind your way around some of Sydney Olympic Park's scenic cycling trails, or face your friends in a wild off-road race. Whether you're a slow-cruiser or a BMX Bandit, there's a circuit to suit your style. The BMX and Mountain X track is 250 metres of downhill fun for freestylers and racers that's open for free to the public outside of club event times. It's perfect for practicing your skills or just going-for-broke in one mad dash.
If you're not feeling up to it as the sun wanes, rent a bicycle and take a leisurely ride around the Park's more easy-going trails. Finish your day pedaling through the woodlands and wetlands on the River Heritage Circuit. Make the climb up the spiral trail of the Haslam's Creek Marker to catch the sunset over the whole Park and watch the city skyline start lighting up for the night.
Best selling Time Out Offers