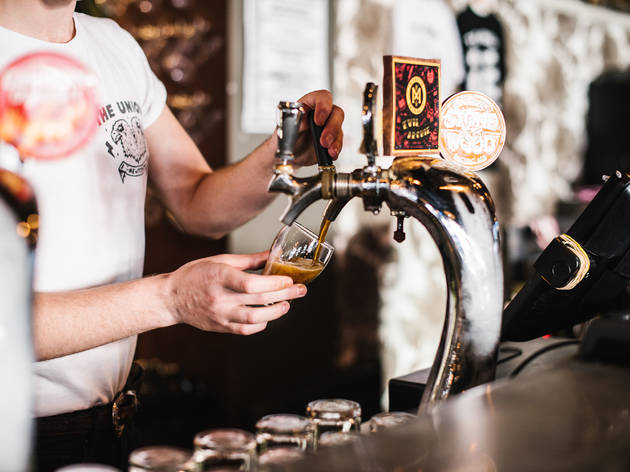 A two-day celebration of dark beers at Newtown's craft beer HQ
Step away from the light and into the shadows during the Union Hotel's Dark Nights series. Over one winter weekend, 40 dark beer kegs will be tapped, with 20 unveiled on Friday and then the next 20 the following day.
The full list of brews has been announced, and session and tasting paddles will be available from noon to 7pm. Jugs will also be available until close.
Friday beer list
1. Balter Brewing Company Alt Brown (5.2%)
2. Batch Brewing Company "Huge Kahuna" Brown Ale (7.8%)
3. Boatrocker Brewing Co. Stout (6%)
4. Brewtal Brewers "Brisbane Brown" (6.6%)
5. Bruny Island Cheese Co. & Bruny Island Beer Co. Whey Stout (6%)
6. Cavalier Brewing Chocolate Stout (8%)
7. Ekim Brewing Co "Vinlander" Porter (6.2%)
8. Feral Brewing Company "Boris" Russian Imperial Stout (9.1%)
9. Founders Brewing Co. "KBS" Kentucky Breakfast Stout (11.8%)
10. 4 Pines Brewing Company Nitro Stout (5.1%)
11. The Grifter Brewing Company "Banshee" Black Lager (4.6%)
12. KAIJU Beer "C'thulu" Black IPA (6.8%)
13. MOO BREW Dark Ale (5%)
14. Nail Brewing Imperial Brown (8%)
15. Prancing Pony Brewery "Hunt for the Red Velvet" Imperial Black IPA (9.5%)
16. Stockade Brew Co "Rare Ink" Session Stout (4.4%)
17. Thirsty Crow Vanilla Milk Stout (5.2%)
18. Wayward Brewing Company "Midnight Barley Cowboy" Hopped Porter (6%)
19. Yeastie Boys "Pot Kettle Black" South Pacific Porter (6%)
20. Young Henrys "Motorcycle Oil" Stout (5.8%)
Saturday beer list.
21. Akasha Brewing Company "Water Buffalo" Brown Ale (6.6%)
22. Big Shed Brewing Concern "Golden Stout Time" Sweet Stout (5.4%)
23. Black Brewing Co. "Bao Bao" Milk Stout (4.5%)
24. Cavalier Brewing Co. "Black + Tan" Roast toned Stout / Pale blend (6.5%)
25. Dainton Family Brewery Oatmeal Stout (5.5%)
26. Doctors Orders Brewing "Malpractice" India Stout (5%)
27. Founders Brewing Co. "Lizard of Koz" Imperial Stout (10.5%)
28. Founders Brewing Co. "Sumatra Mountain" Brown (9%)
29. The Grifter Brewing Company "Demon Lungs" Smoked Porter (5.6%)
30. Hairyman Brewery "Cory's Claim" Dark Ale (4.7%)
31. Holgate Brewhouse "Temptress" Chocolate Porter (5%)
32. Hop Nation / Big Shed Brewing Concern / Exit Brewing "Black Rhino Cherry Lips" Smoked Black Gose (5.5%)
33. Last Rites Brewing Company "Dead Man's Revenge" Black IPA (6.5%)
34. Merchant Brewing Co. "Smooth Sailor" Coconut Vanilla Porter (5.6%)
35. Mornington Peninsula Brewery Imperial Stout (2016 vintage 9.5%)
36. Pirate Life Brewing Stout (7.1%)
37. Thirsty Crow "Dark Alleyway" Black IPA (6.7%)
38. Valhalla Brewing Co "Obsidian" Black Ale (6.8%)
39. Woolshed Brewery "The Bunyip" Bourbon Barrel Aged River Imperial Stout (9.2%)
40. Yulli's Brews "Wally" Wattleseed Stout (6.4%)
Bottles/Cans (available all weekend)
41. Bad Shepherd Brewing Co. Hazelnut Brown
42. Batch Brewing "Elsie" The Milk Stout
43. Blackman's Brewery "Arthur" Porter
44. BrewDog "Jet Black Heart" Oatmeal Stout
45. The Brooklyn Brewery Brown Ale
46. Cavalier Brewing Brown Ale
47. Coopers Best Extra Stout
48. Feral Brewing "Karma Citra" India Black Ale
49. 4 Pines Brewing Company Cherry Coconut Brown Ale
50. La Sirène Brewing "Praline" Belgian Strong Dark Ale
51. Nail Brewing Stout
52. Stockade Brewing "The Mountie" Maple Imperial Stout
53. 3 Ravens Brewery Dark Ale