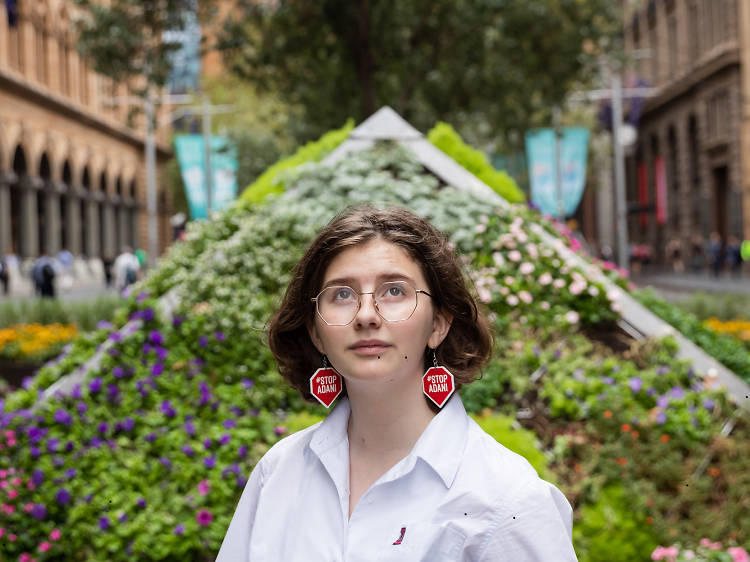 Photograph: Daniel Boud
16-year-old climate activist and lead organiser of School Strike 4 Climate Australia
"So many teenagers have been actively campaigning for climate action because we've grown up with climate change being an indisputable fact – it's never been up for debate in our lifetimes. We see it as this catastrophic issue but we also see our leaders doing nothing, year after year, so we're driven into action because that is an utterly terrifying position to be in. And I think on top of that, the younger a person is, the more they'll be impacted by the changing climate in the long term and the less of a voice they have right now, today. Even with so many young activists speaking out, we're consistently seeing young people's voices being ignored or downplayed, so protesting and demonstrating is really our only outlet to be heard and taken seriously.

"It's never been more important for young people to be informed about how our power structures are dealing with climate change. When someone in Australia turns 18, it's an obligation for them to vote, they are automatically given this democratic power. But it's not as if, on your 18th birthday you wake up and suddenly all this political knowledge is in your brain. So understanding and pursuing your political ideals before you reach voting age is so important, and it's actually something that comes naturally to many young people.
"At the Strike 4 Climate Action rally in the Domain last September [where 80,000 people attended], seeing so many people come out to support students and this movement was a surreal experience, it almost didn't feel real. But knowing the diversity of people showing up, it's shown that those willing to come to the street to fight for this cause aren't just young people anymore. We're seeing a lot of adults, a lot of businesspeople, a lot of elderly people as well as really young kids and families. It isn't just a single demographic of people who are showing up, it's everyone.
"The events of this summer have made it hard to feel anything but pessimistic. The one silver lining to these bushfires, which have been awful and tragic and such a terrible thing to happen, is that it's woken a lot of people up. I look at where we were a year ago when climate change wasn't the number one priority. Yes, it was discussed, but it wasn't the issue. It's not too late at this stage to change our climate policy and do something about this crisis. If this was happening in ten years time, we couldn't do anything about it, it would be far too late. Right now, there's still hope."