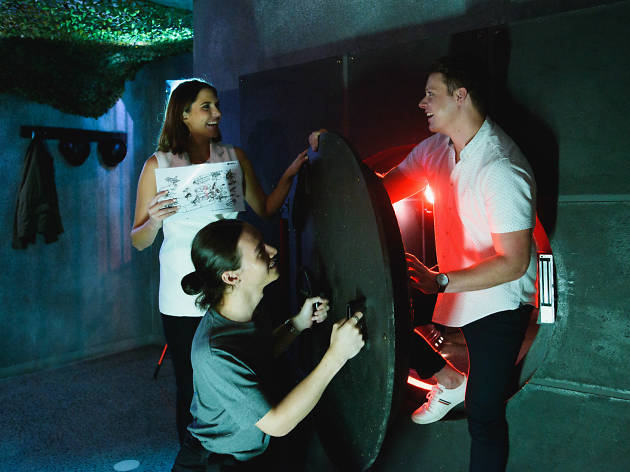 Two new puzzling escape rooms have landed in Sydney
These two new escape rooms at Kingpin aren't for the faint-hearted
The life of an escape room addict can be tough. Once you've completed every room in the city you're stuck waiting for a new one to open, or for a current one to be redone. Sydney escape rooms fans can rejoice for a little while at least because two new escape rooms have opened in the city.
Kingpin has added another attraction to their line-up, opening two new escape rooms at their North Strathfield location. The Cryptology Escape Rooms take a certain amount of devilish pride in bamboozling guests, with nine levels of difficulty ranging from 'too easy' to 'so hard it's off the scale'.
Ready to be bewildered? The first Kingpin escape room, 'Sweet Secrets', puts you inside the world's best chocolate factory high in the Swiss Alps. You'll need all your brainpower to find and steal the factory's secret recipe. Or perhaps you'd like a more traditional escape room experience, like the 'Hunter's Cabin'. After escaping from a storm inside an abandoned hunter's cabin you'll discover yourself trapped, and will need to escape if you don't want to become the next trophy.
What makes Cryptology Escape rooms a little different is their commitment to the craft. These escape rooms are exclusive to only two Kingpin locations Australia-wide – you'll only find them in North Strathfield and in Chermside, Brisbane.
If you've got some time on your hands after successfully escaping (or not) there's plenty more on offer at Kingpin North Strathfield. Aside from bowling the venue also has karaoke rooms, laser tag, table tennis and an arcade with over 100 arcade games you can have a go on. There's also a fully licensed bar and restaurant so you can fuel up before your escape room experience, or celebrate afterwards.
Are you up to the challenge? Cryptology Escape Rooms at Kingpin North Strathfield are open every day. Prices start at $100 per room and each room fits 2 to 6 participants, so gather the crew.
Best selling Time Out Offers