Uncover Tramsheds' street art history with an augmented reality app
Learn about the artists who once decorated the abandoned tram depot's walls, then investigate the modern culinary masters who now inhabit the space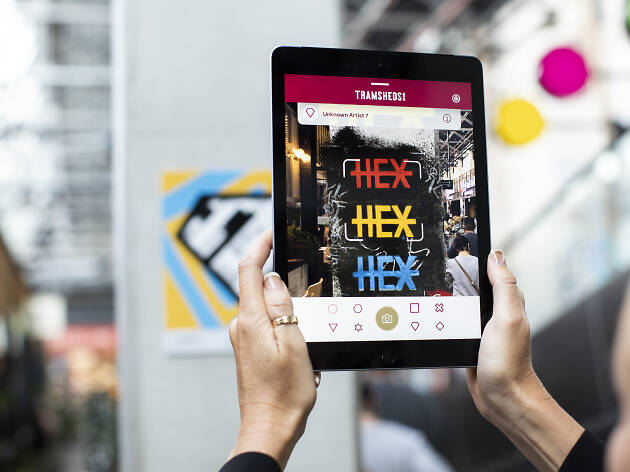 Before the Tramsheds was transformed into a super slick dining precinct housing big names in the Sydney food game like Bodega 1904, Flour Eggs Water, Butcher and the Farmer and Belles Hot Chicken, the dilapidated warehouse was a haven for local artists. The abandoned bricks and trams were adorned with exciting artworks and graffiti, making it a colourful home for creative minds and artistic expression.
Now, you can travel back to the early 2000s to see their creations and explore their stories through a new augmented reality (AR) experience as part of Tramsheds Uncovered. Before your next visit to the Tramsheds, access their new AR app through Google Play or Apple's App Store and wander around the precinct with your smart device to uncover the artworks which once covered the heritage building.
As you hover your smart device over walls throughout Tramsheds, you'll reveal the original artworks alongside information on how you can help Tramsheds identify the unknown artists and share their stories. By doing so you could win a $100 gift card to spend at one of the Tramsheds eateries, plus the knowledge you added will contribute to the wealth of information available on the app. All you need to do is share an image of the artwork on Instagram with the artist's name and #TramshedsUncovered, and you can win a meal at one of Tramsheds' fabulous restaurants.
If you're all about the food, you can also use the AR device to learn more about the vendors currently dishing up the goods at Tramsheds. By scanning the QR codes at venues, you'll get to learn even more about their operators, chefs and menus before you settle in for lunch. And if you follow the circular codes on the floor with your scanner, you'll be guided to new and exciting corners of the Tramsheds.
Head to the Tramsheds website for more information on Tramsheds Uncovered.