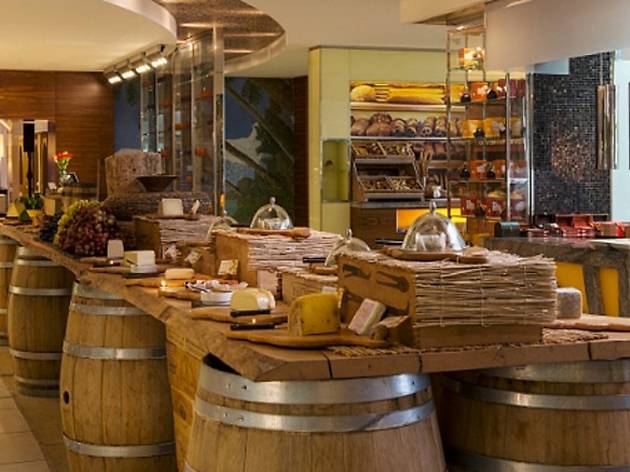 10 reasons why you should stop over in Dubai
Here's why you should spend a few days in this cosmopolitan Middle Eastern hub
Thanks to its unique location and plethora of things to see, eat and do, it's no wonder Dubai has become the world's hottest stopover destination for travellers. With onward connections to 38 European destinations through Dubai with Dubai-based international carrier, Emirates airline, it's also one of the most popular stopovers for Australians. Time Out gives you 10 reasons why you should spend a few days in this cosmopolitan Middle Eastern hub.
1. Friday brunch – the Dubai equivalent to a Sunday session
Friday is Dubai's first day of the weekend and the city's brunch scene has become the stuff of global fame. Across the city, find brunches that are elegant and others that are just a big party. The city's best, according to Time Out Dubai, is at Traiteur at Park Hyatt Dubai (+971 4 317 2222), where you'll even get to meander through the French eatery's kitchen and help yourself to delicious dishes. At Bubbalicious at The Westin Dubai Mina Seyahi (+971 4 399 4141), find a huge brunch that covers multiple venues, where three restaurants join forces to dish up almost every food imaginable. Among others, there's a sizeable sushi station, a cheese section, oyster bar, live Asian cooking stations, seafood galore, plenty of steaks and Brit grub, plus a huge dessert section with a dedicated chocolate table.
2. Experience an epic festival
Over the Australian summer, Dubai offers many cultural and arts festivals. Some of the best include the Dubai International Film Festival (December), which is an influential platform for Arab filmmakers and international talent, having established itself as a major annual event since its inception in 2004. It continues to serve as a premier showcase for Arab cinema while also screening films from across the globe. The 12-day Emirates Airline Festival of Literature (March) annually hosts around 150 authors. Guests can take part in literary discussions, listen to readings and get involved in workshops. At the 14th annual Emirates Airline Dubai Jazz Festival (Feb 24-26, 2016), you can expect legendary musicians from across the globe, with multi-Grammy-Award-winning US pop-rock band Toto headlining the opening night.
3. Learn something new
Some will try to tell you Dubai is only a few decades old – and they're wrong. While it's only developed into the cosmopolitan city it is today in the last few decades, people have been living and working in the region that Dubai currently stands for thousands of years. Get your cultural fix and learn something new with a visit to Dubai's historical district, Bur Dubai, and the Dubai Museum (+917 4 3531862) at the old Al Fahidi Fort (built in 1787), which is a great place to learn more.
4. Go cruising on a dhow along Dubai Creek
Dhows have been built in Dubai for thousands of years, but in the last two decades their purpose has evolved from one of trading and fishing to encompass more recreational pursuits. Book in with Arabian Adventures, which offers a Dhow dinner cruise, which includes a sumptuous Arabic buffet dinner as the boat sails silently beneath the moonlight.
5. Explore the epic food and drink scene
From coffee to clubbing, Dubai has everything for lovers of breakfast and legends on the dancefloor. For the ultimate Dubai caffeine fix, a visit simply must be paid to the Majilis Dubai coffee house. Here, sample drinks and pastries made with camel milk. For a great breakfast head to Book Munch, a small café in Al Wasl Square combining food (order the blueberry pancakes) with a love of literature. For lunch head to Baker and Spice (+971 4 425 2240) in Souk Al Bahar, where you'll find home-style, organic cuisine and cosy decor. Lush rooftop restaurant and late-night bar Iris sits on Level 25 of the Oberoi Dubai and in the early evening affords a regal view of downtown and the Burj Khalifa. The menu offers pub classics with a twist, such as Angus mini truffle burgers and aubergine tartine. Then hit Cirque Le Soir, a club kitted out like a circus, with podiums for dancers scattered around the venue. Performers such as fire-eaters, stilt walkers, sword swallowers and magicians give world-class performances all night.
6. See the Arabian Desert
If you've never experienced the desert, there's no better way to experience it for the first time than in Dubai. For something truly romantic and special, book a private desert dinner safari with Arabian Adventures, where trained safari guides driving 4x4 vehicles lead the thrilling journey – over the sand dunes, and through the Dubai Desert Conservation Reserve – deep into the heart of the desert. Then it's a change of pace, in the form of a leisurely camel ride, to a secluded spot where your personal tent, lit by flaming torches, awaits for a festive dinner.
7. Visit the world's tallest building
The Burj Khalifa (+971 4 366 1655) is the tallest artificial structure in the world, standing at 829 metres tall and a new novel way to see it is on the XDubai zipline (by special appointment), which goes from a high-rise tower on Emaar Boulevard to the rooftop of the Dubai Mall and over the Dubai Fountain. Once you are off, head on up to Level 148 of the Burj, where you will find 'At the Top', the world's highest outdoor observation deck with amazing views of Dubai and across the Arabian Gulf, spotting Emirates' A380 superjumbos taking off at Dubai International Airport.
8. Shop till you drop in the world's largest mall
It's no surprise Dubai is a haven for shopping. We'd recommend getting your shopping fix at the Dubai Mall, the world's largest shopping centre that's the size of 50 football fields and features 1,200 shops. Throughout January, Dubai will also host the Dubai Shopping Festival, which includes major deals across the entire city.
9. Be a kid at heart and visit an incredible water park
For most Aussies, a holiday isn't complete without some time by the beach or pool. Sprawling Aquaventure Waterpark (+971 4 426 2000) is a chance to cool down from the Dubai heat among the water rides and slides, to view sharks and rays, and relax on 700 metres of private beach. It's perfect for people travelling with kids and big kids alike.
10. Relax and get pampered
Dubai offers world-class spas. At the One&Only Royal Mirage's Spa, find one of the city's best Oriental Hammams, where you'll be treated like a sultan with a traditional black soap and clay body wrap treatment. At the Softouch Spa inside the Kempinski Hotel at the Mall of the Emirates, you can find ayurvedic massages and facials that are available 24 hours a day. If you're short on time, express 30-minute treatments are also on offer.
Getting there
With 77 flights a week from Australia to Dubai, Emirates connects you to the world via its world-class hub in the UAE. On Emirates, expect world-class service, food, wine, seats, entertainment and amenities right across all three cabins.
In Business Class on the A380s, guests have access to the Onboard Lounge, which serves up Martinis, Espresso Martinis, Rob Roys, Mojitos, Manhattans in a lounge complete with couches and snacks, such as shepherds pies, on demand. There's thousands of hours' entertainment at the touch of a button with over 2,000 channels on Emirates' award winning ice inflight entertainment system.
Heading to Europe? Dubai is an ideal stopover destination and Emirates flies to 38 destinations across the European continent and after the 14-hour hop from the East Coast of Australia, it's only a short flight onwards to London, Bologna, Milan, Stockholm, Zurich and many more cities. For flight information and bookings, call 1300 303 777, visit your local travel agent or go to the Emirates wesbite.
Whether you are heading to Dubai as a solo traveller or on your way to a couples romantic holiday, we have the perfect stop-over guide for you!