Blue Mountains weekend itinerary: culture vulture
Head to the Blue Mountains for a weekend of art, theatre and great food as part of Sculpture at Scenic World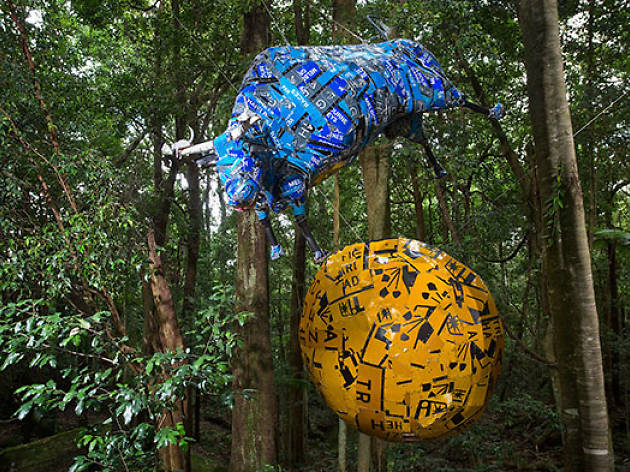 The Blue Mountains have been attracting artists for a very long time, drawn by its spectacular landscapes and tranquil atmosphere. A visit in autumn is a pilgrimage many art lovers make, these days attracted by Sculpture at Scenic World (Apr 13-May 13), the evocative outdoor exhibition now in its seventh year. Why not plan an itinerary that takes in the very best cultural experiences the mountains have to offer, including the Norman Lindsay Gallery and the new show at the Botanic Garden in Mount Tomah?
Sunday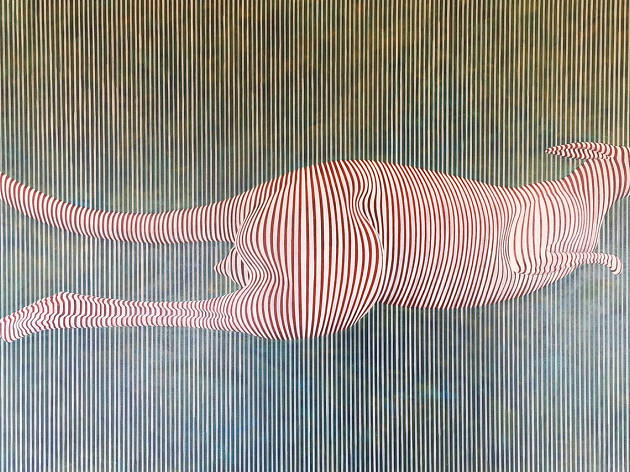 The Standing Up Alive exhibition at the Blue Mountains Botanic Garden Mount Tomah brings together five local Aboriginal artists. On until 13 May, the exhibition features Wayne Brennan, Shane Smithers, Chris Tobin, Leanne Tobin and Uncle Peter Williams. The five artists use their connection to their local heritage, symbols and patterns in a contemporary way. The free exhibition takes place in the visitor centre.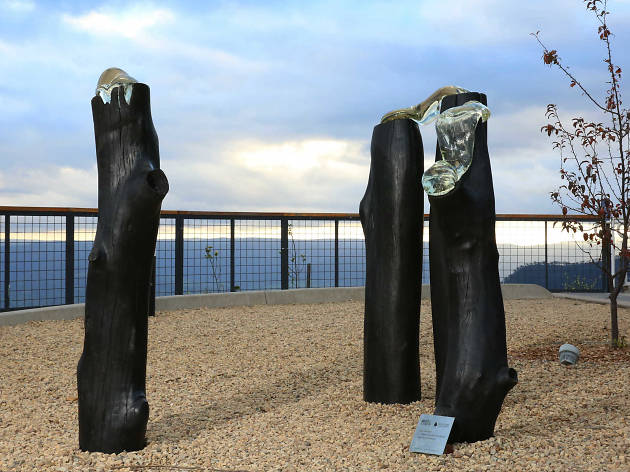 Photograph: Supplied
Noon Explore the RE:MIX outdoor exhibition
RE:MIX is an exciting outdoor exhibition which takes the meaning of 'upcycling' to a whole new level. Inspired by the theme of creative reuse, RE:MIX showcases works at famous locations throughout the Blue Mountains from April 13 to May 13. Works will be showcased at the Hydro Majestic, the Carrington Hotel, the Blue Mountains Cultural Centre, Scenic World, the Fairmont Resort and Braemar Gallery.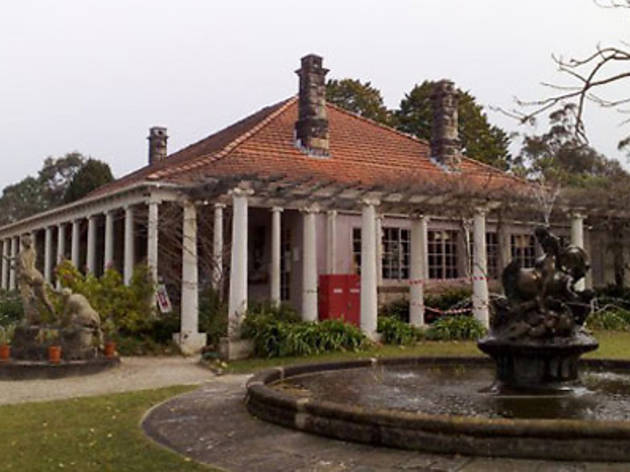 Artist, cartoonist and novelist Norman Lindsay lived at the stone cottage in Faulconbridge for most of his life and it's been converted into a gallery showcasing his art. Beloved as the creator of The Magic Pudding, Lindsay liked him the ladies – his paintings, drawings, etchings and sculptures mostly feature nude, buxom beauties. Whether the art is to your taste or not, the gallery is a marvel, containing many relics of Lindsay's life, a courtyard featuring moulded siren figures, fountains, and an etching studio. Used as a the main location in the 1993 movie Sirens, the house is an intriguing insight into the life and work of an extraordinary Australian and a Blue Mountains must-see. A café is on the premises.
More Blue Mountains weekend itineraries
Sculpture at Scenic World (Apr 13-May 13) is on again, bringing the works of 38 artists to the rainforest floor in Katoomba, resulting in a spectacular outdoor gallery. Why not make a whole weekend of your visit with the help of Time Out's themed itineraries? Whatever you love about the Blue Mountains, we have where to go, where to eat and where to stay mapped out for you.
More to explore