Put smiles on the dials of your whole family with these ideas that suit little kids and big kids alike. Head to Taronga Zoo Sydney to see just how cute and cuddly Australian animals can be. Keen for more koalas? Head to Port Macquarie for all the koala wholesomeness you can handle. Or reach for the stars (and the aquatic depths) of the South Coast on an adventure you'll all be talking about for years to come.
Find more NSW travel ideas here.
Pick your trip:
WEEKEND AWAY
Photograph: Harry Vincent
A super-cute weekend of Aussie animals
Who says there's nothing new at the zoo? Not Taronga Zoo Sydney, which in April opened Nura Diya Australia, showcasing Australian wildlife along with powerful storytelling from First Nations people ("nura diya", words from Sydney First Language, mean "this country"). Enter the $16 million precinct through two 4.5-metre-tall Angophora bark sculptures by First Nations artist Jacob Nash, then meet the animals living in three precincts: Kangaroo Country, Koala Country and Dingo Country. From May, you can also experience Nura Diya's nocturnal animals (feathertail gliders, greater bilby and more) when Nguwing yana – a night walk – opens. Make a weekend of it by checking into the Wildlife Retreat at Taronga – an eco-retreat snuggled into a sanctuary where platypuses swim and koalas, wallabies and echidnas roam. A stay includes zoo access and a family night walk. After the zoo, head to nearby Dobroyd Head in Sydney Harbour National Park to look for Aboriginal rock engravings of a giant kangaroo, a whale and a fish.
Photograph: Destination NSW
A four-day jump around the Mid North Coast
Jump for joy upon spying a koala. Just off the Pacific Highway near Port Macquarie (four-and-a-bit hours north of Sydney) is the Guulabaa (place of koala) tourism precinct – home to a 2.5-metre-high Big Koala and the WildNets Adventure Park. Known as Australia's biggest suspended playground, it incorporates netted rooms, treehouses, suspension bridges, slides and more strung between trees, attracting both young and old to bounce around above-ground squealing with joy. This precinct is where the Port Macquarie Koala Hospital and other institutions will develop a wild koala breeding program, which hopes to release 30 koala joeys back into the wild each year. Half of WildNets' profits go to this program.
In town, it's free to roam around the Koala Hospital, located in the grounds of Roto House, and see the koalas in the recovery yards. Afterwards, grab drinks and snacks from the coffee caravan and sprawl on one of the rugs scattered around the grounds. It's also fun to track down some of the dozens of painted koala sculptures around town.
An hour's drive south is Crowdy Bay Eco Resort, home to the Barrington Coast's newest glamping experience. After a day of frolicking on the beach, families of all shapes and sizes can reconnect under the canvas of spacious luxury eco-tents that sleep up to seven people.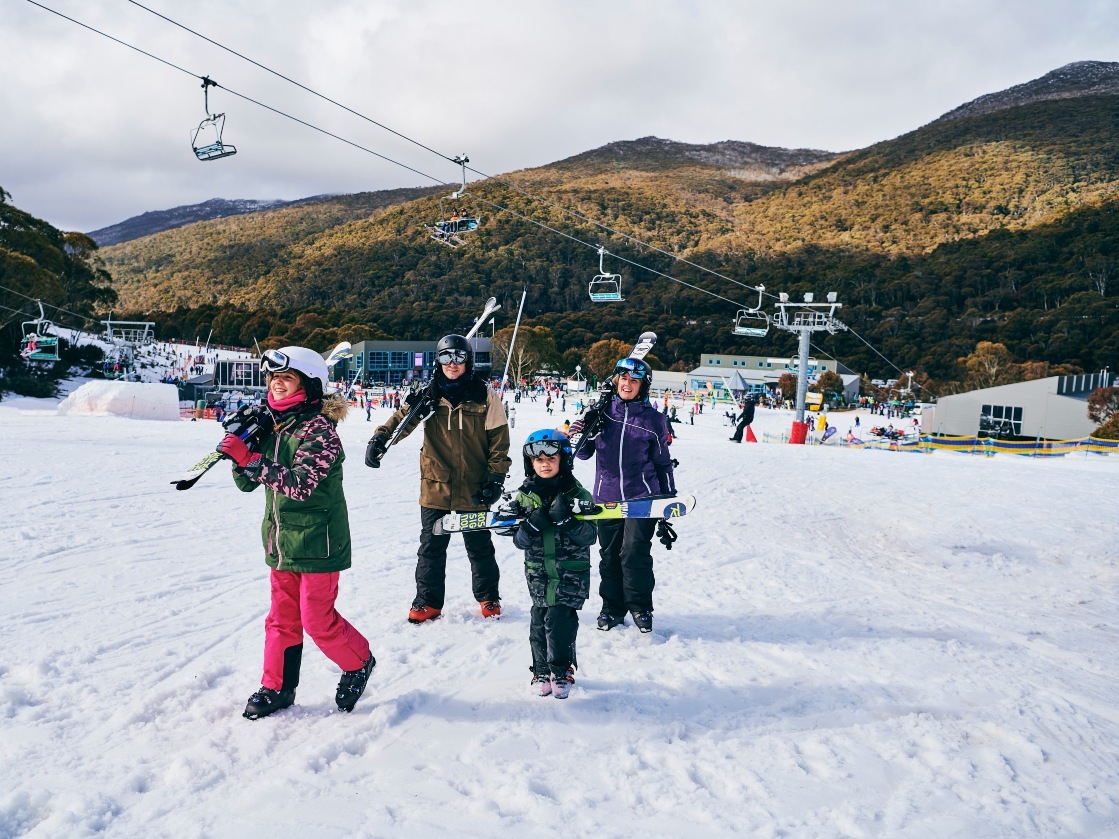 Photograph: Destination NSW
An eye-opening week looping through the south
Look up, look down, look all around. Venture along the NSW South Coast and loop back through the Snowy Mountains for a journey you'll remember forever. Firstly, explore the wonders of Jervis Bay. Beautiful by day (it's home to some of Australia's whitest sand), it's also stunning at night thanks to the lack of light pollution. Take a fascinating tour of the night sky, including the moon and Milky Way, using laser-guided observations, binoculars and telescopes with Jervis Bay Stargazing.
With kids aged seven or older, journey out into the bay with Huskisson-based Woebegone Freedive, which offers expeditions to see seal colonies, migrating humpback whales and sea caves. Check the wildlife calendar on Woebegone's website to see what's in the waters at any given time, but dolphins and wobbegong sharks can be seen here year-round.
Further south near Narooma, Ngaran Ngaran Culture Awareness offers the Yuin Retreat – a 40-hour Aboriginal wellness experience that connects families to a better understanding of themselves and Country. The experience includes participating in dance, didgeridoo and wellness sessions, as well as a yarning circle around a fire, plus either a guided walk onto sacred Gulaga Mountain or a drive to see sites significant for the Yuin people.
Turn inland to grab an early lunch at Cooma's the Lott Café or a more leisurely meal at Crackenback's Wildbrumby Distillery (where there's a sculpture garden to run around in and stretch the legs) before arriving in all-year-round playground Thredbo. Take a gentle hike to the top of Australia (Mount Kosciuszko's summit), ride the super-fun bobsled or grab mountain bikes to tackle the Thredbo Valley Track that offers a variety of sections to suit all skills.