Discover the Hawkesbury Food Bowl Trail
Tour the orchards, vineyards, farm gates and markets of the scenic Hawkesbury region, and bring your appetite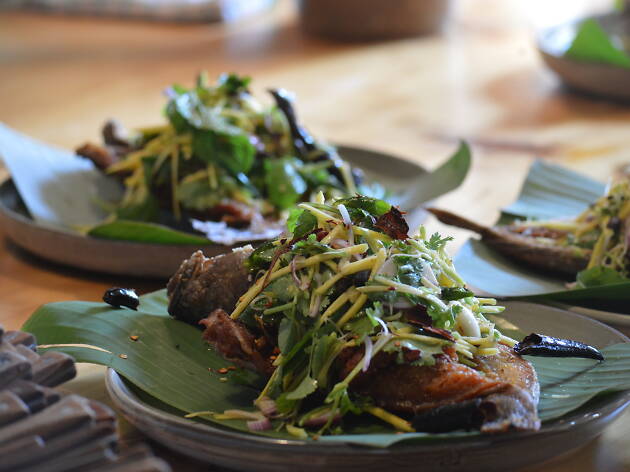 In the Hawkesbury, farms prosper in the fertile soil, producing fresh fruits and vegetables. A tour of the region can take in orchards, vineyards, farm gates and farmers' markets, as well as roadside stalls and brewers making apple cider and wattleseed gin. Stay on a working farm or at a B&B, and pick your own fruit depending on the season.
Anderson Farm
This picturesque orchard on the banks of the Hawkesbury River grows Emperor, Imperial, Hickson and Seville mandarins that visitors can pick, as well as Washington Navel Oranges. Picking season is May to December. 951-968 Sackville Ferry Rd, Sackville North 2576. 02 4579 1120.
Bilpin Cider
Bilpin Cider Co uses fresh Granny Smith and Pink Lady apples to make five cider varieties, including a non-alcoholic cider. Try them all at the Bilpin Cider Farm Cellar Door, where they also have locally produced honey from Bilpin Bush honey, seasonal fruit from Pine Crest Orchard and, when available, fruit and vegetables grown on the farm. 2369 Bells Line of Rd, Bilpin 2758. 02 4567 0704. Daily 10am-4pm.
Canoelands Orchard
The Hive Honey Tours are creating a buzz at this orchard where you can also buy handmade jewellery, beeswax candles, jams, chutney, and coffee, and even pick your own peaches, nectarines and plums in November and December and tomatoes from March. 27 Canoelands Rd, Canoelands 2157. 0419 688 039.
Cooks Co-op
Sydney cheffing legend Martin Boetz (Longrain) is the driving force behind Cooks Co-op, a corrugated iron shed located at the hairpin bend of the Hawkesbury River that has been transformed into a world-class restaurant for special events throughout the year. The venue was inspired by Boetz's passion for the Hawkesbury region's produce. 2 West Portland Rd, Sackville 2756. 0409 363 253.
Hillbilly Cider Shed
The Shields Orchard is home to Hillbilly Cider and its rustic Cider Shed, where cider-makers Shane and Tessa McLaughlin pour tastings straight from the barrels. You can try Sweet Julie Cider, the only cider in the world that uses the Julie apple, which is acclaimed for being intensely fruity without being overly sweet. Shields Orchard, 2270 Bells Line of Rd, Bilpin 2758. 02 4567 2662.
Ironbark Distillery
International award winners for their gin and moonshine, Ironbark are a small-scale family distillery using pure local water for their hand-bottled spirits. The cellar door is open Tuesday to Sunday, noon till 5pm. 4/37 William St, North Richmond 2754. 0424 345 102.
Kurrajong Australian Native Foods
Drop in to buy Macadamia Nut Butter and Rainforest Plum Swirl, Lemon Myrtle and Native Pepperberry Seasoning, Wild Hibiscus Flowers in Syrup and Desert Quandong Jam. Unit 2, 68 Industry Rd, McGraths Hill 2754. 02 4577 8711.
Kookootonga Chestnut & Walnut Farm
When the walnuts and chestnuts are ready to be harvested they simply fall off the trees. Bring a pair of gloves to collect them at this farm during the short annual season of March and April. 247 Mount Irvine Rd, Mount Irvine 2786. 02 4756 2136.
M & A Butchery
A family owned butcher shop in an 1889 building, M&A Butchery is constantly winning awards from the Royal Easter Show, Canberra Show and Hawkesbury Show for the quality of its meat. 62 King Rd, Wilberforce 2756. 02 4575 1233.
Nutwood Farm
Nutwood Farm boasts more than 200 chestnut and walnut trees. The picking season runs from mid March to late April and visitors are free to pick as much as they need and pay at the end. Buckets are provided along with gloves and tongs to help pry the shells open.
22 Danes Wy, Mount Irvine 2786.
Pine Crest Orchard
Have a picnic, take a walk or pick your own fruit at this orchard where they grow peaches, plums, pears, cherries, apricots and apples. 2549 Bells Line of Rd, Behind Bilpin School, Bilpin 2758. 02 4567 1143.
Richmond Good Food Market
Taking place 8am-1pm every Saturday, the market showcases produce from local farms as well as craft and live music. 118 March St, Richmond 2753. 0400 615 409.
Riverview Produce
Open daily except on public holidays, Riverview Produce is a working farm that has its own farm door shop selling their farm fresh fruit and vegetables and eggs at very cheap prices, as well as animal feed. 198 Yarramundi Ln, Agnes Banks 2753. 02 4588 5318.
Saliba Fruits
For more than 40 years this family-owned-and-run business has grown some of the finest produce in the Bilpin district. Customers can buy fruit directly from the shed, when the apples are in season (mid January to early May), along with homemade jams, Bilpin Apple Juice, Hillbilly Cider (non-alcoholic), Wirraninna Ridge Apple Cider Vinegar and Bilpin Bush Honey. 327 Bells Line of Rd, Bilpin 2758. 0415 663 900.
Schofields Orchard
You can buy (but not pick) mandarins and navel oranges from May to October, and eggs and honey all year round, at the farm gate of this family-owned orchard that goes back five generations. 42 Yarramundi Ln, Richmond 2753. 0411 119 701.
Tizzana Winery
A beautiful 1887 National Trust-classified sandstone building houses this winery, which has two hectares of grapevines and three of olive groves. Specialising in rosé, shiraz, petit verdot and tannat, the winery sells from its cellar door on weekends and public holidays, and also has five-star B&B accommodation. 518 Tizzana Rd, Ebenezer 2756. 02 4579 1150.