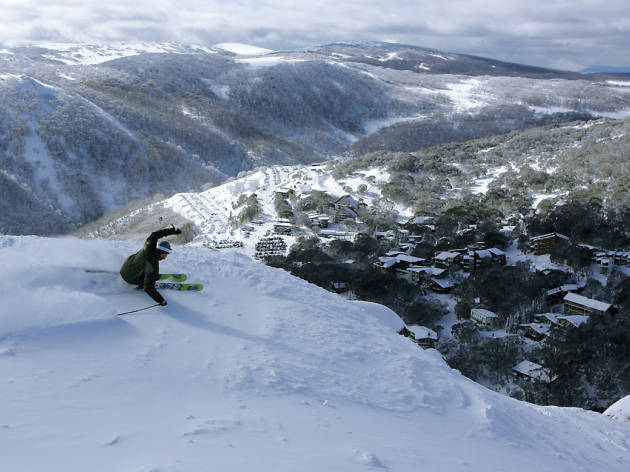 Falls Creek
Make the most of your time at this ski-in-ski-out resort only a short flight from Sydney
Before booking your flights to Niseko or Queenstown this snow season, creep just over the Victorian border to Falls Creek, a small ski resort park that gives its bigger New South Wales rivals a run for their money. Catering mainly for beginner and intermediate skiers and snowboarders, it is the perfect destination for families and first-timers.
Play
Everything you require for your time on the snow bar goggles and gloves can be hired be it for the first-timer or the seasoned pro and lessons are available for all levels of expertise. Falls Creek is home to only green, blue and black runs, but there is plenty of variety in the terrain. Head up the Falls Express to the summit where the chairlift exits converge. From here there is several runs ranging in difficulty with all chairlifts leading back to the same area, making meeting up easy if skill level splits your company between runs. Wombat's Ramble is the trail home and is the longest green run in Australia stretching a whopping 2.2 kilometres down the mountain. Falls Creek also has night skiing between 6-9pm so you're able to make full use of your lift pass. Following a day out on the snow, an après-ski massage from SpaQ will help work out the knots. 17 Bogong High Plains Rd, Falls Creek 3699. 03 5732 8016.
Eat
Snonuts Donuts is a great little spot to satisfy your sugar cravings, with the owners making fresh dough daily. Slalom Plaza, Falls Creek 3699. For a quick bite to eat, pop into Stingrays which sits at the base of the slopes. They will be serving up fresh Mexican fare as well as your more greasy spoon options like burgers. QT Falls Creek, Slalom Plaza, Falls Creek 3699. For something a little more formal try Bazaar which puts on a buffet dinner with an extensive local beer and wine list. Make good use of the cheese and delicatessen section, the spread is sourced locally and is well worth the stomach room. QT Falls Creek, Slalom Plaza, Falls Creek 3699.
Drink
Your frozen fingers' saving grace is the authentic glühwein from Jerry's Stall. Close your eyes and you will feel you're on the Austrian snow fields, rather than in the Australian 'alps'. Slalom Plaza, Falls Creek 3699. 03 5758 3278. Although Falls Creek does not have the same kind of drinking and partying culture as other Aussie ski destinations, Stingrays is still a great spot serving up a delicious Espresso Martini or Amaretto Sour to their patrons. Most venues will stock Gapsted Wines if you didn't get an opportunity to pop into the cellar door, a vineyard with an impressive output: 30 different wines at the time of writing. Gapsted Wines pride themselves on their Italian grape varietals. Kick back with their sangiovese barbera, a mild and truly delicious red, as you watch people scooting down the slopes from your window seat.
Stay
View from QT Falls Creek (gully side)
If you're staying a night in Albury before the drive up the mountain, the fresh-faced Atura Albury provides for a comfortable and homestyle stay. Expect friendly staff, Gotan Project playing over the foyer speakers and Rosalie Gascoigne-inspired wall art. 648 Dean St, Albury 2640. 02 6021 5366. www.aturahotels.com/albury.
When moving on to Falls Creek, look no further than QT Falls Creek that sits quite literally at the base of the ski slope – walk out the back door and onto the chairlift. Rooms can cater for families and groups big and small and come with all things necessary for a great stay. Spas on every room's balcony (yes, every room) are preheated to a steamy 38 degrees so you can soak up the view whilst treating your post-ski muscle pains. Full size kitchens in the rooms with a well-stocked supermarket only a minutes walk. 17 Bogong High Plains Rd, Falls Creek 3699. 03 5732 8000. www.qthotelsandresorts.com/falls-creek.
Albury
When travelling to Falls Creek by air, it is likely that you will be flying into Albury. Murray Art Museum Albury (MAMA) is an outstanding rural gallery. Its 2,000-strong collection of photographic works, and an emphasis on local Indigenous art make it the ideal choice for a pre-snow stop off. Unique from other government funded galleries or museums, MAMA has three commercial spaces where they sell works from both regional and metropolitan artists. 546 Dean St, Albury 2640. 02 6043 5800. www.mamalbury.com.au. Spending a little time in Albury will also give you the opportunity to take a wander along the Murray River's Yindyamarra Sculpture Walk. The five kilometre walk is home to 11 large contemporary Indigenous artworks making it a highlight of the region. Noreuil Park, Albury 2640. If the sun is out, make a beeline to River Deck Cafe for lunch. This place puts emphasis on locally sourced produce with the likes of Milawa duck and Gundowring ice cream on the menu. 48 Noreuil Parade, South Albury NSW 2640. 02 6023 5980. riverdeckcafe.com.au. Make sure to stop into Beechworth as you venture south to Falls Creek to pick up some treats from the Beechworth Honey Experience. Their ice cream made from little more than milk and honey will have it positioned in pride of place in your 'best ice creams' list. 31 Ford St, Beechworth 3747. 03 5728 1433. www.beechworthhoney.com.au. Beechworth is also home to Bridge Road Brewers (Old Coach House Brewers Lane, 50 Ford Street Beechworth 3747. 03 5728 2703. bridgeroadbrewers.com.au), and just up the road is Gapsted Wines (3897 Great Alpine Rd, Myrtleford 3737. 03 5751 1383. gapstedwines.com.au) if you're interested in trying out the local liquor.
Getting there
Virgin, Qantas and Rex will fly you from Sydney to Albury with flights taking off all day. Don't be tempted into renting a car: mucking around with snow chains and treacherous bends will quickly suck the excitement out of you, so allow someone to take care of the schlep for you. Coaches depart from Albury daily. There is a driver service available for those staying at QT Falls Creek for an additional fee.