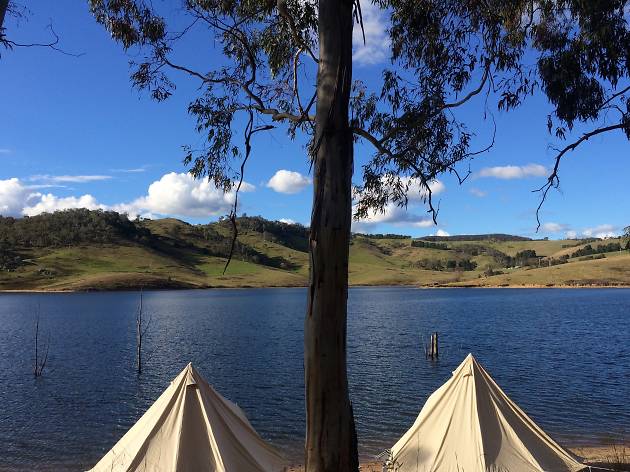 Go glamping by Lake Lyell in the Blue Mountains
This one-off tent hotel experience is popping up in the heart of the Blue Mountains
Gypset Glamping is set to transform the beautiful waterside surrounds of Lake Lyell into a luxe glamping retreat this spring. The first ever glamping experience in the Blue Mountains will see 30 tents transform Lake Lyell into a mini pop-up glamping hotel, perfect for a quick getaway from Sydney.
Situated on the outskirts of Lithgow, Lake Lyell is a tranquil freshwater lake that's never been used like this before. The Gypset Glamping Village will have its own private entrance, which has killer views of the tranquil lake. Book into your tent like you would a hotel and get ready for a camping adventure with a serious luxury upgrade. Each tent is fully furnished (and of course, already pitched for you) complete with silk cushions, solar powered charging points, luxury bedding and more.
There will be special guest appearances from local providores and vineyards selling farm fresh produce and wines, while coffee carts will visit in the morning so you can start your day with a warm brew. The Gypset Glamping Village also includes communal, shaded relaxation areas, perfect for chilling lakeside. Hike and kayak during the day, then head back in the evening to enjoy toasted marshmallows and a barbecue. There are also sprawling Bavarian Beer Hall-style communal tables, where you can share meals and good times with your family or other guests. There will be staff on site to help with check-in and check-out and any other requests you may have.
Glamping tents are available to book now from September 22 to October 8, starting at $110 for a two person tent and $210 for a four person tent.
Find out more about about Gypset Glamping's Lake Lyell Pop-Up Hotel.