Book now to travel when it is safe and legal to do so. Keep up to date with the restrictions here.
The Hunter Valley has long been a go-to weekend escape for couples, friends and food and wine lovers, but the ever-evolving region is ripe for rediscovery. It also happens to be great in every season: verdant in spring and summer, perfect for sunset drinks in courtyards, while in autumn and winter it's cosy and atmospheric with a fireplace never far away.
The region ticks a lot of boxes. There's charming natural scenery, an abundance of cellar doors, and importantly, it's only a short drive away. Take the M1 north from Sydney – or take the leisurely route along Tourist Drive 33, enjoy the scenic countryside and check out a few vibrant towns along the way – and you'll be at Pokolbin, the epicentre of Hunter Valley tourism. From there, you can fit in a non-stop procession of eating, drinking and exploration, with plenty of time to get home on Sunday.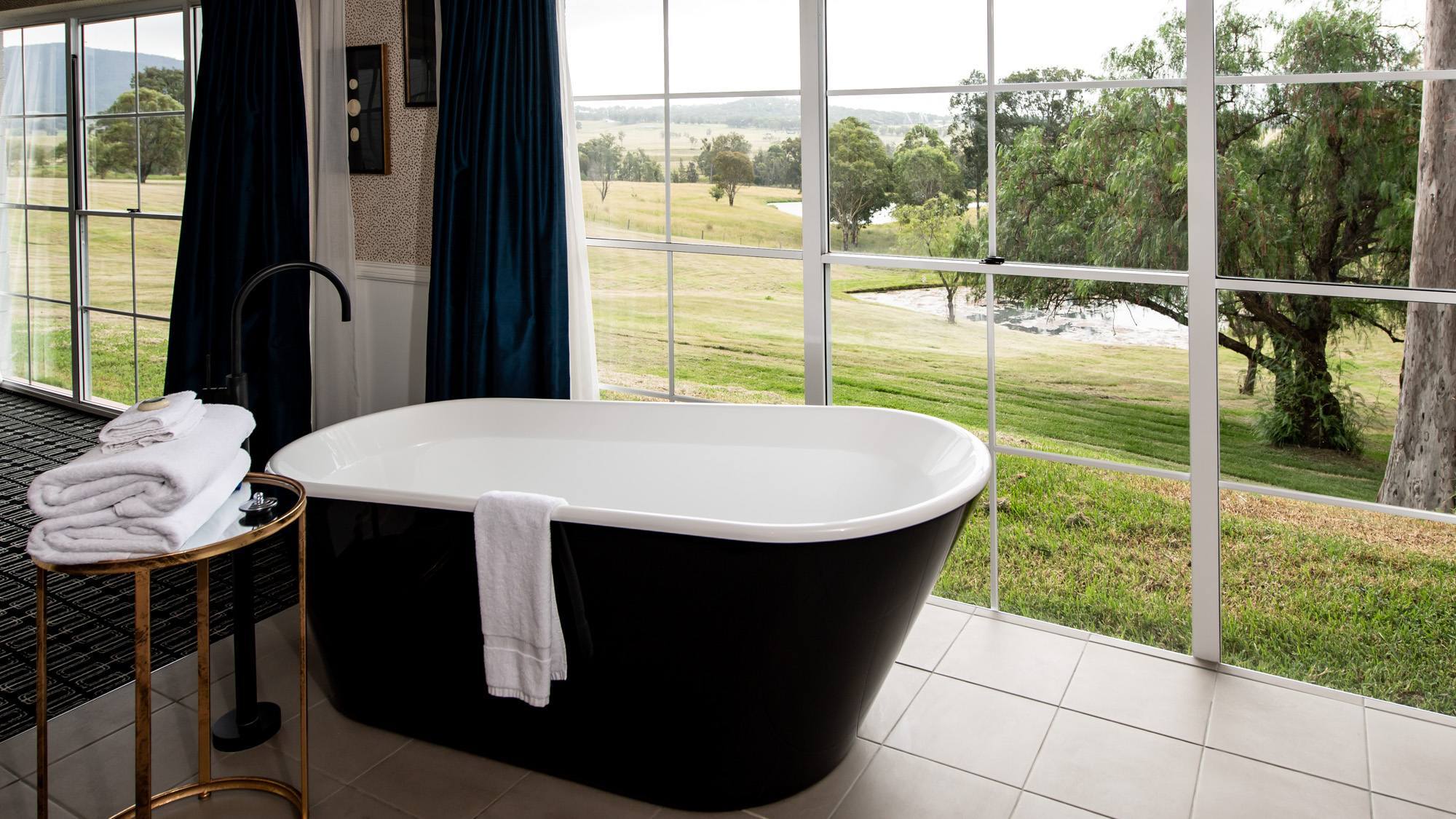 Voco Kirkton Park | Photograph: Cassandra Hannagan
Friday
Evening
Hit the ground running with a corker of a dinner at EXP in Pokolbin Village. If you only splash out on one fancy meal while you're here, make it this one: the food is stellar, the wine list adventurous and the service buoyant. Over the six-course tasting menu you'll be lavished with creative, modern Australian cooking that utilises the region's produce in new and exciting ways. The menu features the likes of their signature duck ham, Binnie Wagyu beef flank and the satay Mooloolaba sea scallop.
While there's a bounty of ritzy places to rest your head in the Hunter Valley, one that deftly balances sumptuous amenities with rustic charm is Voco Kirkton Park. Parked on 70 acres of rolling greenery and manicured gardens, this boutique hotel offers the classic country estate experience while sporting contemporary fixtures and furnishings. There's tennis courts, a heated indoor pool, spa and high tea sessions to keep you busy, and pets are welcome too, for an additional fee.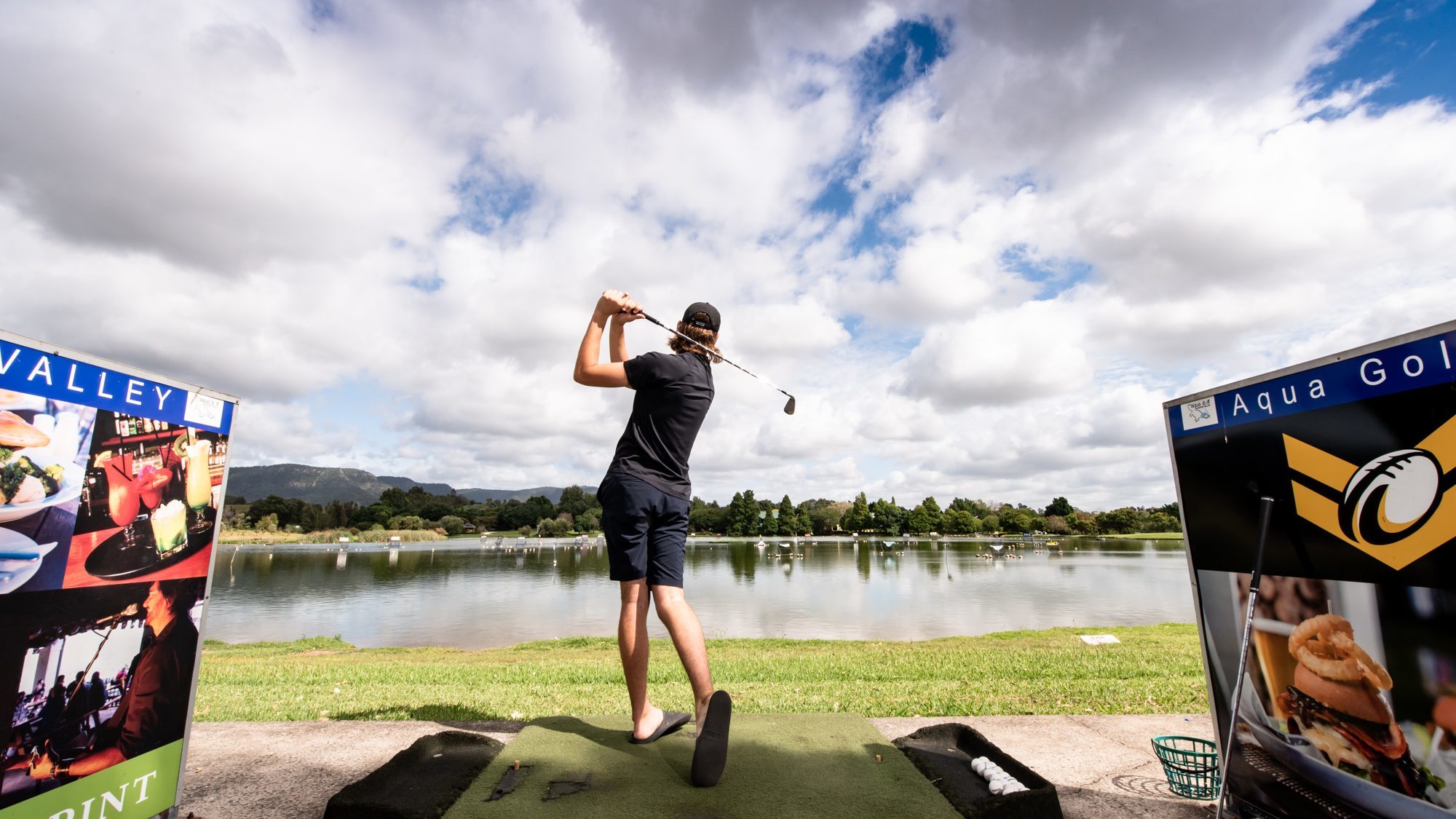 Aqua Golf | Photograph: Cassandra Hannagan
Saturday
Morning
Wake up to uninterrupted views over the valley and Brokenback Ranges, but don't tarry for too long because there's a breakfast worth rising for at Café Enzo. This Pokolbin-via-Tuscany venue draws a crowd for its picturesque courtyard and equally sunny food. The selection is simple but superlative, with dishes like truffled green peas and generous slices of Tasmanian smoked salmon next to perfectly poached eggs and fresh sourdough.
Now you've had your first coffee, limber up for a big day of eating and drinking by stretching out on a leisurely bushwalk. Drive 20 minutes towards Mount View and stop at Bimbadeen lookout; from there it's an easy, hour-long hike along the Great North Walk peppered with lookouts and views stretching out to Cessnock.
If you prefer your physical activities to be goal-oriented then instead head to the Hunter Valley Gardens for a few rounds of Aqua Golf. Practise your swing by hitting golf balls into the lake – get the ball into the floating target and you'll win a prize. Then spend some time perfecting your putt on the adjacent mini-golf course.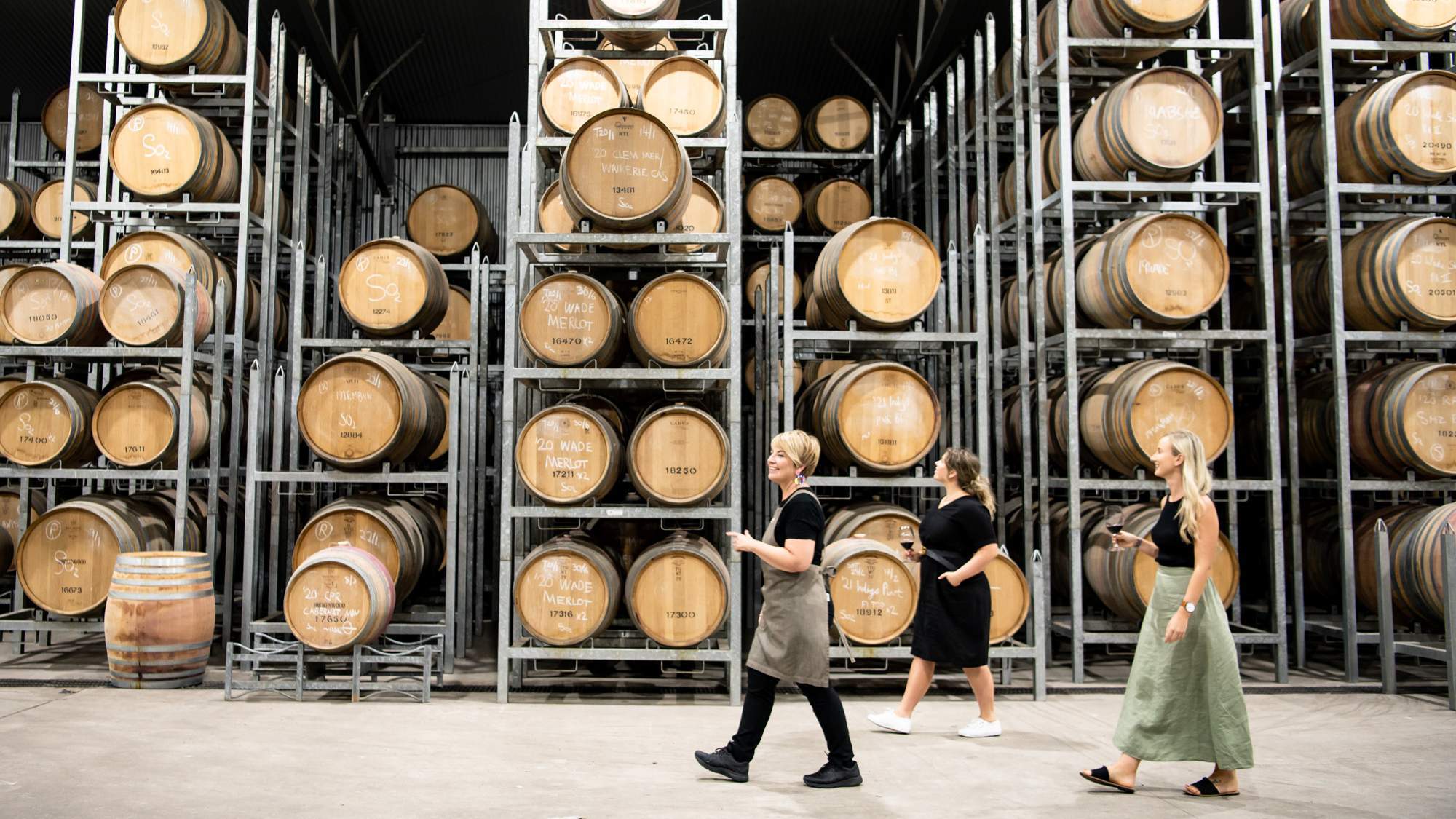 Brokenwood Wines | Photograph: Cassandra Hannagan
Afternoon
With fresh air in your lungs and a building rumble of appetite, head to Esca, the onsite restaurant of Bimbadgen winery. Here you'll knock out both lunch and your first tasting of the day in a setting that commands an amazing view. Executive chef Nick Samaras has built his menu around Hunter Valley local produce with such highlights as roasted honey beets, braised rabbit pappardelle and sous vide NSW eye fillet. At $150 per person, the Signature Experience matches five courses to five outstanding Bimbadgen wines.
From here it's a choose-your-own winery adventure. You could hit up the big players that have shaped the Hunter Valley and become part of the fabric of Australian dinner tables. Chief among them is Tyrrell's, one of the most respected family-owned wineries in the region and maker of some of our finest semillon and shiraz. You'll need to book in, starting at $10 for a standard 45-minute guided tasting across their range, all the way up to VIP experiences that'll get you access to their finest wares and face time with Bruce Tyrrell himself. The other blockbuster worth visiting is regional institution Brokenwood Wines, which grew from a hobby venture in the 1970s to a label enjoyed around the world. Their cellar door is the largest of its kind in the Hunter Valley, a mammoth 1,400 square metre venue featuring circular 'tasting pods', a sprawling outdoor terrace and even a wine museum for the true enthusiasts. A visit here will feed you as much knowledge as it will wine.
On the other end of the spectrum, the Hunter is home to plenty of smaller, independent outfits going about it their own way, and a weekend in town is a prime time to try something new. There's Usher Tinkler, where an adventurous third-generation vigneron is re-exploring well known varietals. Try the Mr T's – a 15-year, barrel-aged, fortified verdelho brimming with sweet caramel, spice and whisky. Over at McCaffrey's Estate, a husband-and-wife team are doing it all: managing 25 acres of vineyards, a boutique guesthouse and hosting their tastings themselves. You can expect solid, approachable wines you'll want to take home, as well as a friendly chat.
If you're happy to venture beyond Pokolbin over to Broke (a 20-minute drive from Pokolbin), one place you don't want to miss is Winmark Wines. Karin Adcock's winery is famous both for its chardonnay and its impressive sculpture walk featuring spectacular works by contemporary artists set against the backdrop of the Yellow Rock State Forest.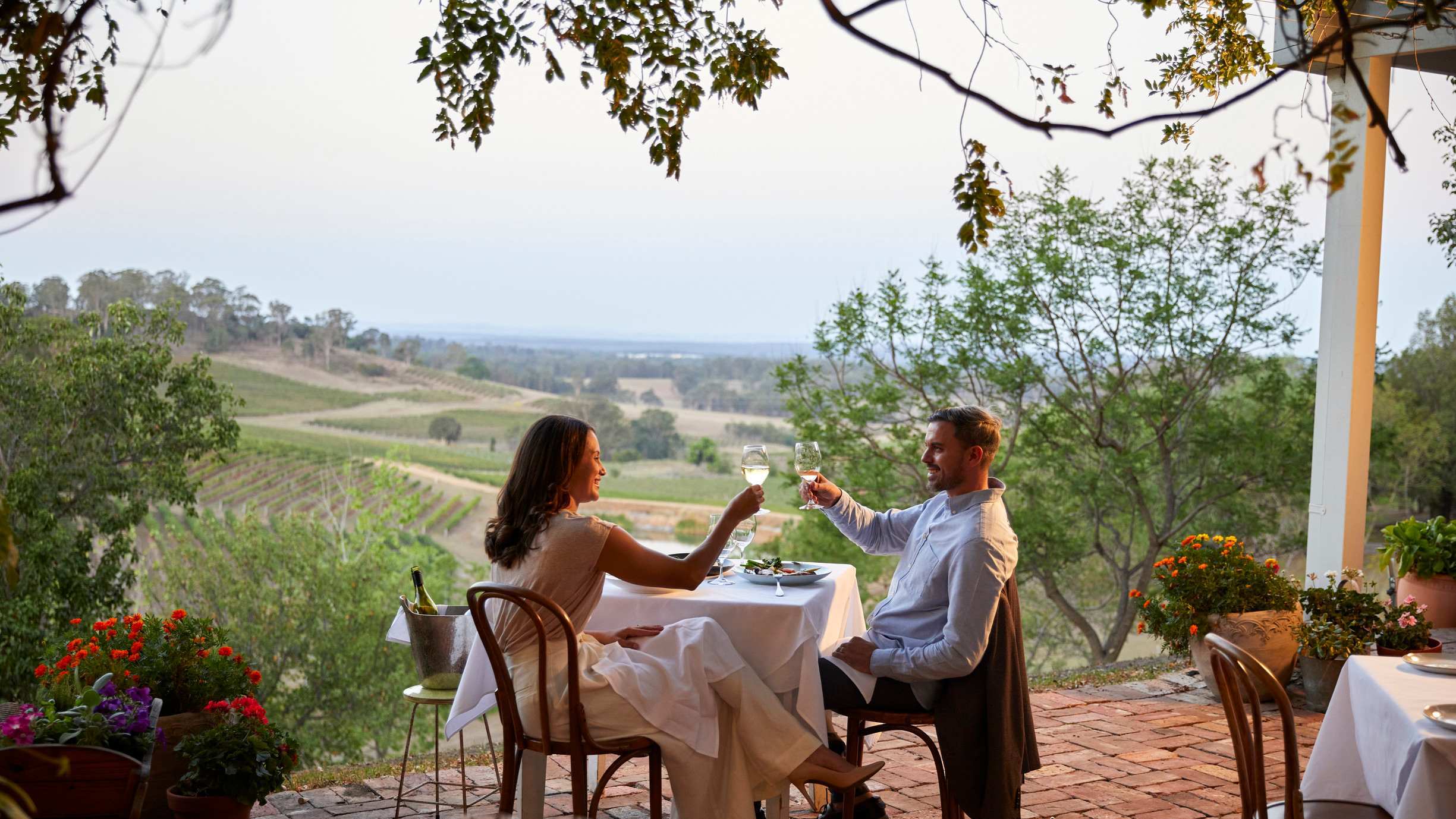 Bistro Molines | Photograph: Destination NSW
Evening
For dinner, book in Bistro Molines, a quintessential regional restaurant with a vista as lovely as its food. On warmer nights, request a table on their wisteria-covered courtyard which overlooks undulating, vine-covered valleys. The romantic setting evokes scenes from Provence, which is fitting since you'll be dining on French classics like mushroom vol-au-vents and noisette of venison. It's a white tablecloth, soft lighting and flower arrangement type of place that radiates warmth and intimacy.
In the mood for a nightcap? Goldfish is the bar and restaurant at Roche Estate Winery and it's open till late on weekends, serving up cocktail classics as well as their famous Cocktail Fish Bowls. Who says the Hunter Valley doesn't know how to party?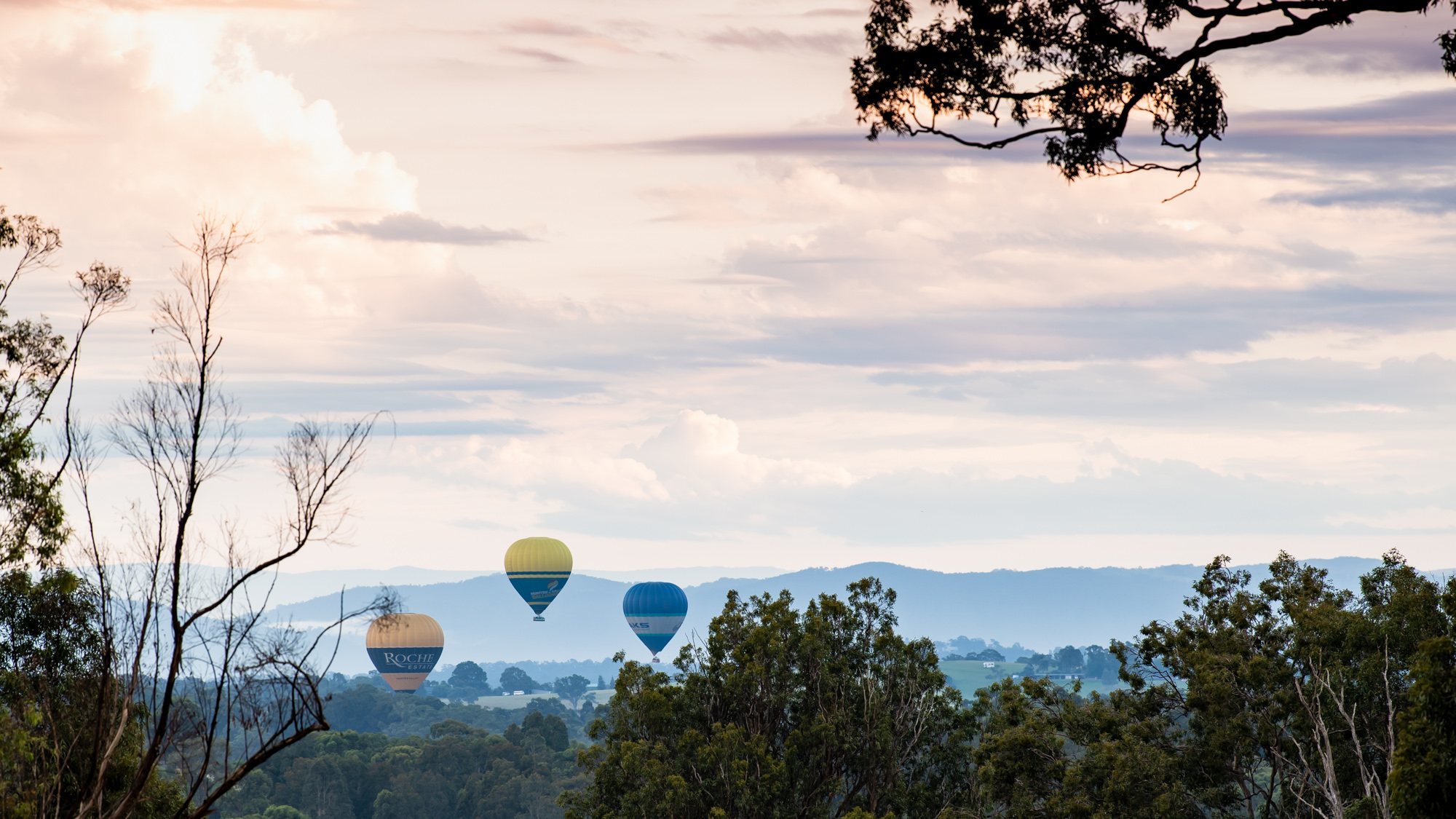 Balloon Aloft | Photograph: Cassandra Hannagan
Sunday
Morning
Cap off your trip on a high with a hot air balloon ride that takes you soaring over the valley at dawn. Balloon Aloft's baskets launch from the grounds of Peterson House winery, timed so that you rise into the sky in tandem with the sun's ascent. Float gently from the treetops to 2,000 feet, all the while enjoying captivating, bird's-eye views of the region. Slowly drift down, then head to a celebratory Champagne breakfast at Restaurant Cuvée, where you'll get to try Peterson's signature sparkling wines.
Check out of your accommodation and spend the rest of the morning exploring some of the area's non-vinous goods. Skip between Pukara Estate and the Hunter Valley Olive Co's tasting rooms – both are a wonderland of infused olive oils, vinegars, tapenade and relishes that make great pantry additions and easy gifts. Or try Tintilla Estate for olives and olive oils. Over at Hunter Belle, they stage tastings throughout the day of their creamy camembert, punchy cheddar and fruity blue-veined cheese.
Before you hit the road, pick up a few luscious éclairs, macarons or a slice of opera cake from classic French patissière Gigi & Chix Bonbon (in the Hunter Valley Gardens Shopping Village) – it'll make the trip home feel short and sweet.