Miami, USA
From its Caribbean flavours to Art Deco buildings and designer hotels, Miami is America's Riviera in every sense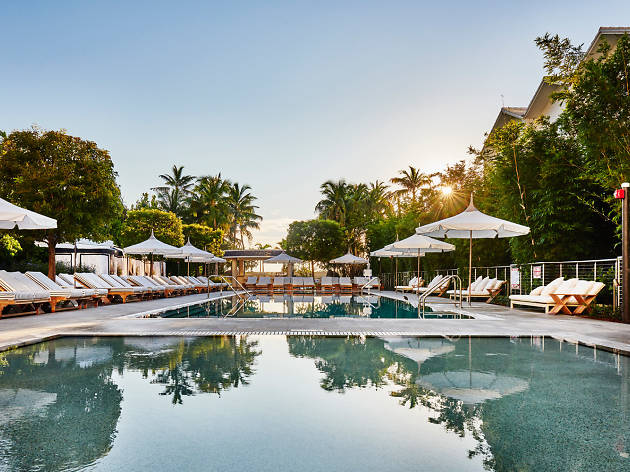 See and do
Miami is a city known for its Caribbean (especially Cuban) influences. Get a fantastic insight into Miami's colourful history by taking a walking tour of Little Havana, one of the most fascinating neighbourhoods to be found anywhere in the United States.
Walk along 8th Street and you'll find art galleries that now have bars in them, such as that of Cuban-American visual artist Augustin Gainza, where there's a chance to chat with the artist while sipping on a Mojito. 1652 SW 8th St, Miami, Florida. +1 305 644 5855.
Then stop by El Pub Restaurant for a Cubano (the famous ham, pork and cheese sandwich) and a round of empanadas for less than a tenner. 1548 SW 8th St, Miami, Florida. +1 305 642 9942.
The best place for a Café Cubano (a Cuban espresso), for the princely sum of 75 cents, is from the little window outside El Exquisito Restaurant and sip away as you listen to the Cuban band in the swing of things across the street outside the Ball and Chain cocktail lounge (where you'll most likely end up dancing at after the espresso). 1510 SW 8th St, Miami, Florida. +1 305 643 0227. elexquisitomiami.com.
A few doors down is the Cuba Tobacco Cigar Co, where you'll see Cuban-style cigars being hand-rolled by family members that have been in the business for over a century. 1528 SW 8th St, Miami, Florida. +1 305 649 2717.
Walk past the old Tower Theater and you'll find Domino Park, where tables full of locals are playing dominoes all day long.
Miami is also famed for its Art Deco architecture around South Beach, and on a walking tour (guides are definitely recommended) you'll hear about how locals fought to keep some 1930s masterpieces from being demolished. A number of tours are available and stops include buildings such as the Carlyle Hotel, Park Central Hotel and Tudor Hotel, alongside the notorious 11th Street Diner and the Versace Mansion, where designer Gianni was murdered in 1997.
The South Beach Art Deco District has been the location for many movies and TV shows (www.miamimovietours.com) and on a tour you'll also hear about the area's dangerous and crime-driven past, including the location where Capone ran his gambling syndicate.
Across town, the former Decorators' Row has expanded into a hub for vanguard architecture, fashion and art known as the Design District and among the numerous high-end interior showrooms is Holly Hunt, offering furnishings by the likes of Rose Tarlow, Christian Liaigre and Wendell Castle. In addition to the Institute of Contemporary Art (4040 NE 2nd Ave, Miami, Florida, +1 305 901 5272, www.icamiami.org), galleries include Palm Court's Opera Gallery (140 NE 39th St, Ste 239, +1 305 868 3337, www.operagallery.com), showcasing works by Keith Haring, Pablo Picasso and Andy Warhol. If you're here in December, Art Basel in America is a brilliant annual showcase of works from more than 1,000 artists and 269 leading galleries from across the globe. www.artbasel.com/miami-beach. Dec 1-4, 2016.
Eat and drink
At Broken Shaker, a one-time pop-up bar that was recently named American Hotel Bar at Tales of the Cocktail festival, it's about handcrafted cocktails made from herbs and spices and fresh-pressed juices, alongside craft beers. 2727 Indian Creek Dr, Miami Beach, Florida. +1 305 531 2727. http://thefreehand.com/miami/venues/the-broken-shaker/.
Next to the Broken Shaker courtyard is Twenty Seven, which has a restaurant on the ground floor serving up fresh seafood and meats sourced locally, including dishes from the property's onsite garden. Upstairs there's a bar that has the feel of a mid-century Miami beach pad. 2727 Indian Creek Dr, Miami Beach, Florida. +1 305 531 2727. http://thefreehand.com/miami/venues/restaurant/.
Brilliant drinksmith John Lermayer is the creativity behind Sweet Liberty Drinks and Supply Company, where it's about classic cocktails – order a Tommy's Margarita or a Rattlesnake – and twists on classics such as the Black Salt Sour. Great bar snacks include lobster rolls, cauliflower nachos, Hawaiian-style tuna poke, and a daily happy hour with 75 cent oysters (4-7pm). 237 20th St B, Miami Beach, Florida. +1 305 763 8217. http://mysweetliberty.com/.
At the Ball and Chain (see See and Do), find a recreation of a 1930s hotspot that once occupied the same space and welcomed jazz superstars like Billie Holiday, Count Basie and Chet Baker to its stage. Order the Cañita (white rum, lime, house-made honey syrup, guarapo or sugarcane juice and a sugarcane stick) and expect live jazz on weeknights. 1513 SW 8th St, Miami, Florida. ballandchainmiami.com.
At the Miami Beach Edition hotel, the kitchen at the Matador Room is under the eyes of restaurateur Jean-Georges Vongerichten and dishing up Spanish, Caribbean and South American fare. Order a Mai Tai. 2901 Collins Ave, Miami Beach, Florida. +1 786 257 4500. www.editionhotels.com/miami-beach.
Stay
Recently renovated and reopened as part of the boutique Sixty Hotels chain, Nautilus South Beach is a 250-room oceanfront hotel originally designed in the 1950s by Morris Lapidus. Headlining the hotel is Driftwood Room featuring Southern French-inspired dishes with Floridian ingredients, and Nautilus Cabana Club, that features a saltwater pool and offers beach service 10am-5pm daily. 1825 Collins Ave, Miami Beach, Florida. +1 305 503 5700. www.sixtyhotels.com/nautilus-south-beach/.
One of designer Philippe Starck's finest works, Delano South Beach opened in 1995. White-on-white rooms that scream coolness, sanctuary and space. Delano Beach Club, lined with bungalows and cabanas up and down the pool, remains the area's best place to be on a weekend. At in-house eatery Bianca find Italian cuisine prepared with farm-to-table organic ingredients. 1685 Collins Ave, Miami Beach, Florida. +1 305 672 2000. www.morganshotelgroup.com/delano/delano-south-beach.
Get there
United Airlines (www.united.com) flies daily to Miami via Los Angeles and San Francisco. The airline now operates an all-Dreamliner Boeing 787 service between Australia and the United States with the latest product onboard, including inflight Wi-Fi. Onboard find flatbed seats, premium Australian, US and European wines, and freshly made sundaes in BusinessFirst. Economy has top quality food and hundreds of hours of entertainment on demand.