Heads up! We're working hard to be accurate – but these are unusual times, so please always check before heading out.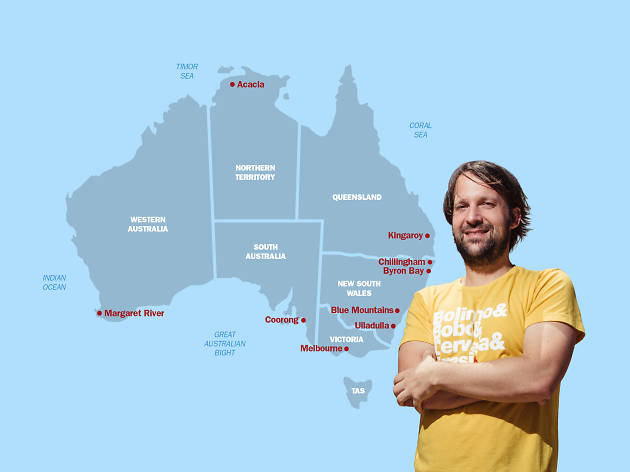 René Redzepi's Australia on a plate
We talk to the Noma genius about his highlights – and take a tour of the country through his foraging eyes
Want to know more about native ingredients? Come to Time Out's talk 'Wattle Seeds on White Tablecloths' this October.
Eating at Noma Australia was about being part of a defining moment of Australian cuisine. Only 5,500 people got to experience it over its ten-week pop-up, which ended on April 2, but the waiting list reached an estimated 30,000 folk willing to pay $485 per head to dine at the current world number three restaurant. To put it bluntly: it was a big fucking deal.
The thing that resonated with us, during and since our visit, was that this meal was an education in what Australian food could be if we had embraced native bush food long ago. Here was René Redzepi, a Danish-Macedonian chef, showing us the possibilities of our native sour muntries, citrusy green ants, clean crocodile fat and creamy, unripe macadamia nuts.
Redzepi spent many months prior to opening Noma Australia traversing the land and seeking out the best of Australian native produce from the source. "The abalone came from off the coast of Margaret River in Western Australia," he says, "It was Josh Whiteland, an Aboriginal [Wadandi] man, that showed us how to harvest and cook these creatures. It was a standout moment for me being with him, walking around the rocks; that experience was the reason we have abalone as the main course."
"Another experience was being with him on the beaches," he continues. "It was scorching hot, I think around 40°C. We went for some plants and I remember him telling me to keep my eyes pure, and watch out for brown snakes. He flicked off the fruit of a pigface and with the snap of his fingers peeled the fruit out and revealed a plump little kiwi-looking thing with the brininess of an oyster but the sweetness of a kiwi. Mind-blowing."
"The breadth of knowledge and the diversity of ingredients we've seen through these encounters is something that I would say is completely impossible to experience in a city. You can get a bowl of ramen, great steaks, and everything in between – but no pigface fruit!" In that spirit, we've picked out some of the key places in the country where Redzepi sourced his produce. This is our food tour of Australia, by way of Noma.
Australia on a plate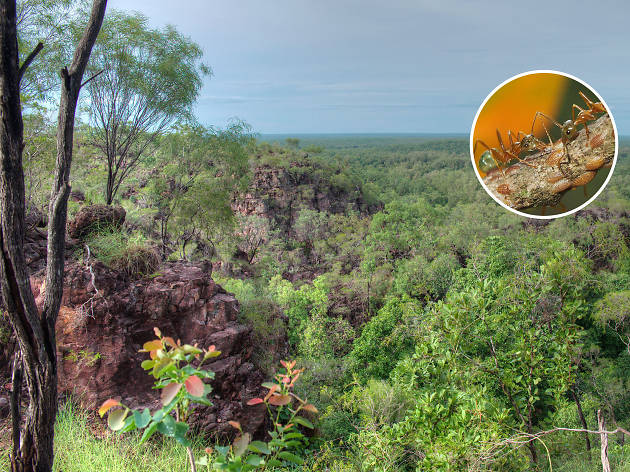 Photograph: Geoff Whalan
ACACIA, NORTHERN TERRITORY
Their globular nests grow in the forests of Acacia in the Northern Territory, made out of leaves still attached to branches so that they float above the forest floor. At Noma they served them adorning mango ice cream sandwiches, the little critters contributing a zesty, limey flavour not dissimilar to kaffir lime.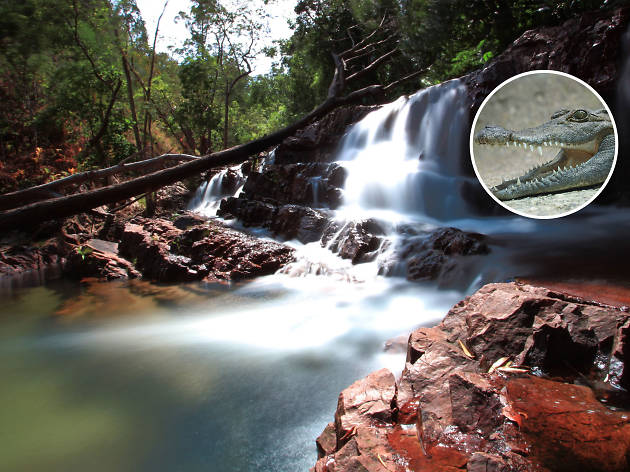 Photograph: Andy Tyler
NORTHERN TERRITORY
Crocs are a Northern Territory speciality, and the waitress at Noma told us that crocodile fat is "the cleanest René has ever tasted." And it really is beautiful – they served it brushed on chicken stock skin (like fragile crackers) to adorn a plate of Australian molluscs.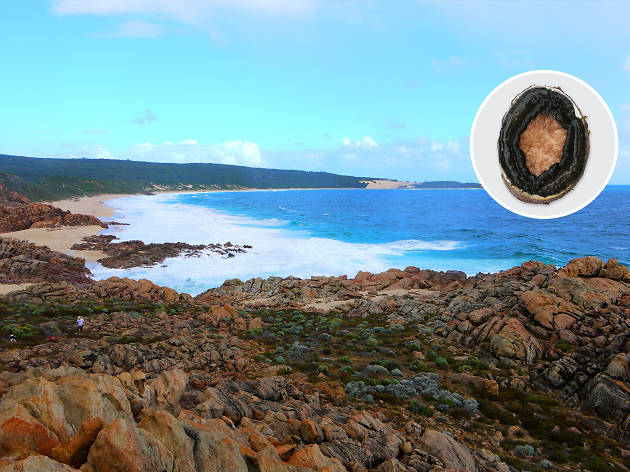 Photograph: Deb Etheredge
MARGARET RIVER, WESTERN AUSTRALIA
This sea snail has been eaten by Aboriginal people for thousands of years and it thrives in the crystal clear waters of Margaret River. At Noma it was the main event – transformed into a tender-centred schnitzel and served with 'bush condiments' (including a seaweed that looked like a green string of pearls known as Neptune's Necklace).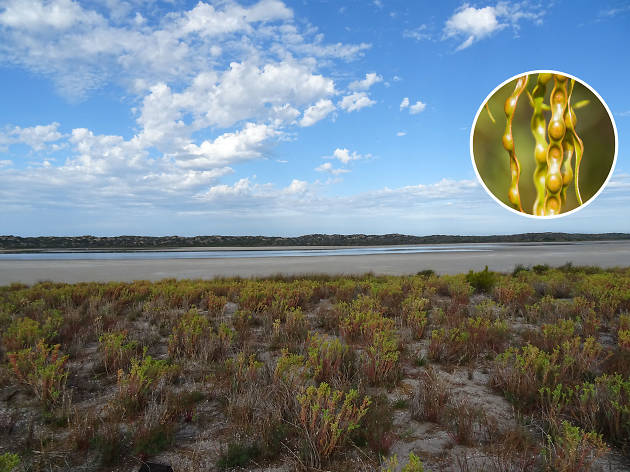 Photograph: Ian Cochrane
Golden and desert oak wattle seed
COORONG, SOUTH AUSTRALIA
At Noma, nubbly wattle seeds were transformed into a porridge encased by whole saltbush leaves, like little tacos. Our national flower, they grow across the country, but these fellas were sourced from the stunning salt lake area Coorong National Park in South Australia.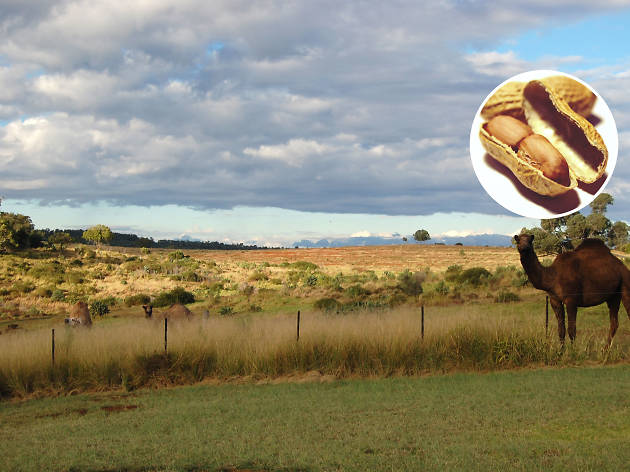 Photograph: Jamie Shirlaw
KINGAROY, QUEENSLAND
Noma sourced theirs from the 'Peanut Capital of Australia', Kingaroy in inland Queensland (the peanut silos here are so massive, they dominate the town's skyline). They made an ice cream out of only raw peanuts and water for the 'Baytime' dessert, coating the Magnum-like lozenge with freekeh paste that had been roasted to a chocolatey smokiness.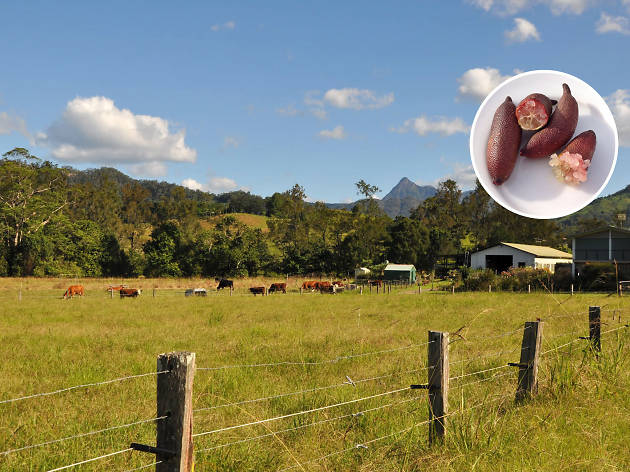 Photograph: ©Google/Fritz77
CHILLINGHAM, NEW SOUTH WALES
The caviar-like, juice-filled beads that make up the native fruit can be squeezed out and served as a citric seasoning, or dropped into juice or cocktails to create natural, elegant bubble tea (Noma served them both ways).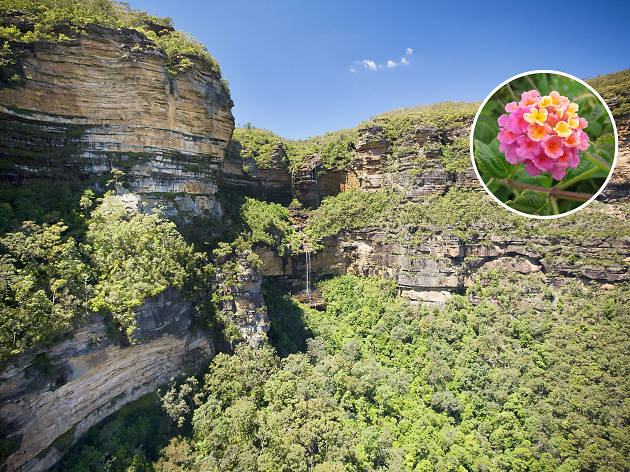 Photograph: Tourism NSW
BLUE MOUNTAINS, NEW SOUTH WALES
Although lantana flowers aren't native to Australia, today they decorate much of our landscape, especially the bushland west of Sydney. Although the leaves and stems are toxic, the flowers are good to eat, and they were served at Noma ready for patrons to pick from the stem and dress their own buttery, dried scallop pies.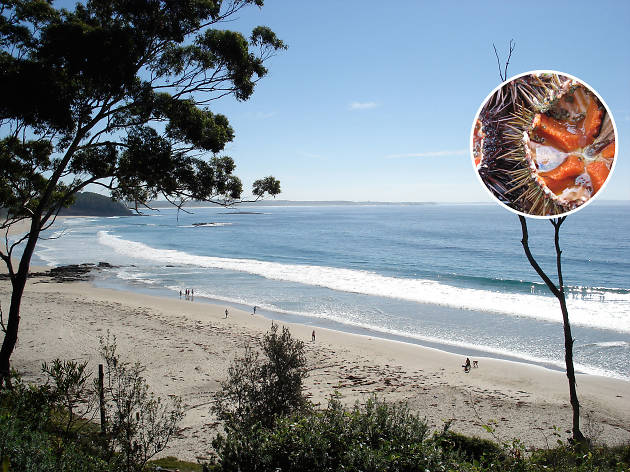 ULLADULLA, NEW SOUTH WALES
The pinky-red tongues known as gonads inside are super delicious, tasting just how the ocean smells. Some of the best in the country can be found south of Sydney in the seaside town of Ulladulla, which is where Noma sourced theirs, serving them up with dried cherry tomatoes and spicy pepperberries.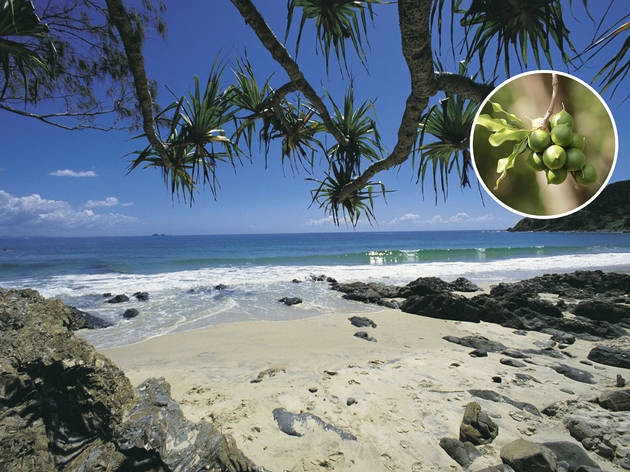 Photograph: Tourism NSW
BYRON BAY, NEW SOUTH WALES
Redzepi found out that unripe macadamias are even more delicious than ripe ones: creamy and light at the same time, with a texture that crackles in your mouth. At Noma they were served sliced and sprinkled over spanner crab broth with a trickle of aromatic rose oil.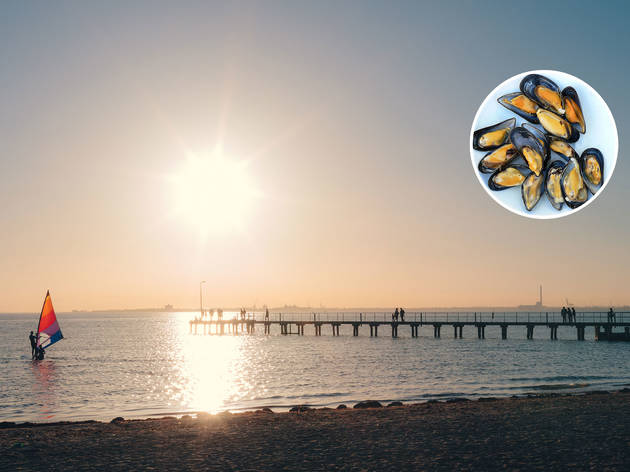 Photograph: Roberto Seba
MELBOURNE, VICTORIA
Next time you visit Melbourne, make sure and try some of the local mussels, grown in Port Phillip Bay itself, because they are freaking great. They're so great, in fact, that Noma used them in their mollusc dish at Noma Australia. Plump, soft and sweet, the Australian blue mussel is the most popular in the world.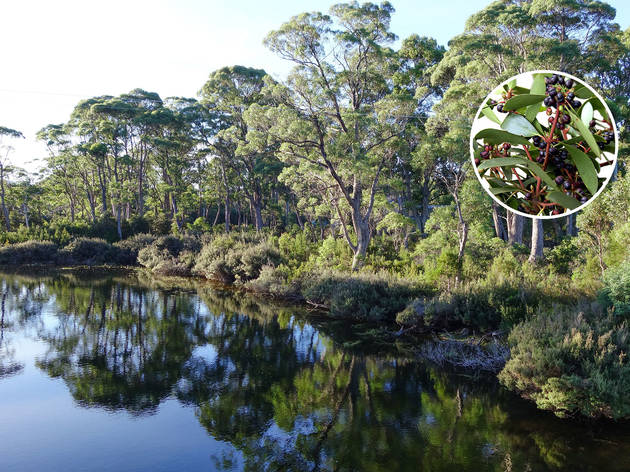 Photograph: Roderick T
TASMANIA
Native to the lush forest gullies of Tassie and southeastern Australia, pepperberries are Australia's own Sichuan pepper, with a sweet but hot and numbing taste. At Noma they served sticks of pepperberries as toothpicks, as well as including them in a dish of sea urchin and tomato.