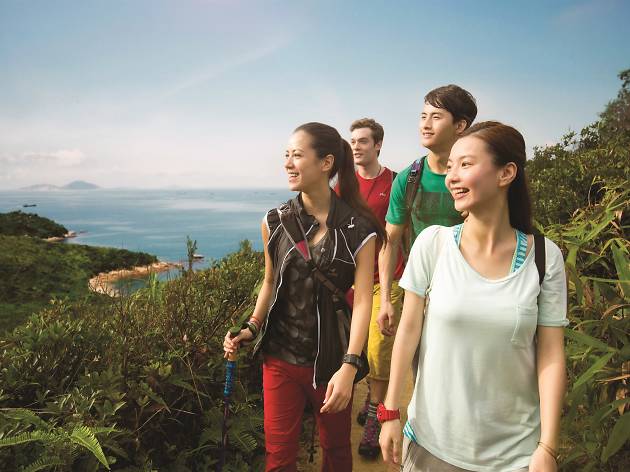 Sevens above! Seven adventures to go on in Hong Kong
An adventurers guide to Hong Kong
The Hong Kong Rugby Sevens is a much-loved annual cause for celebration (and subsequent recovery). But what to do once the tournament concludes and you have some time to kill? Luckily, this is a city full of diverse day trip opportunities, all readily accessible via Hong Kong's exceptional public transport system. From exploring abandoned islands to catching your own dinner and having it cooked in front of you, we present seven awesome adventures to embark on in this beguiling metropolis. Just remember to pack the post-Sevens painkillers, too.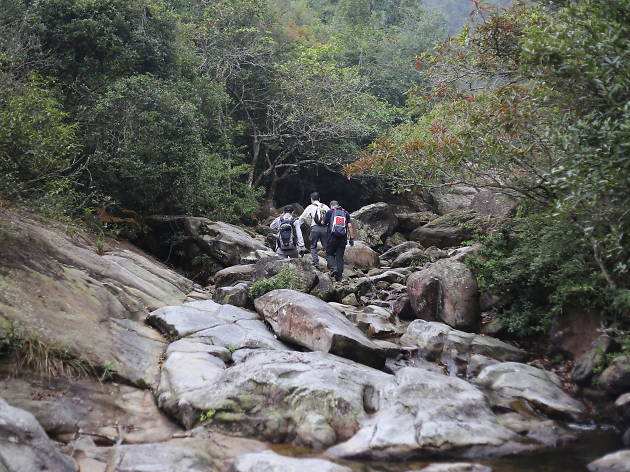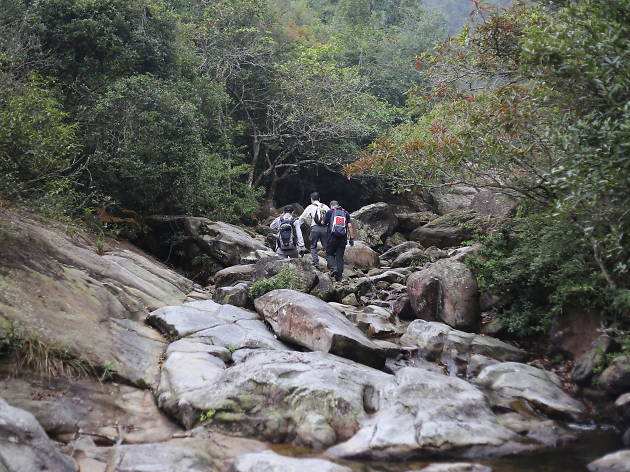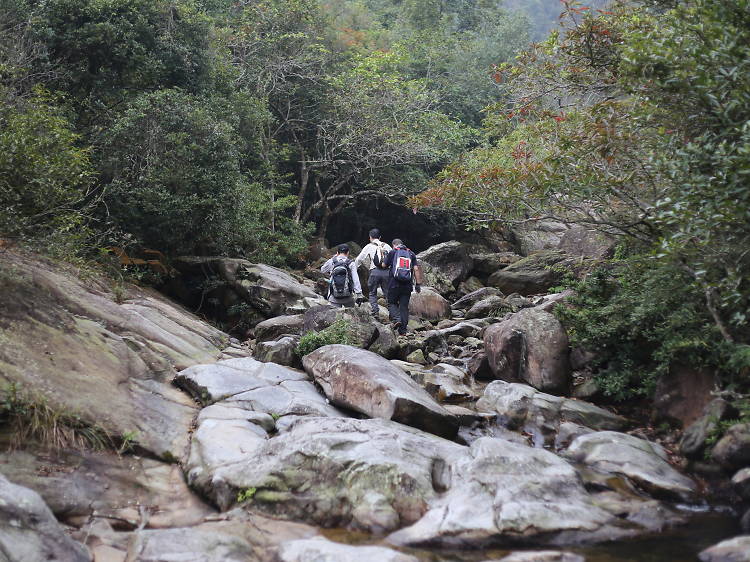 Photograph: spchenghk
Go with the flow: Canyoning and stream trekking at Ping Nam Stream
Hiking on regular paths is so dry. Get wet and wild at Ping Nam Stream, one of Hong Kong's most adrenaline-fuelled beauty spots, popular as a place to canyon and stream hike. You can spend time swimming at the stunning Hula Skirt Falls, or choose the six-kilometre hike along the rocky stream bed, which takes around four hours to complete. You'll want a change of clothes, plenty of drinking water and hiking sandals with excellent grip. Never attempt to enter the stream after a period of heavy rainfall.

How to get there: Take the MTR to Fanling, then ride the 56K minibus until Nam Chung Road. Take a right at Luk Keng Road, then follow the signs for Wilson Trail Stage 10, until you spy a dam. Take the overgrown stairs on the right, rather than continuing to follow the main trail, until you arrive at the stream. Alternatively, arrange a guided canyoning trip via Wild Hong Kong or Klook.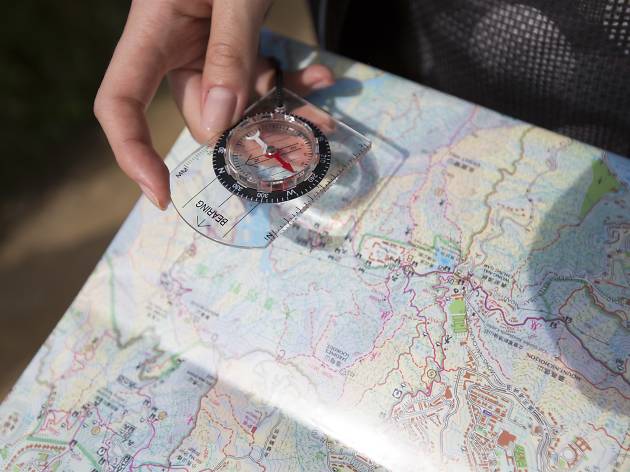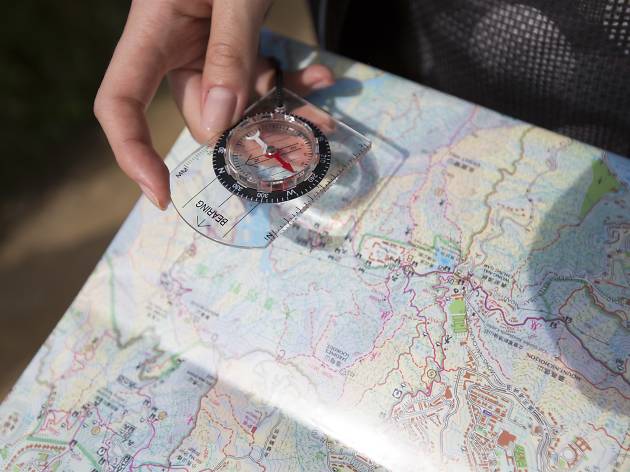 Photograph: Supplied
Step to it: Hit HK's hiking trails
Hongkongers love hiking, and no trip would be complete without checking out one of the city's many green trails. For a short and sharp hike that offers incredible views on a clear day, scramble up iconic Lion Rock, which juts over the Kowloon peninsula with its fierce feline profile. Wild monkeys abound, too, for a jungle-themed adventure. Alternatively, if you've overdone it at the Sevens, spend a slower day absorbing the atmosphere along the incredible Ping Shan Heritage Trail in Yuen Long. The easy 1.6km-long route is lined with centuries-old ancestral halls. Stop by the visitor centre at the Ping Shan Tang Clan Gallery (closed Mondays) to pick up a guide book before you set off.

How to get there: Lion Rock can be reached by getting the MTR to Wong Tai Sin. Leave from exit E and follow Sha Tin Pass Road until you meet the MacLehose Trail. Follow the brown signs pointing to Lion Rock. From there, it's around one hour to the top. Arrive at the Ping Shan Heritage Trail by alighting at Ping Shan Light Rail Station. The trailhead is signposted from directly outside the station. Alternatively, arrange a guided day tour in the great outdoors of Hong Kong.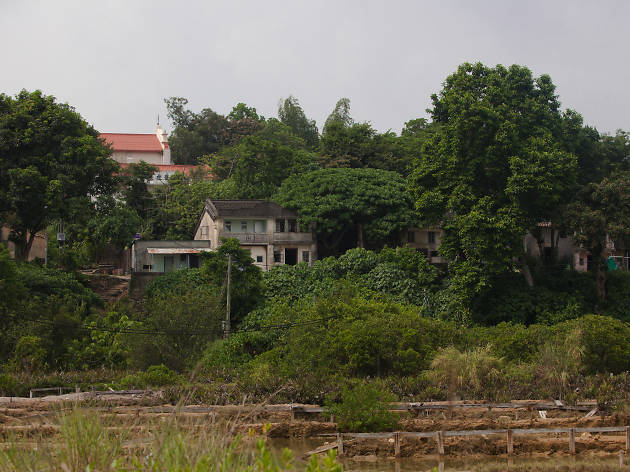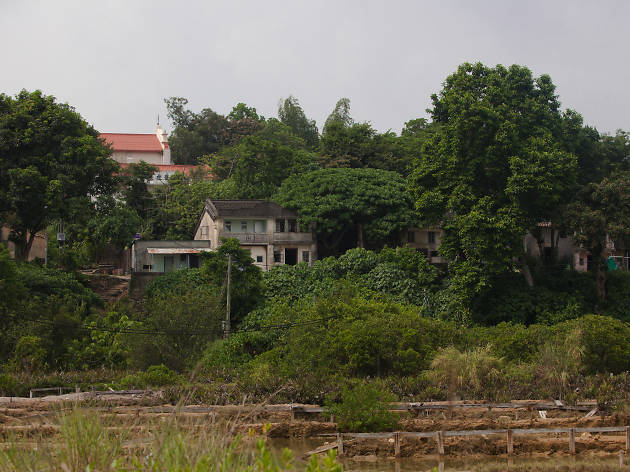 Photograph: Jens Schott Knudsen
All ghoul fun: Visit 'Ghost Island', Yim Tin Tsai
We ain't afraid of no ghosts. The small Hakka island of Yim Tin Tsai (literally 'Little Salt Field') is a short boat ride from the bustling pier at Sai Kung. The island was a hub for salt panning as far back as the 1700s, with a population peak of around 1,000. But the local salt industry evaporated in the mid-20th century, and the indigenous population slowly moved away, leaving behind a catalogue of uninhabited buildings and deserted farms. There's since been a push to reinstate the salt farms to promote ecotourism, and there are weekend tours and workshops held on sustainable living. Don't miss the photogenic St Joseph's Chapel, and the former village school; now a heritage centre. But a good nose around the eerie, abandoned village is what you're really here for.

How to get there: On weekends there are hourly ferries to and from Yim Tin Tsai from Sai Kung public ferry pier. It's a 20-minute ride. On weekdays, call 2791 6226 to arrange a ferry.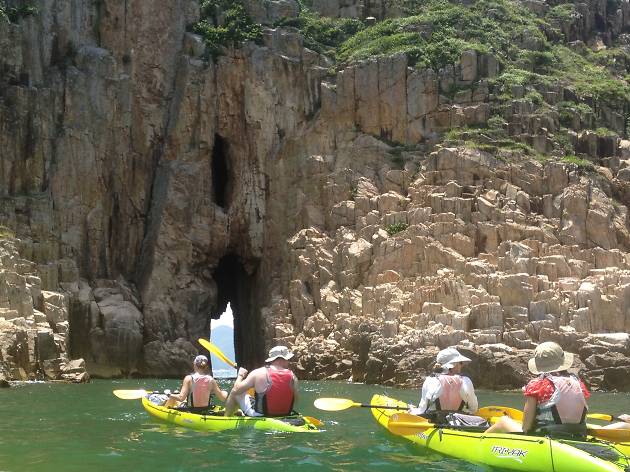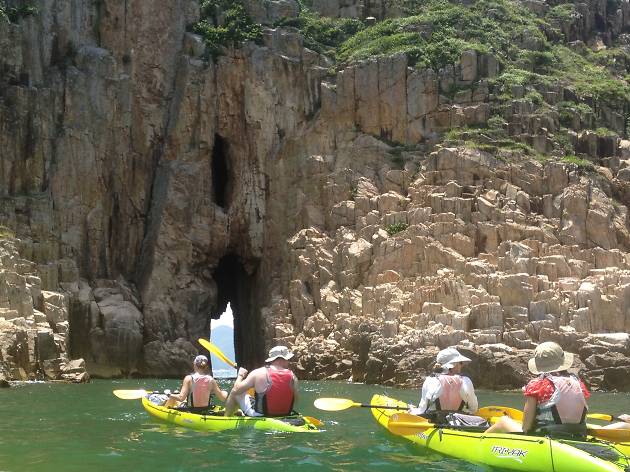 Photograph: Supplied
Ride the wave: Watersports in Hong Kong
Hong Kong's first (and only) Olympic gold medal win was for windsurfing. Get a first-hand taste of the SAR's sporting successes at Stanley's Hong Kong Aqua Bound Centre. Here you can rent wakeboards, kayaks and windsurfing gear, or arrange private lessons. Alternatively, sample the city's surf scene at Big Wave Bay near Shek O, on the island's southside. There's board and locker rental available at stores along the beachfront, but head down early to beat the crowds. If you're looking for something more zen, the serene Pui O beach on Lantau Island makes a great spot for stand-up paddle boarding. Rent a paddle board from Treasure Island and have a sundowner at board shack Mavericks afterwards.
How to get there: Reach Stanley on the 6 or 6X bus from Exchange Square in Central. To get to Big Wave Bay take the MTR to Shau Kei Wan and then hop in a taxi, or take the red minibus from outside exit A3. As you board, tell the bus driver to drop you at Big Wave Bay (Tai Long Wan). Pui O is accessible via taxi or bus route 1 from Mui Wo. Mui Wo is accessible by ferry, which departs regularly from Central pier 6.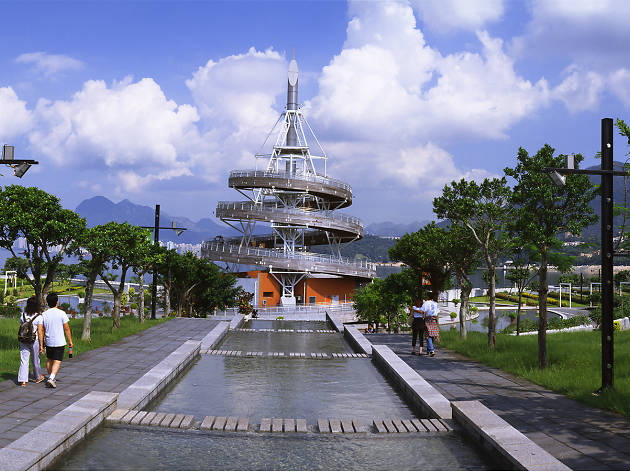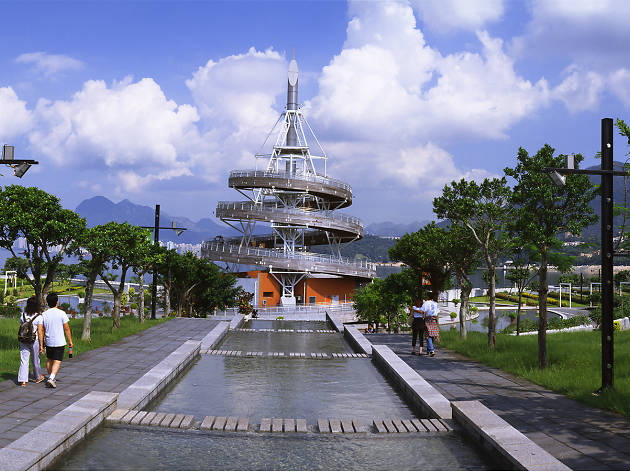 Photograph: Supplied
Get on your bike: Cycling and barbecuing at Tai Mei Tuk
Tai Mei Tuk means "the end of the road" in Cantonese, and appropriately this small village is a great place to kick back after a day of pedaling. Start at Sha Tin by renting a bike at one of the many shops located near the MTR station – most have branches in Tai Mei Tuk for rental returns, but confirm before you hire. Then simply follow the blue signs that direct you along the popular and scenic Tolo Harbour Cycling Track to Tai Po. A 9km extension to the path takes you from Tai Po to Tai Mei Tuk, where you can light up at one of the many public barbeque pits, and enjoy watching the local kite fliers in action. Coal, drinks and basic snacks are available at stalls in Tai Mei Tuk, but stock up at the market in Tai Po for a better selection of meat and veg.

How to get there: Ride the MTR's East Rail Line to get to Sha Tin station, and follow the blue cycle path signs from there.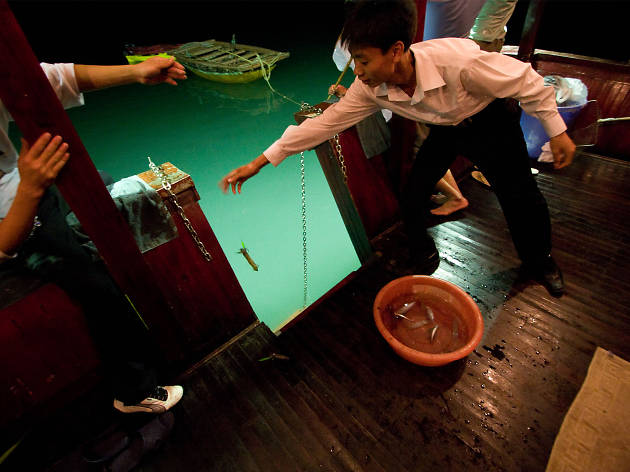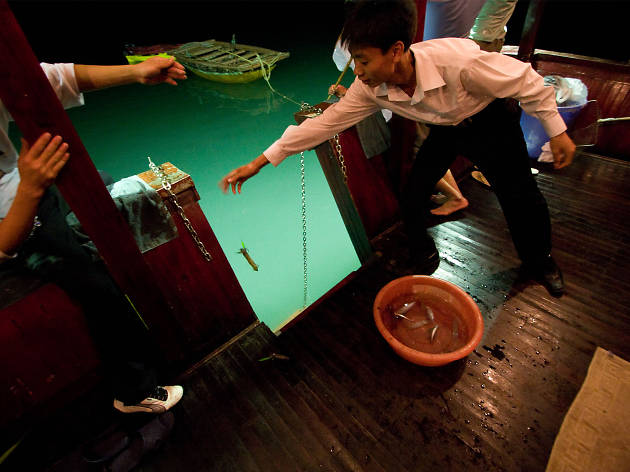 Photograph: Kurt Johnson
Catch of the day: Nighttime squid fishing
Pack a few drinks, hop aboard a junk boat at sunset and set out to catch squid by torchlight for a dinner to remember. April marks the start of the squid season in Hong Kong, so it's a great time to try your hand at this beloved local pastime, which involves luring the squid towards lights hung on the side of the boat, then sweeping them up with nets. Once your haul is satisfactory, your efforts will be cooked up on board right in front of you.

How to get there: Arrange your trip through Jubilee, which offers squid fishing boats that depart from multiple locations. Call 3555 5555 to find out more.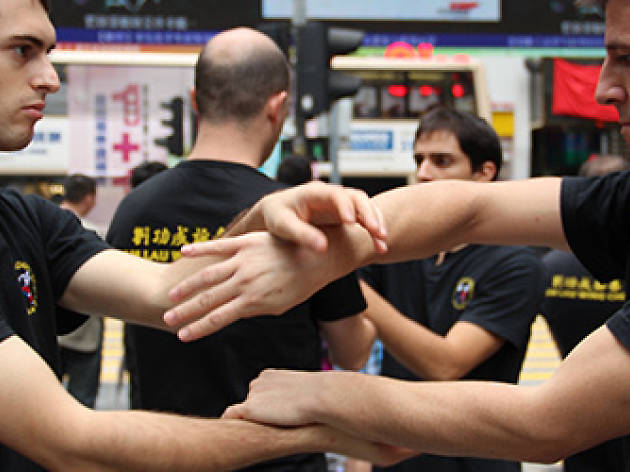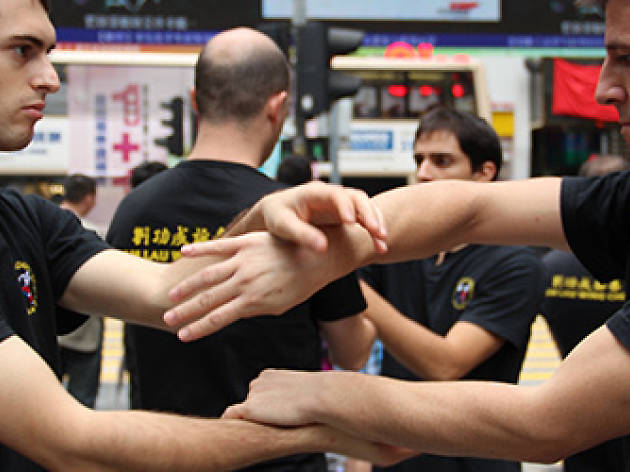 Photograph: Supplied
Kung Fu fighting: Try out HK's martial arts scene
You might not have heard of Lee Jun-Fan, but you'll know him by his screen name. Bruce Lee remains among the city's most beloved sons, and he was responsible for creating a global and lasting association between Hong Kong and martial arts such as kung fu and wing chun. Take the chance to give one of them a try – there are plenty of schools that offer one-day lessons, or overnight stays if you're feeling extra keen.

How to get there: Try a wushu camp at Shaolin Wushu Centre in Tai O on Lantau Island, or English-friendly wing chun classes at Wan Kam Leung in Yau Ma Tei. The Tourism Board also offers a full day excursion, including a one-hour wing chun lesson with a master, followed by dim sum and a tour of the ongoing Bruce Lee: Kung Fu. Art. Life. exhibition at Hong Kong's Heritage Museum.
Getting there...
Events Worldwide Travel are an Official Travel Agent for the Hong Kong Sevens 2017. Join us in Hong Kong for the world's most popular Rugby Sevens Tournament - Hong Kong Sevens 2017. Travel in style with these essential Sevens packages including flights, 4 nights' accommodation, 3-day match tickets and official souvenirs.