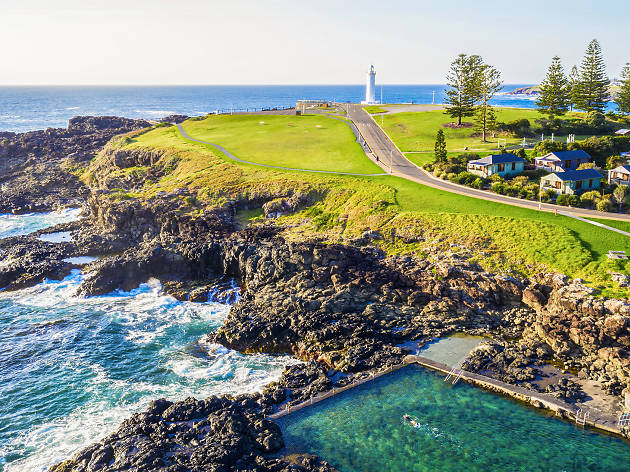 Ten ways to make the most of a Kiama getaway
Stunning coastal views and a buzzing hub of activity are just a short drive away
Kiama's ancient volcanic rocks, fizzing blowholes, undulating vivid green hills and ancient rainforests are part of the beautiful traditional lands of the Dharawal and Wodi Wodi people. Take a quick 90-minute drive (or a slightly longer but stunning, ambling train ride) south of Sydney and you'll find yourself planted in a vibrant hub of beach fun, nature walks, arts and community spirit. Pack the tiniest of bags for a short getaway that packs a punch and follow our top ten tips for overflowing a weekend itinerary in Kiama and surrounds.
How to fill up your ideal Kiama itinerary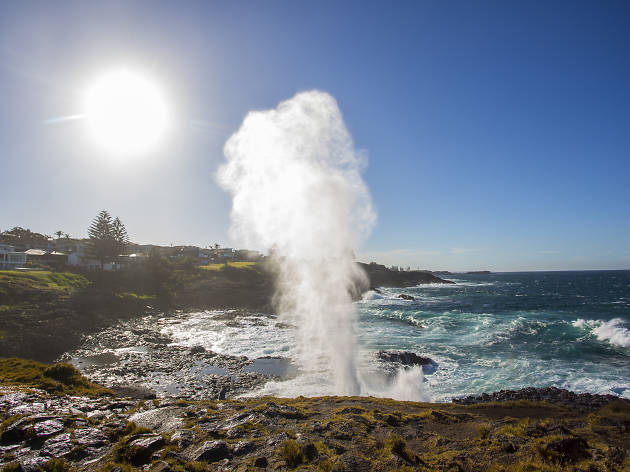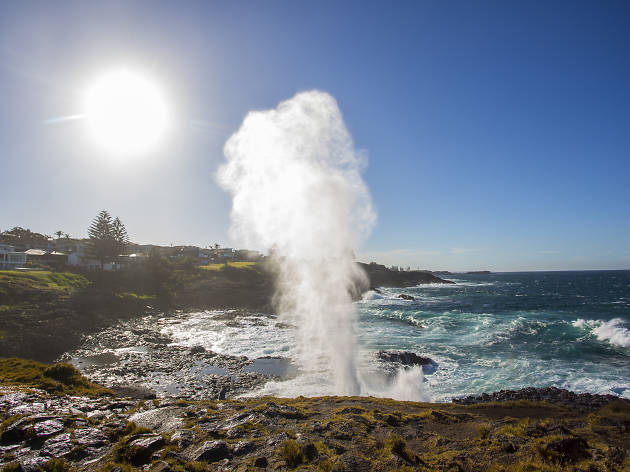 Photograph: Tim Clark/Destination NSW
Take in some natural wonders
Is it even a trip to the Kiama area without experiencing the spray of seawater from one of their famous blowholes? Boasting heights of up to 30 metres (on an ideal southeasterly wind and swell day), the Kiama blowhole is a wheelchair-accessible wonder to behold. Alongside its smaller counterpart (the aptly named small blowhole) you can marvel at the super soaker-like activity of the 260-million-year-old lava formation – watch wind and sea swell pushing plumes of water into the air through holes in the rock. Both blowholes can be seen along the Kiama Coast Walk, a stretch of paths and bike tracks that hugs 20 kilometres of seaside. Never fear, the walk can be broken into three manageable tracks and boasts only the gentlest of hills. Wrap up your natural-wonder sightseeing with a peep at the gothic tangles of Cathedral Rocks, a photogenic rock formation just three kilometres north of Kiama.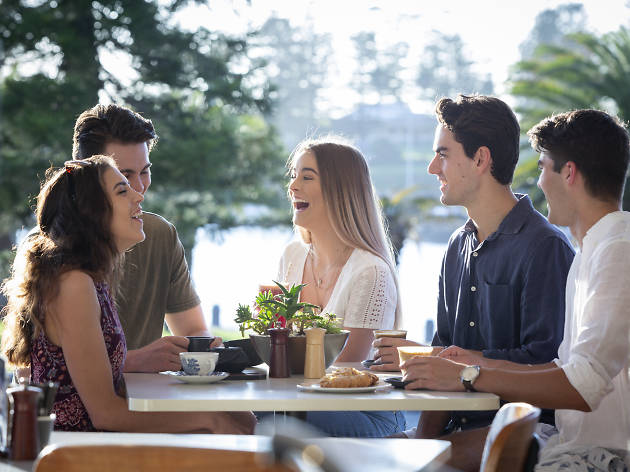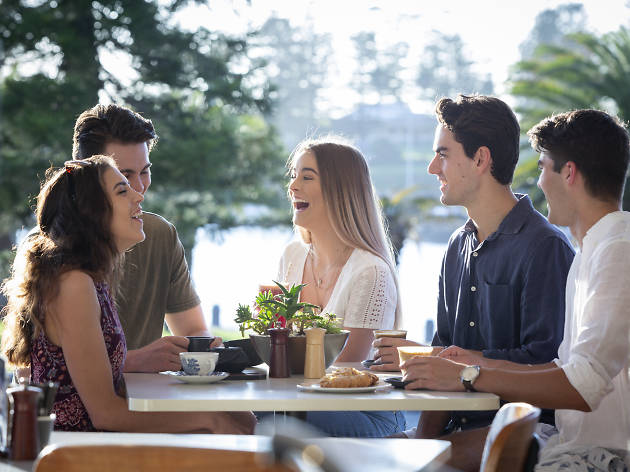 Photograph: Peter Izzard/Supplied
Try the area's delicious eateries
Start your day enjoying those beaut seaside vistas with a coffee and pastry from Parfait Patisserie in hand. The French-inspired baked goods are all made from scratch on premises and you'll find Parfait Patisserie's cases laden with delicious daily specials like lemon curd-filled croissants, banoffee tartlets and a technicolour spectrum of small cakes. Then, appreciate Kiama's farmland surrounds by swinging in to a lunch or dinner at Silica, a beachside restaurant that uses locally sourced and homegrown produce to create inventive plates like braised pork neck with tomatillo, peach and purslane. Make sure you also drop into harbour view bistro and café Penny Whistlers for classic burgers, fish and chips, and all-day breakfast by the sea. For a leisurely graze with exceptional views head to The Hill in Gerringong and meander down south to Gerroa for a cute little eatery with bold flavours, The Blue Swimmer.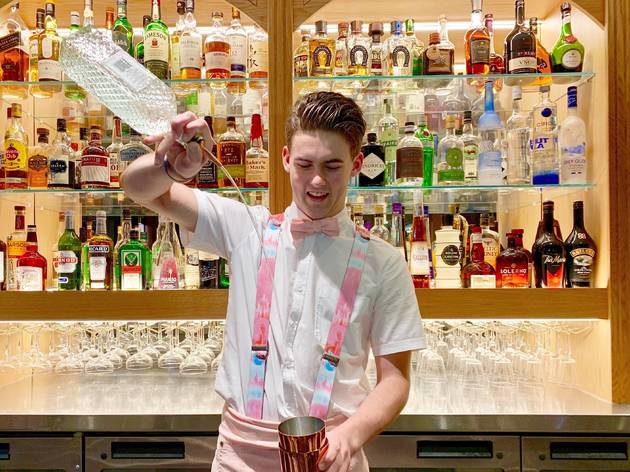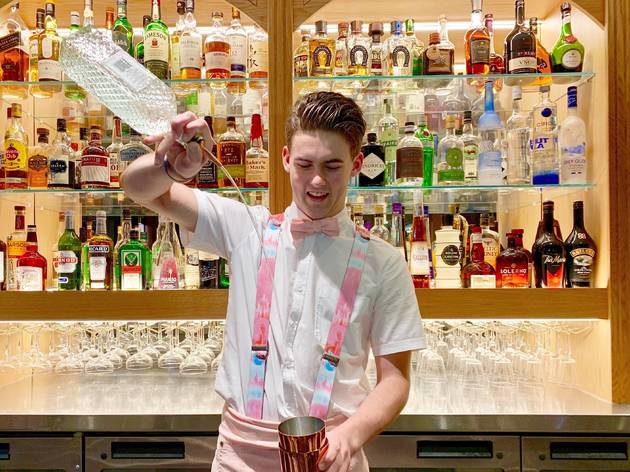 Sip on local drops then cocktail bar hop
The Kiama area has an abundance of venues where you can bend an elbow, from casual drinking holes to robust local vineyards. Hop over to nearby Gerringong for a scenic winery and a family-owned microbrewery. Crooked River Wines is the largest vineyard on the South Coast and boasts award-winning red and white wines, you can sip your way through their offerings at the cellar door or grab a quick bite at their restaurant taking in the property's soothing ocean and mountain views. Stoic Brewing is Gerringong's other boozy gem; make sure you drop in for one of their handcrafted beers, ciders or wines (they recently introduced growlers too for all your holiday takeaway needs). Back in Kiama the options come sundown are plentiful – sample a delicious cocktail from contemporary French bistro Yves at the Sebel, or enjoy a wine with a side of live music at Art Bar Kiama.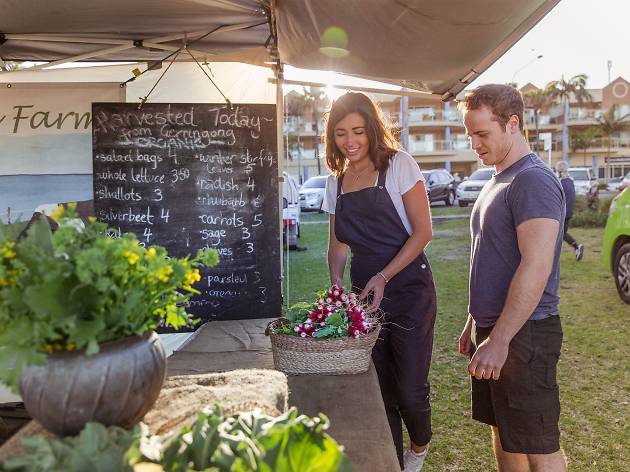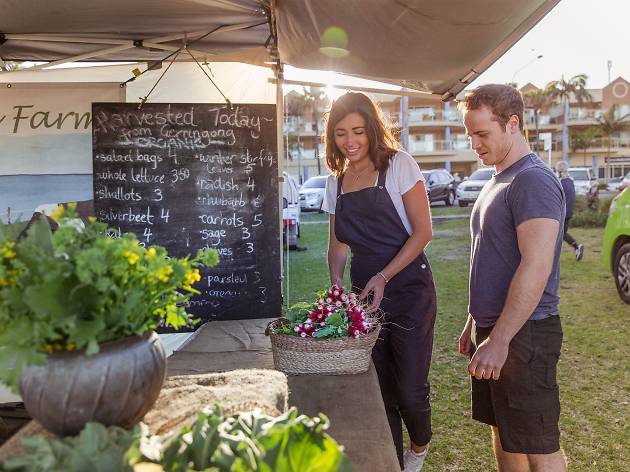 Photograph: Tim Clark, Destination NSW/Supplied
Pick up a bargain or one-of-a-kind gem
If your ideal weekend is spent perusing tables laden with local wares and farm-fresh produce then you'll be spoilt for choice in Kiama. Head to Surf Beach every Wednesday to buy goods directly from local growers and artisans. At the Farmers Market you'll find everything from delicious cheese from a nearby dairy to local Wagyu beef. If you're after covetable quirky objects and cute clothes, the Kiama Boutique Shopping Trail brochure has got you covered with a map of all the beachy and eccentric shops you need to visit. And no trip to the area is complete without visiting Gerringong's surf megastore Natural Necessity.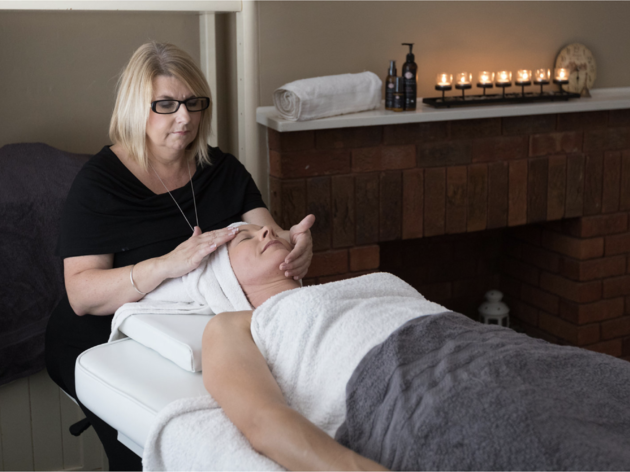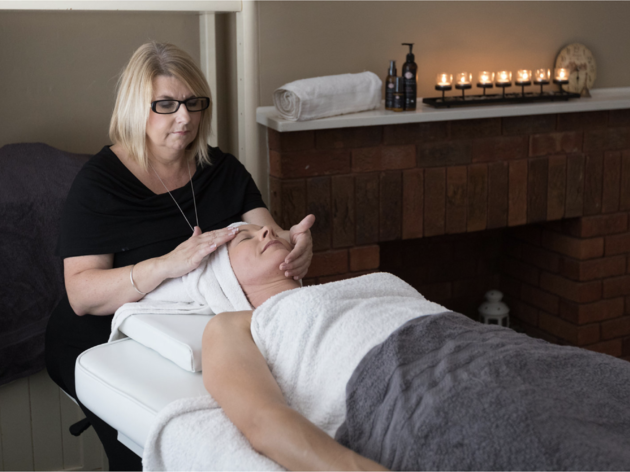 Photograph: Jon Harris/Supplied
Unwind with some essential self-care
Take some time out from eating and looking at beautiful landscapes and take advantage of Kiama's health and wellness options. If you're looking for some meditative stretching head to Emergence Yoga on Kiama's main drag for one of their drop-in classes, or take your tired bones to Gerringong for some rejuvenating pilates at Body in Line studio. Keep the self-care train going with a soothing body wrap or organic facial from Endota Spa. Cap it all off with a few salty laps at one of the area's exceptional ocean pools, treat your muscles to a dip at the Blowhole Point rock pool or gaze out at the rolling green hills fringing the isolated-feeling Boat Harbour pool in Gerringong.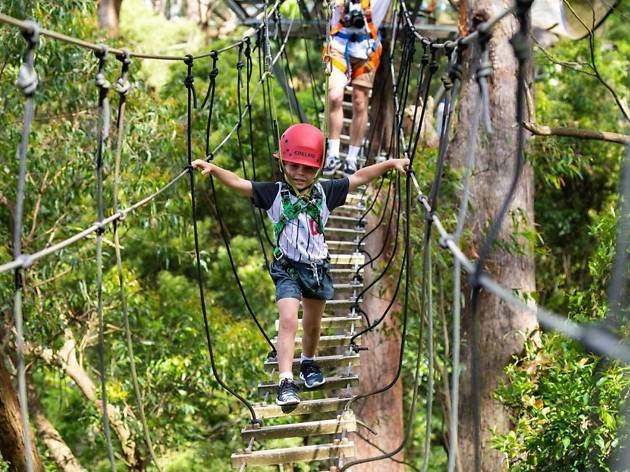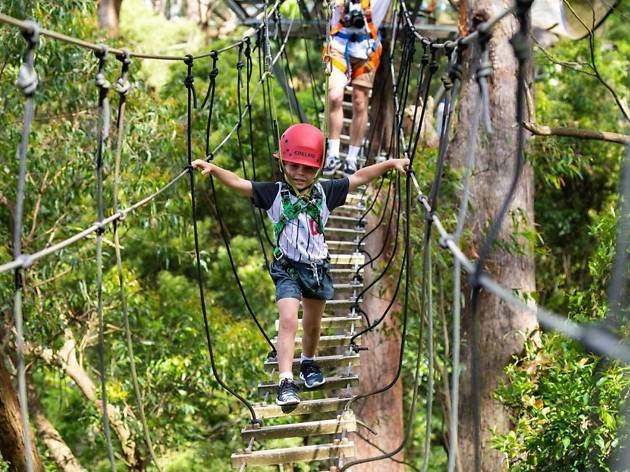 Photograph: Supplied
Take the whole family on an active adventure
Take a scenic drive inland from Kiama and you can't miss glimpses of the giant waterslide structures of Jamberoo Action Park amongst the lush green hills. Ensure a whole day's worth of entertainment for kids and thrill-seeking parents with the park's many high- and low-octane attractions. Share an adrenaline spike as a family and plunge into atmospheric drama and speed of the Perfect Storm or keep things chill with a gentle dip in the wave pool of Outback Bay where you can catch a "dive-in" movie during summer twilight hours. Take the kids further inland for a whiz through the rainforest at Illawarra Fly's massive zipline course or take a leisurely stroll through the canopy on their treetop walk. For the enthusiastic grommets in your family, try the Surf, Skate, and Meditate kids camp at Gerringong Surf School or overnight fun with Surf Camp Australia.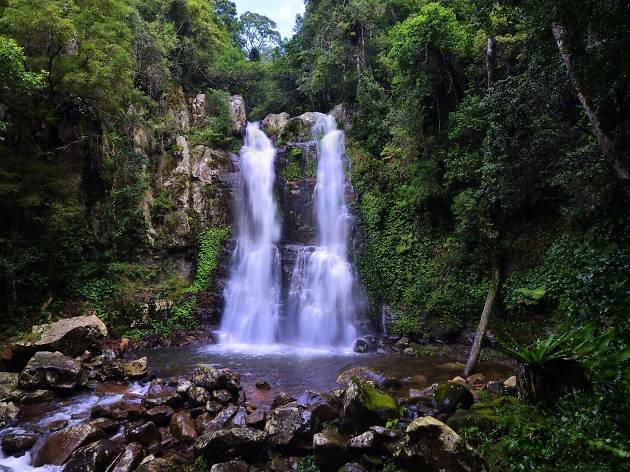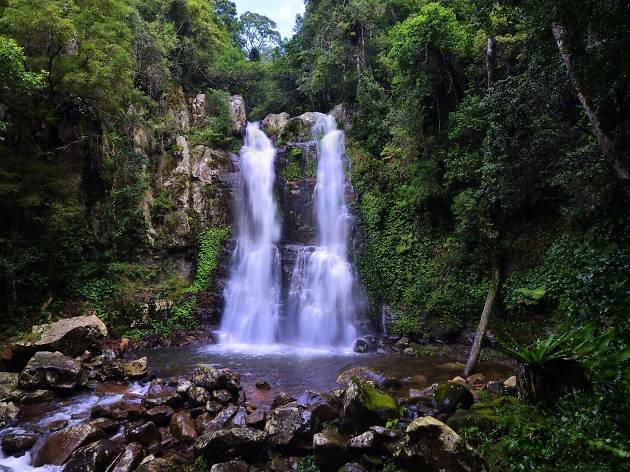 Photograph: Chilby Photography/ Supplied
Discover an ancient rainforest and lookout for whales
Explore the ancient Minnamurra Rainforest in Budderoo National Park with a stroll along the elevated walkway through giant trees and magical streams. See where the Kangaroo River plunges 50 metres down into a gully at one of the Carrington Falls viewing platforms and enjoy a sanga in the eucalyptus forest of the Nellies Glen picnic area. The Kiama Coast Walk can be enjoyed as an epic journey or a short saunter – we'd recommend the middle section from the Blowhole to Loves Bay, which is about 90 minutes and 5km of beaches and headlands, with the Little Blowhole halfway along and the possibility of seeing dolphins out to sea. For an aerial perspective of the entire Kiama area head to the Saddleback Mountain lookout, the perfect vantage point for surveying the stretch of coast from Cronulla to Milton. In winter, keep your eyes peeled for majestic sea giants at one of the area's whale watching platforms in Minnamurra and Gerringong.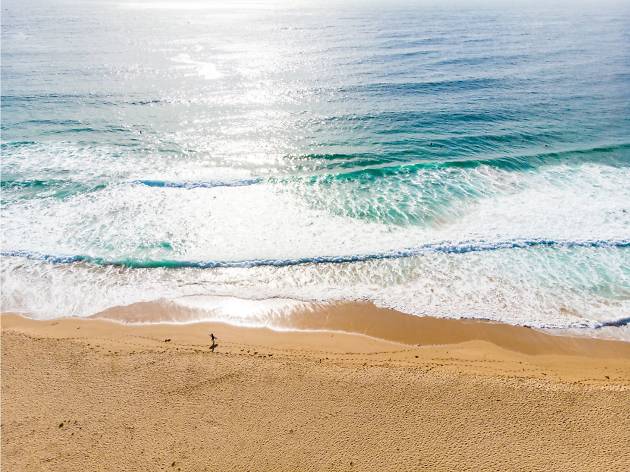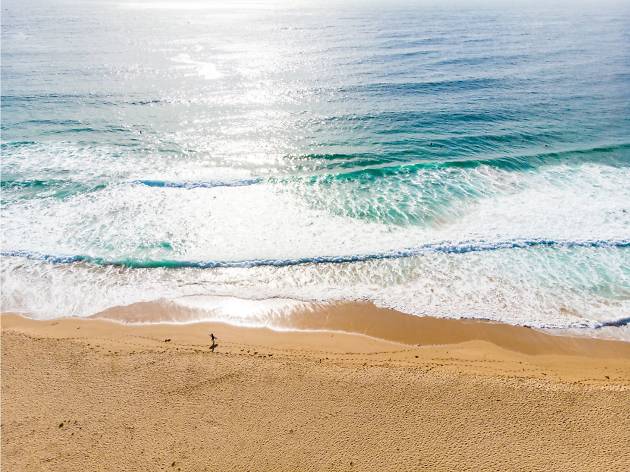 Photograph: Belinda Doyle/Supplied
Make the most of the ocean
Pack your togs for one of the Kiama area's nine pristine beaches. Seven Mile Beach in Gerroa is your go-to for bush-fringed seclusion along the 12-kilometre stretch of sand and gentle kid-friendly paddles abound in the estuary of the Crooked River mouth. Surfers will froth on the dual point breaks of Werri Beach or the consistent conditions at the beautiful Bombo headland. In fact, the area is so renowned for its wave-loving lifestyle that it attracts massive surf events year round – check out the SurfLife Gerringong Surf and Music festival in May for talks from Australian surf legends, surfboard swap meets, local food stalls and more or size up the talent at the Kiama Bodyboard King Pro in August.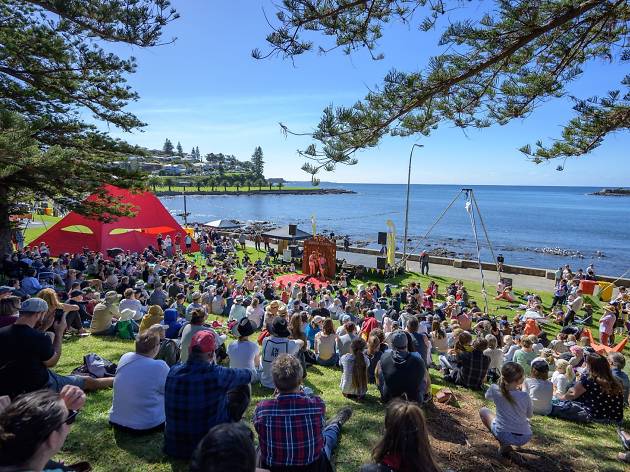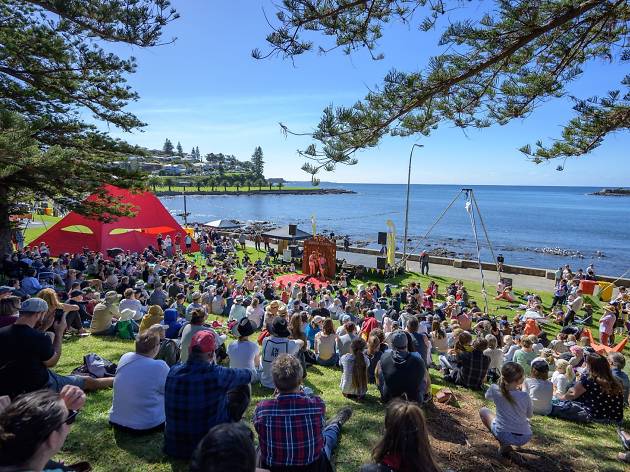 Photograph: GT Digital Media/ Supplied
Unleash your arty side at festivals, galleries and workshops
Culture vultures will find plenty to enjoy in Kiama during the year with a buzzing local creative scene, public sculptures, street art, and regular events. Head to the Old Fire Station Community Arts Centre building on Kiama's main street for weekly exhibitions from local painters, woodworkers and photographers and make sure to pop in to view the work of the resident artists at Fern Street Gallery in Gerringong. Plan your trip to time with the buzzing Kiama Jazz and Blues Festival in March or fill your weekend with cheeky performances at the KISS Arts festival in April. If you're more of a do-er than a looker sign up for an artist-led workshop in printmaking, textiles, painting, jewellery design and more at the relaxed and fun Kiama Art Workshops.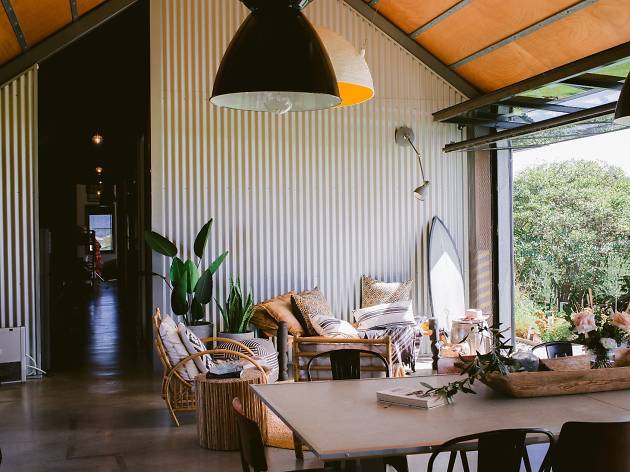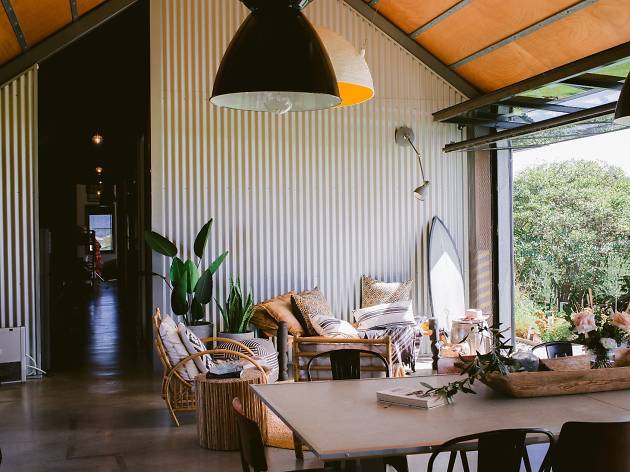 Photograph: Luisa Brimble/Supplied
From luxury farm escapes to action-packed holiday parks, there's an accommodation option for all budgets and tastes around Kiama. If you like your family cabin within metres of the water you'll find a plethora of caravans, campgrounds and holiday cabins dotted around the area. For more luxuriant stays try the striking architecture, posh pool, and private beach access of Dovecote or relish a farm experience with achingly aesthetic mod cons at The Shed. Settle in to full-blown rural charm at Terragong Bed and Breakfast in the Jamberoo Valley, a stunning Georgian building built in 1858 surrounded by country gardens and undulating hills.