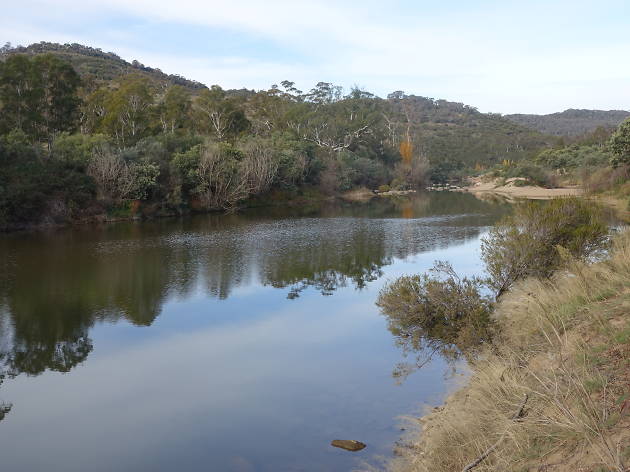 River swimming is how Canberrans cool down on scorching summer days
It may surprise you to learn that Canberra has a nude beach. No, it's not a place where the ocean waves will caress your naked form, but it is a delightfully sandy stretch besides the Murrumbidgee River. In fact, the Murrumbidgee offers some of the nicest freshwater swimming spots within shouting distance of Sydney.
Kambah Pool is where you can get your kit completely off without consequence, but if you prefer your river swimming with togs still attached, Casuarina Sands offers gorgeous picnic spots in the foothills of Canberra's mountainous regions, swimming, kayaking and the chance of catching a murray cod or silver perch. It's also one of the few spots on the river with dedicated toilets, and a drive-up car park, making it very kid friendly. For these reasons, it can get packed on warm weekends, so if you're looking for somewhere more secluded, hike south a little way down the 27-kilometre Murrumbidgee Discovery Track to find your own, more private part of the river.
If you have a puppy in tow, Uriarra Crossing, further north, is a pet-friendly picnic spot where you and your dog can take a dip together. Much further south, Tharwa Sandwash is a pretty stretch of river that's home to dozens of species of birds – plenty of which will be visible, or at least audible, as you float past them on your lilo.
In summer, river swimming is just as refreshing as a dip in the ocean – although in winter, rivers tend to be much colder than the sea around New South Wales. There may be no waves, but river swimming is no safer than a trip to an ocean beach. Whenever you're going swimming you should heed any warning signs, be mindful of fast running currents, check conditions before you head out, and always be on the lookout for submerged logs and other objects.
Venue name:
Tharwa Sandwash
Contact:
Address:
Smiths Road
Tharwa
2620

You may be interested in: