Wild Food Adventures' Truffle Hunt with Lunch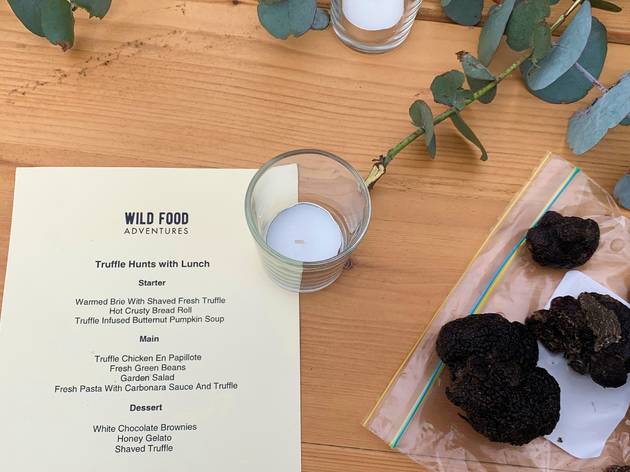 1/5
Photograph: Divya Venkataraman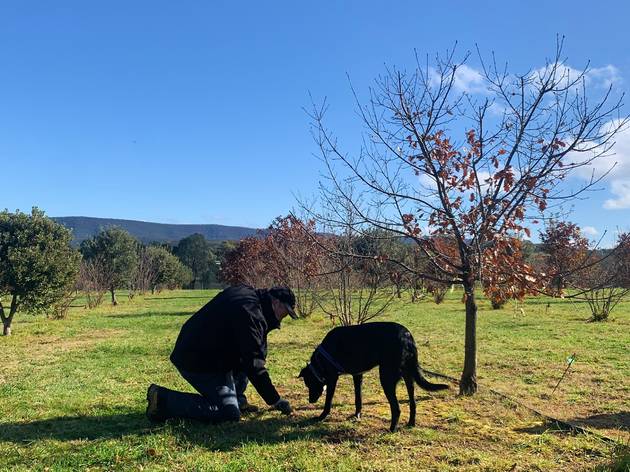 2/5
Photograph: Divya Venkataraman
3/5
Photograph: Divya Venkataraman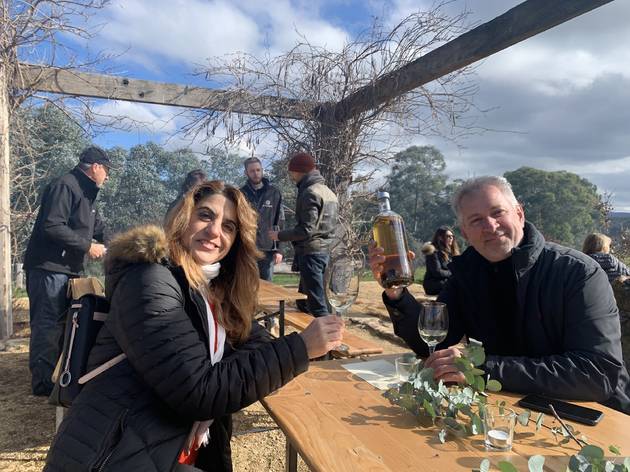 4/5
Photograph: Divya Venkataraman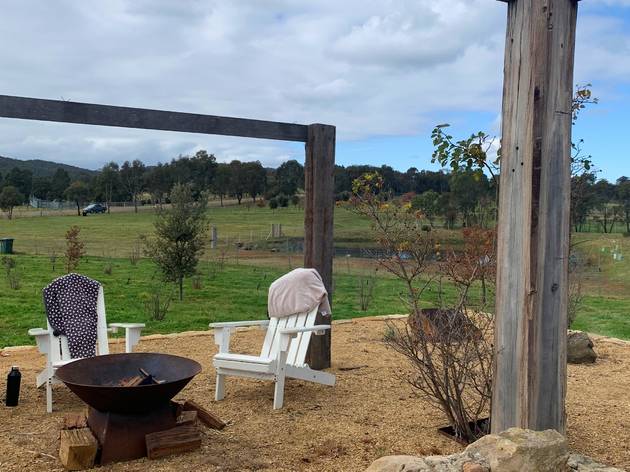 5/5
Photograph: Divya Venkataraman
Time Out says
Set off on a truffle hunt in the lush surrounds of the Sourthern Highlands, and be rewarded for your efforts afterwards with a three-course fireside lunch
If wandering through the surrounds of a lush Southern Highlands property hot on the heels of a cute pup in search of thousands of dollars of 'edible gold' sounds like how you'd like to spend a wintery Saturday morning, well, join the club.
Truffles are an expensive, highly sought after fungi derivative, with eateries in Sydney creating dishes specifically crafted to showcase their rich, umami flavour – from pasta, to pork dumplings to even truffle-infused lattes. Others, like Devon Cafe, New Shanghai and Goodfields, have even devoted entire winter menus to the luxe ingredient.
But before they find their way to the plate, they need to be harvested, and it's the extreme lengths truffle farmers have to go to in order to do this that makes them so damn lucrative. Wild Food Adventures, a local Southern Highlands company, has been running experiences marrying food and the natural scenery of the area for years. To cater to truffle hunters, they've teamed up with Ganymede Truffles, a small family-owned truffle farm in Big Hill, NSW. In early June, before the start of the truffle hunting season, David, co-owner of Ganymede Truffles, starts training Zazu, his acutely trained hound, to remember the scent of truffles by burying synthetic truffle oil and rewarding him for sniffing it out. In late June, the real truffles, buried at the foot of the oak trees dotting Ganymede's property, have developed enough of their earthy flavour to be extracted from the ground – and sold for around $3 a gram.
And that's where the aspiring truffle hunter comes in. Don't be disconcerted by the numbers on the thermostat dropping steadily into the single digits on the drive into the Southern Highlands – what is chilly for the average human is perfectly temperate holiday weather for the average French Black Perigord truffle.
After meeting up and getting acquainted over some light refreshments, David, along with co-owner and wife Wendy, leads a small group of truffle hunters towards the oak trees. For the next hour or so, we follow Zazu as he weaves through the oak trees and cleverly marks spots where he can sniff out truffles. David then leans down into the dirt, investigating the spots he's pointed out. Zazu is vivacious and eager to please – but his marks aren't always indicative that there's a truffle ready to be pulled from the ground. "He's got too good a nose," says David sagely. "He often picks up on truffles that aren't quite ripe yet… they're there, but we can't take them out of the ground, because they haven't developed the right flavour." A blessing and a curse, indeed.
David and Wendy keep up a steady repartee through the truffle hunt, furnishing the group with stories of the property, the area, the recent bushfires that skirted the neighbourhood, and the long, secretive history of truffle-growing as it developed in the traditionally cooler climes of Europe. "Many of these old Italian truffle farmers died without telling anyone where they were finding these huge, kilogram-sized truffles," David says, conspiratorially. "So that knowledge died with them."
Now, Zazu might not always be on the money, but when he is, he nails it: he's led the group towards a small treasure trove of truffles by the end of the truffle hunt, each bigger than the last.
Once the truffle hunt is over, the group wanders over to the remains of the old homestead, where vines are tangled around wooden posts, fires are crackling in iron pits and long tables are set with candles, native plants and wine glasses ready to be filled with local wines. We tuck into a three-course menu featuring truffle-infused butternut pumpkin soup and soft brie to start, followed by a truffle chicken en papillote and a warm, truffle-scented carbonara to accompany it. And don't worry – vegetarians and vegans are also well-catered for.
The warming, nourishing lunch is a lovely finish to a morning spent out and about, but dessert is the one worth waiting for: layered, rich truffle-honey gelato spooned on top of a gooey white chocolate brownie. Each course comes with a matched wine to taste, which could explain the pleasant, lingering satisfaction which follows the final spoonful of gelato – but we'll put it down to the combination of sunshine, scenery, friendly company and the thrill of setting off on a (truffle) quest.
Book in for a truffle hunt and lunch on Saturdays from now until August 8 2020 online. The experience runs from 10am - 2pm and costs $175 per person. The exact location of the hunt is revealed upon booking, but it's around a two hour drive from Sydney's CBD.
Details