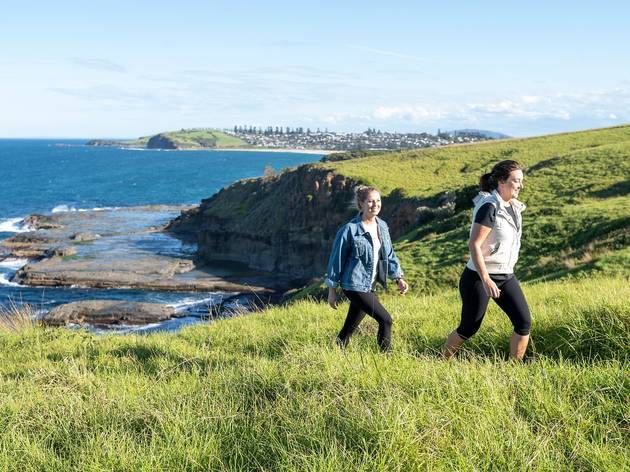 Your essential guide to whale watching season around Kiama
Head south for a seaside adventure with added eats, sights and events this winter
The eastern coast of Australia is blessed with a little wild magic between April and November every year – the annual migration of (mostly) humpback whales. The gentle giants make their way up from Antarctica to mate and birth on the north coast and then head back down gradually giving keen eyes along the shore a spectacular glimpse as they go. One of the best spots to see whales during this migration is in and around the NSW south coast.
Pack your binoculars and set off for Kiama, the traditional lands of the Dharawal and Wodi Wodi people, this winter for unbeatable whale-spotting vantage points along a walkable 20 kilometre stretch that takes in staggering seaside views. The Kiama Coast Walk is broken up into three sections of easy to medium walks and can be tackled in parts or all at once. You can pop in to any part of the coast walk and find yourself adjacent to the whale's migration path as most of it skirts the headlines and shorelines of Kiama and surrounding towns.
What's a whale spotting adventure without accompanying snacks, activities and local gems to explore? We've devised an ideal itinerary around each of the walk's sections to help you extend your whale-lovin' day trip into a full blown winter weekend adventure. Here's how to make the most of a trip to Kiama and its gorgeous surrounding towns and waterways.
Where to spot whales on the South Coast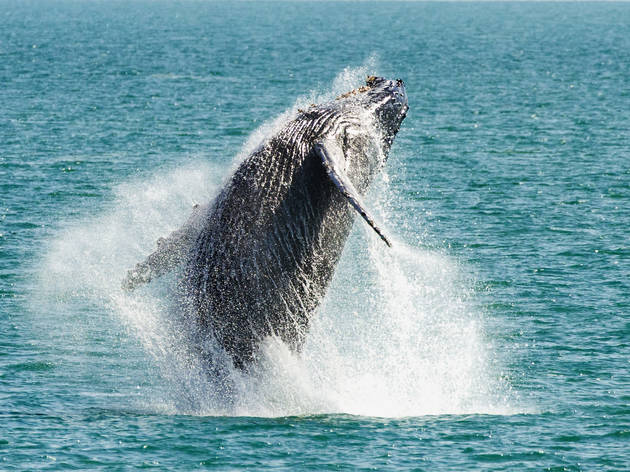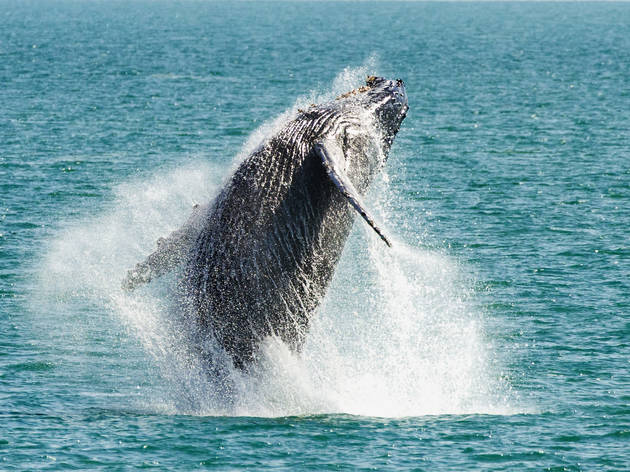 Photograph: Lachlan L. Hall
The famous Kiama Coastal Walk begins at the Minnamurra whale watching platform. Get your bearings at this stunning vantage point and look out for a breaching humpback whale or their signature plume of water shooting into the air. The platform is elevated so you have a greater chance of spotting one of the marine beauties and you're adjacent to the walkway so you can meander along the coast for more beautiful views.
Take in more of the Minnamurra headland as you walk along with dreamy views over Mystics beach and Killalea beach. In the distance you'll see Rangoon Island, a stacked basalt rock formation named after a 1870 shipwreck that is inhabited by seabirds. The mysterious island and its history should satisfy your day's seaside exploration if there's no whales in sight. If rock formations really float your boat, you'll also be delighted by the gothic drama of the Bombo headland also along the way on this northern part of the coastal walk.
While you're here:
This lush suburb is situated near the Minnamurra River, a tidal swimming and kayaking treasure that snakes into the sea. Spend a bit more time in the area and you'll be rewarded with cute eateries, world-class fishing and a hinterland packed with rainforests and waterfalls. You can stay overnight in an adorable studio cottage or unwind poolside in a large five bedder with ocean views.
Pop in to the Minnamurra Café for a house-baked treat or something a bit more substantial with their menu of large-portion lunches that always draws a crowd of hungry locals and visitors. For a lunch that looks as good on your plate as it will on your Instagram feed try Stacks Burger House, a diner that takes its coffee as seriously as its burgers. Then when dinner time hits feast on an ocean-fresh plate of delicious seafood from FishTribe.
Minnamurra, Bombo and the adjacent Kiama Downs are also buzzing hives for golfing, visiting an art studio (or two) or taking a leisurely stand-up paddle board out along the river.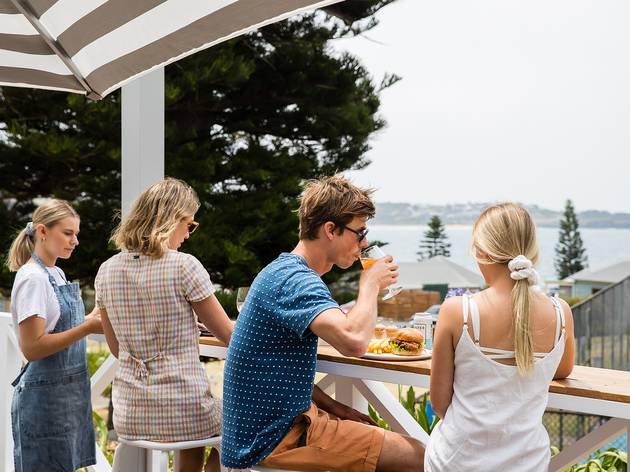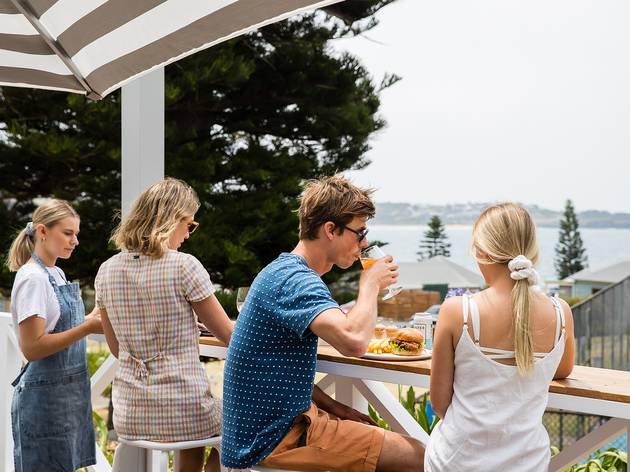 Photograph: Supplied
Whether you walk there along the trail or skip straight to it, there's no denying Kiama is a supreme option for your whale-spotting base. Aside from the town's two designated whale viewing platforms, you'll find that the area's hilly landscape offers excellent sightlines from nearly anywhere. Even the train ride in is an opportunity to catch a glimpse of a finned friend from the window as the rail line skirts the shore from Bombo to the Kiama station. And the famous Kiama blowhole is only a 13 minute, largely downhill stroll from the station so you can be ogling whales spouting water in the air next to a rocky water spout too – double the fun.
This south coast metropolitan area has many accomodation offerings with exceptional water views. Kiama has four beaches to scrutinise for signs of whales and the whole town is centred around a calm harbour, so your stay is bound to look over the ocean in some capacity. Whether it's a luxury hotel, a tidy cabin overlooking the Pacific Ocean or a lush hideaway with a horizon-facing hot tub, you're spoilt for relaxed whale-viewing choice.
While you're here:
Kiama has a vibrant city centre with quirky shops, a diverse dining scene and regular zippy events. Add the annual Kiama Running Festival in June to your calendar or make a date with the steampowered Picnic Train in May. Be sure to time your visit around the solstice too, with the Ignite Kiama Winter Festival taking over the foreshore on June 19. There's bush tucker and cooking demos, a rhythm show from Junkyard Beats, a visit from Lolo Lovina the Gypsy Caravan, aerial circus performers and heaps more.
Give your eyes a rest from squinting for whales and peruse some local creations at the Terra Art Gallery and the Art Bar Kiama (with a side of tapas from the in-house restaurant).
Refuel while you keep your eyes out to sea at casual beach café, Diggies. You can graze on delights from their all-day brunch menu at a cute as hell white picnic table under a nautical umbrella on their alfresco patio. If the fix you need is of the caffeinated variety head to Little Earth Café for robust brews with ocean views. Or take in some sights over Black Beach from one of the sea-facing tables at Penny Whistlers, a café by day that rolls into a relaxed dinner service.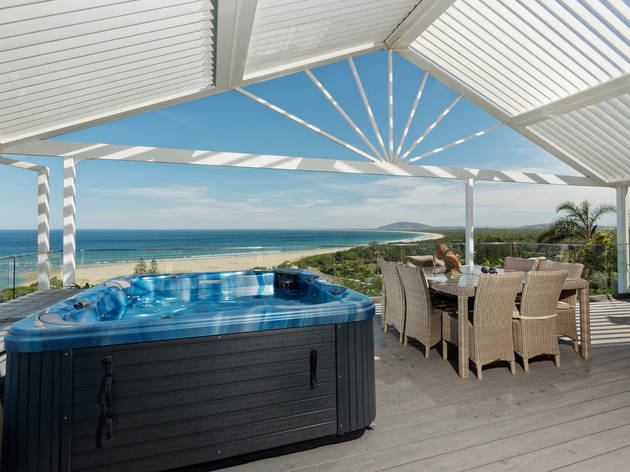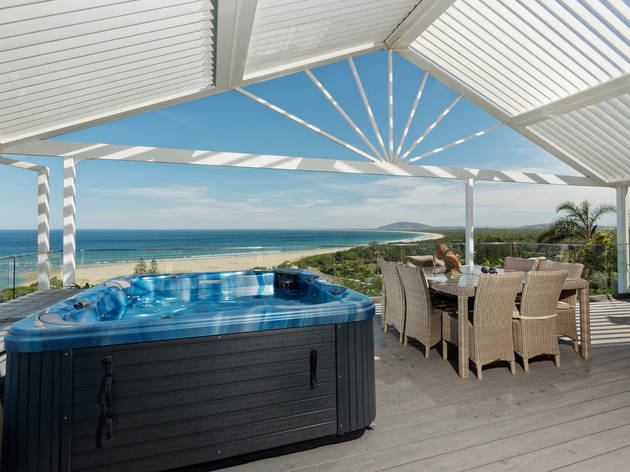 Photograph: Supplied
Considered to be the most difficult portion of the Kiama Coast Walk, the stretch between Loves Bay in Kiama to Werri Beach in Gerringong is packed with beautiful bright green hills and rewarding up-high views. Once you've hit Werri Beach it's a relatively flat walk along a pathway or the sand with the latter your best bet for one last look out to sea for a fin or two. Make your way to the Gerringong Bowlo at the end of the Werri stretch and you can get a coast walk special: a free ride back to your car if you spend $20 or more at the restaurant.
If you've still got some wind left in your sails you can walk around the headland to Gerringong Boat Harbour for an incomparably scenic dip in the ocean pool. Live out your mermaid fantasy and gaze out to sea from the pool's edge, it doesn't get much better than that.
While you're here:
Gerringong is a cute, surfie town with relaxed vibes and an eclectic community. The town strip is a great place to refuel with options ranging from quaint bakery to quick takeawy joints to casual alfresco dining at The Hill Bar & Kitchen. The shops are well worth a look-in too with a surf megastore and beachy boutiques along the main drag. To get a glimpse of the area's local art scene, pop in to Fern Street Gallery for monthly exhibitions from resident makers.
Travel further south for about ten minutes and you'll find the even smaller Gerroa. Home to the pristine Seven Mile Beach this little residential area has idyllic and calm waters to laze about in or try your hand at water activities like windsailing. Along the way you'll peep a dramatically scenic golf course nestled in the rolling green hills. Stop in for a schooner at the Golf Club if you don't have time for a game, you'll be impressed by the private views of the sea. A stop at Gerroa's The Blue Swimmer is mandatory with a takeaway coffee window for when you're on the go or an effortlessly chic dining room for long lunches or special occasion dinners.
Reward your weary bones with a luxe stay in one of Gerringong and Gerroa's comfortable lodgings. Make a memorable family weekend at Werri Beach Holiday Park, romance your paramour with a spa treatment at The Shed. Gerroa, get the gang together for a splash in the pool at Sundara Beach House or hire a whole sea facing house to watch the whale migration from at Ataahua.