Heads up! We're working hard to be accurate – but these are unusual times, so please always check before heading out.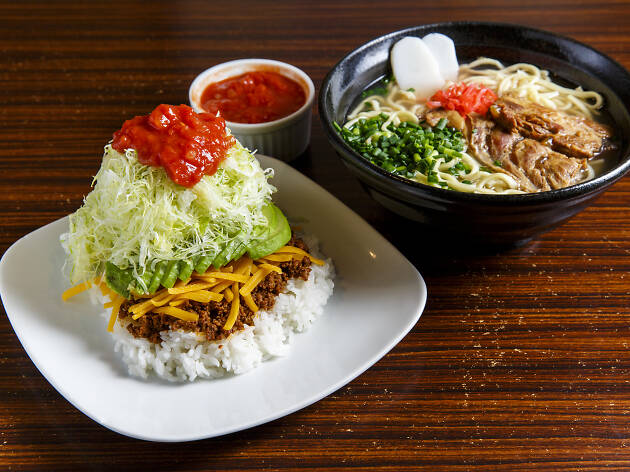 1/5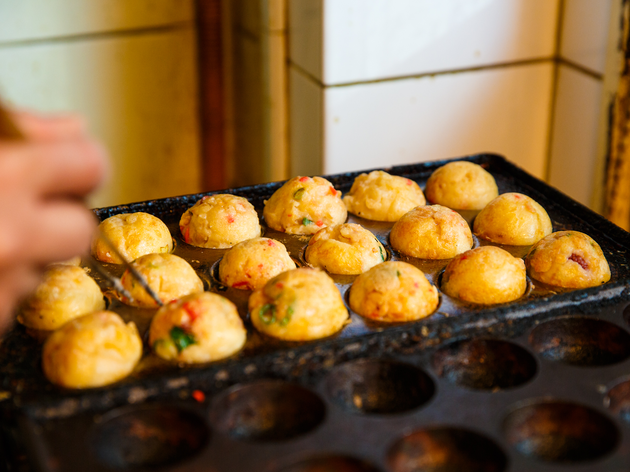 2/5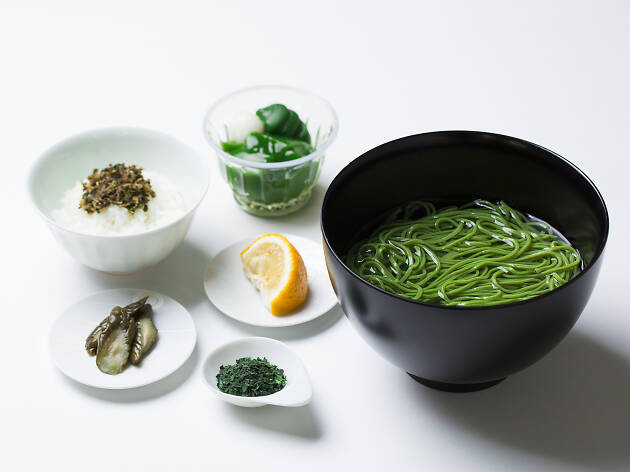 3/5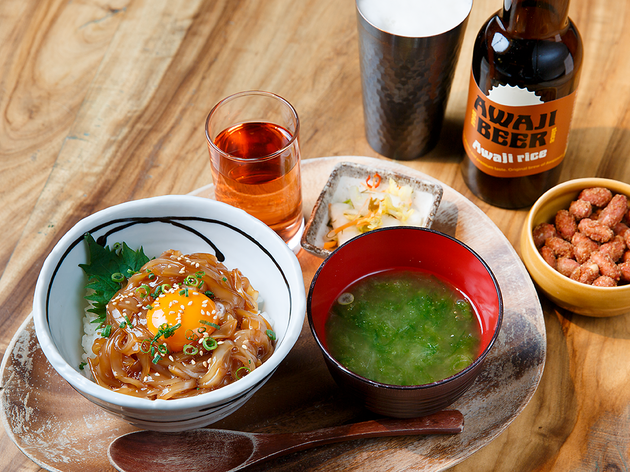 4/5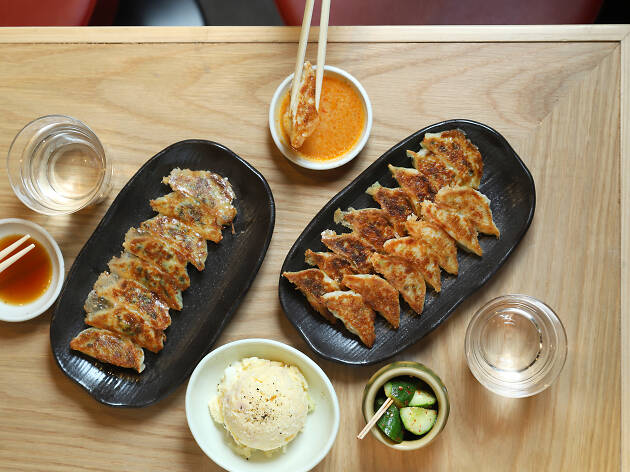 5/5
Photo: Hiroshi Teshima
Best regional Japanese restaurants in Tokyo
Where to savour regional Japanese cuisines in Tokyo, from Hokkaido's grilled lamb to Kyoto's matcha desserts and Osaka's takoyaki
Being Japan's capital and by far its biggest city, Tokyo hosts a diverse range of all the country's top regional specialities, be it food and drink, culture or even arts and crafts. So why buy that pricey shinkansen ticket when you can experience the full breadth of the country without leaving the city?
Food is an obvious place to start, and you can begin your eating adventure with these speciality restaurants that will take your tastebuds on a journey throughout Japan. Enjoy Hokkaido's jingisukan lamb barbecue and fresh seafood, Osaka's kushikatsu (deep-fried skewers), Kyushu's famed black pork tonkatsu, Fukuoka's signature ramen and more right here in Tokyo.
RECOMMENDED: 10 things you must eat while you're in Tokyo
Hiroshima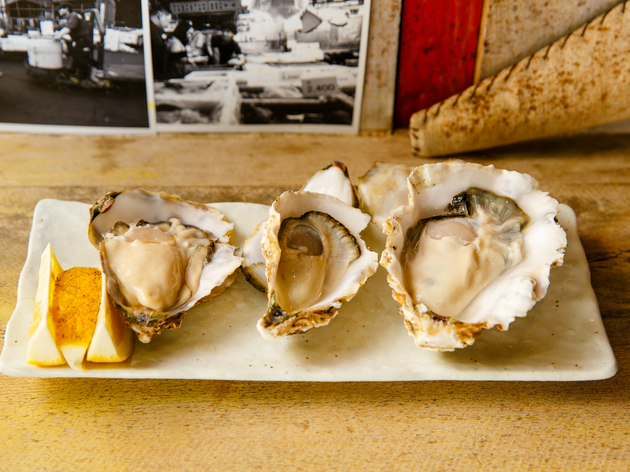 Hidden away just south of the calm Shoin Jinja-dori shopping street deep in residential Setagaya, Marusho Ariku is not your average neighbourhood izakaya. This shabby, somewhat bar-like joint with a small kitchen enclosed by a counter may not look like much, but it actually serves up a wonderful spread of oysters and 'obanzai' – traditional, healthy Kyoto-style meals.
A veteran of Tsukiji fish market, the owner constructs his menu around fresh oysters, sourced from wherever in Japan the bivalves are tastiest in each season (we recommend the Hiroshima ones when they're on the menu). You can always choose from at least three types of top-quality oysters – or you could try them all by ordering the three-piece set, which lets you compare textures and flavours before deciding on a favourite.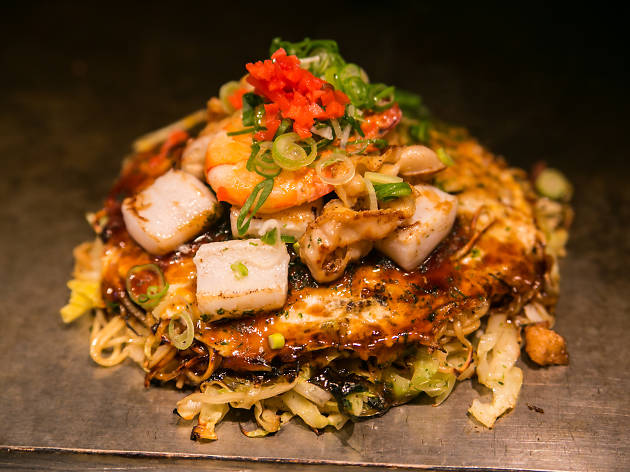 While okonomiyaki joints are dime a dozen in Shimokitazawa, none of the others get quite as busy as Hiroki. Although the savoury pancake dish is most often associated with Osaka, this restaurant makes it Hiroshima-style, with ingredients sourced from the southern city.
Unlike Osaka's okonomiyaki, in which the batter and fillings are mixed together before cooking, the Hiroshima version is prepared by spreading out the batter on a hotplate, and then topping it with cabbage, pork, noodles, egg and other ingredients. Hiroki also offers noodle-free versions; however, first-timers in particular will want to go the whole hog, which is expertly prepared right in front of your eyes if you're lucky enough to grab a counter seat. Seafood options are available for those averse to meat.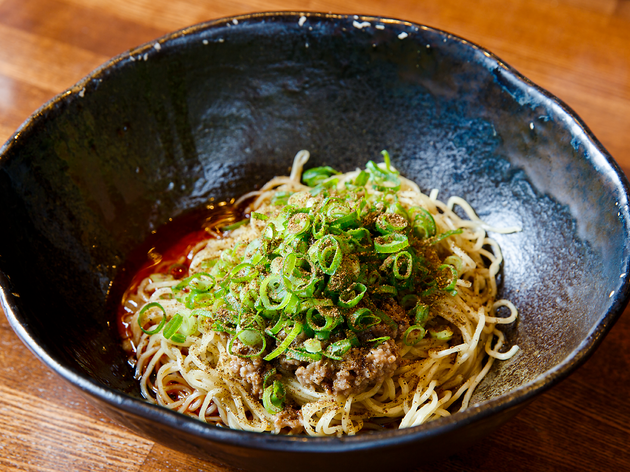 Hailing from Hiroshima, where it has won a loyal following with its simple but oh-so-addictive 'soupless' dandan noodles, Kingken is located near Shiba Park and gets reliably packed every lunchtime. The chefs are adamant about using the exact same ingredients as the original restaurant, and apparently the taste is identical – transplants from Hiroshima make up a significant portion of the regulars.
You can choose from four degrees of heat for your noodles, with '2' probably the most common pick and '4' recommended only for experienced spice fiends. A common beginner's mistake at Kingken is to dig in as soon as your dish arrives. Instead, you're supposed to mix the noodles and the sauce at the bottom until the two are entirely blended together.
Another thing to keep in mind is not to throw in the soft-boiled egg you get with your dish right away. Save that for what you get after finishing your noodles, dandan rice: white rice, mixed in with your remaining sauce and flavoured with extra sauce, vinegar, sansho pepper and other spices available at your table.
Hokkaido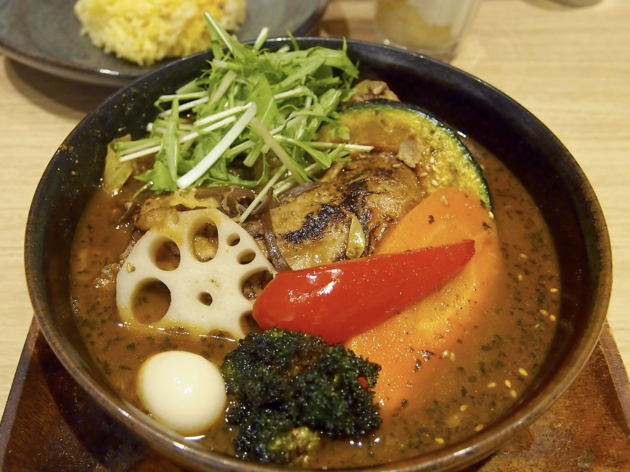 Located on a quiet side street near the Nakano Broadway promenade, this curry shop has a multi-step ordering system, so it's a good thing they have an English menu. Customers first choose their soup curry type (chicken leg, seafood, vegetable, mushroom, etc), then their soup (house original or a speciality stock for a few hundred yen extra).
Next, you can choose some extra toppings (cheese, bacon, extra veggies), your preferred spiciness level, and finally your rice size. We recommend pairing the soup curry with their delicious lassi made with Hokkaido milk. Pro tip: don't be too cool for the bib they give you – you'll need it.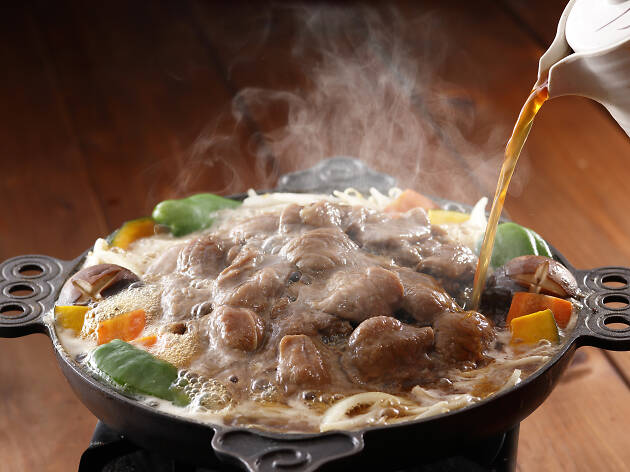 This classy wood-panelled barbecue joint is on a narrow street off Ginza's main drag. A row of tabletops line one wall, with the rest partitioned behind glass walls, and at the centre of each, depressed into the table surface, is a dome-shaped grill, meant to represent Mongolian warriors' helmets.
Although their all-you-can-eat/drink dinner deals are reasonably priced, for those on a budget we recommend the warrior-sized lunch sets. You can choose from six types of lamb and veggie grills (mostly under ¥2,000 on weekdays), which include self-serve soft drinks and all-you-can-eat salad, rice and miso soup (also self-serve), plus dessert – a traditional Hokkaido milk pudding called yukishiki-anshin.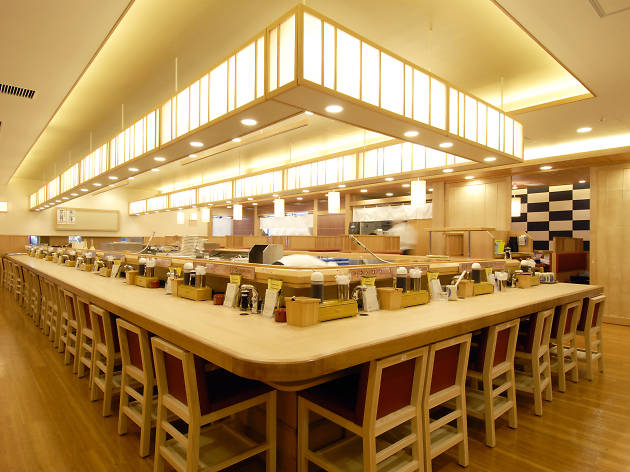 With seafood delivered straight from the restaurant's Hokkaido headquarters, it's clear why people are willing to stand in long lines for a spot at this affordable kaitenzushi joint. Toriton is a seafood lover's paradise, with menu items including buttery kanimiso (crab innards), gleaming ikura (squid) nigiri wrapped in salmon, and an icy fresh Hokkaido shrimp nigiri.
Plates range from ¥141 to ¥681, and unlike many other sushi-go-round spots where it's advisable to order directly from the chef, here you can happily pluck plates straight from the conveyor belt. Yes, there are cheaper kaitenzushi places out there, but Toriton's generous portions combined with the freshness of the fish make it an unforgettable stop that'll leave you dreaming of your meal long after you've left.
Kyoto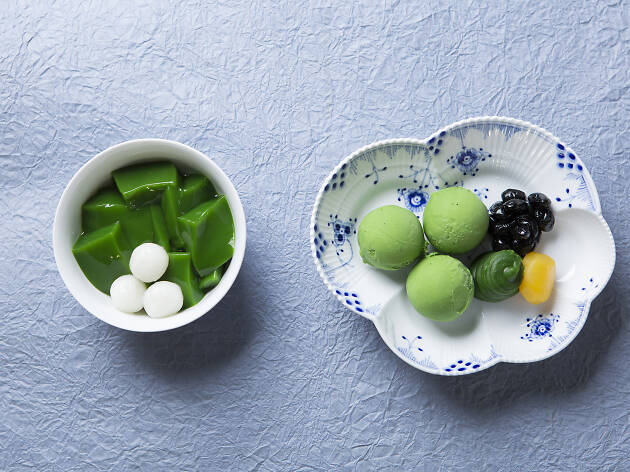 On the fourth floor of the chrome-plated shopping mall Ginza Six is this understated little shop. At the front, you'll find a great variety of matcha tea for sale, but beyond a mysterious partition curtain is the real gem: its café.
Everything on the menu is made with matcha, including their soba and udon. The waiter will prepare complimentary tea when you sit down, while describing the day's selection. The matcha notes in everything from the noodles to the cheesecake are mild and never overpowering. We recommend the matcha soba set, which comes with ginger-topped rice, Kyoto pickles, matcha jelly, and three different ways of seasoning the soup.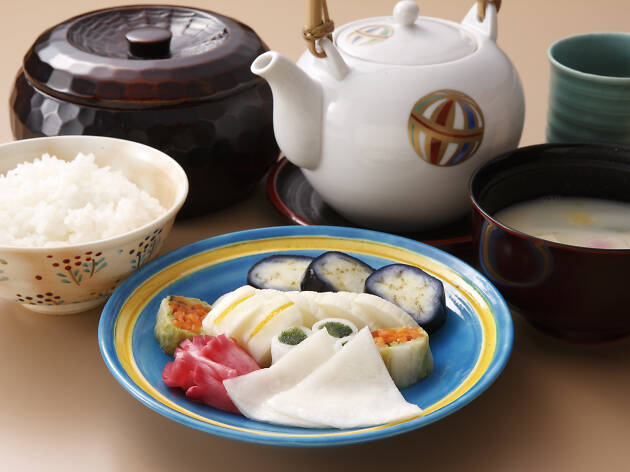 While tsukemono is wildly popular across Japan as a side dish staple, this café and store elevates the Kyoto pickle from its garnish status and makes it the star of the show. Everything on the menu is pickled, including the dessert: pickled apples and ice cream. Grab a counter seat and order a meal set, a delicately arranged pairing of flavourful pickled veggies with a basin of rice, two types of tea and a white, creamy miso soup.
A long counter displays dozens of refrigerated pickles for sale, nearly all of which can be sampled. Don't be afraid to ask questions – the friendly staff love to talk about their Zen-inspired pickle love.
Sister shop to their ever-popular Kyoto restaurant, this is the perfect spot to get your late-night gyoza fix. Gyoza Hohei has received the Michelin Bib Gourmand nod for three consecutive years since 2017, and is best known for its signature bite-sized dumplings with a savoury garlic and leek filling and a crisp exterior. Its ginger gyoza, which contain no garlic or nira onion, are a popular alternative for those wary of plaguing their companions with bad breath.
Kyushu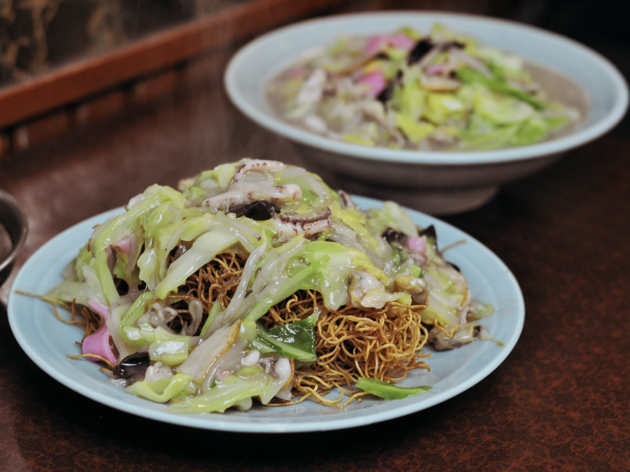 This hole-in-the-wall restaurant in Shibuya serves classic Nagasaki-style dishes, particularly champon noodles and sara udon. The champon features thick wheat noodles inside a hearty soup teeming with veggies and seafood. The sara udon, however, can be had with either deep-fried crispy thin noodles or thick ones (same as the champon), and it's topped with a starchy stir-fried mix of veg, pork and seafood including oysters, fishcakes and squid. Don't forget to order a plate of the sizable pan-fried gyoza to complete your meal.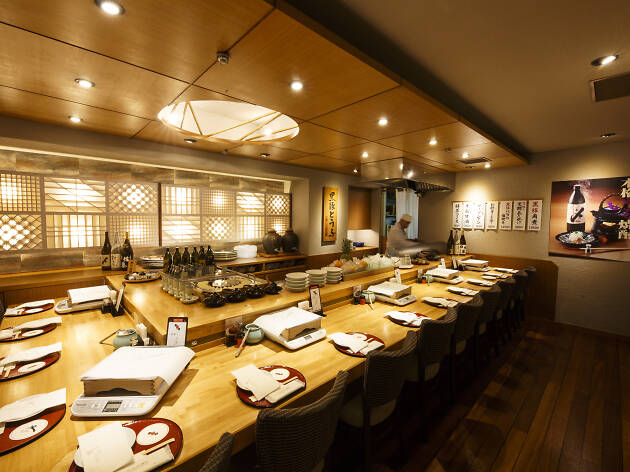 With two locations in Tokyo, this dedicated Kagoshima restaurant will provide your kurobuta fix. Kurobuta, or black pork, is a popular produce of the region; it's descendant of the Berkshire pig that was imported from England over 400 years ago.
The house special kurobuta shabu shabu comes with a beautiful selection of thinly sliced pork ready to be dipped into a hot pot at your table. The lunch menu leans heavily on black pork, which can be served grilled, as tonkatsu or with soba or udon. End your meal with a shirokuma kakigori shaved ice, a Kagoshima dessert made to look like a white bear, hence the name 'shirokuma'.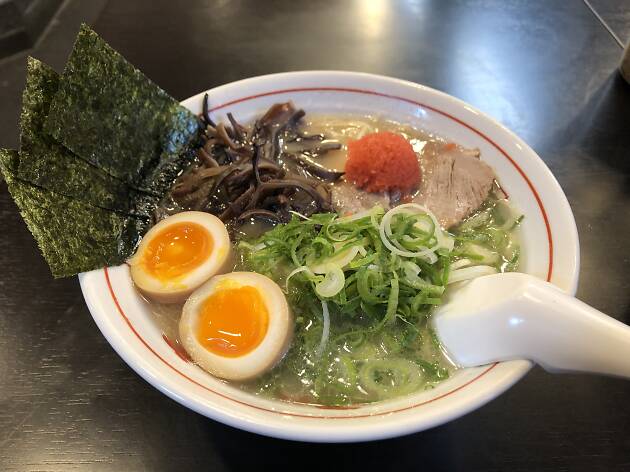 If you're looking for a Hakata-style ramen (that creamy tonkatsu, or pork-based, soup noodles) that hits the spot, head to Yamachan in Ginza. This no-frills noodle joint is a popular late-night slurp spot for Fukuoka natives and boasts a high-tech touchscreen vending machine at the front of the shop (English explanation available).
For just ¥700 you can get the 'Nagahama Ramen', with its generous sprinkling of green onions, char siu and Hakata's signature thin noodles in a rich tonkotsu broth. On the counter you'll find julienned gari ginger and pickled takana mustard leaves to add a spicy kick. Simply stir it all in and enjoy.
Okinawa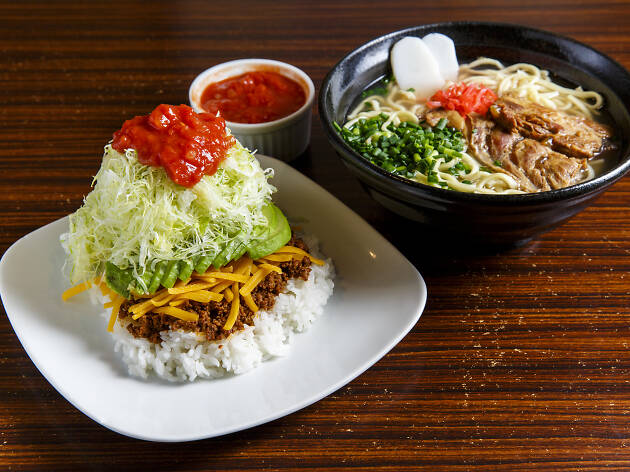 This small eatery inside Kichijoji's Harmonica Yokocho serves up Okinawan taco rice, which fuses western and Japanese flavours. It was a popular staple for the American military forces who were stationed in Okinawa during the 80s.
The dish is simple, consisting of typical taco fillings served on a heap of rice instead of inside a taco shell. Thankfully, at Harmonica Quina the toppings are more inventive than the bog-standard beef, lettuce and cheese – you can add avocado, salsa and even an omelette if you please. The menu also features Okinawa soki soba if you're in the mood for noodles. Here's a tip: the noodles are commonly eaten with pickled ginger and rice liquor-marinated chilli peppers.
Located in Tokyo's self-proclaimed 'Okinawa Town', a row of shops and restaurants celebrating island life in Suginami west of Shinjuku, this eatery is so authentic you can almost feel the sand under your feet. Clay pots full of awamori are proudly displayed at the front of the restaurant, and it's even got a tank of umi budo (sea grapes) growing in the shop. Open for both lunch and dinner, the restaurant has a more laid- back vibe during the day, when the lunch sets include Okinawan classics like soki soba, goya champuru (tofu and bitter melon stir-fry with egg and pork) and sashimi bowls topped with umi budo and grated mountain yam.
In the evening, you can dig into a wider selection of Okinawan staples and wash them down with awamori and, of course, Orion beer from the islands. The restaurant also hosts Okinawan musical performances on Monday and Wednesday at 7pm and 9pm.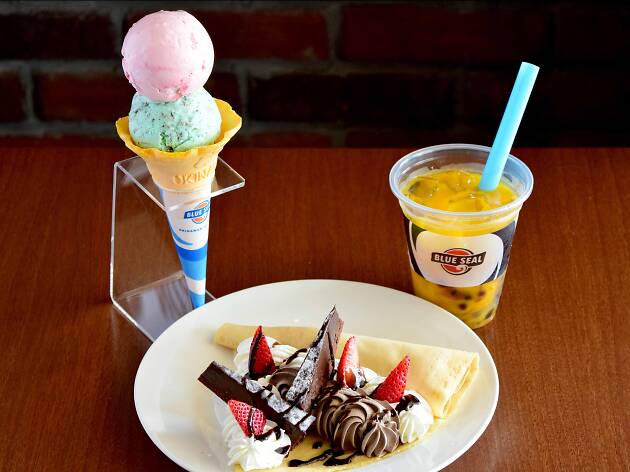 Founded in 1948 at a US military base in Okinawa, Blue Seal has since become a favourite ice cream brand throughout Japan. The 30 or so flavours come from an 'orange book' that contains the company's secret recipes, though they do explain that the unique, smooth texture comes from the plant oils the ice cream is prepared with.
This outpost in Ebisu Garden Place offers a range of sweet things besides ice cream, including over 30 kinds of crêpes (both sweet and savoury), tapioca drinks, and soft serve sundaes. There's a lot to entice, but the best treats are the classic Okinawan ice cream flavours. The Okinawa ta-imo cheesecake ice cream pairs excellently with a scoop of shio-chinsuko (Okinawan salt cookie). Both flavours are sweet, mild and totally delicious.
Osaka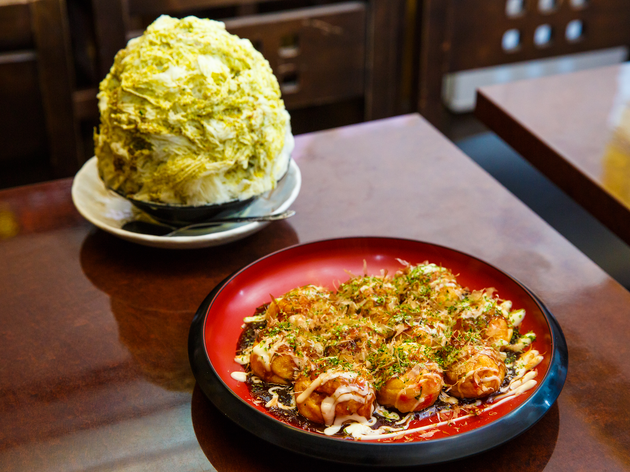 Takoyaki is a speciality of the Kansai region, but you'll have no trouble spotting the scrumptious octopus dumpling in Tokyo too. What could be more challenging is finding authentic Kansai-style takoyaki – in fact, most Tokyoites probably couldn't tell the difference between an imitation and the real deal. If it's the latter you're looking for, go seek out this speciality restaurant near Sasazuka Station.
According to the Kansai-born fellow behind the counter, you can distinguish authentic takoyaki by its crust. Kansai-style offerings have a soft outer layer and an even mushier interior, while balls with a crispy crust come from somewhere else. The flour, sauce and other ingredients at Minatoya are sourced straight from Kansai, as those available in Tokyo apparently fail to satisfy the demanding chef. After enjoying your takoyaki, make sure to order dessert: the kakigori (shaved ice) sees silky smooth ice doused with your choice of the shop's special syrups.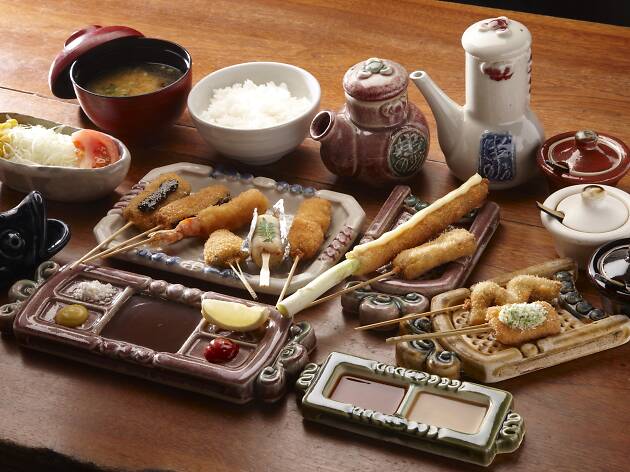 Headquartered in the Hozenji area of Osaka, Kushinobo specialises in kushikatsu – various deep-fried meat and vegetables served on skewers. In addition to set meals, the menu lists a wide variety of à la carte treats, all made with quality ingredients.
Although the skewered bites are all deep fried, you'll be surprised by the diversity of flavours. We recommend ordering at least one skewer of everything, especially the prawn, wagyu and asparagus. After savouring a couple of sticks unadorned, try experimenting with the various condiments: these range from classic kushikatsu sauce to sesame salt and a spicy sesame-mustard sauce.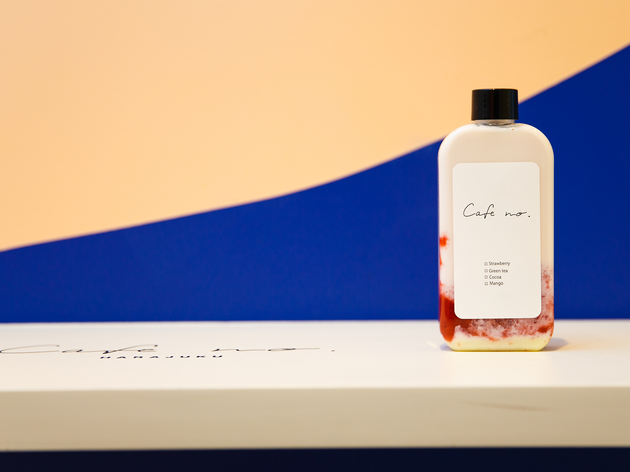 If you're a fan of photogenic food, you'll love this Osaka-born café, which opened a pastel-coloured Tokyo offshoot in Harajuku this past December. We love the Strawberry Milk (¥600), an extremely Instagram-friendly concoction composed of strawberry puree, condensed milk and regular milk, poured into a bottle. Make sure to shake it well before drinking.
All of Japan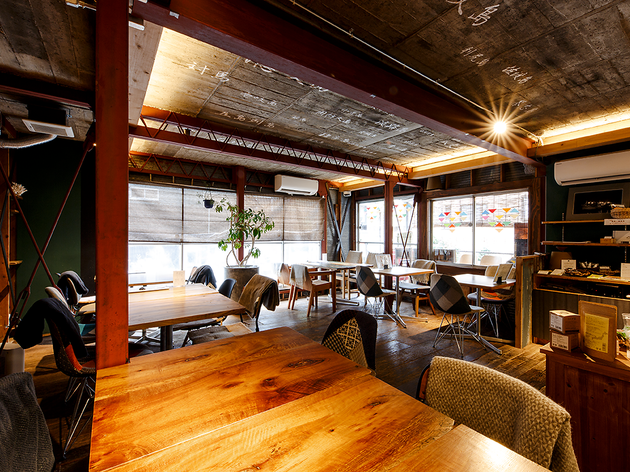 Local delicacies from a different island are served up every month at Rito Kitchen, a restaurant dedicated to promoting the edible treasures of Japan's many far-flung isles. It occupies an old house in Kagurazaka; inside you'll find names of the featured islands written all over on the ceiling of the ground-floor room.
All the Ama-cho seafood and other fresh ingredients served here are sourced on location and preserved with a technology called CAS (Cells Alive System) during transportation.This will help keep the food fresher than if frozen the old-fashioned way, making sure they survive the trip in pristine condition.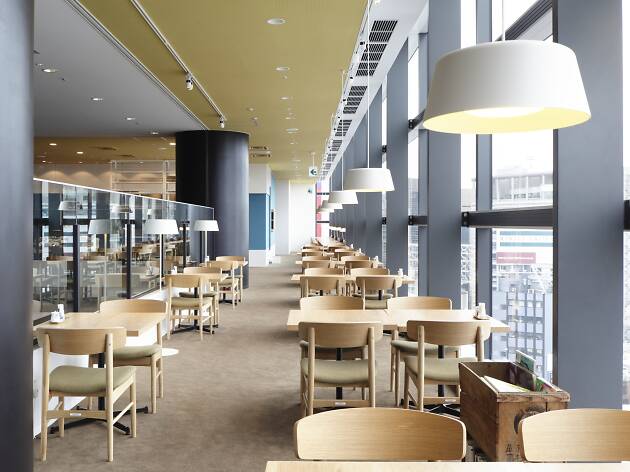 You can travel Japan in its entirety through your taste buds at this speciality restaurant in Shibuya Hikarie. The restaurant's comprehensive menu features food and drink items from all 47 prefectures; some of the ingredients used are also put up for sale. The eatery is part of the D47 venture at Hikarie where it joins a retail space and museum featuring items from across Japan. You'll want to check back frequently as the menu changes each month.