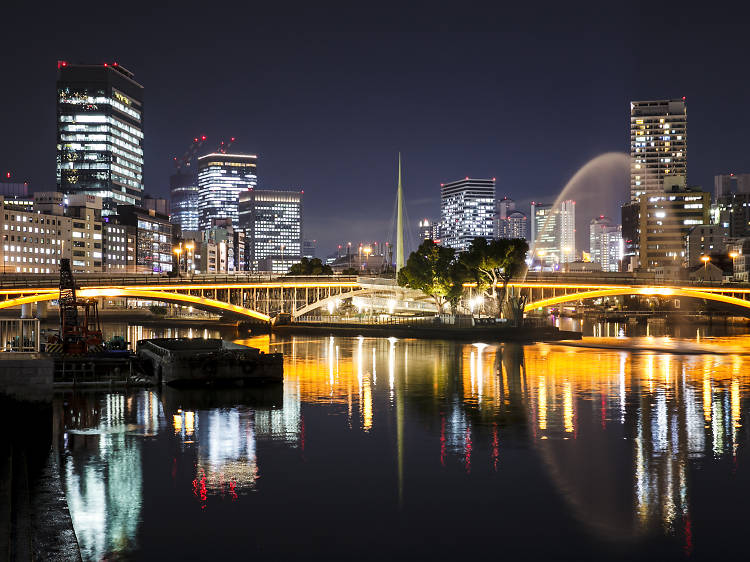 Photo: Tenjinbashi
Stepping foot in Osaka feels almost as though you've landed in a different country, with the western city's original character found in all corners. Check out our guide to 48 hours in Osaka or our tips for the Nakanoshima area, and read on for details on how to travel from Tokyo to Osaka.
Shinkansen
Tokaido/Sanyo Shinkansen, 2.5 hours
Tokyo to Shin-Osaka fare: ¥8,910 + express rate (from ¥5,610 for reserved seats, ¥4,960 for non-reserved seats – prices vary by season)
Note: the Nozomi Shinkansen is the fastest train travelling between Tokyo and Osaka. The Hikari and Kodama trains are slightly cheaper (¥8,910 + express rate from ¥4,960) but somewhat slower.
Overnight bus
8-9 hours
From ¥1,700 through Kosokubus
See our guide to overnight buses for more details
Flight
70 minutes to Itami Airport from Tokyo (Haneda or Narita), 90 minutes to Kansai International Airport from Tokyo
From ¥7,750 to Itami (JAL/ANA), from ¥4,890 to Kansai International (Vanilla, Jetstar Japan, Peach)
Note: Itami Airport is closer to central Osaka (around 30 minutes by taxi, bus or train), but low-cost carriers only fly to Kansai International (50 minutes to central Osaka by express train or airport bus).