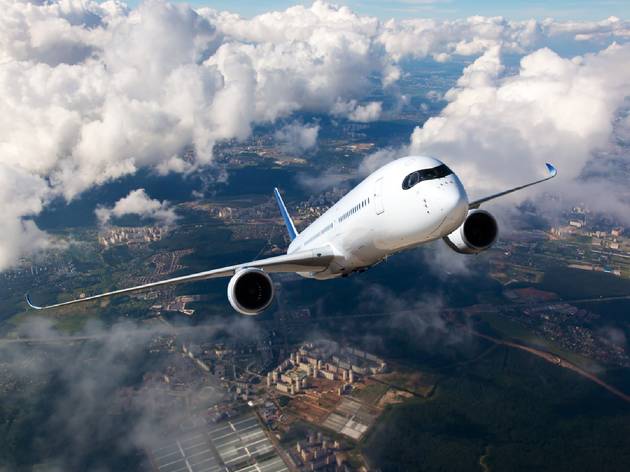 When will flights resume? Here's what we know so far
As countries lift lockdowns around the world, planes are returning to the skies. Here's the latest on when flights will resume near you
If you've heard the rumble of a jet passing overhead in recent weeks, you may well have wondered: when's it my turn to GTFO of here?
Over the past month or so, severely reduced flight services have been running worldwide (largely to carry essential workers, repatriate stranded citizens and allow people to visit vulnerable relatives). Now, however, with countries gradually lifting lockdown restrictions the world over and 'non-essential travel' (hopefully) becoming more than just something you regularly dream about, major airlines are aiming to ramp up their services in time for the peak holiday season in July and August.
So when will you be able to travel again? Some carriers have restarted some services already, in part to cater to seasonal workers; others say they will wait until early or mid-summer. However, most countries still have border closures and travel bans in place – so even if there are flights running, it may still be months before you can fly, fly, fly away.
When the global travel industry does get going again, you can expect domestic flights to be expanded well before international routes regain their usual rhythm (industry experts say this could be years away yet). Your journey may feel a bit different, too: you may be asked to wear a mask, and some airlines have even suggested they might introduce health checks at airports.
And remember that just because flights are running to a given destination, doesn't mean it's wise for you to go. Many countries including the UK and Australia have introduced mandatory 14-day quarantines for inbound travellers – including citizens returning home. That might be a bit of a downer after a week by the beach.
Here's everything we know so far about when flights might resume around the world. Airlines are constantly revising their restart dates, so we'll be updating this page regularly.
Europe
British Airways owner IAG has said it is planning a 'meaningful return to service', with 50 percent of flights in the air again, by July.
Ryanair said it aims to have 40 percent of its flights running from July 1 (with 80 percent operating by September). It said this would be subject to lockdown restrictions being lifted across Europe, and 'effective public health measures' being put in place. The low-cost carrier said it would first target 'key holiday airports' in Spain, Italy, Portugal, Greece and Cyprus.
EasyJet is restarting a 'small number' of routes 'where there is enough demand' from June 15. The initial schedule will include domestic flights across the UK and France. The airline hopes to have 75 percent of routes running again by the end of August.
A Jet2 spokesperson said the firm hoped its normal schedule would resume on July 1 (although it is revising its restart date on a weekly rolling basis).
By the end of June, the Lufthansa group (which includes Lufthansa, SWISS and Eurowings) aims to offer more than 1,800 weekly roundtrips to more than 120 destinations.
Budget airline Wizz Air has already restarted some flight routes to Hungary, Bulgaria and Portugal, although these are largely aimed at seasonal farm workers and stranded British nationals.
Portuguese flag carrier TAP Air, too, has already resumed some domestic and European flights – and will restart limited transatlantic flights from July 1.
North America
American Airlines has said its international flights will be reduced by 60 percent this summer compared with the year before. However, flights will start running from Chicago to Dublin, London and Athens again in June, as well as from Miami to Santiago and Buenos Aires. Flights from Los Angeles, Philadelphia and Raleigh-Durham to London Heathrow will restart in July.
In May, Delta was running around 15 percent of its normal services – including from Atlanta to Mexico City, Paris, Buenos Aires and Santiago; from Detroit to Amsterdam, Seoul and Tokyo; and from Minneapolis to Calgary and Edmonton. The airline said it would expand its international schedule through the summer. In June alone, it said it would reintroduce 100 more daily flights across its network.
From July 1, Southwest will restart flights from Baltimore to Cancun, Montego Bay and Nassau; from Denver and Houston to Cancun and Los Cabos; and from Tampa to Havana.
United Airlines has continued to fly to European and South American destinations over the past couple of months, albeit at significantly reduced capacity. The carrier said it would reopen other routes in June, including from Newark to Paris, Shanghai and Tokyo; from San Francisco to Beijing and Chengdu; and trips in and out of Frankfurt.
Asia-Pacific
Virgin Australia, which entered voluntary administration on April 21, has cancelled all international flights until at least June 14. Domestic flights have been reduced to around 10 percent of normal capacity.
Qantas has extended its cancellation of almost 95 percent of international flights from the end of May to the end of July. Domestic flights in Australia and New Zealand have been reduced to around 13 percent of normal schedules – although the airline said it could expand services before the end of July if the two governments ease travel restrictions.
Singapore Airlines is running a reduced schedule for essential workers and repatriate stranded visitors at around 4 percent of normal capacity. All other flights have been cancelled until at least June.
Etihad has already made a tentative return to international services by resuming a weekly flight between Melbourne and London via Abu Dhabi. Passengers must comply with strict new hygiene rules.
As of May 21, Emirates has been running a limited service to London Heathrow, Frankfurt, Paris, Milan, Madrid, Chicago, Toronto, Sydney and Melbourne. The Dubai-based carrier says these flights are largely intended to help residents and visitors return home. It will only carry flyers that comply with destinations' latest entry requirements.
Find out more about life after lockdown
As the world starts to inch out of lockdown, our daydreams have turned to travel once more and where in the world we'd like to dash off to as soon as we can. These are destinations our editors from all over the world can't wait to visit, as soon as it's safe to do so.