London events in July
Here's your definitive guide to the best events and happenings throughout July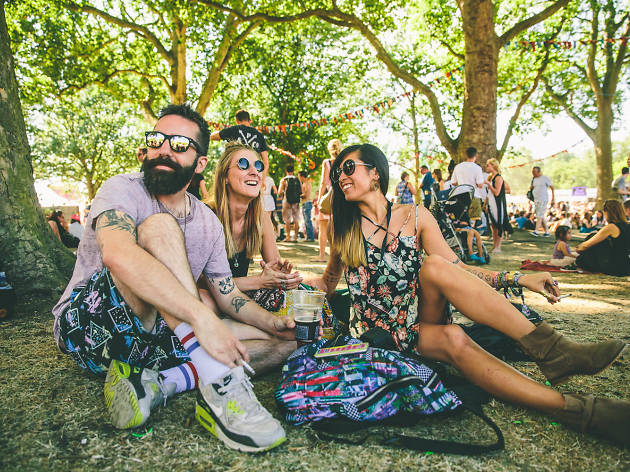 Ready for a scorcher? We mean, of course, the amazing crop of events in July, rather than the unreliable British summer. As well as the Wimbledon tennis finals, July means we're deep into music festival season – and remember that the kids will be running free for six weeks over the summer holidays.
Summer also means London begins bursting with cool pop-ups, plus you're justified in lounging around in the capital's best rooftop bars, sipping cooling cocktails.
Here are our highlights below for the very best things happening around town in July.
RECOMMENDED: The definitive London events calendar
Our July highlights
1
That colourful, crowded, loud and unquestionably fun time of year is rearing its head again. No, we're not talking about Notting Hill Carnival, although they do both replace London's noxious traffic with joyous partying. We're talking about the Pride in London Parade, which this year sees its biggest ever celebration to date.
Read more
2
Consistently one of the finest festivals in London, catering for cool kids and party monsters, Lovebox packs as much fun into two days as many festivals manage in three. The sublime, but elusive, Frank Ocean is the first headliner to be announced and his only London date on a European tour. It's one of the highlights of the London summer thanks to a storming, genre-blurring line-up of DJs electronic acts and live bands, plus all sorts of weird fun on the side (performance, art, dance, and mysterious mischief) and a full range of banging afterparties. We will add set times, must-see acts, afterparties for 2017 in our Lovebox Festival guide as soon as details are announced.
Book now
Read more
3
Wow: based on the title on this exhibition, it sounds like Grayson Perry's feeling mighty full of himself. Or is it meant with a touch of irony? The cross-dressing artist – and one of Britain's most unlikely national treasures – tends to be either denounced as a twee middlebrow populist, or a razor-sharp commentator on the foibles of our society. In any case, this major show of new works promises to look at the idea of the popular: how art can resonate with the average joe, and what it means in these uncertain post-Brexit times.
Read more
5
If we're being honest, Sundays at a festival are usually a bit of a damp squib. After days of abuse, both your inflatable mattress and soul are dangerously deflated. Going to a festival on a Sunday all fresh and rested, on the other hand, sounds a lot more appealing, especially if it's tailor-made for the day of rest. On top of the class music line up – mighty Foals are headlining this year – there'll also be various arts-driven distractions and entertainment throughout the day, plus top food and booze offerings. Welcome back, Citadel, the Sunday festival that packs enough fun, food and artsy goodness to give Friday and Saturday a run for their money.
Read more
6
Cristóbal Balenciaga all but reinvented haute couture in the 1950s, and has earned a place among the giants of twentieth-century fashion. This exhibition, marking the hundredth anniversary of the opening of his San Sebastian fashion house, will chart the Spanish designer's rise through garments, hats, drawings, photographs and film. 
Read more
7
The organisers first dreamt this festival into reality aged only 19 with an ambition for a hierachy-less vibe. Five years on and there's still a ban on VIP areas and a brilliantly open approach to programming that has previously drawn Tom Misch, Loyle Carner and Ezra Collective. Expect jam sessions, improv and interactive amongst fields and forest near Brighton. Oh, and there's a miniature railway. Line-up TBA. Bentley Wildfowl and Motor Museum, Lewes. £65-£85.
Read more
8
Fifty years since their first single, Arnold Layne, the V&A is hosting a retrospective of those psychedelic pioneers, the Floyd. Set and construction pieces from The Dark Side of the Moon and The Wall join instruments, designs, lyrics and prints - and, yes, a laser show. Wish You Were Here?
Read more
9
Back for a ninth year in 2017, Chorus Festival celebrates the power of singing alongside others and explores the health benefits of belting out a tune. This time around, Chorus Festival features a Royal Festival Hall concert with a choir from each Nordic country, performing together with a specially-formed choir of Nordic diaspora singers in the UK. Free performances of Nordic choirs will be heard throughout the weekend, as well as opportunities to join in with workshops exploring traditional and contemporary Nordic vocal music. See the Chorus event page for the full programme taking place in July.   
Read more
10
Seven albums in and the Kings continue to serve up epic rock that simply belong in arenas, stadiums and massive parks. If you've only been listening to them through headphones on the tube it's time to enjoy 'Use Somebody', 'Sex On Fire', 'Wait For Me', 'The Bucket' and 'Supersoaker' in all their glory. Support comes from The Pixies and Nathaniel Rateliff & The Night Sweats.
Book now
Read more
11
Now in its fifty-second year, the renowned and celebrated annual wildlife photography competition and exhibition returns to the Natural History Museum with images of the most extraordinary species on the planet, captured by professional and amateur photographers.
Read more
12
From the pale pink Emanuel blouse she wore for her engagement portrait to the blue velvet gown she wore at the White House to dance with John Travolta, this new exhibition about Princess Diana's wardrobe charts the image-crafting and sartorial choices throughout her life in the limelight. Tickets are included in the price of entry to the palace. 
Read more
13
Packed full of jazz standards from George and Ira Gershwin, 'An American in Paris' is a musical to treasure. And this lavish, award-winning Broadway production is a chance to see it at its glitzy finest - toe-tapping dance routines, gorgeous costumes, and swirling romance unfold in the capable hands of acclaimed choreographer and director Christopher Wheeldon.  The cast will be led by an appropriately Transatlantic duo: Robert Fairchild, a New York City Ballet principal dancer, will perform alongside British Royal Ballet dancer Leanne Cope. He'll play Jerry, an American GI dreaming of becoming an artist in postwar Paris. And she'll be Lise, a beautiful young dancer who distracts him from his lofty ambitions in fleet-footed style. Further casting TBA.
Book now
Read more
See what's on this August
Looking for things to do anytime of year?
London is a treasure trove of brilliant days out and activities worth boasting about. Find great new ways to fill your free time with this list of our favourite things to do in the capital.
Read more
Sponsored listing
The Cavendish
A two-floor restaurant and bar on New Cavendish Street, with a modern-European food menu alongside a global wine list, signature cocktails, an array of premium spirits and a selection of cigars to be enjoyed on the terrace seating at the venue's front.  The kitchen is headed up by Douglas Santi, who has put together a menu featuring dishes such as scallops, lardo di colonnata, smoked baby leek and truffled mashed potato, beef carpaccio, pantelleria capers, Melba toast, various plates of ceviche, and meats cooked in a Josper oven. There are seasonal menus, too, as well as snacks.  
Venue says: "Exciting wine pairing and tasting events at The Cavendish in Marylebone, coming soon!"
Marylebone
Online booking
You might also like