Rooftop bars in NYC
Booze with a view of New York at our favorite hotel-toppers and decks—from lounges with tough doors to affordable, no-hassle picks
By Time Out editors Wed Mar 21 2012
Ava Lounge
Rooftop bars in NYC
Ava Lounge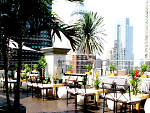 You'll need to make yourself presentable to gain entry to the roof terrace of the Dream Hotel—no hats, sneakers or ripped jeans here; you'd only ruin the chic, palm-tree-studded decor. Come for sunset and gaze at the neon dream of Times Square.
210 W 55th St between Broadway and Seventh Ave (212-956-7020, avaloungenyc.com)
More info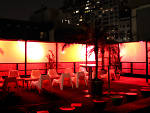 Above two floors of NYU students boogying to nightly DJs and the occasional live act is a concrete-floored roof deck sprinkled with palm trees. It may sound a bit grim, but the space transforms at night when the light panels in the walls emit a warm orange hue, although they do restrict the view of the surrounding university buildings. Still, you won't be complaining when you're three rounds deep into the daily two-for-one happy hour (5–9pm).
35 E 13th St at University Pl (212-979-6677, bar13.com)
More info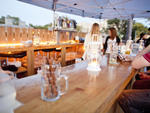 Price band: 2/4
Critics choice
Gaze at the Manhattan skyline from across the East River at this 3,000-square-foot roof deck. Potted fronds, folding chairs and a plank wood fence set the backyard vibe as hipsters and beer enthusiasts come together for a block party beneath the umbrellas. Quaff European brews that skew German, like the organic wheat beer Schneider-Weisse Edelweiss ($8), as you chow down on boozing-friendly eats such as bratwurst with sauerkraut ($11).
4 Berry St at North 14th St, Greenpoint, Brooklyn (718-782-2829, berryparkbk.com)
More info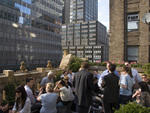 Dig out your cravat when hitting this year-round 14th-floor lounge. You'll want to look the part when quoting Dostoyevsky from a wicker chair in one of two greenhouses or on the outdoor terrace at this upscale, literary-themed bar. Order the Hemingway cocktail, with aged rum, lime juice, mint and champagne ($14.50); dig into the book collection; and let your imagination soar like the midtown buildings around you.
299 Madison Ave at 41st St, 14th floor (212-204-5498, hospitalityholdings.com)
More info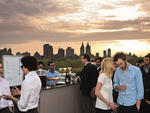 Cantor Roof Garden Café and Martini Bar at the Met
As the weather becomes balmy, this rooftop bar is a fine place to enjoy the southern vista of the midtown skyline and sylvan landscape of Central Park stretching out before you. Also vying for your attention is this year's art installation, "Tomás Saraceno on the Roof: Cloud City"—a series of suspended, interconnected, room-size pods that visitors can explore. Take it all in with a signature cocktail ($12) in hand.
1000 Fifth Ave at 82nd St (212-535-7710, metmuseum.org)
Tue–Thu, Sun 10am–4:30pm; Fri, Sat 10am–8pm. Open May 15–Nov 4.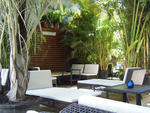 While the music pounds downstairs, this LES rooftop offers a palm-studded oasis with white chaise longues and a fountain. On Wednesdays starting at the end of May, an all-you-can-eat barbecue for $5 packs them in, but on Saturdays between 10pm and 1am, the spot is virtually shut down with large group reservations (fortune, it seems, favors the popular and organized). Head there on Sundays and Mondays for two-for-one well drinks.
168 Delancey St between Attorney and Clinton Sts (212-254-9920, thedelancey.com)
More info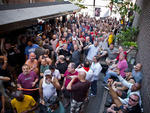 This popular gay leather bar can be a bit intimidating for the uninitiated—you don't want to show up for Wednesday's Jock Strap Night unprepared. But on Sundays, a friendly (mostly male, mostly burly) crowd assembles on the surprisingly lovely roof deck for a beer blast (5pm–midnight) featuring $3 draft beers, $4 shots of Jägermeister and Jose Cuervo, and DJ Paul Ferrer. Check the website for announcements about seasonal parties—last year saw an Urban Bear-B-Que during Urban Bear Weekend, and the monthly Q-Girls party took up a summer residence.
554 W 28th St between Tenth and Eleventh Aves (646-473-1866, eaglenyc.com)
More info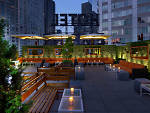 This rooftop lounge features 3,000 square feet of outdoor space and private chaise longue–equipped cabanas. Three separate terraces offer views of Lincoln Center and Central Park, and an appropriately sleek bar—constructed of stacked metal pipes—dispenses specialty cocktails. For the past two years, four of NYC's best revivalist groups have thrown a 1920s-themed Independence Day party, the Liberty Belle Spectacular (libertybellespectacular.com) on the rooftop. We're keeping our fingers crossed for another edition in 2012.
44 W 63rd St between Broadway and Columbus Ave (212-956-3313, empirehotelnyc.com)
More info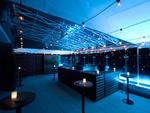 Glass Bar at Hotel Indigo
The bar name is quite literal here: The perimeter of the 20-story rooftop is lined with glowing glass walls and is topped by a glass roof to shelter drinkers from the elements during the off-season. Sip specialty cocktails like the Spicy Rita (Jose Cuervo, triple sec, jalapeño syrup and fresh lime; $12) and the Blu Martini (vodka infused with blueberries and oranges, St. Germain, triple sec and lime; $12), while drinking in the stunning scenery of Chelsea.
127 W 28th St between Sixth and Seventh Aves (212-973-9000, indigochelsea.com)
Daily 5pm–1am. Roof is removed Mar 26.
Share your thoughts