Rooftop bars in NYC
Booze with a view of New York at our favorite hotel-toppers and decks—from lounges with tough doors to affordable, no-hassle picks
By Time Out editors Wed Mar 21 2012
Ava Lounge
Rooftop bars in NYC
Ava Lounge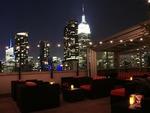 Boasting stunning views of the towering Chrysler and Empire State Buildings, this spot draws an after-work crowd with DJs and dancing every night. The tiled terrace with crisscrossing strings of lights is a delightful spot when the sun goes down, but it's hard to feel that stylish when the pricey drinks are served in acrylic cups. Or, check out the second location atop Chelsea's Hilton Fashion District Hotel that boasts a retractable roof for all-weather viewing of the Empire State Building (152 W 26th St between Sixth and Seventh Aves; 212-807-7273; Mon–Sat 5pm–1am, Sun 2pm–midnight; open year-round).
303 Lexington Ave at 37th St, 16th floor (212-481-1999, rarebarandgrill.com)
More info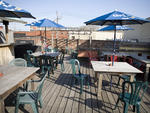 Price band: 2/4
Critics choice
Heading to Red Hook for a Sixpoint on Rocky's spacious wood-paneled roof deck is easier than you'd imagine—simply catch a free Water Taxi from Wall Street on weekends (Mon–Fri; $5). Despite this convenience, don't expect a crush—you'll be able to enjoy the view of downtown Manhattan across the bay without jostling for space.
34 Van Dyke St at Dwight St, Red Hook, Brooklyn (718-246-8050, rockysullivansredhook.com)
More info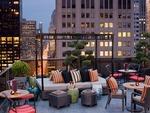 You'll find well-heeled types at this refined, Asian-inspired roof bar—and prices to match—but that does afford one elbow room at a table plus views of Fifth Avenue. To make a day of it, hold out for the three-course prix-fixe summer brunch menu ($45) on Sundays, then take your Bloody Mary buzz to one of the Chinese daybeds.
700 Fifth Ave at 55th St (212-956-2888, salondening.com)
More info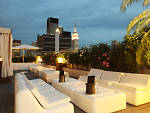 This open-air destination is way up on the 33rd and 34th floors of the Fairfield Inn and Suites by Marriott Times Square. The 7,500-square-foot lounge takes inspiration from its location; check out the ceiling's LED lighting display, which mimics the blaze of Times Square; you can compare it with the real deal from the north terrace. Or lounge in the south terrace, where you'll find cabanas and illuminated furniture and floor tiles. No matter where you end up, enjoy the aptly named Mile-High cocktail ($15), with Bombay Sapphire gin, peach liqueur, Chambord and prosecco.
330 W 40th St between Eighth and Ninth Aves (212-380-1195, skyroomnyc.com)
More info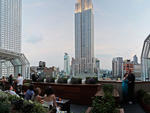 The Strand Hotel's 21st-floor drinkery boasts an uninterrupted sight line of the towering Empire State Building and first-come, first-served benches that offer a front-row seat. Don't let the imposing main attraction blind you to the rest of the skyline—to your left is the lit-up crown of the Setai at 400 Fifth Avenue, and over to your right is the illuminated double-fin roof of the Epic. The price of admission for this light show? Specialty cocktails are $15 and bottles of beer $9. If you're rolling deep, reserve a cabana (e-mail ddunn@thestrandnyc.com) and don't worry about the weather, a retractable glass roof ensures a warm viewing platform safe from the elements.
33 W 37th St between Fifth and Sixth Aves (646-368-6385, topofthestrand.com)
More info
It'll take you a while to get into Steven Greenberg's massive rooftop garden and bar—not because of the door policy (it's surprisingly lenient, just don't dress for the Jersey Shore), but because of its popularity. Despite this, you've got a good chance of bagging a seat on one of the many wooden benches under yellow-and-white canopies. You could stare at the Empire State, MetLife and Chrysler Buildings, but you may find your eyes drawn to the hordes of prowling hotties instead.
230 Fifth Ave between 26th and 27th Sts (212-725-4300, 230-fifth.com)
More info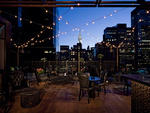 This 3,000-square-foot rooftop bar on the 31st floor of the Kimberly Hotel features ivy-covered walls, old-fashioned globe street lamps and a retractable roof that makes it possible to enjoy the 360-degree views year-round. It's best experienced at night, when the web of lightbulbs above the terrace gives a sparkling ambiance in which to appreciate the view of the Chrysler Building. In addition to signature cocktails ($16), drinkers can choose from a selection of beers on tap and an international wine list of more than 100 bottles. Booze-friendly foods include grilled calamari ($15) and fried baby artichokes ($14).
145 E 50th St between Lexington and Third Aves (212-702-1685, upstairsnyc.com)
More info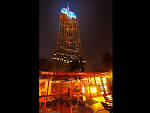 Vu Bar
Among the swanky midtown rooftop set, Vu Bar (formerly Mé Bar) is a refreshing oddity, serving reasonably priced drinks on a plain patio above the La Quinta hotel with no doorman to negotiate. There's no wide-open vista here, but the Empire State Building towering above you certainly makes an impression.
17 W 32nd St between Fifth Ave and Broadway, 14th floor (212-991-8842, vunyc.com)
Mon–Thu, Sun 5pm–1am; Fri, Sat 5pm–2am. Open year-round.
Share your thoughts