50 reasons why NYC is the greatest city in the world
From the grid and the skyline to New Yorkers' long life expectancy, here are 50 facts that prove living in NYC is better than living anywhere else.
By Time Out editors Tue Mar 5 2013
Photograph: Virginia Rollison
Why NYC is the greatest city in the world
Because there's room for innovation and tradition to coexist
21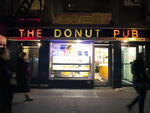 Because there's room for innovation and tradition to coexist
New Yorkers respect the newest new just as much as the tried and true; for example, there's enough room here for $3.50 tres leches treats at Doughnut Plant and $1.10 old-fashioneds at Donut Pub. If anything, New Yorkers have a hunger to see which city innovations can hang around long enough to become tradition: which newfangled dish will become the next menu staple (like eggs Benedict, invented in NYC), or which nascent musicians will spark the next big genre shift. But in a city that has seen plenty of standbys disappear from the landscape—everything from Shoot the Freak to Filene's Basement to the Twin Towers—we know that, as much as it's important to embrace the new, it's equally important to not take the classics for granted.
22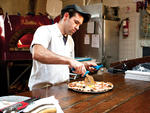 Because the power of our pizza draws in thousands—including former heads of state—to sample both classic and innovative pies
One of the few things uniting hapless tourists and die-hard locals is an appreciation for the peerless New York slice: the scorched, thin crust; the heavy mantle of tomato sauce; and the molten blanket of creamy mozzarella. The handheld meal became legendary after Gennaro Lombardi obtained the first U.S. pizzeria license in 1905 for his Spring Street grocery store. Since then, countless imitators—along with Lombardi's disciples John Sasso (John's), Patsy Lancieri (Patsy's) and Antonio Pero (Totonno's)—have served pies to the masses. Recently, new-breed pizzaioli have created modern iterations, with spots like PeteZaaz, Franny's and Roberta's bringing quirky toppings and locally sourced ingredients to far-flung locales like Crown Heights and Bushwick. (Bill and Hillary Clinton even gave Roberta's their stamp of approval last year.) In a city whose very fabric is made of novelty and dynamism, we can't even predict what tomorrow's slice will look like.
23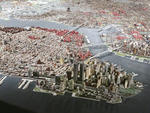 Because, for as little as $50, you can own a piece of New York City. Sort of.
We have to give Robert Moses some credit: As the driving force behind the 1964 World's Fair, the controversial figure was, in some way, responsible for the creation of a number of New York City landmarks, including Shea Stadium (RIP) and the iconic Unisphere. But our favorite relic of that grand affair is The Panorama of the City of New York, the 9,335-square-foot scale replica of the five boroughs. Permanently located in the Queens Museum of Art, the breathtaking attraction features approximately 895,000 NYC structures—including the Empire State Building, Central Park and the Brooklyn Bridge—and new models that are added periodically (Brooklyn Bridge Park was the most recent, in 2012). In 2009, the QMA launched the Adopt-a-Building program as a way to help offset maintenance costs for the attraction: You can stick your name on your old apartment for $50, or shell out $2,500 to claim a whole neighborhood or park. (Hey, it's cheaper than buying a real apartment.)
24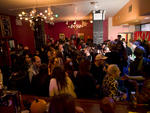 Because you can see A-list comics for cheap in intimate spaces nearly every night of the week
Recently, Chris Rock and Dave Chappelle caused a stir by performing an impromptu, nearly hour-long set together at the Comedy Cellar. It's not the first time the iconic West Village club has been unexpectedly visited by big-name stars: Louis CK and Jerry Seinfeld are among the comedians who occasionally drop by to perform in the intimate space. The best part? These drop-ins often happen during the weekly shows (Rock and Chappelle showed up on a Tuesday night), where the cover charge is only $12–$14. (L.A.'s Comedy Store has a similar setup and prestige, but shows are slightly more expensive.) Plus, between the two Upright Citizens Brigade outposts and a network of well-regarded indie theaters and bars that host shows in Brooklyn and Queens, you never know when you'll see one of the stars of The Office, Parks and Recreation or Saturday Night Live for next to nothing.
25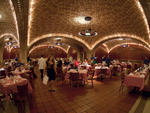 Our warhorses take a licking and keep on ticking
New Yorkers are a notoriously tough bunch; the same goes for many of Gotham's monuments and iconic venues. To wit: The Grand Central Oyster Bar, which opened a century ago in February 1913, went bankrupt in '72 and burned down in '97, but it still thrives today, selling 5 million bivalves each year. The iconic Central Park eatery Tavern on the Green embodies the city's fighting spirit too. Built on the site of a sheepfold, controversial Parks commissioner Robert Moses ordered the landmark restaurant's construction in 1934. It shuttered for the first time in 1974, was acquired and renovated by local businessman Warner LeRoy that same year, and reopened in 1976. When LeRoy's lease ended in December 2009, the venue went dark once again and pieces of its elaborate decor were auctioned off. In August 2012, Philly-based restaurateurs Jim Caiola and David Salama won a competitive bidding war to revamp the space, with a tentative opening set for this fall. We love Frank Sinatra and Jay-Z's NYC anthems, but maybe we should throw Chumbawamba's "Tubthumping" into the mix.
26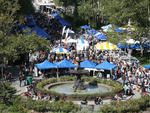 Because we have both a publishing capital (Manhattan) and a writers' residential capital (Brooklyn)
There's a reason aspiring writers still flock to New York in droves: The Big Six (soon to be Big Five) publishing houses—Simon & Schuster, Macmillan, HarperCollins, Hachette and the soon-to-be Penguin Random House—have headquarters in Manhattan, which means much of the industry is centered here. The borough is also home to many indie companies, including W.W. Norton, Perseus Books Publishing and New Directions, along with industry must-reads like Publishers Weekly and The New York Review of Books. But in the past few years, Brooklyn has also established its bona fides as a nucleus for book fiends. Kings County is home to small presses like Melville House and Akashic; journals like Vol. 1 Brooklyn, The Coffin Factory and n+1; and, increasingly, writers themselves, with Martin Amis, Jennifer Egan, Colson Whitehead, Jonathan Ames, Jhumpa Lahiri and countless others putting down roots in Brooklyn. You can see the borough's lit community in action during the annual Brooklyn Book Festival, which has grown exponentially since its founding in 2006.
27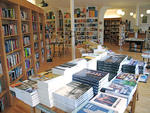 Because the city is in the throes of an independent-bookstore renaissance
Between the demise of Borders in 2011 and the proliferation of e-readers, cultural trend predictors were poised to hammer nails into the printed word's coffin. New York responded with a resounding eff-you in the form of an indie-bookseller scene that's stronger than ever, with many ventures focused on—and sometimes funded by—the surrounding community. Just look at recent success stories, like Washington Heights' initially temporary, volunteer-run Word Up, which became so popular that the store is reopening for good this spring on the strength of donations. LGBT-focused pop-up the Bureau of General Services–Queer Division recently announced an indefinite partnership with Strange Loop Gallery, and operates out of that space. Dumbo's powerHouse Arena recently opened an outpost in Park Slope, and Greenpoint's WORD is expanding to a second spot, in Jersey City. Plus, many shops—including Fort Greene's Greenlight Bookstore, McNally Jackson and Housing Works in Soho, and Boerum Hill's BookCourt—have thrived thanks to author readings, book clubs and lit-themed parties that bring book fiends together. Long story short: NYC is a bibliophile's dream town.
28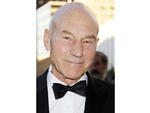 Because, for most New Yorkers, Jean-Luc Picard is just another dude who lives in Park Slope
Unlike elsewhere, our A-listers don't live in walled-off fortresses. Increasingly, they don't even live in Manhattan: On any given day, famous folks like Patrick Stewart and Steve Buscemi can be found strolling through Park Slope, or complaining about the 'hood's atrocious cable-and-Internet provider, as Stewart did on Twitter last September. Point being, for New Yorkers, celebrities are like tourists and crosswalk signals: We ignore them, and defiantly so. Ferris Bueller is just another guy in line at Dean & DeLuca, and Jack Donaghy is the dude who just stole our cab.
29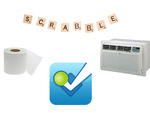 Because New York City is responsible for some of the world's most useful—and, okay, frivolous—inventions
Two words: Toilet. Paper. New Yorker Joseph Gayetty is responsible for creating a commercial version of the bathroom staple, and for that alone, NYC deserves props. But plenty of innovators have called Gotham home, bringing indispensable creations to life here. A short list: Scrabble, invented by Jackson Heights resident Alfred Butts; gelatin, patented by Peter Cooper (also famous for founding Cooper Union); air-conditioning, invented in Williamsburg by Willis Carrier, an engineer; and Foursquare, launched in 2009 by Dennis Crowley and Naveen Selvadurai—they worked on the social-media program at Crowley's East Village apartment.
30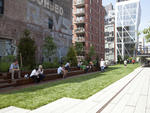 Because other cities often copy projects that started or were perfected here—look at the High Line
The High Line's creators can't take credit for the idea of an elevated park: The attraction was inspired, in part, by Paris's Promenade Planteé, which opened in 1993. But the development of the enormously popular Chelsea destination has set off a chain reaction of sorts, referred to as "the High Line effect"—increasingly, cities are using the park as an example of how once-dilapidated spaces can be repurposed for public use. Projects inspired by the High Line include the Reading Viaduct, an effort to transform an abandoned railroad spur near Philadelphia into a green space, and the Bloomingdale Trail, a three-mile stretch of track in Chicago that may become an elevated park. London is even getting on board: A competition was recently held for planners to create a "High Line for London." The winning entry was actually designed to go underground, in rail tunnels beneath Oxford Street. (Was it inspired by New York's Lowline, another adaptive-reuse project that would turn an abandoned subway tunnel under Delancey Street into a recreation area? We can't say for sure, but we wouldn't be surprised.)
---
You might also like
---