Accra's top restaurants
Ghana's capital isn't short of fine dining restaurants. Here are the best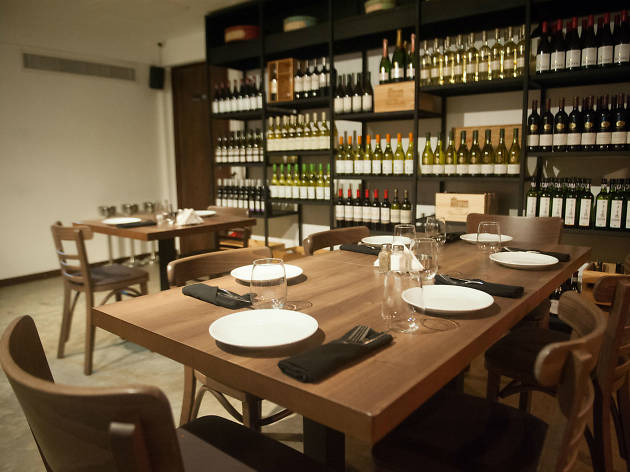 For those seeking something a little bit special, Accra is home to some exceptional restaurants for haute cuisine. Predictably, some of the best are French, but Asian and Italian flavours are also served up from the capital's finest kitchens. Prices range from reasonable to budget-busting - be prepared - but if you're after fresh, expertly-crafted dishes, attractive surroundings and the chance to mix with Accra's elite, these spots are where to eat. Some of these places are seriously popular, so make sure to book where possible.
La Chaumiere's sophisticated French dishes have been delighting Accra's discerning diners for more than a decade. There is a smattering of North African flavours for good measure – find dishes such as grouper with harissa and mint yoghurt – the mainstay is classic French cuisine, from a crispy Nicoise salad and a wonderfully thick and sticky onion soup au gratin.
Santoku is the best restaurant in Ghana right now. There are other pretenders to the throne opening up soon, but the blend of incredible food, effortless service, and truly well-designed surroundings make this a cut above the rest
It's always a good sign when restaurant staff look upbeat and happy. Le Tandem, with its amiable service and slightly hidden-away East Cantonments location, seems to be a popular choice for politicians, diplomats and similarly high-profile diners. The restaurant, with its warm red interiors, sits at the upper end of the scale in terms of its French-influenced menu. Imported options include beef with marrow and sautéed potatoes, confit of duck. 
Le Magellan is a good dining-out choice, particularly in the evenings when business colleagues, friends and couples convene to wind down at the end of a day. Service is polite and well-practiced, and both the menu – full of pastas, seafood and steaks – and wine list reflect the fact that this remains one of the more upmarket dining options in Accra.
Set in one of the most prestigious spots in the city, overlooking the Polo Club's playing field, Accra Polo Club, formerly home to Il Cavaliere Pazzo, rises to its setting. The menu is a mix of superb, properly-cooked Italian dishes (risottos, gnocchi and ravioli) and, er, sushi. Not natural bedfellows in one place, but the sushi is very highly regarded here. It's an impressive building too, making effective use of wood both on the interior and exterior. The service is attentive 
At its heart, it is a high-end steak house. The meat is corn-fed and imported directly from Nebraska, and cooked over a charcoal grill to perfection. It's the best steak in Ghana. As good as the steak is, the menu really gets interesting when he fuses his Nuevo Latino passions with local ingredients in dishes such as squid three ways, the amazing pork belly with kumquat glaze on crispy fried cassava or, his signature dish, the plantain-encrusted grouper.
This well-known Chinese restaurant has opened up another branch near Koala in Airport. Pristine and clean-cut, the interior decoration is atmospheric and rivals not only the taste of the usually delicious food, but competes with the remarkable presentation as well. Ideal for business lunches or small parties, private rooms can be booked. 
Conveniently situated close to the centre of Osu, Buka is, without question, one of the best lunch spots in the city – and more often than not has full tables to show for it. Set on the first floor, it gives a sense of escape from the throng, with lively music and wraparound wooden trellises adding to the ambience. The food itself hinges largely on Ghanaian and Nigerian specialties – dishes include okra stew and eba (a dough ball eaten with stews). Try and avoid peak lunch hours.
Set around an agreeably rustic courtyard some five minutes' walk from Oxford Street, Mamma Mia, now well into its second decade, combines quality thin-crust, wood-fired pizzas with an attractive setting, making it easily one of Accra's best options for Italian food. But it's not just pizzas – we'd also highly recommend the large and reasonably priced seafood platter. The outside area has a trattoria-like feel, with rough-hewn paving, terracotta tilework and warm, simple decor. Air-conditioned dining is also available inside. Service is well-regarded here.