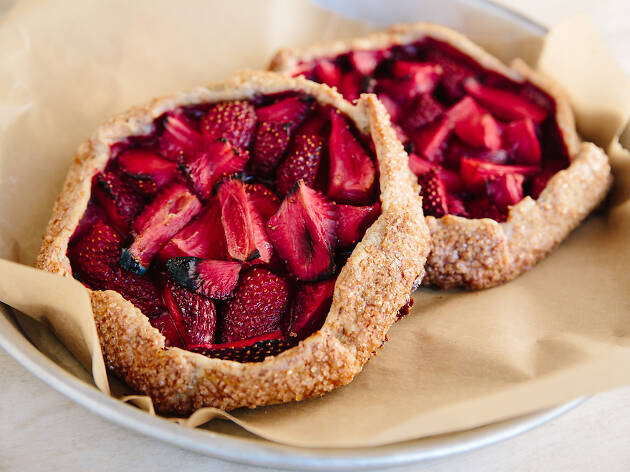 14 spots for the best breakfast in Atlanta
The best breakfast in Atlanta is heavy on Hungarian crepes, shrimp and grits and, of course, delectable coffee
The most important meal of the day is breakfast so, listen up: the best breakfast in Atlanta can be found at these local spots that are worth flocking to immediately.
Greasy hash browns, refined French pastries and even specially-crafted bagels will kick off your day, from Summerhill to Marietta and all around town, providing delicious nutrition that will propel your planned walks through the city's best attractions, things to do or, well, a workday.
And since waking up early isn't for everyone, so here are the best brunch spots in town for you late-risers.
RECOMMENDED: Full guide to the best restaurants in Atlanta
Best breakfast in Atlanta
Photograph: Courtesy Buttermilk Kitchen
The quintessential Atlanta breakfast spot is set in an old house, a relaxing place to start the day… if you time it right. Beware: if you dare visit on a weekend, you'll have to wait for quite some time—but it'll be worth it if only for a taste of one of Suzanne Vizethann's fluffy biscuits (best enjoyed with fried chicken and red pepper jelly). You might want to keep it local instead: if so, try the market scramble with that week's produce, fresh eggs and a side.
Photograph: Courtesy The General Muir
Emory Point's deli with a southern twist gets swamped on the weekend for brunch, but it's downright peaceful for a weekday breakfast. The space fills with sunlight and the menu is loaded with deli favorites. Take the edge off with a cup of coffee roasted by Batdorf & Bronson and chow down on one of the open-faced bagel sandwiches like the Avenue D with cream cheese, lox and roe. Whatever you do, don't leave without a black and white cookie.
Photograph: Courtesy Yelp/Vera L.
Home Grown may seem like a retro diner, but take a peek at the garden in the back and you'll start to think otherwise. It's organic and packed with produce that they use in the kitchen, which is pretty cool. The best dish, though, has nothing to do with veggies: the comfy chicken biscuit is a ridiculously fluffy treat topped with fried chicken and sausage gravy. Even on weekdays, you can expect to wait a the Reynoldstown joint, but browsing the thrift shop in the back of the restaurant makes the time go by quickly.
Photograph: Courtesy Canvas Cafe and Bakery
4. Canvas Cafe and Bakery
Canvas' adjacent sibling, Doughnut Dollies, gets most of the glory given its artisanal doughnuts, but the cafe upstairs is a mainstay of the Marietta community. Classic fare reigns supreme and you can't go wrong with one of the build-your-own omelettes or the huevos rancheros. The farro grain bowl with veggies and poached eggs is a delightfully light alternative, which will leave more room to indulge in a doughnut on your way out.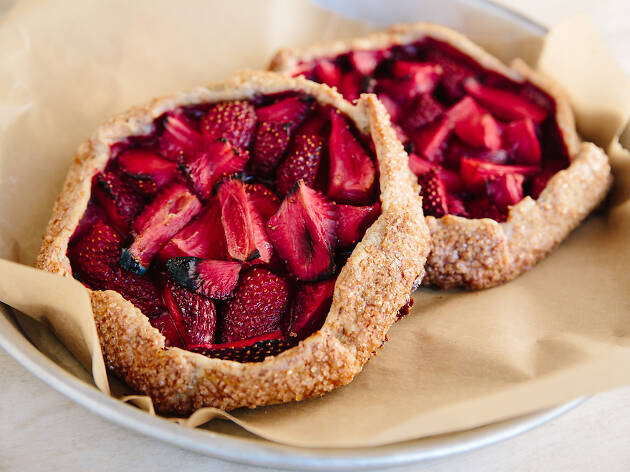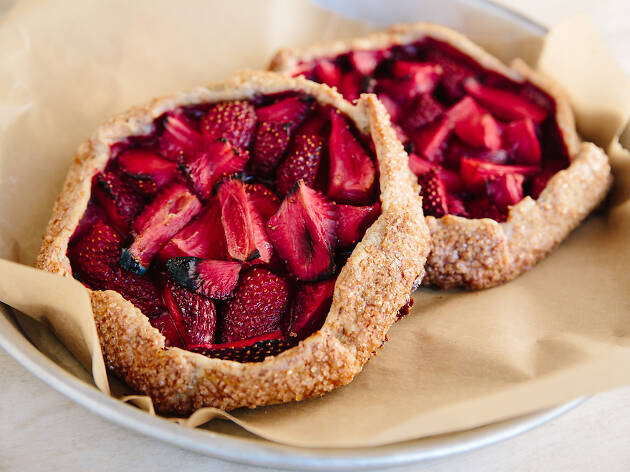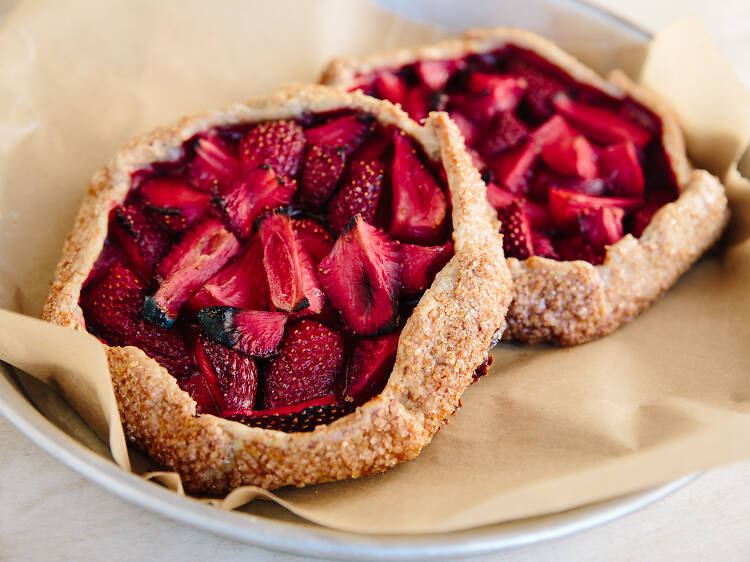 Photograph: Brittany Wages
5. The Little Tart Bakeshop in Summer Hill
Little Tart recently opened its first standalone shop in the Summerhill neighborhood. The space is adorable, replete with floral wallpaper and Instagrammable fodder. It's not just about darling aesthetic, though, as the pastries and breakfast items are to die for. There's a tight menu of breakfast offerings that include waffles and granola and yogurt; but just give into temptation and order one of their French pastries, like the seasonal galette or blueberry-almond danish.
Photograph: Heidi Geldhauser
Anne Quatrano relocated Star Provisions further into the Westside in 2017 and the space still has that shiny, new feel to it. The market-meets-cafe is charming and, if you're not in a rush (it runs a bit slow), is a lovely spot to start the day. If you're looking to keep it light, order the granola with seasonal, locally-sourced fruit over yogurt or chia pudding with honey. Indulge in the sausage biscuit with strawberry preserve if you're in the mood for something heartier.
Photograph: Courtesy Yelp/Lindsay E.
Muchacho is a Cali-retro space in the back of a Reynoldstown historic train depot, adjacent to its sister restaurant Golden Eagle. Although the grain bowls and toasts are great, it's all about the breakfast tacos. Hard to find in Atlanta, Muchacho's comes to the rescue with delicious varieties that include the migas with eggs, chips, cheese and black beans and the reggae with eggs, potatoes and pico. The space is small so, if you want a guaranteed seat, visit on a day during which you can make use of the patio, which has plenty of seating.
Photograph: Courtesy Yelp/Joseph P.
8. Atlanta Breakfast Club
Downtown can be tough when it comes to dining but, thankfully, there's Atlanta Breakfast Club to help with morning hunger pangs. It's also the place to go to when you want an over-the-top-breakfast that's going to make your taste buds happy. The peach cobbler French toast with vanilla butter and the Gulf shrimp and grits with chicken sausage and smoked pepper gravy are definite winners.
Photograph: Courtesy Yelp/Christopher
People went crazy for the Westside spot when it opened (this writer included) because it was such a refreshing change from the usual fast-casual fare. Upbeet's specialties are health-conscious grain and salad bowls, but their breakfast is delightful, too. There are several toasts to choose from but the standout is the "labne long time" with pesto and tomatoes. They also make surprisingly filling smoothie bowls.
Photograph: Courtesy Yelp/Erin G.
After selling out of bagels at farmers' markets and coffee shops around town, Emerald City Bagels opened a brick and mortar shop in East Atlanta Village in 2018. The bagels are kettle-boiled with a crusty exterior with the right amount of chew on the inside. Top yours with cream cheese (the garlic herb is excellent) and you'll be good to go. You should plan on taking it to-go unless you're lucky enough to grab a seat in the small space.
Photograph: Chip Bergmann
You'll find Julianna's tucked in among Inman Park's craftsman homes. The exterior of the eatery is undeniably charming with ivy climbing up the wall, while the space inside is cozy and warm. Here, try the Hungarian crepes (palatschinke). Similar to French crepes, they're prepared thin and served with sweet and savory fillings. You can't go wrong with the farmer special (eggs, peppers, Hungarian sausage) or the zserbo (apricot butter, walnuts, cocoa and chocolate syrup), either.
Photograph: Courtesy Yelp/Estelle H.
12. R. Thomas Deluxe Grill
R. Thomas has been a Buckhead institution for over 30 years. Breakfast is a star, here, and good news: you can get it 24/7. Veg-heads will be delighted by the offerings as well, including a breakfast menu that is pretty typical for a diner, with items like omelettes and eggs Benedict available. There are a couple of unique orders as well, like the breakfast stew with corn chowder packed with quinoa, vegetables and dulse (seaweed flakes).
Photograph: Courtesy Yelp/Ha A.
If the Silver Skillet looks like a vintage time capsule, that's because it is. The Westside greasy spoon has been around since the 1950s and not much has changed since then. You're here to dine at an Atlanta institution that's appeared in many films and TV shows (like The Founder and Remember the Titans) and eat a diner-style breakfast. Stick to the classics like the southern breakfast with fried pork chops, eggs, biscuits and gravy.
Photograph: courtesy Yelp/Stephen S.
Yes, Waffle House is a chain but it's Atlanta's chain. Where else can you go any time of the day or night and know that you can order hash browns smothered and covered. For the uninitiated, that's hash browns that have been topped with sautéed onions (smothered) and melted American cheese (covered). If you're feeling extra, order those hash browns scattered, too (meaning: spread out across the grill making them nice and crispy).
Looking for gratis fun?
Start at Centennial Olympic Park, built for the 1996 summer Olympics, and then move onto the Atlanta Beltline, a still-unfinished former railway loop turned paved path that boasts 2,000 acres of park and more. The best part? All these double as fun things to do with kids in tow as well.