Best public parks in Bangkok
Here are the best green spaces to breath in the fresh air in the city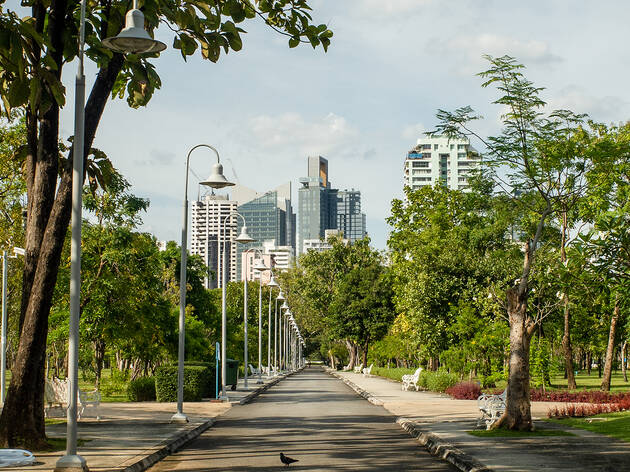 Though Bangkok doesn't have as many green spaces as the capitals of neighboring countries like Malaysia and Singapore, it still has enough tree clusters and green foliage to provide most of its residents with clean, fresh air.
Often compared to New York City's Central Park, the 360-rai Lumphini Park attracts hundreds of Bangkokians and visitors who daily flock to the urban oasis for all types of activities, from jogging to tai chi, to monitor lizard-gazing. Part of the premises offers breathtaking views of an artificial lake and lush trees against a background of Silom's and Sathorn's skyscrapers.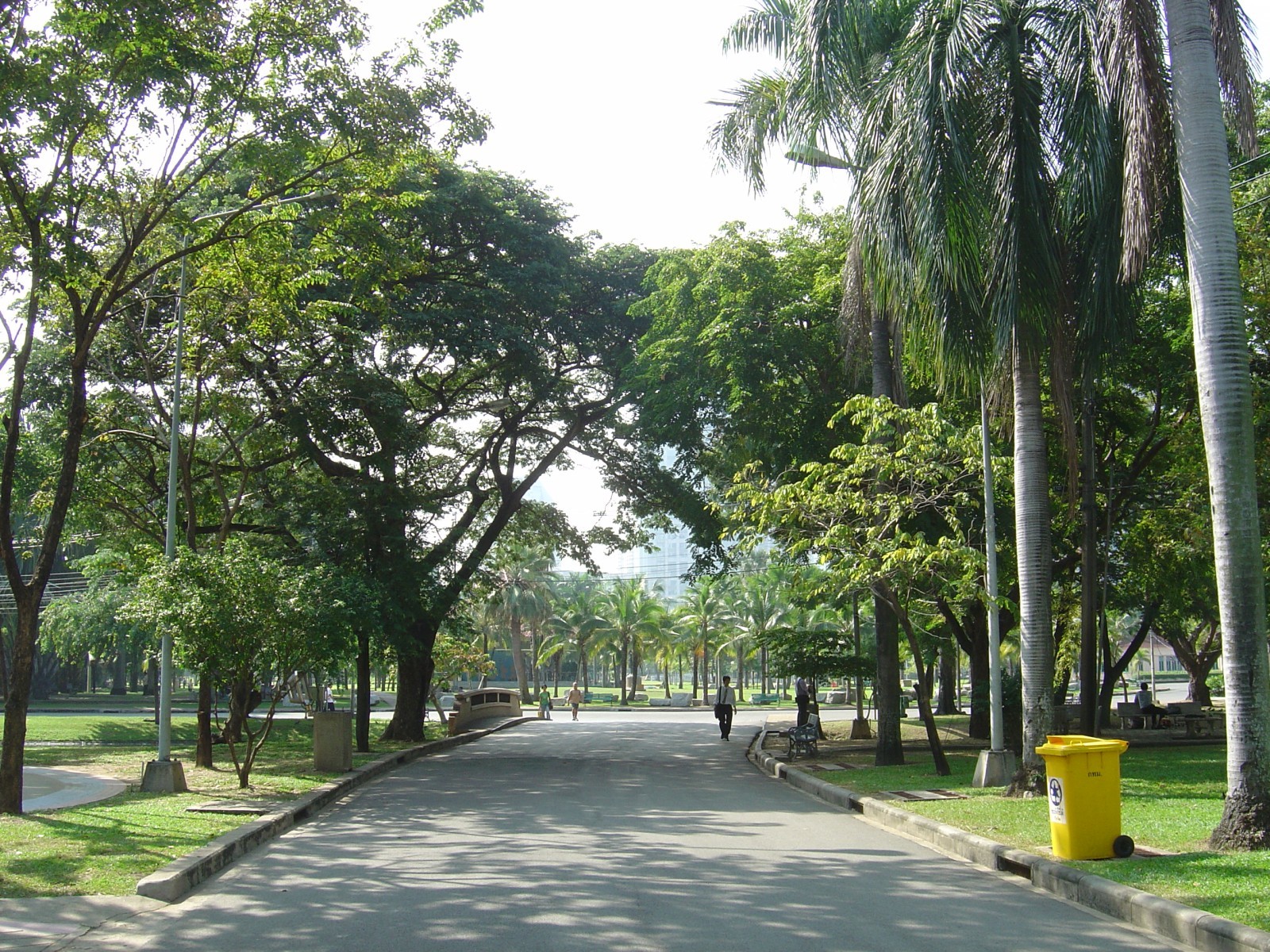 Other notable parks in the city include Queen Sirikit Park, the popular Rod Fai Park, and Chulalongkorn University Centenary Park, a green space that has been designed by TIME-lauded landscape architect Kotchakorn Voraakhom to hold nearly one million gallons of water—exactly what flood-prone Bangkok needs.
If you want to combine jogging with water sports, it's worth driving out of town for Nong Bon Water Sports Center. This far-flung public space is also an aquatic playground for those who want to try their hand at kayaking, windsurfing or sailing. The park is also one of the very few pet-friendly outdoor parks in Bangkok.
However, if your concept of a green space exceeds a walk in the park, head to Bang Krachao which is nicknamed "Bangkok's Green Lung." The small island is an ideal spot for cycling and bird-watching at its very own Sri Nakhon Khuen Khan Park. If you want to say a night, Bangkok Tree House provides comfy stays surrounded by nature.
But if you'd rather not escape too far from the city, Metro Forest Project or Pa Nai Krung is a 19,200-square-meter forest-like park operated by petroleum giant PTT with canopy walkways that offer lush elevated views.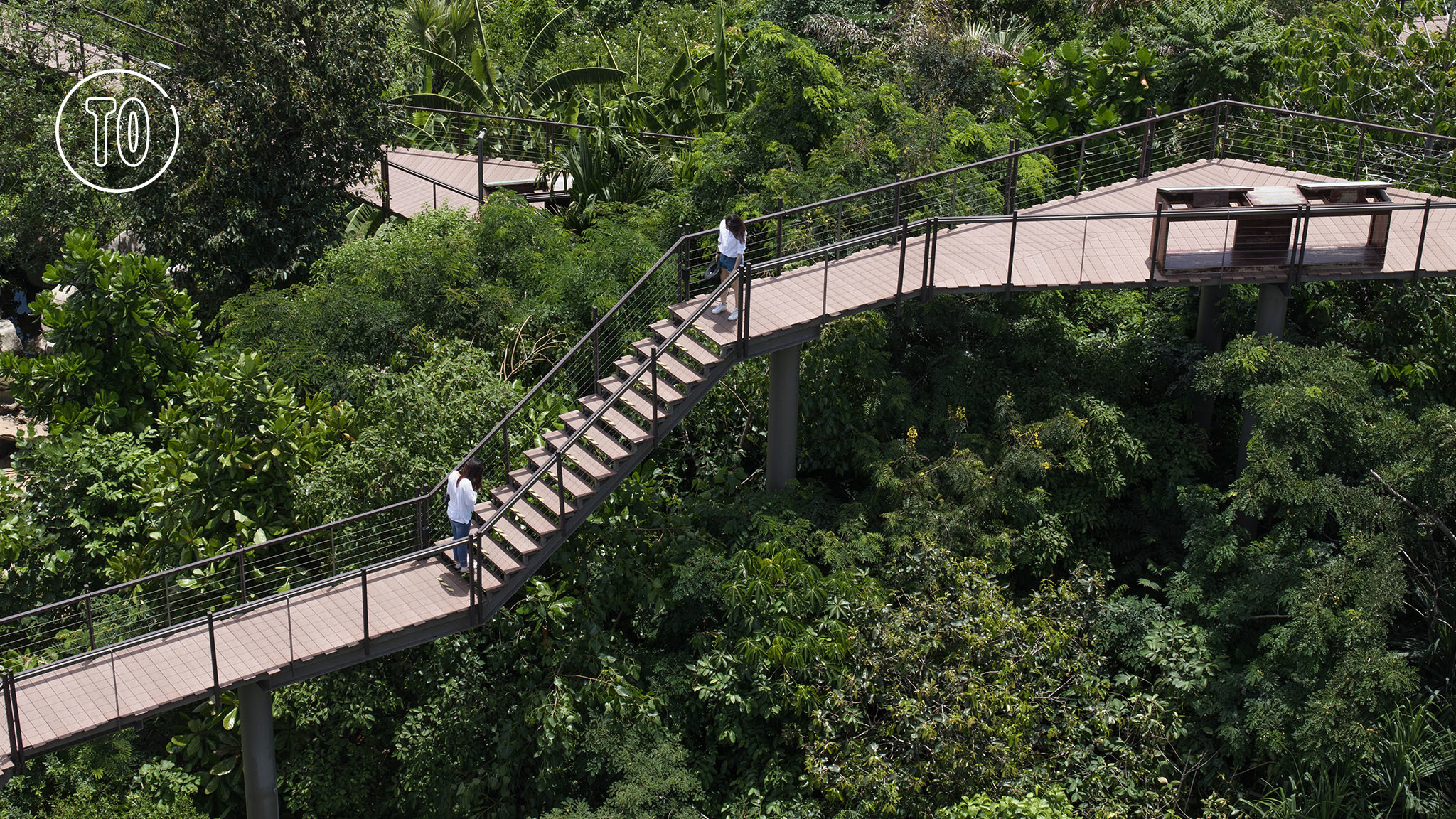 Bangkok's top public parks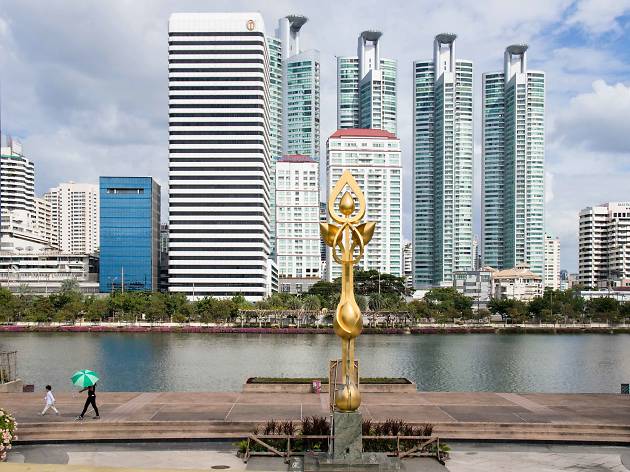 Benjakiti Park
Converted from parts of The Tobacco Monopoly property, this 130-rai public greenery makes an excellent bike and jogging spot in downtown Bangkok. The skyscraper backdrop behind the artificial lake also makes a spectacular photo op. Benjakiti Park's new extension will be unveiled in February 2022. You can see the sneak peek via this link.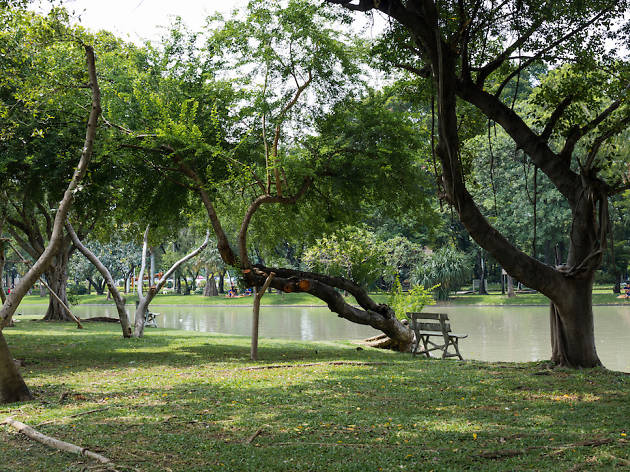 Chatuchak Park
One of Bangkok's most accessible park thanks to its location right by BTS Mochit and MRT Chatuchak Park stations, this green space boasts a leafy jogging route, a manmade lake, and a handsome clock tower. It makes a perfect evening stroll after exhausting bargaining at the nearby Chatuchak Market.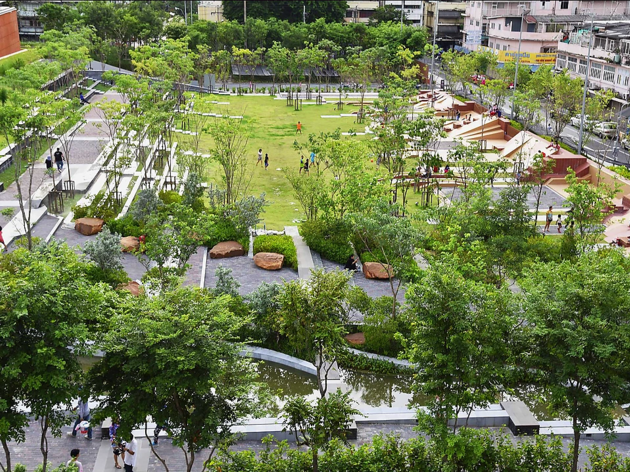 Chulalongkorn University Centenary Park
Designed by architectural studio Landprocess, Chulalongkorn University Centenary Park, created to celebrate the 100th anniversary of Thailand's oldest university, is at the heart of an initiative to give new life to the Samyan neighborhood and to transform it into a livable space for all generations.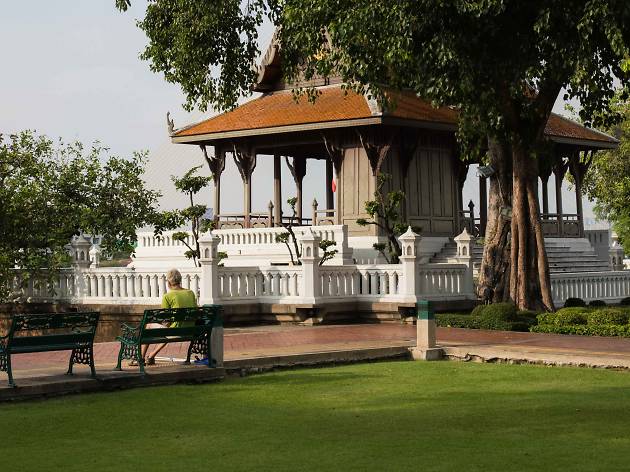 Santi Chaiprakarn Park
Located along the banks of the Chao Phraya River, Suan Santi Chaiprakarn Park offers a fun, relaxing vibe and magnificent views of the Rama VIII Bridge. Built around Phra Sumen Fort, a structure dating back to the reign of Rama I, the park features a number of lamphu trees, which inspired the name of the Banglumphu district.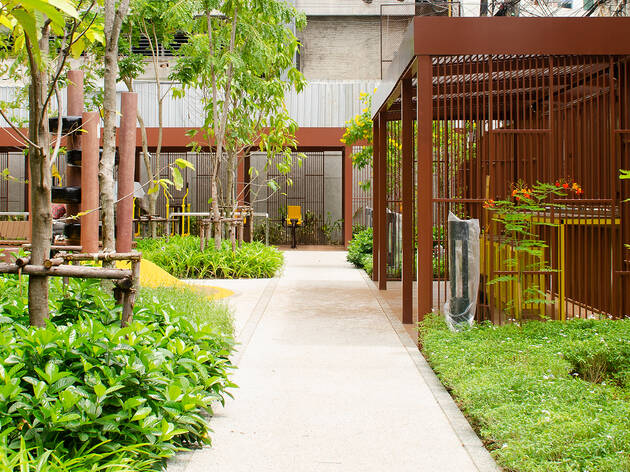 Wat Hua Lamphong Rukkhaniwet Pocket Park
Wat Hua Lamphong Rukkhaniwet Park is the first of four pilot projects by crowdfunded developper We!Park to rejuvenate idle urban spaces in Bangkok into sustainable green areas. Wat Hua Lamphong Rukkhaniwet Park stands on what was once an abandoned plot of land that's about two rai (3,200 square meters). The space is the first of four collaborative urban greening projects between the public and private sectors, and the general public. See more pictures here.
Read more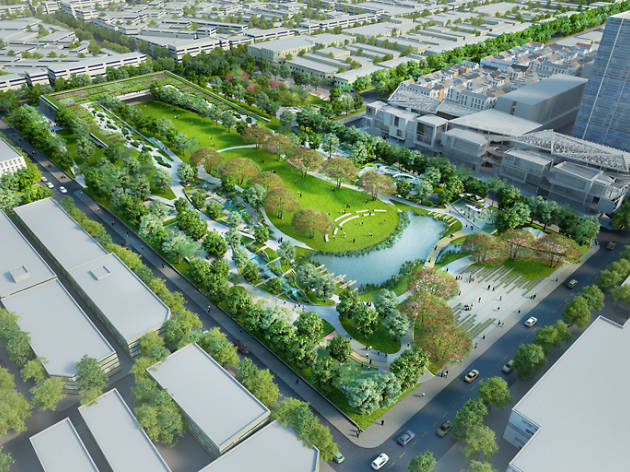 Samyan is now home to Bangkok's new public park
Thailand's oldest university celebrates its 100th anniversary by opening Chulalongkorn University Centennial Park, a public green space that promises to completely transform the Samyan neighborhood We were quite desolate when one of our favorite food hubs in the city was demolished for reasons we knew nothing about. But we're a bit more relieved now, knowing that the food stalls in Samyan were swept out to give way to Bangkok's newest public park. The Chulalongkorn University Centenary Park, created to celebrate the 100th anniversary of Thailand's oldest university, is set to open on 26 March, the same date as the university's Foundation Day.     CU Centennial Park Landprocess Co., Ltd./Chulalongkorn University     Designed by architectural studio Landprocess, the 30-rai park is at the heart of an initiative to give new life to the Samyan neighborhood and to transform it into a livable space for all generations. "Our concept was to look at future of Bangkok and the world in the next 100 years—and the challenges we will confront, such as climate change—and then reassess the role Chulalongkorn will play in this future," Landprocess founder Kotchakorn Voraakhom explains. "Bangkok has grown so fast—too fast. The problem is, we have never treated our city like we were supposed to. For example, we turn canal systems and waterway networks into roads, so the city isn't capable of collecting and draining rainwater." Landprocess designed the park as a water treatment showca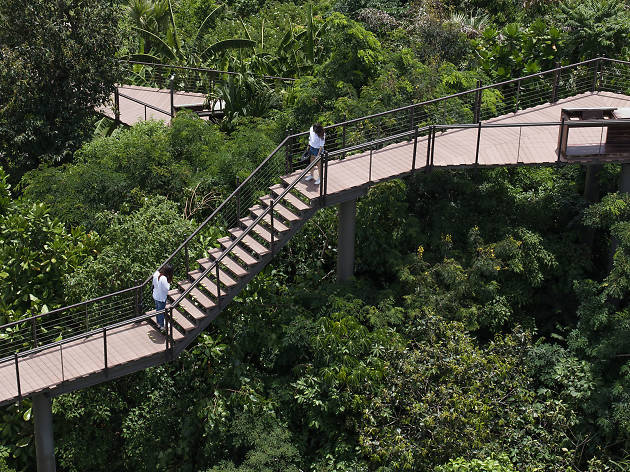 There's a forest-like park in Ladkrabang but no one in downtown Bangkok seems to have noticed
No more driving out of town for hours just to be amongst greenery (which is the case if you've been to all the parks, as well as the Bangkrajao wetlands). Hop on an Airport Rail Link train, get off at Ladkrabang Station, and take a short taxi ride for what is perhaps the first manmade forest in Bangkok—the Metro Forest Project—to hug some trees and breathe in fresh air. Sereechai Puttes/Time Out Bangkok Behind the project is petroleum giant PTT, who spent two years transforming a 19,200-square-meter reclaimed land on Sukhapiban 2 Road into a lush park. PTT commenced with the project in 2013 to commemorate the 60th birthday of HRH Princess Maha Chakri Sirindhorn, whose works include expanding greenery landscapes throughout the country. But instead of creating just another public park, PTT, led by then CEO Dr. Pailin Chuchottaworn, decided to adopt a unique afforestation method invented by award-winning Japanese botanist Dr. Akira Miyawaki. The method involves planting many—four to five in particular—types of trees per square meter to create a native, forest-like ecology that shortens the forest's maturing time from eight to ten years to only three to five years. The Metro Forest Project features more than 270 species of plants. Sereechai Puttes/Time Out Bangkok       Visitors are welcome to walk in the park freely. But we suggest checking out the 200-meter-long skywalk, which soars ten meters above the ground, and checking out the observation deck—both were desi