Food takeout and delivery options in Bangkok
Bangkok food joints now go delivery to serve people who're stuck at home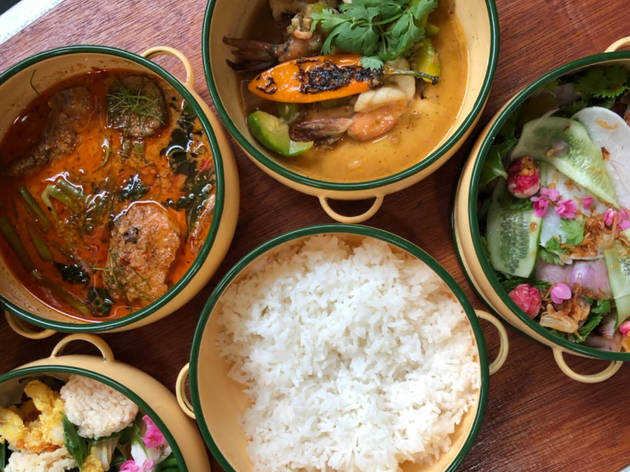 Restaurants are one of the hardest-hit businesses during this global novel coronavirus pandemic. Empty dining rooms are not an unusual sight as people are preferring to stay in rather than eat out. Many restaurants have started offering delivery services to make sure their kitchen staff and service crew are financially supported during the crisis.
Latest food takeout news and reviews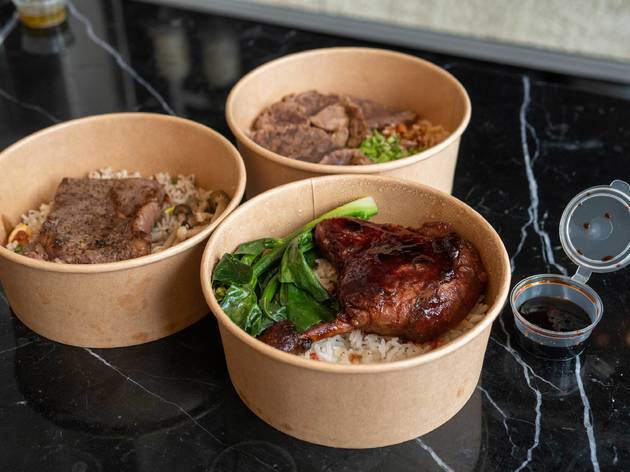 Sanam Pao rooftop restaurant launches meaty rice bowl created by Top Chef Thailand finalist
Rooftop restaurant and live-music bar Vela rolls out a menu of rice bowl takeaways topped with drool-worthy proteins, a perfect heathy treat for during self-isolation. Created by Top Chef Thailand finalist Tawatchai "Bus" Akarawongwattana, the selection of rice bowl features the likes of a khao dhom haeng (dry version of rice soup cooked with beef broth) topped with braised beef, tender pork chop served with garlic rice and mushroom, and duck leg accompanied with rice cooked with its own fat and bok choi. Noodle items, such as spaghetti with salmon and salted egg, and stir-fried spaghetti with chicken liver, garlic and chili, are also on offer. Not to miss is chef Bus' signature banana cake, a perfect treat to end your meal. To order, contact @vela.rooftop on Line.   Phavitch Theeraphong/Time Out Bangkok       Phavitch Theeraphong/Time Out Bangkok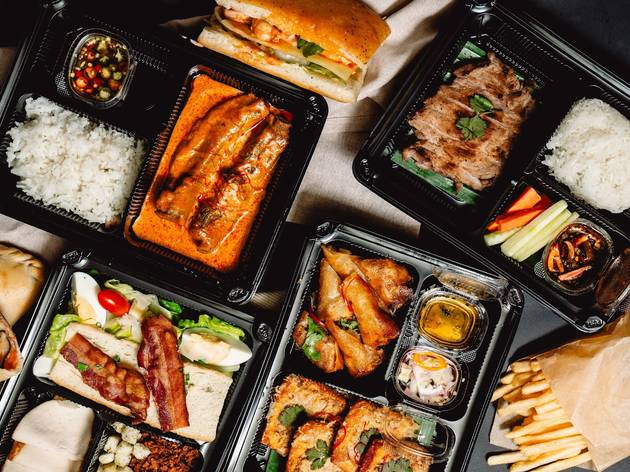 Royal Orchid Sheraton offers affordable 5-star gourmet meals for delivery
Riverside hotel Royal Orchid Sheraton offers fuss-free East-meets-West meal made by high-quality ingredients to feed hungry Bangkokians during self-isolation. Starting from B129 net, you get to choose from a selection of drool-worthy delights like mini pizza calzone; Thai French toast with pork and deep-fried spring rolls; and stir-fried chicken with cashew nuts. Only B20 more will fill you up with more premium items like Caesar Salad with Cajun chicken; Soba noodle salad with smoked salmon; and red curry with pork rib. Also not to miss is the succulent Grilled Shrimp Rosh Boy Foccacia sandwich (B169 net).    Royal Orchid Sheraton   Royal Orchid Sheraton Royal Orchid Sheraton Royal Orchid Sheraton Place your order through the hotel's LINE @rosheratonbangkok. You can order from 4:00 AM-7:00 PM. Club Marriott members will enjoy a 30% discount.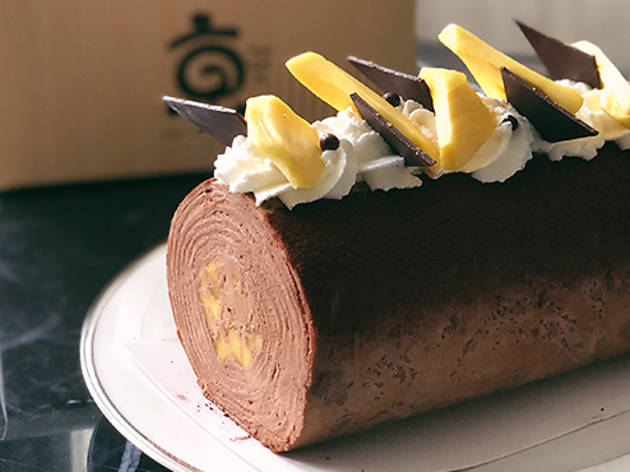 Kyo Roll En launches dessert collaboration with local Michelin-acclaimed chefs
Japanese-inspired dessert bar Kyo Roll En teams up with Bangkok's Michelin-awarded chefs for one-of-a-kind cake roll available for online delivery throughout April. Following Gaggan's cheesecake roll inspired by his famous dish Lick It Up that requires diners to unabashedly lick the plate, chef Thitid "Ton" Tassanakajohn of Le Du is now offering an unconventional pairing of jackfruit and Chiang Mai chocolate in the collaborative dessert that features chocolate crepe roll cake filled with jackfruit fillings and topped with jackfruit sauce. You have until this Sunday (12 April) to order chef Ton's creation.  Next week will be the Suhring's brothers turn, followed by Supaksorn "Ice" Jongsri of Southern Thai fine-dining restaurant Sorn. You can order Kyo Roll En's special dessert via Line account @kyorollen and Instagram @kachabro.   
Gaggan and Kyo Roll En team up for sensational cake roll
Dej Kewkacha, the creative mind behind Japanese-influence dessert franchise Kyo Roll En teams up with Indian rock star chef Gaggan Anand for addictive, fruit-filled cake roll. Drawing its name from Gaggan's signature creation "Lick It Up" that requires diners to unabashedly and literally lick the plate, Pick it Up is a sweet indulgence featuring fluffy lock-shaped cake roll filled with light cream cheese, mango pudding and yuzu. It sounds like a perfect self-isolation treat. You can order Pick it Up by contacting Kyo Roll En on Facebook or @kyorollen on Line. The cake is priced at B999 and is limited to 50 servings a day. View this post on Instagram Wish it was lick it up 👅... but to be hygienic and with covid19 in mind let's pick it up .. here we go please order 50 rolls a day only limited time MANGO 🥭 + Yuzu 🍊 + cheesecake 🧀.. = @kyorollen1 + Gaggan collaboration To order we will free delivery 🚚 .. line : @kyorollen or contact on instagram: @kachabros Enjoy social distance and don't lick the cake just pick it up #gaggananand #gaggan #lickitup #kyorollen #pickitup A post shared by Gaggan⚡️⚡️Anand (@gaggan_anand) on Mar 30, 2020 at 7:37am PDT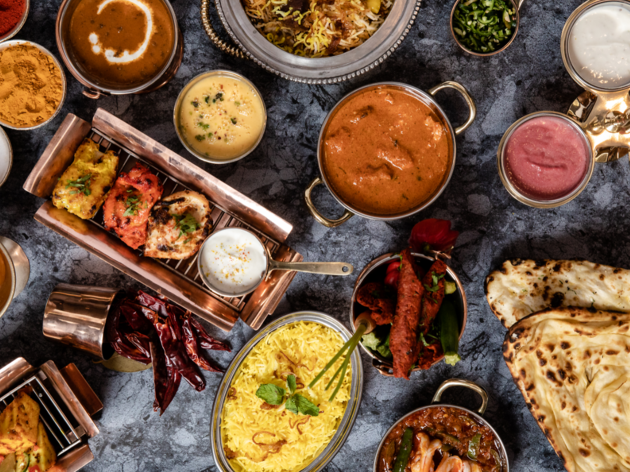 Rang Mahal now offer takeouts, while food delivery will all be taken care of by hotel staffers
Rang Mahal, the Indian restaurant at the Rembrandt Hotel, has long been praised as one of the very best Indian restaurants in Bangkok. Now, the acclaimed eatery Indian restaurant now offers its acclaimed food for takeaway, whether it's the chicken tandoori (B340) or lamb kebab (B290/piece). See the delivery menu here, and call 022617050 to place your order. You can pick up the food at the hotel but if you wish for your food to be delivered straight to your door, delivery will be taken care of by hotel staffers.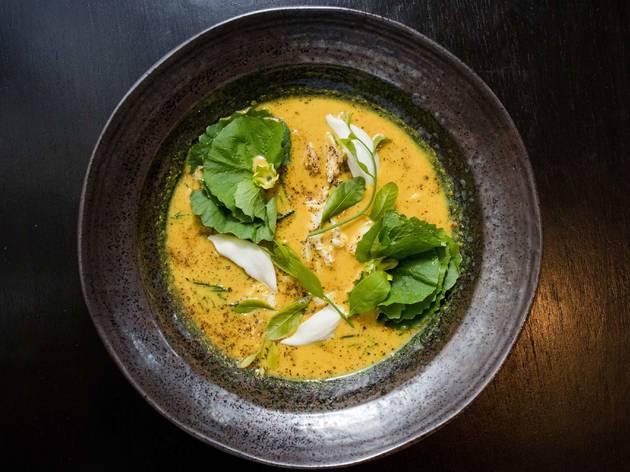 One Michelin-starred Paste restaurant is now offering takeaways for delivery
There are so many reasons why Paste captures a place in our gourmet-loving heart, be it the revived ancient recipes or chef Bongkoch Satongul's careful treatment of high-quality ingredients. Now, we are stoked to learn the swanky Thai restaurant is offering takeaways for delivery during the nationwide shut down period. Enjoy Paste's signatures on your couch such as watermelon salad with grounded salmon and herbs, a reinterpretation of Thai summer delicacy; Sinhol (Sri Lankan-inspired ancient curry) with goat meat; and an aromatic Southern Thai curry with crab and herbs. There's also a set menu comprising three or four selections designed for sharing starting from B1,000. You can see the full menu and order via Line @pastebangkok or call 0 2656 1003.   
EAT Lists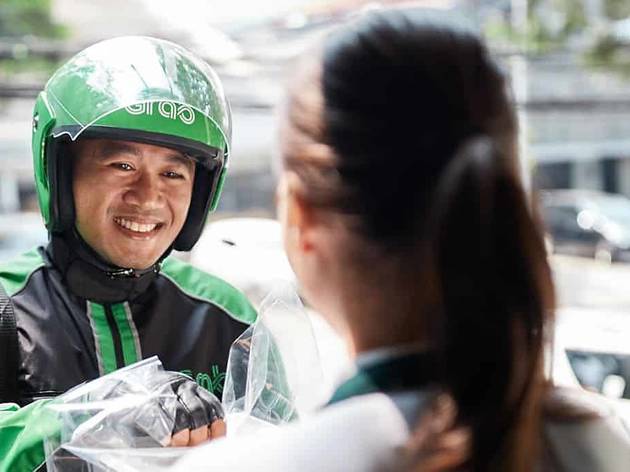 The complete guide to food delivery apps available in Bangkok
The food delivery scene in Bangkok has grown at an impressive rate over the last year. While more people appreciate the convenience of having food delivered (blame it on our laziness), many also feel that, due to the ongoing health crisis, going outside can be tricky and unsafe. We continue to see the release of food delivery apps, one after the other, with each one trying to attract more users through great promotions, a good selection of partner restaurants and even grocery delivery services. With all of these apps being launched, some of us may find it hard to keep up. This list will help you get your head around all the choices. Take a look and see which one suits your preferences the most.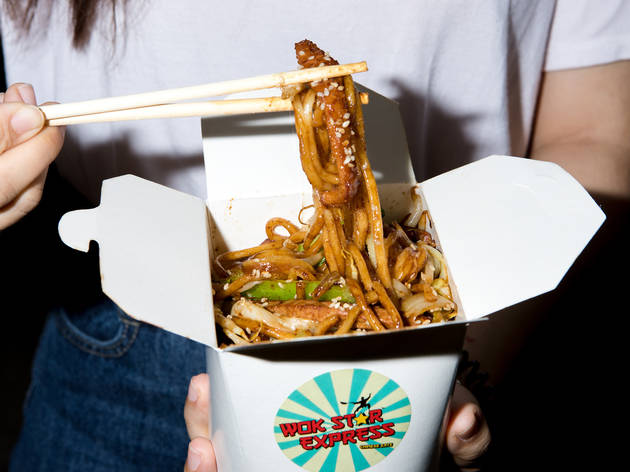 New food takeaway and delivery options in 2020
Since the pandemic went berserk earlier in 2020, many eateries have had adapted themselves to give out their service to people in quarantine (and also to survive themselves). We have recongized a handful of good delivery-based restaurants that serve quality takeaways and thought you might be interested to try.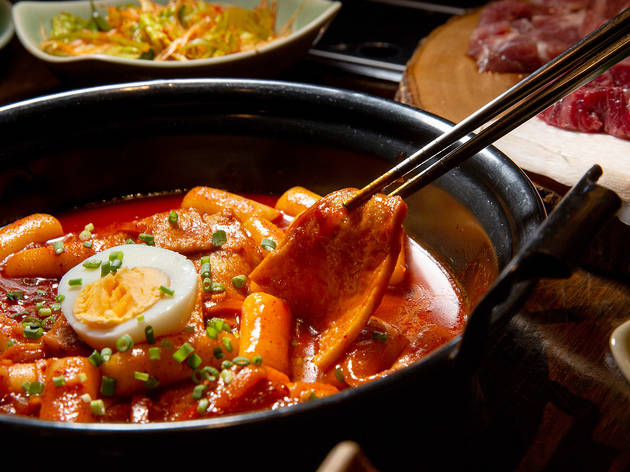 15 Korean restaurants in Bangkok that deliver
Korean drama fever has, unquestionably, spread throughout Thailand, not to mention the rest of the world. And it's no use denying it—you're probably one of those who spend most of their free time binge watching these cringey romantic series, and getting starry-eyed over the gorgeous male and female leads. But have you ever found yourself drooling over the food that the characters in these series eat? Well, salivate no more. Bangkok has tons of great Korean restaurants that deliver food that are as delectable as these Korean drama stars. Here are our favorites.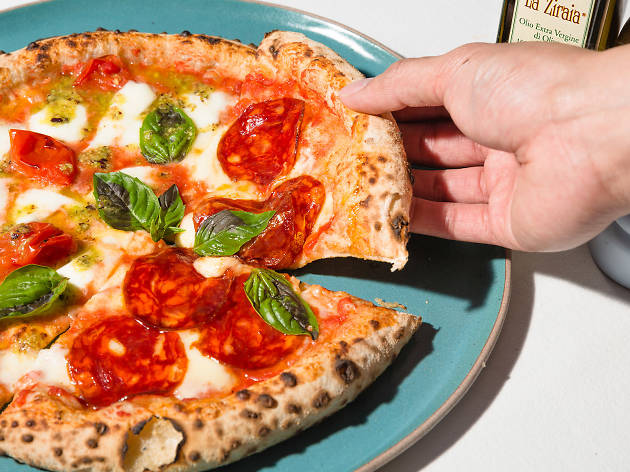 12 brilliant pizza places to call for delivery
There's no food that brings everyone together like pizza. One large box is ample for a gathering of friends and family on any occasion. And now that it seems we need to stay indoors a little bit longer, doesn't a box of hot pizza to share in the safety of our own home sound like a great idea? We're here to help you on this front. Here are 12 pizzerias that deliver pizza molto deliziosa straight to your door. So sit tight and drop them a call!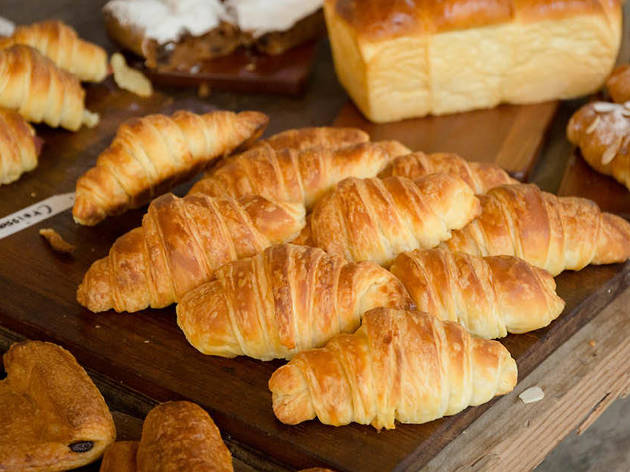 10 really, really good bakery shops in Bangkok
No matter how clean and healthy we decide to go on a day, we definitely can't deny our deepest love for some carbs in our system! Pastry is one of many carb-heavy things that we always spare some cravings in a day, whether it's a buttery croissant, a soft donut, or a sweet piece of cake. So allow us to recommend ten of the best bakeries around the city where you can find really, really good baked stuff.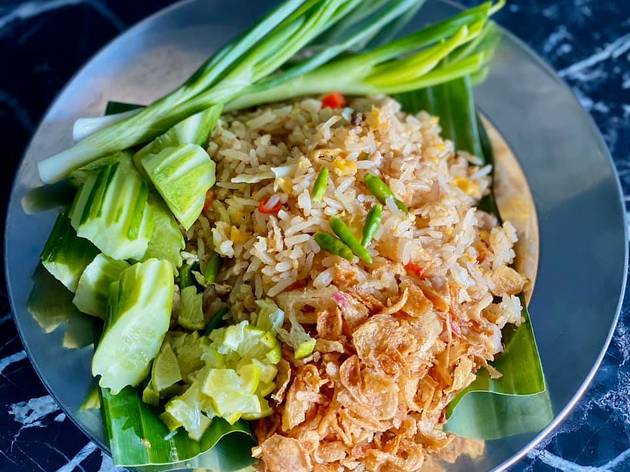 8 great restaurants that serve amazing fried rice dishes
Ask Thais what they usually eat, and "khao pad" is bound to be one of the answers. Fried rice is considered an essential in Thai cuisine, and a majority of Thai households prepare and enjoy it at least once a week. Cooking khao pad is simple. There is no set recipe to make it. Usually, all you need are eggs, a meat or protein of your choice, some veggies and, of course, rice. But cooking is all about creativity, don't you agree? This is why fried rice is served in God-knows-how-many ways. Some use plain chicken or pork, whereas others turn to more unconventional ingredients like salmon or crab meat. (Pineapple is also a popular ingredient in this dish. Sorry to Hawaiian pizza haters.) Regardless of the mix-ins, every variation promises comforting flavors and that wok-fried aroma in every bite. Many restaurants across Bangkok serve khao pad that's on an entirely different level, whether in taste or presentation. We've picked eight of the best ones.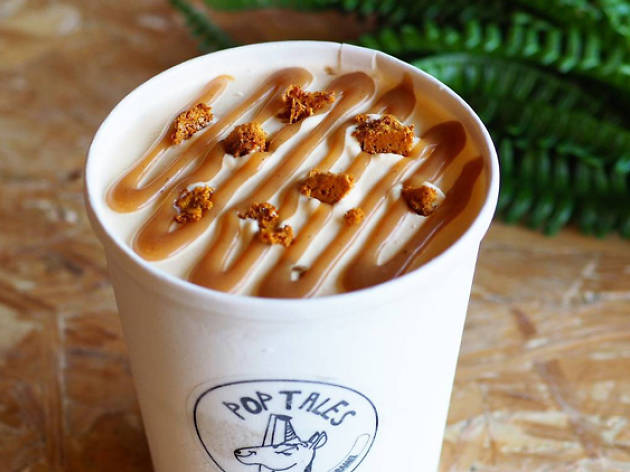 8 shops that deliver lip-smacking ice cream
We all get that feeling: sitting at home and suddenly being overcome by a craving for something refreshing and sweet—like ice cream! But sometimes, we're too lazy to move our bums to actually go out and buy a tub, especially when it's hot outside. Thankfully, there are now ice cream shops across Bangkok that are equipped to send out their ice-cold confections for delivery. Here are our recommendations.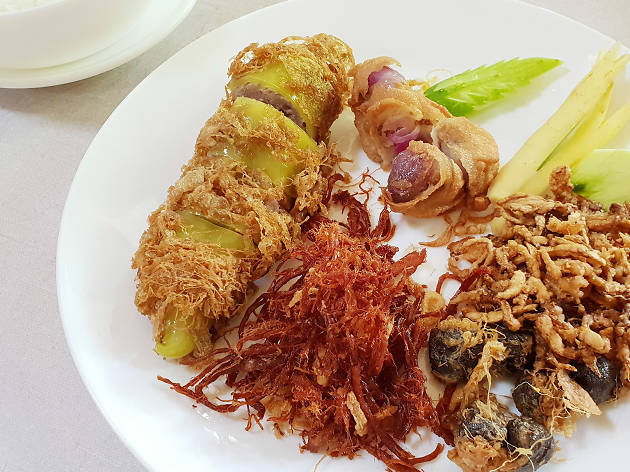 The best khao chae takeaways for delivery in Bangkok
Scorching summer in Thailand is synonymous with Thai summer food like khao chae. The traditional delight features steamed rice soaked in jasmine-scented water and served with savory mix-ins like luk kapi (deep-fried shrimp paste balls), hom daeng yud sai (deep-fried shallots stuffed with shredded pork), prik yuak sod sai (egg wrapped steamed green chili stuffed with minced pork) and moo foi (sweet shredded pork). For this year's summer, we may miss a chance to enjoy khao chae at your favorite Thai restaurant because of the emergency decree to curb covid-10 pandemic, banning dine-in service at restaurants and eateries. The only option to savor the popular Thai summer food to have them delivered to your door. Here are restaurants, chefs and catering service in Bangkok offering khao chae takeaways for delivery in Bangkok.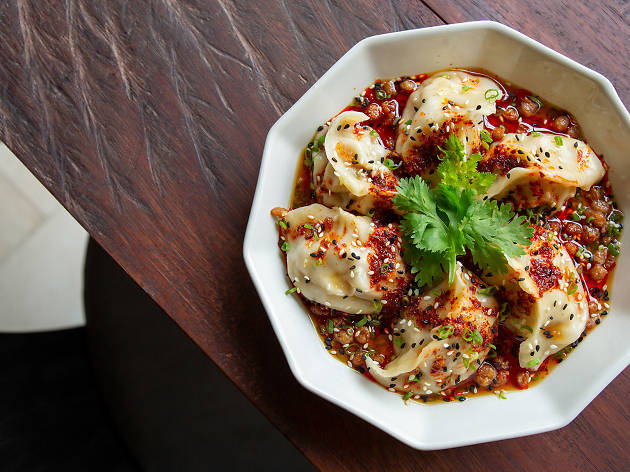 The best vegan and vegetarian restaurants in Bangkok
Calling veganism a trend is so last year. It's now a legit lifestyle option, thanks to advocates who relentlessly point out that a meat-free, plant-based diet is beneficial, not just to one's health but to the environment as well. (Did you know that animal agriculture is responsible for 18 percent of greenhouse gas emissions or that the leading cause of rainforest destruction are livestock and feed crops?*) So it's a good sign that we're seeing more plant-based establishments cropping up in the city. We've rounded up the best vegan and vegetarian restaurants as well as vegan delivery options in the city, from creative vegan eateries to a raw food cafe to a shop that sells plant-based cheese. Whether you're a full-time vegan, a dabbler in the diet or somewhere in between, any of these places won't have you asking for meat.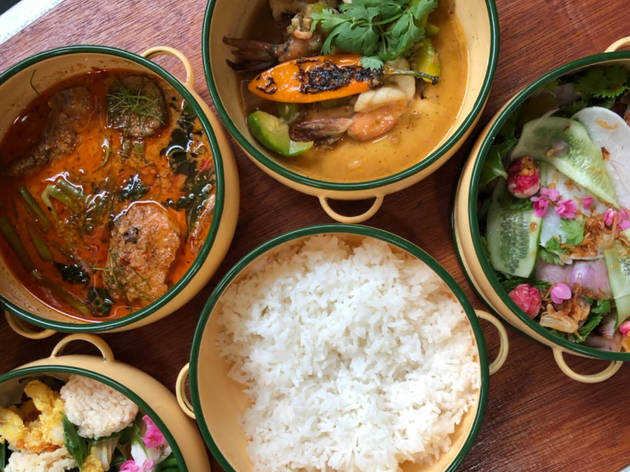 Best gourmet restaurants offering delivery service
Novel coronavirus outbreak puts a disruption onto the dining scene. People are scared to go out and enjoy the meal at their favorite restaurants and staying at home is recommended as the best way to keep yourself protected from the pandemic. Many gourmet restaurants turn to food delivery service to make sure their staff members are financially supported and they manage to survive during the tough time. Craving gourmet food without going out? Here are some restaurants offering delicious meals that you can enjoy on your couch.