Places to dine and drink in Suanplu and Yen Akart
Time out Bangkok team roamed Sathorn to round up the best new places to dine and drink in the Suanplu and Yen Akart neighborhood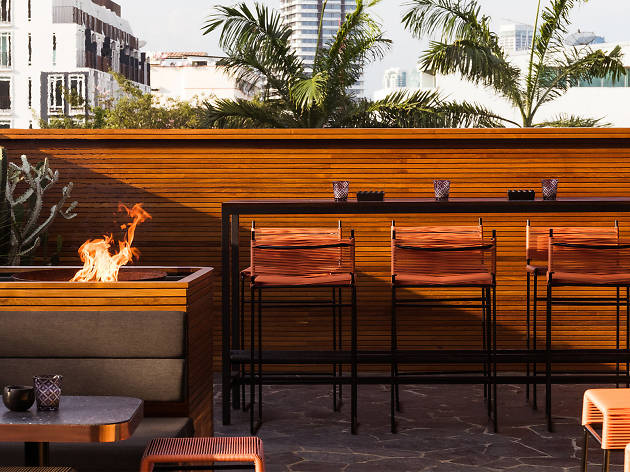 Sathorn is probably best known for its pricey high-rise residences, its proximity to Lumphini Park and, if you venture deep into its sois, a spate of dodgy backstreet bars. Recently, the area has gained a reputation as a rising mecca for food and booze lovers. Time Out Bangkok crisscrosses the small, maze-like streets of Sathorn, from Suanplu to Yen Akart, to check out some of the neighborhood's hottest spots.
Read more about things to do in Suan Plu and Yen Akart.
The latest addition to Fred Meyer's (the mastermind behind Issaya Siamese Club and Baan Phadthai) restaurant empire is taking you on a ride to culinary heaven. Embracing the shophouse that Japanese den Kom-Ba-Wa vacated in Soi Suanplu, Saawaan (which means "heaven" in Thai) serves up a procession of Thai cuisine that elevates humble recipes with innovative, modern-day techniques.
An avant-garde dining experience from one of Thailand's most respected chefs—that's pretty much enough said for Issaya Siamese Club. Celebrity chef Ian Chalermkittichai leads you through a journey of modern Thai flavors and state-of-the-art, innovative twists while still paying respect to old recipes.
Husband-and-wife restaurateurs Phoungkhae and Gav Koh have made Sathorn a destination for Northern cuisine with Eats Payao, a restaurant that churns out northern delights whipped up following recipes handed down within Phoungkhae's family in Payao province, which lean toward bold and spicy side.
The Sathorn branch of Sukhumvit 31's favorite bakery sets behind an arch-shaped glass door of a shophouse in Soi Suanplu. Wooden furniture and Notre Monde trays are dotted against white interiors, creating a warm space made even homier be a mellow playlist and the scent of freshly baked goods like veggie quiche and spice-and cheese-filled sourdough-liked bread.
Popular delicatessen-slash-eatery El Mercado opens the supermarket offshoot in soi Suanplu offering to people in the area gourmet grocery experience. Shop among great selections of cold-cut, cheese, bakery, wine and ready-to-eat meals.
The 90-year-old Victorian-style house, which used to belong to a cousin of King Rama V, was renovated, brushed up in vintage mint green and turned into a casual chic coffee shop.
The cozy Neighbor is an ideal spot for taking a break while strolling around the area. The Insta-ready space—large windows, wood furniture, hanging Edison light bulbs, wallmurals—doles out pretty good coffee and freshly baked homemade goodies.