Best restaurants and cafes in Silom and Sathorn
Find out why Silom and Sathorn are a foodie destination for quality meals and legendary street food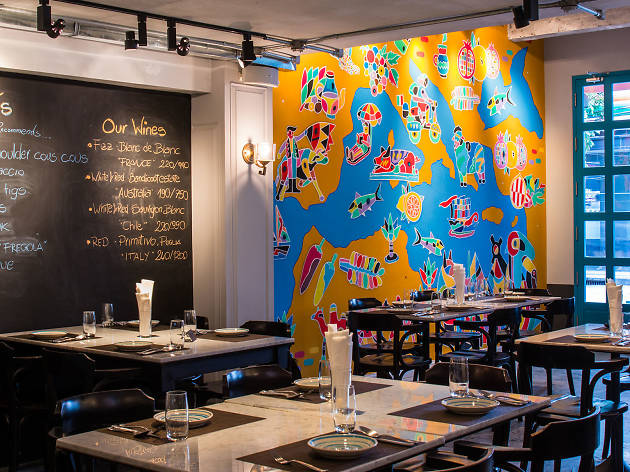 Silom and Sathorn might be known for being a business district in Bangkok, but they are actually a heaven for food lovers, too. Here, you'll find some of the best restaurants in Bangkok from Thai and international fine dining restaurants, to cafes and street food legends, so let's find out why Silom and Sathorn are a foodie destination you cannot miss.
Don't forget to check out things to do in the area and Pan Road. Plus, places to dine and drink in Suanplu and Yen Akart.
The name may sound like a fancy French restaurant but the food at Le Du is stylishly inspired by local Thai fare. Armed with an education from The Culinary Institute of America and working experience in the some of the world's best kitchens—Eleven Madison Park and Jean-Georges, included, Thitid Tassanakajohn or Chef Ton opened Le Du in Bangkok in 2013 with a mission to revolutionize Thai food.
Nooror Somany Steppe is gifted. Originally a housewife in Belgium, Nooror used her cooking talent to put up the first Blue Elephant restaurant in Brussels with her husband over 30 years ago. Ironically, the restaurant in Bangkok is the 10th branch of the global brand—it was first launched in London, Paris and Dubai before finding a place back home.
Super Seoul Café brings the spirit of Seoul's artsy hipster hood, Garuso-gil, to the busy commercial district of Sathorn. There's a real warmth to this restaurant-café; green tiled walls, indoor plants and large French windows give diners an impression of a calm oasis—a stark contrast to the nightmarish traffic on nearby Sathorn Tai Road.
Cutesy, delicatessen-inspired Meatchop has been drawing steak lovers to Saladaeng for wallet-friendly meat cuts, but what many don't know is that the second floor of the pastel-colored steakhouse houses a cocktail bar that also doubles as a bistro serving Vietnamese-style comfort fare.
People these days prefer eye-catching, decorative restaurants that they sometimes forget that taste is the foremost criteria in judging a good restaurant. Thankfully, Amontre's food is comparable to its pleasing interiors.
A collaboration between three friends—Vimvadee "Nan" Piyavanich (a graduate of renowned French cooking insitution Ritz Escoffier School), Warintorn "Dear" Phothisuwan and Barcelonian chef Carlos Yau—Nan Charcoal Grill undeniably takes its food seriously and is worth more than just a few photos on a social media feed.
Enjoy it grilled, with spaghetti, or as lobster bisque prepared Tuscan-style by the talented chef, Edoardo bonavolta.
Starting as a food truck, this beloved pizza place has upgraded into a proper sit-down restaurant on Soi Ruam Rudee. Pizza Massilia combines Italian flavors with the tastes of southern France and other Mediterranean countries.
This small eatery along Sala Daeng offers authentic Isan grub in a simple setting. Unlike typical Isan (north-eastern Thailand) restaurants, however, SomtumDer doesn't adjust their flavors to please Bangkokians' palates.
The first brick-and-mortar cafe of the country's leading Nitro cold brew necessities suppliers sits on a happening land and comes with creative twist. Spread across the first floor of a three-story building on Soi Saladaeng 1, Euroka is a mash-up of trendy exposed brick and whitewashed interiors.
All five senses come alive at Everyday by Karmakamet, a lovely café bearing the name of the famous local fragrance brand.
Sugi Bee Garden, a respected bee farm in Kumamoto, Japan, has opened its first brick-and-mortar outlet in Thailand, in collaboration with the Narai Hotel Group.