Things to do in Bang Khun Phrom
From long-standing eateries to an institutional library, Bang Khun Phrom offers more than you think.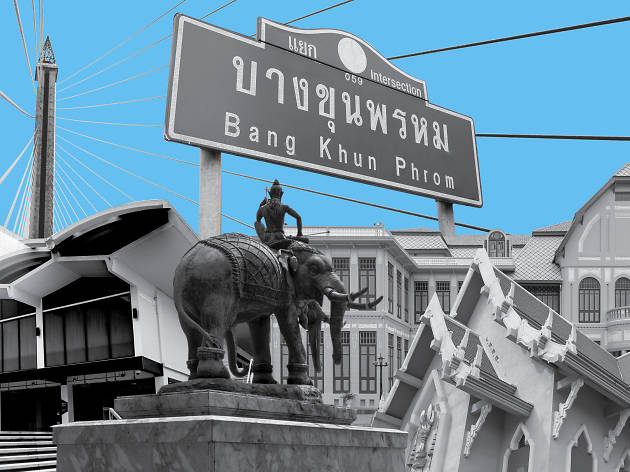 You won't usually read about Bang Khun Phrom, a quiet community on Samsen Road by the Chao Phraya River, in mainstream travel guides. That doesn't mean it's not worth visiting. This old neighborhood, located near the awe-inspiring Rama VIII bridge, is home to a number of noteworthy attractions and small alleys lined with longstanding shophouse restaurants. Take a weekend to venture into this neighborhood and discover Bangkok's forgotten charms and history.
Attractions in Bang Khun Phrom
Restaurants in Bang Khun Phrom
Krua Apsorn is a family-run restaurant spearheaded by chef/ owner Chanchavee Skulkunt, who used to cook for Thai royalty. Despite its exalted reputation, this two-decade-old eatery offers flavorful Thai dishes at pocketfriendly prices.
Thonglor's favorite coffee house has branched out to the old town, taking up space on the first floor of Bank of Thailand Learning Center.
Situated in a shabby shophouse, Pad Thai Nana is famous for its Chinese-style pad Thai that mixes fresh sen chan (rice noodles) with dried sen lek (rice stick noodles).
Sukhothai-style noodles are the main draw at this small stall, run by the former co-owner of a famous noodle place in the Phra Sumeru neighborhood.
Open since 1955, when the owner decided to turn a traditional retail shop into a Chinese-style khao tom (rice porridge) eatery, Khao Tom Thewet Chiao Chan Pha Nit has been serving hearty porridge (B10/ bowl) with side dishes.
This humble eatery has been around for four generations and remains famous for its Hainanese chicken rice, of which rice is cooked on a charcoal stove.
This eatery has been selling Shantou-style noodles since 1929. In the beginning, the noodles were only served with pork and liver, but over time Lim Hua Heng developed more signature dishes.
Bored of classic pad Thai? The 80-year-old Pat Tai Thewet 359 offers more pad Thai variations than you could ever imagine, mixing together a broad range of meats, fish and seafood.
For two decades, Suwimon Khao Mok Kai has been the place to go for sumptuous Thai-style chicken biryani, a flavorful and aromatic dish prepared with tender, well-seasoned chicken thighs.
Show more