Chang Live Park presents Time Out Love Bangkok Awards 2016: Cocktail bars
Vote for the best place to sip slowly in Bangkok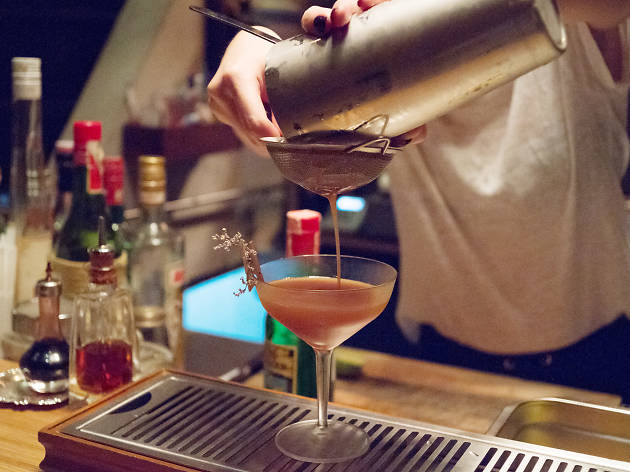 From swanky Thonglor nightclubs to rooftop bars in Silom with amazing views, Bangkok owns an impressive list of greatest mixologists with their unrivaled cocktail concoctions. Scroll down to vote for your favorite place to sit back, sip cocktails, and enjoy a deep conversation with the barman in Bangkok.
Vote for your favourite cocktail bar
This cozy bar on the lobby level of Playhaus Thonglor Boutique Hotel was known as Behind the Scene Lounge & Bar before it was given a revamp by six of Bangkok's leading bartenders—Anakin "Ton" Wongsala, Chennarong "Janz" Bhumichitr, Kitibordee "Gov" Chortubtim, Ronnaporn "Neung" Kanivichaporn, Supawit "Palm" Muttarattana and Watcharapong "Bank" Suriyaphan—earlier this year. The entire venue is decorated after four famous stage plays including Shakespeare's Romeo and Juliet and the Rattanakosin-era epic See Pan Din.
Read more
After spending almost two years behind the bar at Vogue Lounge, Bangkok-based Japanese bartender Hideyuki Saito finally opens his own cocktail joint, Bronx Liquid Parlour, within the more quiet enclaves of Thonglor. A discreet, unmarked entrance keeps you guessing its exact location. As you might expect, Bronx has the elements of a vintage jazz bar-slash-speakeasy, from its polished wooden furniture and warm lighting to the framed images on the wall.
Read more
With the strikingly original design concept of the art inside a mad man's mind, here comes Evil Man Blues, Bangkok's latest jazz-cocktail bar. Contemporary flair is matched by elements of '50s Americana. As soon as you step inside, the enveloping darkness evokes a surreal mystery that is punctuated with sultry neon lights. Evil Man Blues serves comfort food such as Mac & Cheese Ball and Royale Grilled Cheese. You can end the meal with sweet treats like Evil Cheese Cake, a peanut butter-based with banana caramel sauce on top.
Read more
Situated on party street, Sukhumvit Soi 11, Havana Social keeps itself unseen, hiding behind a telephone booth and requiring a secret code to get in. The interior presents an interpretation of pre-revolution Cuba in the ′40s, said to have been the "Las Vegas of the Caribbean" at that time. Vintage furniture, a worn-out ceiling and clothes hanging from the ceiling add to the curious vibe, and so do live music from a Colombian band and various DJs. All the drinks are Cuban-inspired as well.
Read more
Hidden behind the Athenee Residence in Soi Ruamrudi, Hyde & Seek had already settled into the secret-location concept way before it became cool. The restaurant has a modern New York bistro vibe, from its white-painted walls dark wooden furniture and long wood-topped bar to the tufted leather couches. The kitchen is run by Chef Peter Pitakwong, who gives classic American dishes a more modern and playful bent.
Read more
Australian interior designer Ashley Sutton took the concept of the secret speakeasy bar to the next level when he created Maggie Choo's. Inspired by Shanghai in the 1950s, the bar is a visual spectacle of stone sculptures, dungeon-like smoking rooms and heavy steel doors. If the qipao-clad ladies aren't ushering you to your table, they're lounging on swings hanging on chains from the ceiling. The drinks list, created by celebrity mixologist Joseph Boroski, offers swanky choices that hype up local fresh ingredients. Entertainment varies on a nightly basis.
Read more
Former House on Sathorn wonder boy Michele Montauti is the latest to join the league with the opening of his namesake venture, Miky's, on Pan Road. The cozy bolthole sits right beside Opus Wine Bar and has partnered up with the popular Italian restaurant to create an all-in-one spot for diners looking for pre-game cocktails or after-party tipples.
Read more
Located behind a wooden door next to Ainu Japanese restaurant, Rabbit Hole is a three-story bar that retains the rustic structure of its converted shop house shell but revels in a luxurious renovation involving polished copper and brass. Whiskey fans can pick their favorite from a selection of bottles straddling the copper rack behind the bar. The drinks list combines herbal, smoked and homemade ingredients to play up signature cocktails. A must-try is the Cosa Nostra, an Old Fashioned-inspired drink with cherry-infused cognac served in a cigar-smoked rock glass.
Read more
Revolucion spices up your night as it does your palate. The eponymous cocktail is definitely one to try. Combining Cuban rum, Havana Club, with apple and passion fruit, the Revolucion cocktail is for those who like their drinks both sweet and sour. The Casse-noisette is a deadly mix of coffee-flavoured vodka with hazelnut and cream, and is perfect for those who like sweet and unassuming drinks that give a slow-creeping buzz.  
Read more
Run by the same team behind cult favorite Sugarray Bar in Ekkamai Soi 21, Q&A serves innovative cocktails within a setting reminiscent of a vintage train carriage. The bar is nestled inside a little alley on Sukhumvit Soi 21 with just a little sign above a green marble wall to give you a hint. Position yourself on the pretty caramel stools by the bar so you can chat with the gentlemen preparing your drink. The cocktails list rotates on a monthly basis, registering classics with a bit of a tweak. Have a go at the Pinkish, which gives a twist to the usual Negroni mix by using homemade rhubarb and grapefruit gin as the base spirit.
Read more
After wielding design magic on Maggie Choo's and Iron Fairies, Australian designer Ashley Sutton is back with Sing Sing Theater. Decorated with metalwork, wood, lanterns and neon lights, the place combines inspirations from Shanghai in the ′30s with futuristic Blade Runner-esque elements. The dance floor is the heart of the place and is sometimes used as a stage for many a gimmicky performance. The balcony on the second floor is the best spot for enjoying the shows. The drinks list includes specials like the Cabinet Escape, a gin-based cocktail served in a birdcage (interesting) and Bank in Lemon, another gin-based drink. The music is always pumping and spans house, hip-hop and hit standards.
Read more
Located on Soi Nana in China Town, this gin bar – the first in Thailand – is hidden behind a big wooden door just waiting to be discovered. This place serves almost 80 gin-based drinks (the drinks list changes daily, mind you). Plus, its mixologist, Niks Anuman-Rajadhon, is always there to make sure you have a good time. Last time we went, he created Passoa CNX (passion fruit from Chiang Mai mixed with gin) for us to try, and it was awesome! If you love gin (and you should), Teens of Thailand will surely be your favorite new hangout.
Read more
Tep Bar, one of the crowd-pullers at Soi Nana in Chinatown, puts a Thai spin into tapas-style dining. The prawn crackers, served with sweet chili paste, are an all-time favorite, and greatly complement their infused yadong, or Thai whiskey, shots (one is believed to be an aphrodisiac).  
Read more
This elegant, dimly lit restaurant plays is a worthy addition to the limited gourmet dining scene in Silom. Its owners, Chotipong Leenutaphong and Debby Tang, partnered up with Chef Luca Appino, the name and talent behind fancy Italian restaurant La Bottega di Luca, to create a modern Mediterranean menu. The drinks list, meanwhile, was initially conceived by London mixology team Fluid Movement and includes barrel-aged tipples and classic mixes like Hemmingway's Sazerac (Bulleit rye, Hennessy VS, Peychauds bitters, Angostura bitters, dash of absinthe and lemon zest air). Take slow measured sips while noshing on a plate of parma ham and burrata cheese.
Read more