Your ultimate guide to Bangkok
Discover the best events, attractions, restaurants, bars, clubs and more in the city
Latest restaurants and cafés review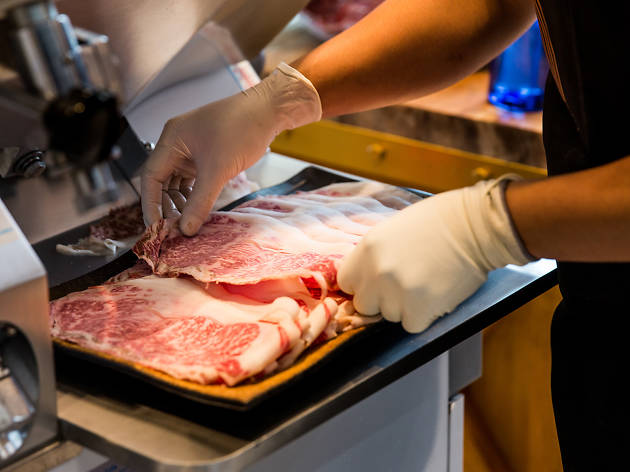 KRBB
The opening of a new Japanese restaurant on the third floor of Habito Mall seeks to take your hot pot experience to the next level.  KRBB, a play on the Thai word "krub," is also the combined letters of the names of its four beef-loving owners: actor Chakrit "Krit" Yamnarm, Ronnasit Phumma, Ittichai "Big" Benjathanasombat and  Pratiroop "Book" Panpiemrasda. The eatery appeases millennial expectations with an Instagram-worthy space decked out with light-colored wooden furniture. A long communal table dominates the eating area. Meats are stored in display cabinets for you to choose from but are sliced in the adjacent butcher's room.  Three types of wagyu—they claim to have some of the best from Japan—are available. The highlight is the Japanese Ozaki, a rare beef that is only grown on the farm of breeder Muneharu Ozaki in the Miyazaki prefecture. Also on offer is Oni, a legendary wagyu from Chika prefecture and Hokkaido's F-1 premium beef. Your choice of meat is cooked to your preference (yakiniku-style, shabu-shabu or grilled).  KRBB also throws a special feast every month where some of the best chefs in the country take turn to create tasting menus that combine their signature cooking styles with KRBB's premium beef (B4,500 with sake pairing). On 29 and 30 March, chef Weerawat Triyasenawat from Samuay and Sons in Udon Thani injects spicy Isan flavors into dishes like Hokkaido wagyu spicy pla salad served with ant's eggs. 
Siam Tea Room
The building that was the Imperial Queen's Park Hotel has been entirely refurbished into the sleeker Bangkok Marriott Marquis Queen's Park, a new five-star hotel that also promises to be a mecca for food and booze. One of its outlets, Siam Tea Room, looks to invite discerning diners to either feast on authentic Thai grub or nibble on a variety of baked items – or both. A northern Thai-style, wood-crafted gable graces the restaurant's facade, one of the few decorating pieces kept from the Imperial Queen's Park structure. It was only later on that we learned, as revealed by the hotel's publicist, that the iconic piece was designed by the late legendary artist Thawan Duchanee. Stepping inside, the center of the room is unusually dedicated to a pastry shop selling house-baked goodies. The adjacent wings on both sides are connected to elegant, dark-hued dining rooms that display intricate Thai-style furniture and custom-made cutlery crafted by the villagers of Aranyik, a small town in Ayutthaya.  The name is quite deceptive — the main focus here is not tea. Rather, old-school Thai dishes, whipped up by chef Anukool "Aon" Poolpipat (who previously worked at JW Marriott) dominate the menu. Chef Aon doesn't tone down the spice and delivers flavorful versions of Thai cuisine that sentimentally reflect the tastes of his childhood. The blue swimmer crab curry (B460) represents southern Thai fare at its best. Spicy with delicate salty notes, it is served with meaty crab chunks, charcoa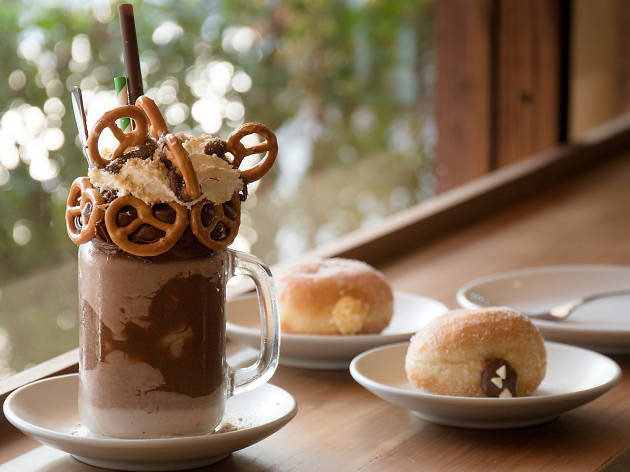 Pâtissez
The Freakshake, a milkshake of skyscraper proportions, has come to Bangkok, courtesy of newly opened Australian café Patissez. This intense, creamy concoction features thick slush, chunky cake bits, an overload of whipped cream and candy-colored toppings. Originally created by Pâtissez in 2015, this sinful and monstrous treat has spawned copies worldwide. Now, after expanding to Kuala Lumpur and Singapore, Pâtissez has set foot in Bangkok with the aim of reclaiming credit for its trademark product. Tucked on the ground floor of new lifestyle and residential complex Parc39, Patissez features rustic wooden furniture, indoor plants and a giant floor-to-ceiling glass window that allows plenty of natural light to filter in. The Freakshake (B230) is offered in five different flavors. Chocolate fiends will fall in love with the Pretzella, a Nutella-flavored milkshake topped with lots of whipped cream and pretzels. Only available in Bangkok is a Thai milk tea-inspired version that comes with ganache of white chocolate and a hint of coconut.  The café also serves all-day brunch dishes such as pork belly burger (pork pieces roasted with maple syrup, crispy taro and spicy mango salad, B380) and barbecued pork ribs served with crispy taro and mashed potatoes (B420). Plans are in motion to carry the Freakshake concept over to made-to-order birthday cakes.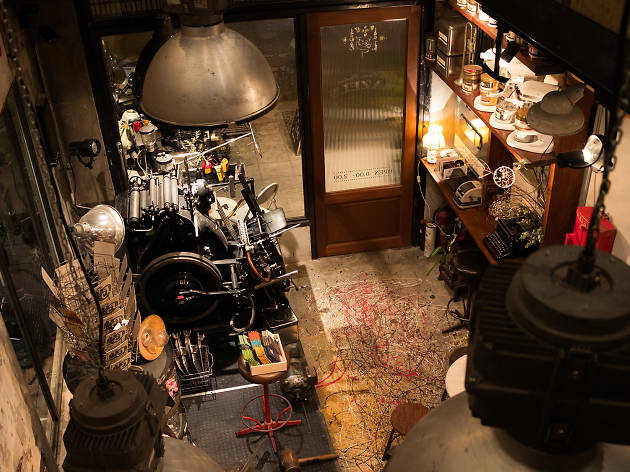 Hazel's Ice Cream Parlor and Fine Drinks
An old shop which once was a printing house, has been transformed into a Prohibition-themed ice cream parlor selling frozen scoops that take on an alcoholic upgrade.  Hazel's, the latest brainchild of Somkiat "Joke" Pairotmahakit (the man behind Seven Spoons, Sheepshank and Mad Moa), sits among other unassuming buildings in the bustling old town. The ice cream bar ticks all the boxes for vintage cool: bare concrete walls, wooden shelves stacked with antique bric-a-brac and a bar made of old-school card catalog drawers. An original Heidelberg printing press takes up much of the seating area on the first floor, embodying the history of its location.  The shop has teamed up with organic producer Farm to Table to come with their own ice cream flavors. Though Hazel's brands itself as an alcohol-infused ice cream parlor, there were very few spiked options when we visited during the soft launch period, such as stout vanilla with salted caramel (B190/scoop), bourbon vanilla (B220/scoop) and rum raisin (B220). Also on offer are sundae selections like The Great Grandpa's Sunday Sundae (bourbon vanilla ice cream, stout beer ice-cream, caramel brandy sauce, B280). Teetotalers with sugar cravings will be delighted as most of the sundaes and floats, like the All-American Apple Pie (vanilla ice cream served with apple pie crumble, B240), contain non-alcoholic ingredients.  The bar on the first floor slings whiskey-based concoctions. Try the Menthol Lethal (B350) which combines rye whiske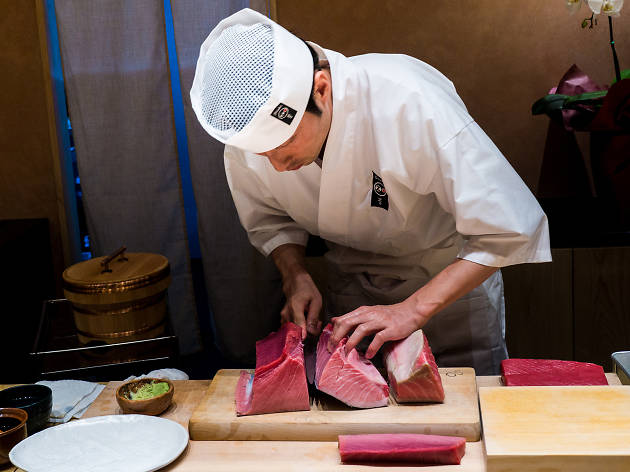 Sushi Zo
Osaka-born sushi legend Keizo Seki introduced a more delicate approach to the American concept of raw fish and rice rolls when he opened the first Sushi Zo in West LA. The omakase-style eatery earned a Michelin star in 2009. After opening another branch in Los Angeles and one in New York, the much praised sushi brand is set to raise the bar in Bangkok's fine-dining scene with the opening of its fourth establishment (and the first Asian outpost) on bustling Wireless Road. Hidden behind an indistinctive blond wood door in the Plaza Athénée Tower, Sushi Zo's kitchen is helmed by Toshi Onishi, the former executive chef at the downtown LA branch.Unlike the more popular edomae (traditional Tokyo) style, which highlights the essential flavors of the fish, Sushi Zo focuses on different kinds of ponzu and soy sauce to dress and marinate the fish, and mix two types of vinegars in the rice. The outcome is an interplay of contrasting sweet and sour notes and a wellbalanced umami flavor that does not overpower the freshness of the fish, which are flown daily from Japan. Around 22 pieces of the freshest nigiri and sashimi take turns enticing your palate throughout the two-hour course. Our visit kicked off with an impressive sashimi platter consisting of Hokkaido oysters drenched in tangy-sweet ponzu sauce, scattered pieces of cornetfish (yagara), bluefin tuna and sweet shrimp drizzled and marinated with different condiments. The akami tuna was melt-in-yourmouth delicious, with a slight t
find more bangkok restaurants
The latest Time Out interviews