The best Irish pubs in Chicago
Chicago's best Irish pubs offer perfectly poured Guinness, extensive whiskey selections and tasty pub fare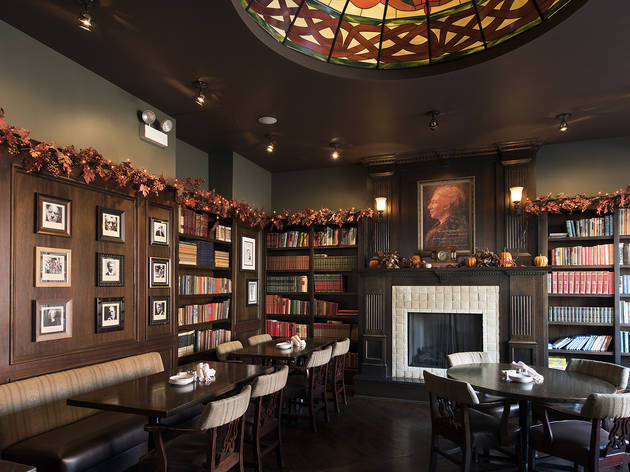 Guinness and fish and chips aren't just for St. Patrick's Day, especially in a city with as many Irish ties as Chicago. With Irish bars located all over the city, you're never far from a nip of whiskey or a pint of beer. Whether you want to drink somewhere after watching the dyeing of the river or just want a pint in August, here are the best Irish pubs in Chicago.
RECOMMENDED: Our guide to the best Chicago bars
Best Irish bars in Chicago
1
When two Irish-born musicians open a pub, you'd better believe they'll pay attention to the tunes. Even aside from live Irish music on Sundays, you can usually count on sipping your stout to bagpipe-driven sounds. In nice weather, the massive back patio doubles the capacity, with towering hedges muffling the sounds of Elston Avenue, while winter means a chance to warm by three fireplaces inside.
Read more
2
Hang with the Beverly crowd at this Far South Side institution, where Irish brogues are the norm and the staff is among the friendliest in town. The fenced-in, wooden deck has a homey, antique decor (i.e., wagon wheels and hanging plants), along with two bars that are great places to root on the Sox.
Read more
3
Every Irish bar in the city claims maximum authenticity, but this one has the goods to prove it: The vibe is a nice mix of traditional and contemporary Irish pub culture, the bar was designed and built in Ireland, and most of the waitstaff are real live Irish folks (or just really good at faking accents).
Read more
4
Like the handcrafted wooden bar at this friendly South Side pub? Owner Bernard Callaghan built it himself. He's also most likely the guy you'll see pouring whiskey, Guinness or Magners for the Sox fans who belly up to said bar for a drink and idle chat. Weekends get packed with generations of freckle-faced locals, but a genuine smile should get you let into the family in no time.
Read more
5
Good thing bar owner Michael Finan's Pa came from the Emerald Isle, because he knew just which carpentry folks to call on for a custom-built wood bar that evokes an authentic Irish pub feel. The space sports a deep red exterior, exposed brick, warm lighting, an open door and a friendly staff, so take a comfy booth and some curry chips with your Guinness.
Read more
6
Owner Malcolm Molloy has that fresh-off-the-boat brogue that could charm the pants off your own mother. But please don't take this for one of your run-of-the-mill McIrish pubs. Folk musicians pluck away while those-in-the-know scarf down Guinness stew or a full Irish breakfast, regardless of the witching hour (even better in colder months while sitting near the fire). Compared with many other gastropubs laying claim to the Emerald Isle, it's a sea of tranquility.
Read more
7
Soda bread? Not so much. This Irish bistro serves food you'd find in modern-day Dublin, which means Guinness isn't just on the epic beer list, but also in a rich onion–and–white cheddar stout soup. You'll also find it in the beef stew, along with chunks of parsnips and carrots. It's even in the mac and cheese served alongside barbecue ribs. Not hungry? Stop by for a great selection of Irish whiskey at the gorgeous bar.
Book now
Read more
8
Andersonvillagers of all stripes are crazy for this Irish pub, from the owner of Lakeview's Wilde Bar & Restaurant. Maybe it's because Kyle McHugh pulled together a beer list 100 deep, with drafts like Metropolitan Krankshaft Kölsch. Maybe it's because, with large portions of chicken pot pie and mac and cheese, it's a no-brainer to stick around for dinner. Or maybe it's because everyone is secretly really, really into the works of Lady Gregory, the Irish dramatist and folklorist.
Read more
9
Representing the first-in, last-to-leave motto of Bridgeport's diehard Irish-American population, the Shinnick clan has been slinging beer in this building since the day Prohibition ended. St. Pat's Day and Sox games bring the crowds, but other times you're likely to find a low-key gathering of locals or a fund-raiser for a sick kid with hefty medical bills. We'll drink to that.
Read more
10
There's a lot more Gaelic cheer at this bar than just the Guinness on tap. The yummy pub grub is authentic, most of the staff is actually Irish, and it's never too crowded to nab a table (choose between the vintage woodwork inside and the expansive, open-air patio). Just don't spread the word too much—we'd hate to wind up ass-to-elbow like at most Lincoln Park McPubs.
Read more
11
This Irish pub boasts a dozen beers on tap and traditional fare like shepherd's pie, as well as decidedly un-Irish burgers and sandwiches. Weekly events including karaoke, trivia and televised soccer matches keep things lively in the party room behind the spacious main bar.
Read more
12
There's an electronic countdown to St. Patrick's Day and a bar made out of pennies. Do we really need to spell out for you what this place is all about? On Sunday nights it's as sleepy as an Irish hamlet, but on Fridays and Saturdays it's as raucous as Dublin.
Read more
14
It's just your normal Irish pub with a few topless women carved into the wooden bar. But to anybody who's looking for a clean, casual place to drink until 4am in River North, it's an oasis of Jameson, Guinness and a late-night menu of jalapeño poppers and nachos.
Read more
Find something to eat before you down all the Irish beer you can
Chicago is a town that cares as much about Grant Achatz's newest concept as where to find the best burgers. Hence it's with an equal passion for worthwhile splurges and cheap eats that we present our picks for the best restaurants in Chicago. (Tip: Begin or end your culinary adventures at one of Chicago's best cocktail bars.)
Read more