The best bars in River North and Streeterville
Home to some of the best Chicago bars, River North and Streeterville are great places for a drink. From dives to cocktail bars, here's where to raise a glass.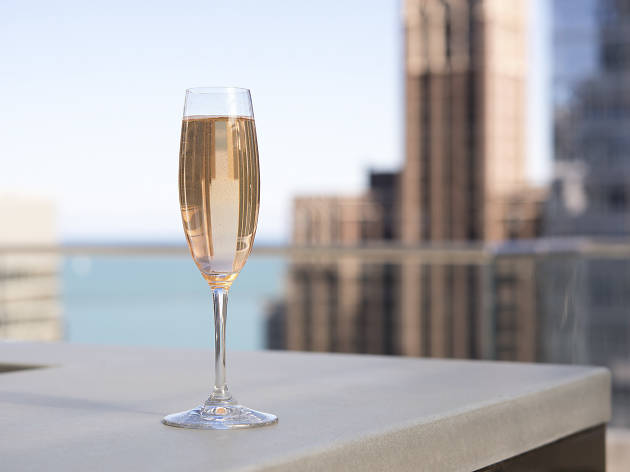 Berkshire Room, the bar in River North's Acme Hotel, doesn't just name-check the Berkshire Hotel, the Acme's former name from the 1920–1950s. The decor takes cues from old-world cocktail lounges and gives them a current, urban twist. The main bar area is set off by a mix of tall, white-washed walls and checkered tile flooring. Side rooms, off the main bar, include whiskey lockers for rare spirits, barrel-stave wall paneling, copper light fixtures and plush seating. As for drinks, this spot has a short list of original cocktails plus a dealer's choice menu that always leads to exactly what you want to drink.
River North's latest cocktail bar is another stunner—it's the Chicago branch of a much-lauded Miami hotspot. The vibe is tropical-meets-Midwest, with palm tree wallpaper and octopus decor along with dark wood panels and kitschy knickknacks. The turns out balanced, inventive drinks like an Oatmeal Old Fashioned and the Peppermint Twist Fuzz.
Bartenders like to pretend their cocktail bars are speakeasies, but Liz Pearce's cool bar underneath Green Door Tavern actually is one. The secret door is still visible, and the decor consists of objects that have been there for decades, like a painting of FDR and a bullet-riddled Mobil sign. The drink list is printed on tarot cards, and a fresh offering is plucked from the deck each night. No matter which cards come up, you'll find well-made cocktails which change each day.
The gorgeous 18th-floor bar of the Raffaello Hotel boasts three prime sections: a handsome, dim interior full of tufted leather banquettes; a chic exterior deck lounge with open fire pits; and (our favorite) a narrow indoor-outdoor corridor where the marble floor and arched windows play against contemporary green stools. The bartenders serve a mix of classic cocktails and their own creations, like the pop culture themed Stranger Things and Orange is the New Black.
Since 1921, Green Door Tavern is a neighborhood favorite and one of the most low-key River North bars around. The menu offers elevated bar fare (think Scotch eggs, Chicago-style poutine and roast chicken), cocktails offer riffs on classics and the beer and whiskey lists are impressive. Pop by the Drifter, the basement bar that's located in the old speakeasy section of the bar, for a nightcap.
The Streeterville bar, from restaurateur Danny Meyer and New York's Dead Rabbit Grocery & Grog, features cocktails, a stunning view of the city and great food. Drinks are named for Chicago historical figures and incorporate unexpected ingredients such as the Carnival with cashew apple feni, aperol, chareau aloe liqueur, cinnamon, pistachio and lime or the Night Stong with suntory toki blended whiskey, rine hall apple brandy and mint tea. The dinner menu features snacks and small plates like saffron spaghetti and ocean trout.
Named for the neo-Gothic Tribune Tower's architects John Howells and Raymond Hood, this sprawling restaurant/bar features over 110 beers on tap and just the kind of food you want to have while sampling beers. Brett Neubauer's menu includes classics like fried cheese curds, mac and cheese and a terrific kimchi-topped burger. Come summer, grab a spot on the big outdoor patio for prime people watching and city views.
When you want to keep the night going after Gilt Bar, head down to the basement library bar. Though still Sodikoff-trademark dim, the space has a warmer glow, and the cocktails (such as a thoroughly shaken whiskey sour and a beautiful negroni) are first-rate. Best part: Gilt Bar's full menu (including ideal snacks like roasted garlic and balsamic with toast) is available to accompany them.
Like a secret chamber of debauchery, the red door to this State Street bar reveals no sign of what's inside. Turns out it's a small, dark space that serves cheap beers, cans and bottles out of a refrigerated case (you can also get them to go). The stools feel like they might collapse beneath you, but this is easily the most unpretentious bar in River North.
Show more