Chilly winter winds make us want to find a cozy cocktail bar, a restaurant with warm comfort foods or a brewery with a roasty beer to hunker down in. From veggie-centric hip hangs to posh brewpubs, these past few months have brought us some fantastic new restaurants and bars. We found these five new restaurants and bars we think are perfect for keeping you up-to-date with Chicago's dining scene.
Bad Hunter: Heisler Hospitality is on a roll this year. In July, they opened Estereo and now they bring us veggie-centric Bad Hunter in the space next door to Lone Wolf (there are meat dishes, but you should skip them). The room is airy, decorated with green plants and river stone-topped tables, and chef Dan Snowden is offering an all-day menu and a rotating market dinner menu. Hits include the beet tartare, tender and earthy with white anchovy and served with flax seed crackers and a small mixed greens salad. Saffron farfalle is comforting with a hearty root Bolognese, Hook's parmesan cheese and grapefruit breadcrumbs. Check out the rotating specials menu—on our visit we went for a dish of oyster mushrooms, pears and arugula. With prettily plated entrees and killer veggie burger, even a carnivore will be pleased.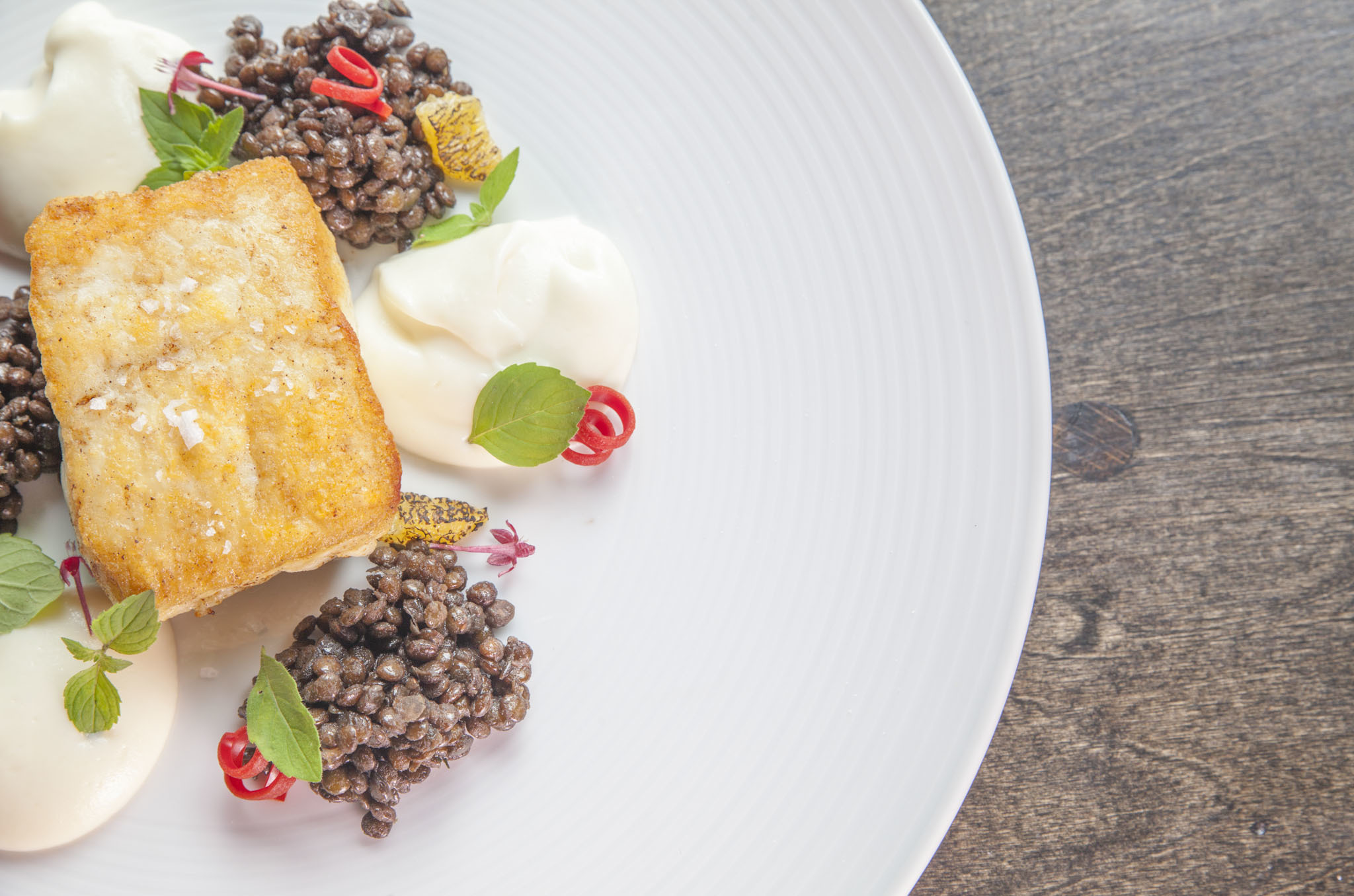 Entente: After closing Ani in April, Small Bar and Arami owner Ty Fujimura teamed up with former Schwa chef Brian Fisher to open Entente. The concept is "casual fine dining," where you choose from several dishes to create a tasting menu as long or as short as you'd like (we went with six dishes plus dessert and were satisfied). The dishes on offer are constantly changing, but on our visit standouts included a plate of tender duck breast served with smoked blackberries, dollops of miso yogurt, dried miso yogurt chips and salted and shaved cucumber. We also loved the kale salad, a large slice of grilled Napa cabbage dressed with crunchy noodles, sunflower seeds and lemony dressing made from Thai herbs. You'll want to mop it all up with your shreds of kale.
Moody Tongue Brewing Co.: Moody Tongue's beers have been around for a while, but we're just now getting a taproom—and it's turning the idea of your traditional brewpub on its head. Instead of going for an industrial look, they've painted the brick walls white and filled the space with comfy leather chairs and a white marble bar. And brewer Jared Rouben has gone super minimalist with the menu, sticking to beer pairings with one sweet and one salty option: they serve beer, oysters and chocolate cake, and nothing else. You can get all the Moody Tongue regulars here, plus limited-release pours including barrel-aged varieties and sours. We got our hands on a barrel-aged Steeped Emperor's Lemon Saison—the barrel-aging (in a twice used whiskey barrel) brings extra depth and body to the popular citrusy beer.
Old Irving Brewing: The untimely death of chef Homaro Cantu slowed the development of the brewery he founded, but with a new name (previously called Crooked Fork Brewing Co.), the brewery opened in late September. Head brewer Trevor Rose-Hamblin and chef Matthias Merges present a list of six beers with a few collaborations and an upscale but approachable menu with dishes like a massive burger on focaccia and crispy fries. Opening with six classically styled beers is ambitious, but we're perfectly happy with the Scentinel IPA and the Precinct milk stout. The bar is large, with two rooms—one darker, with a wraparound bar and tables surrounding it and another garage-style room with rows of tables. TVs surround each space, making it an optimal place to watch games (though they don't bill themselves as a sports bar).
Spilt Milk Tavern: This space was a pharmacy back in the 1920s but today feels like an upscale neighborhood joint with dark lighting and a mahogany bar. Cocktails like the Daily Dose pay homage to the pharmacy origins—its combination of pink lemonade, vodka and clarified milk is the perfect prescription. Our picks are the Green G&T, with herb-infused Hendrick's gin and fever tree tonic, and the Sarsparilla Zazerac with Old Forester bourbon, sarsaparilla marsala and absinthe. After a few rounds, hit the photo booth to round out the night.