January 2018 events calendar for Chicago
Dig into January events in Chicago with our calendar of the best things to do, including picks from theater, art and music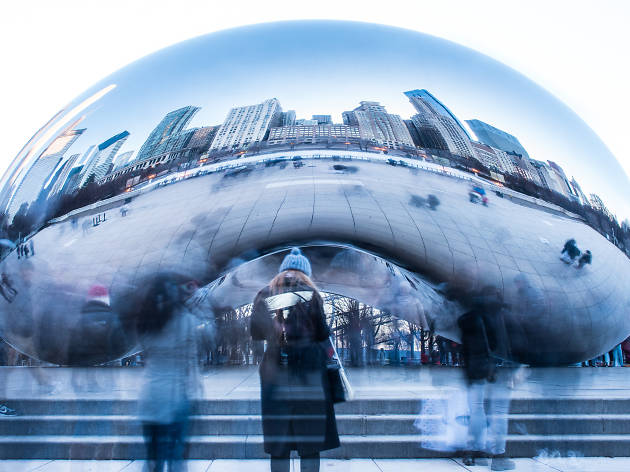 A new year means a fresh start, a chance to be the best version of you possible. Unless your New Year's resolution is to stay in more, we've got a calendar full of ways to get out there and kick 2018's ass from the get-go. Hit up the best cocktail bars in Chicago, hunker down with some delicious comfort food, go see some world-class comedy— Chicago certainly doesn't shut down in the winter. So throw off those blankets and let our January 2018 events calendar guide yout winter in Chicago.
RECOMMENDED: Events calendar for Chicago in 2018
Featured events in January
Plunging temps don't mean you have to hide away, especially when you have easy access to so many of the city's excellent indoor and outdoor skating rinks. Between your many merry Christmas events, time reserved rooting for the Blackhawks and nights out sipping steamy hot cocktails, find time to hit the ice with your family and friends this winter.
Concerts in Chicago in January
Predictably, 19-year-old indie-rock wunderkind Lindsey Jordan writes from the perspective of a teenager, but there's a clarity and confidence to her lyricism that transcends her age. The songs that populate her debut album, Lush, are relatable to anyone who grew up in a small town, yearned for new horizons and grappled with the looming transition into adulthood. Backed by stabbing guitars or tranquil riffs, Jordan captures the uncertainty and excitement of figuring out who you are and who you will be, one ballad at a time.
Young Long Island duo the Lemon Twigs don't just look like they've stepped out of another era; the pair's conceptual new album Go to School harkens back to a time when sprawling rock operas outfitted with orchestral arrangements and whimsical narratives were in vogue. Thankfully, Brian and Michael D'Addario have the chops to compellingly deliver a collection of songs about a monkey that goes to school, unabashedly mining the classic rock tropes attributed to the Beatles, Big Star and the Beach Boys.
Hailing from Texas, singer-songwriter Kacey Musgraves made a name for herself with twangy tunes about small-town living, romance and staying true to yourself. On Golden Hour, Musgraves frequently moves beyond country music, experimenting with bouncy disco arrangements and vocoder-aided vocal melodies that exhibit her usual pristine pop sensibilities. The catchy hooks and harmonies are infectious, but the most striking element of Musgraves' music is its raw emotional honesty.
Comedy in Chicago in January
This weekly night of comedy, curated by a group of funny dudes, puts local stand-ups on your radar. It's totally free and BYOB, so why not?
"Bye Bye Liver" combines two robust Chicago traditions: comedy and heavy drinking. The show opened ten years ago for a three-week run, then kept getting extended. It centers on common party situations most Chicagoans can relate to, and incoroprates interactive audience games like "Would You Rather." If you're looking to get drunk, quick, and have a great time doing so, "Bye Bye Liver" is always a solid bet.
Theater, Circuses & magic
Magician Nick Roy started this monthly magic-show-as-cocktail-party in 2016. Enjoy live music, hors d'oeuvres, an open bar and penthouse views, and be entertained throughout the evening by four roaming illusionists.