January 2017 events calendar for Chicago
Dig into January events in Chicago with our calendar of the best things to do, including picks from theater, art and music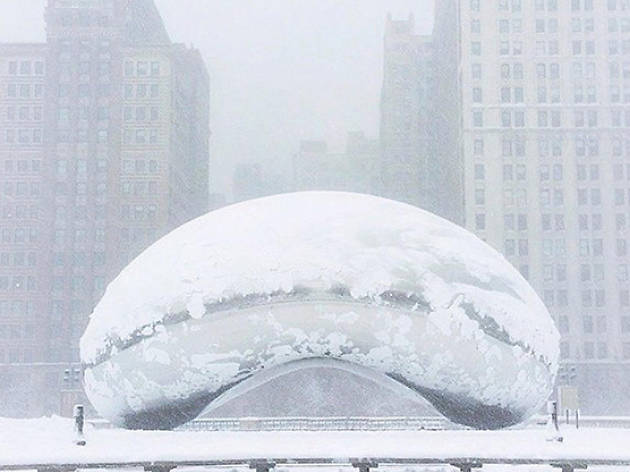 A new year means a fresh start, a chance to be the best version of you possible. Unless your New Year's resolution is to stay in more, we've got a calendar full of ways to get out there and kick 2017's ass from the get-go. Hit up the best cocktail bars in Chicago, hunker down with some delicious comfort food, go see some world-class comedy— Chicago certainly doesn't shut down in the winter. So throw off those blankets and let our January 2017 events calendar guide yout winter in Chicago.
RECOMMENDED: Events calendar for Chicago in 2017
Featured events in January 2017
Concerts in Chicago in January
Art in Chicago in January
Theater and Comedy in Chicago in January
Theo Ubique stages a jukebox musical by Always…Patsy Cline author Ted Swindley about a country girl group trying to make it in Nashville, with a song list that includes such chestnuts as "Stand By Your Man," "Coal Miner's Daughter" and "Harper Valley PTA." Colette Todd, Jacquelyne Jones and Leryn Turlington star, with direction by Courtney Crouse.
Book now
Read more
This new fairy-tale meta narrative, about a pair of traveling storytellers scrambling to save their mysteriously dying subjects, is written and directed by Lookingglass ensemble member Doug Hara. The production features shadow puppetry by Manual Cinema and 3-D puppetry by Blair Thomas.
Book now
Read more
The inventive young ensemble PigPen Theatre Co. (The Old Man and the Old Moon) returns to Writers Theatre with a new original folk tale imbued with the group's signature music and shadow puppetry.
Book now
Read more
Charles Busch, the Tony-nominated playwright, award-winning cabaret artist and drag performer par excellence, performs a mix of stories, songs and character scenes in the Chicago debut of his cabaret act.
Book now
Read more
Cleese, a member of the legendary comedy troupe Monty Python (in addition to iconic roles in the likes of Fawlty Towers and A Fish Called Wanda) will appear at the Chicago Theatre for a conversation about Python and the creation of their film Monty Python and the Holy Grail. The movie will screen in full, followed by Cleese's talk and an audience Q&A.
Book now
Read more
Playwright Lucas Hnath is not one for conventional theatrics. His play Isaac's Eye (seen here at Writers Theatre), is part historical lecture, part whole-cloth fiction about Isaac Newton. Hillary and Clinton, which premiered last spring at Victory Gardens, peeks in on an alternate-universe version of the presidential candidate during the 2008 race. Hnath's upcoming Broadway debut is an unauthorized Ibsen sequel titled A Doll's House, Part 2. The Christians, receiving a thoughtful Chicago premiere at Steppenwolf, is no exception. The 80-minute play takes the form of a service at an evangelical megachurch, complete with praise music (it's well worth arriving early for the choir's preshow warmup) and a central sermon from the church's leader, Pastor Paul (an appreciably direct Tom Irwin, acing the cadence and character of contemporary preaching). Paul's sermon presents his congregation with a theological conundrum: The pastor has ceased to believe in a literal Hell, and unilaterally declares this church he founded no longer believes in Hell, either. But Paul chose not to consult with anyone else before making this proclamation from the pulpit, and not everyone who hears it is ready for such a radical change. Contemporary American culture, whether theater, film, television or literature, sometimes treats characters and concerns like these with low esteem, or betrays a clear sense of which side the author considers right. Not so here; every character—including a dissenting asso
Book now
Read more
Irish Theatre of Chicago revisits Conor McPherson's supernatural-tinged depiction of pub dwellers trading local tales, which the company first staged in 2010 when it was known as Seanachaí Theatre Company. Previous cast members Brad Armacost, Sarah Wellington, Jeff Christian and Brad Smith returned, joined by Dan Waller.
Book now
Read more
Back in August, Second City Theatricals launched a touring show in collaboration with the online magazine Slate. Explicitly political but "completely unbiased," Unelectable You attempted a journalism-esque false balance, suggesting that candidates Trump and Clinton, insurgent-turned-surrogate Sanders, the vast field of failed Republican candidates and the whole presidential process were equally worthy of send-up. The stab at objectivity made much of the material feel timid.   Second City's new mainstage cast makes no such claim to impartiality. The Winner…of Our Discontent, debuting just over a month after the election, delivers on its title: Its writer-performers are reeling, hurt, afraid and angry. Their reactions to the results of November 8, and the cognitive dissonance of its continuing repercussions, are understandably, admirably raw.   But is Second City raw actually Second City at its most effective? You could argue that the institution's proficiency with polish and spin have historically served it best in terms of explicitly political material. While I wouldn't suggest that it's these performers' job to try to understand "the other side" any more than it's their job to mend the republic, the political rhetoric in the new revue—which can feel like a good three-quarters of the show—is both as righteous and as lopsided as the average Facebook feed.   Then again, perhaps any Trump voter coming to a comedy show in Chicago at this moment and expecting not to be chall
Book now
Read more
Theater Oobleck playwright Mickle Maher, who used PBS newsman Jim Lehrer as a character in 2007's The Strangerer, doubles down in this new work that features Colm O'Reilly and Brian Shaw as dual versions of Lehrer in a gothic scenario with hints of Poe and Artaud.
Book now
Read more
This long-running, lovey-dovey musical sketch show has found the perfect home in Stage 773's cabaret theater. It's refreshingly raunchy for date night, although its quaint take on dating in the age of social media feels a little rusty and outdated at times.
Book now
Read more
Ron OJ Parson first directed this drama by Eugene Lee, about the denizens of a black-owned bar in 1950s Jim Crow Texas, as the inaugural production of the now-defunct Onyx Theatre Ensemble in 1995. Parson returns to the play at Writers with a cast that includes A.C. Smith, Namir Smallwood and Tyla Abercrumbie.
Book now
Read more