Black Wednesday and Black Friday parties and concerts
The days before and after Thanksgiving bring a feast of parties, concerts and events to Chicago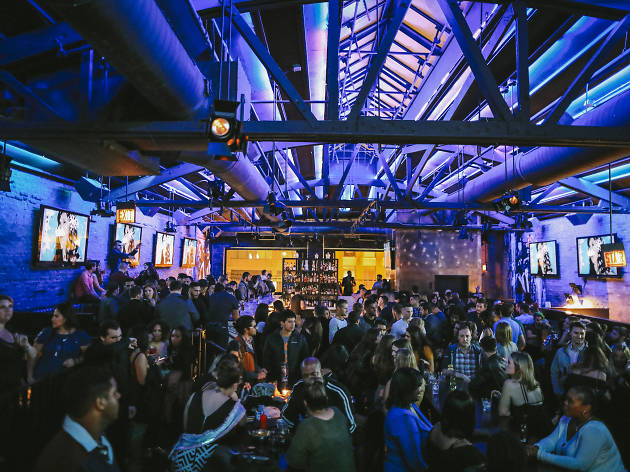 The days surrounding Thanksgiving are prime party time; people are back in the city for the holidays and looking for an excuse to spend a night on the town. Not every music venue and dance club is open on Black Wednesday and Black Friday (November 22 and November 24, respectively), but the ones that are usually have lines out the door. If you're looking for a place to take a break from eating turkey, sip cocktails and reconnect with old friends, check out our guide to Black Wednesday and Friday parties and events.
RECOMMENDED: Thanksgiving events in Chicago
Black Wednesday
House music luminary and Smart Bar resident Derrick Carter has been producing and spinning dance music in Chicago since the early '90s. He'll take a break from his busy European tour schedule to spin a Black Wednesday soundtrack, with support from DJ Heather.
The River North speakeasy is making it all too easy to be hungover on Turkey Day. On Black Wednesday, the Bassment will offer 50 percent off bottle service, select cocktails and shots, glasses of bubbly and glasses of wine and beer.
Chicago poet and singer-songwriter Jamila Woods headlines Metro's BLK Wednesday concert, performing soulful, socially conscientious anthems from her acclaimed debut, HEAVN. Local R&B singers Jean Deaux and Tasha are also on the bill, with support from DJs Chanté and Rae Chardonnay.
The bartenders at this quaint West Loop bar are going all out for Black Wednesday. Starting at 9pm, enjoy cocktail specials, a keg, beer games and party tunes from DJ Will Galvan. RSVP to EDNChicago@sohohouse.com.
Before he founded Califone, singer-songwriter Tim Rutili channeled his love of blues and folk music at the head of Red Red Meat. The band's propulsive, distortion-ridden arrangements yielded a contract with vaunted indie label Sub Pop at the height of the grunge era, but records like Bunny Gets Paid and Jimmywine Majestic never really achieved anything more than cult status. In the group's hometown of Chicago, Red Red Meat became something of an institution at the Empty Bottle where it headlined a New Year's Eve show (the burlap poster for the gig still hangs behind the bar) and later reunited in 2009. To mark the venue's 25th anniversary, Rutli is getting the original lineup of the group back together (joined by two members of Califone) for a trip down memory lane, with support from Tim Kinsella's eclectic Joan of Arc project (November 24) and local guitarist Ryley Walker (November 22).
Avoid awkward relatives and spend the night before Thanksgiving at this River North club, where you can throw back cocktails while enjoying sets from DJs Jesse Marco and Alex Rosen.
Red-haired brother-sister garage rock duo White Mystery headline this Black Wednesday benefit show, which will donate proceeds to the La Casa de Todos orphanage in Juncos, Puerto Rico. Local rockers Vietrahm and psych act Guerilla support.
Saddle up at this River North bar on Black Wednesday for a live rock cover band, $4 signature cocktails and a menu of late-night eats to hold you over until supper. Doors open at 5pm and there's no cover.
Head to Wicker Park for Black Wednesday deals and steals: Guests can cash in on half-off happy hour from 5 to 7pm. Hockey fans will want to stick around until 6:30pm, when the bar airs the Blackhawks game on all of its TVs. All-night specials include $6 signature cocktails, $4 select craft cans and free pool.