Though gyms and fitness studios have been given the green light to safely reopen to Chicagoans, plenty of folks are still taking advantage of virtual classes at home or sweating it out at a nearby park. Chicago-based fitness conglomerate Studio Three aims to bridge the gap with its newest location, which is taking over a vacant lot in River North.
Located at 863 N Orleans Street, just north of nightclub LiqrBox, Studio Three Arena is a 50-person outdoor fitness studio that offers socially distanced workouts that range from a relaxing sound meditation at sunset to the more upbeat Bodyweight Burn class. The sprawling space is equipped with 50 raised platforms that are covered in astroturf and spaced out to allow for 6 feet between attendees. Guests are encouraged to bring their own yoga mats, towels and water bottles, and the staff sanitizes the platforms between every class.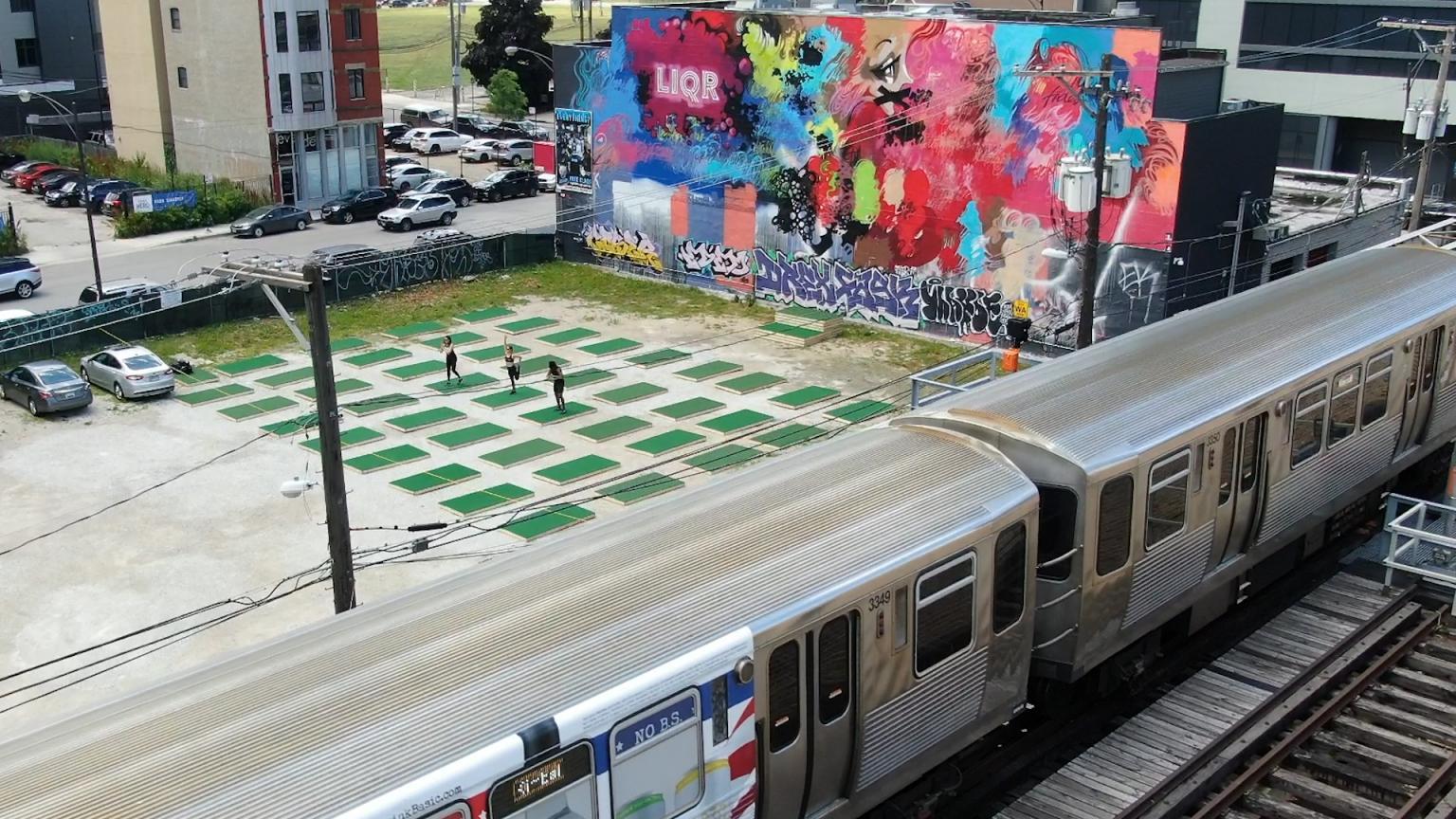 "When we thought about the current state of fitness, we were inspired to bring the Studio Three experience outside," says COO Laura Cieplik. "Just like at our indoor studios that our members know and love, everyone is greeted by a team member and takes class with one of our world-class instructors. Guests can expect to enjoy the same strong energy and high-quality workout they're used to from Studio Three but now in an outdoor setting with plenty of sunshine and fresh air."
Keep tabs on upcoming classes at Studio Three Arena and take a quick peek at what's coming up in the next couple of weeks:
August 14 at 6:30pm: Sunset Sound Meditation ($35)
August 20 at 6:45pm: Burn For Bear ($45)
August 22 at 11:30am: Bodyweight Burn + Brunch ($30)
And if you're ready for an indoor fitness class, Studio Three's other locations in River North and Lincoln Park are now open, too. Expect a mandatory temperature check at the door, sanitation stations throughout the studio, reduced class sizes and plexiglass barriers between stations. Heading outdoors? Don't forget to wear your mask and pack some SPF.
Most popular on Time Out
- Lakeshore Drive-In brings live music to a parking lot near Adler Planetarium
- 6 takeaways from our first ride on a Divvy e-bike
- These 15 Chicago streets are open for outdoor dining
- These 5 Chicago lakefront restaurants reopen this week
- Local artists collaborated on this Black Lives Matter street mural in Uptown