The first batch of Divvy e-bikes hit the streets in Chicago today, adding a new option for riders who utilize the city's bike-sharing network. Currently, there are only 50 of the pedal-assist e-bikes on the street, but that number will gradually increase in the coming weeks as Lyft (the company that owns and operates Divvy) is able to educate riders and adjust to the demand for the upgraded rides. Depending on where you start of end your ride in the city, the e-bikes are accompanied by a somewhat complex new pricing scheme that tacks on additional fees by the minute—but because these electric bikes get you where you need to go faster than a standard blue Divvy, the extra cost could be worth it in some cases.
I was able to ride one of the Divvy e-bikes for about half an hour during as the as distribution of the jet-black rides launched in Chicago today. I'm a regular conventional bike rider and I've had the chance to try out e-bikes on a couple of different occasions, so based on all of those experiences I jotted down a few things to keep in mind the first time you hop on a Divvy e-bike.
You'll probably want to crank up the pedal-assist power
In place of a gear shift, the Divvy e-bikes have a dial on the right handlebar that allows you to control how much extra power is being added when you pedal the bike (and that extra oomf only comes when you pedal, this is not a motor bike). In my experience, it was hard to even move the heavy bike with the dial turned all the way down—the e-bike needs a little bit of juice to start rolling. I spent most of my ride with the pedal-assist power cranked all the way up, but even setting it to around 3/4 of it's maximum is sufficient to get you moving much faster than a normal bike.
The e-bike are fast, and it will take some adjustment
Using an app on my phone, I clocked a top speed of 20 miles per hour during my half-hour e-bike ride—that's a bit faster than the official top speed of 18 miles per hour that Lyft reports. It's a rush to zip around on these e-bikes, especially if you're accustomed to pedaling around on a regular non-electric bike. But the increase in speed is accompanied by some adjustments you'll need to make as a rider. The major difference I quickly came to terms with is that at high speeds, the speed bumps on side streets and Chicago's ubiquitous potholes become more of hazard. I also noticed that drivers in cars assume you're on a bike that goes at normal-bike speeds—during my ride, a car pulled out of an alley in front of me and had to quick brake to avoid a collision (if the driver did see me, he likely assumed I was going slowly and that he had enough time to pull out of the alley). Enjoy the speed of the e-bikes, but don't let that distract you from being vigilant about road hazards and other vehicles.
Braking also takes some getting used to
Thankfully, the Divvy e-bike's brakes aren't too touchy, and it's not difficult to use them to guide yourself to a graceful stop. But if you're riding at the e-bike's top speeds, you're going to need to give yourself a bit of extra time to slow down and some to a complete stop. If you've ridden a standard Divvy, you know that the heavy frames gain some momentum, so it's not a bad idea to keep a little extra space between you and any vehicles in front of you. Plus, while you might be inclined to come to a rolling stop to maintain momentum on a regular bike, you can come to a complete stop on an e-bike and then easily get back up to speed, thanks to the pedal-assist.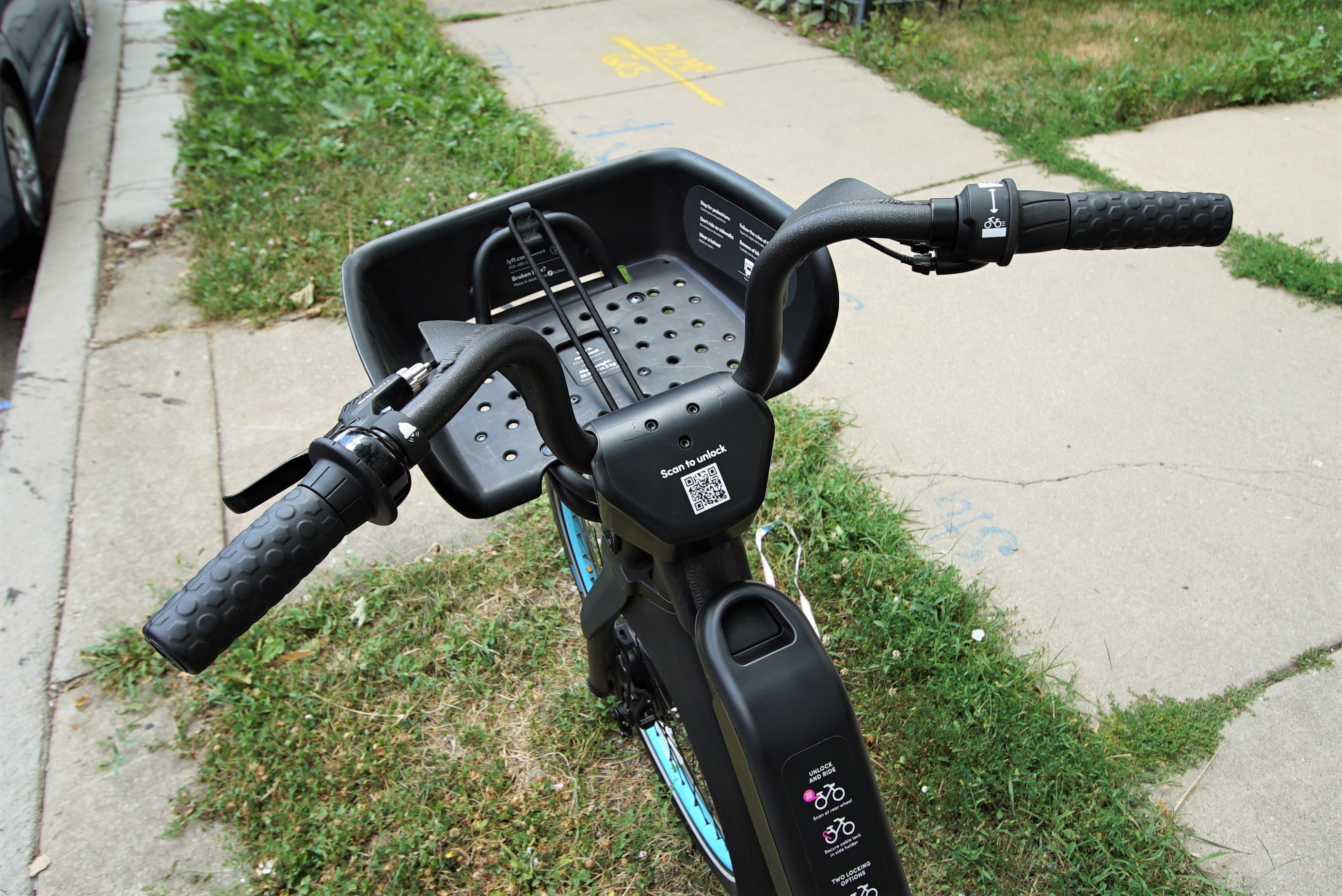 Don't be alarmed by the whir of the electric motor
One of the first things I noticed when setting out on my ride is the distinctive, whining sound that the e-bikes small electric motor makes. Because the Divvy e-bikes are pedal-assist, you'll only hear the motor when you're pedaling, but it can be a slightly worrisome sound if you're used to riding a bike that doesn't really make much noise (outside of the occasional clicking of changing gears). There's no reason to be alarmed—that whine is just the sound this model of e-bike makes.
You can lock up the bike to any bike rack, but doing so will end your ride
Divvy's e-bikes come with a built-in cable lock attached to the rear fender, making it possible to lock the bike to a bike rack instead of returning it to a dock. But the moment you insert the cable lock, your ride it over and the bike is up for grabs again—so you could ride the e-bike to the grocery store and lock it up outside while you grab a few thing, but there's no guarantee that the bike will be there when you come back outside. Additionally, depending on where you are in the city, Divvy will charge an extra fee if you lock up an e-bike rather than returning it to a dock, so consult the pricing map if you're trying to avoid spending extra money.
Other people are going to notice your Divvy e-bike
During the 30 minutes I spent riding the bike, I saw a few heads turn as a zoomed by on the black bike. When I stopped briefly in a park, someone approached me to ask about the bike—he hadn't seen a black Divvy before and wanted to know where I'd found it. I expect that Divvy e-bikes will continue to be a somewhat rare sight throughout the city for at least the next month, so if you're lucky enough to get your hands on one, you'll probably have to explain its existence to a couple of people. Ultimately, that's a good thing, because more people with knowledge of the e-bikes could lead to increased demand for them, which could ultimately lead to more Divvy e-bikes on the streets for riders to try out.
Most popular on Time Out
- Wisconsin joins Chicago's emergency travel quarantine order this week
- Chicago's newest pizzeria serves Sicilian-style slices from an alley in Ukrainian Village
- Chicago's beloved Tamale Guy is opening a restaurant
- Lollapalooza's four-night virtual event features sets from Paul McCartney and OutKast
- 15 lakefront Airbnbs to rent for a summer getaway from Chicago