Back in March, when Joe Frillman was imagining what the future held for his Logan Square restaurant, he found himself revisiting his initial business plan and taking a look at the things he wasn't able to do when he first opened Daisies back in 2017.
One idea really stuck: Converting the back dining room into a grab-and-go market that's stocked with fresh produce, everyday cooking essentials and locally sourced treats. The centerpiece of the operation is a partnership between Frillman and his brother Tim, who owns and operates Frillman Farms in St. Joseph, Michigan. Since the day it opened, Daisies has showcased produce from the farm prominently on its menu, but the new concept allows guests to shop its freshest picks without leaving city limits.
"We wanted to do this before we opened—this was always part of the plan," Frillman says about the marketplace, which officially opens today. "We just didn't have the resources or time in the beginning to do what we wanted to do. At the time, the space didn't lend itself to this concept."
In the midst of the pandemic, the back dining room suddenly became an obvious place to gather and showcase items that people might need for home cooking. This week, the market is brimming with green beans, shishito peppers, Tuscan kale, garlic scapes and fennel—all plucked directly from Frillman Farms. Customers can also stock up on butter, eggs, bread flour, olive oil, coffee, wine and handmade pastas. The market opens at 10am Wednesday through Sunday for in-person browsing, pre-order pickup and limited delivery.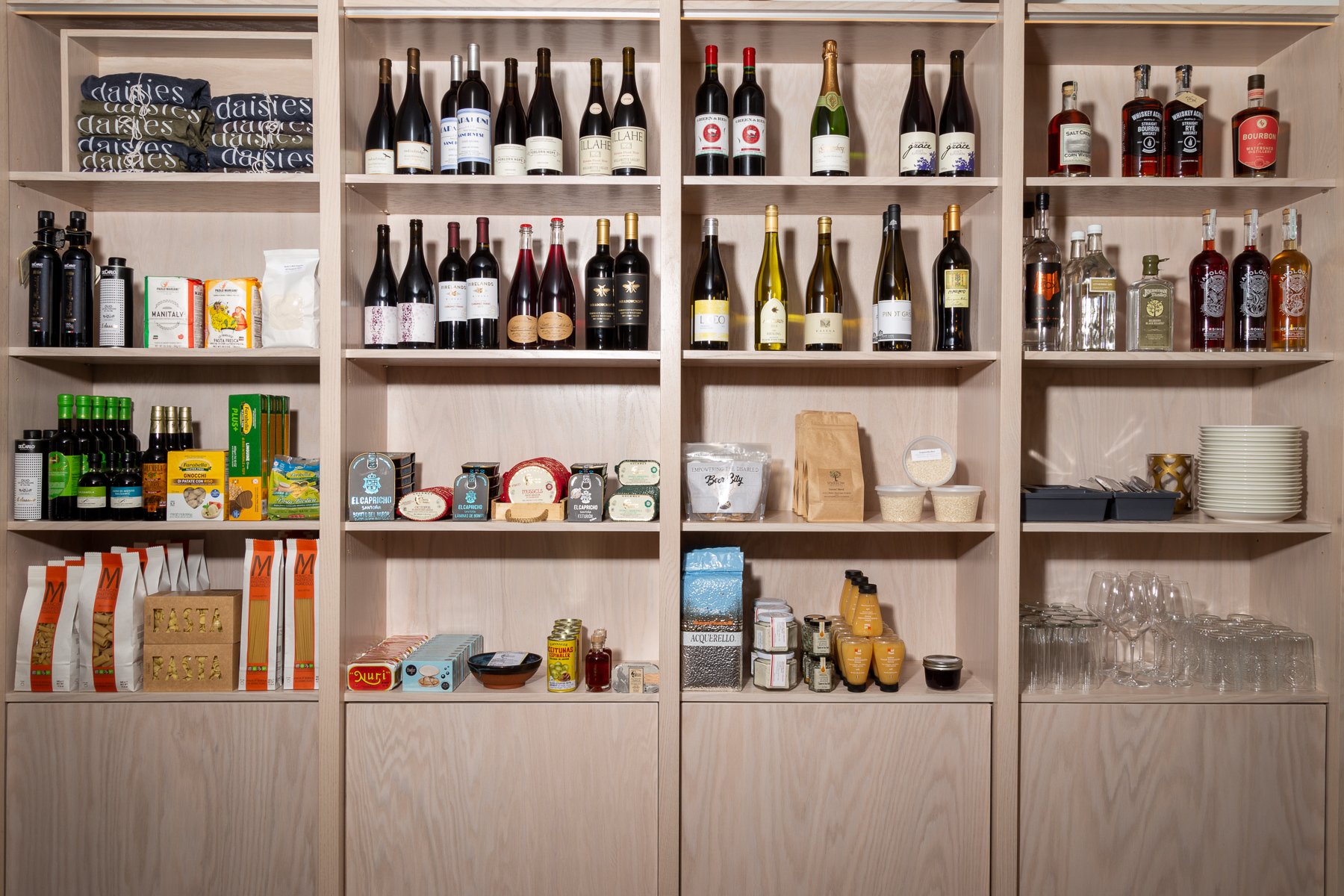 The restaurant still operates for dine-in service, takeout and delivery, with a menu that centers around Frillman's signature homemade pastas, like the cavatelli with summer squash, smoked eggplant and sunflower seed pesto. In addition to a back terrace, Frillman and his team were recently able to secure space for a sidewalk patio on Milwaukee Avenue, which extends their footprint when the weather allows.
At the end of their meal, dine-in guests will have the opportunity to browse the market, with servers packaging up any food items they might wish to take home at the end of the night. Frillman says he's been able to bring back about 50 percent of his staff and that some cooks even work in the market, offering guests tips for how to use certain ingredients.
The Daisies team will also launch lunch service next Wednesday, which has always been a pipe dream for the restaurant. Though they'd originally planned on doing a casual sit-down experience, they've pivoted to a grab-and-go deli concept aimed at fueling remote workers who live in the area. Diners can grab pints of cold salads (potato, pasta and broccoli) as well as specialty sandwiches like the Turkey Rachel, with fried shallots, thousand island dressing and purple coleslaw. Frillman will be showcasing some seasonal stackers as well, including the Peaches and Cream, with chevre cheese, macerated peaches and smoked ham.
"As crazy as this year has been, I'm the type of person who seeks out challenges. It's part of the reason why I got into this industry," Frillman says. "These days, I wish the curveballs were a little less, but we felt like it was time. We have to figure out how to stay open."
Daisies is open Wednesday through Sunday, with the market opening at 10am, lunch starting at 11am and dinner kicking off at 5pm.
Most popular on Time Out
- Lakeshore Drive-In brings live music to a parking lot near Adler Planetarium
- Access to downtown Chicago has been temporarily limited
- 6 takeaways from our first ride on a Divvy e-bike
- These 15 Chicago streets are open for outdoor dining
- These 5 Chicago lakefront restaurants reopen this week
- Local artists collaborated on this Black Lives Matter street mural in Uptown