Chicago's second e-scooter pilot officially begins on Wednesday, August 12, with three vendors putting nearly 10,000 of the electric two-wheelers on city streets from 5am to 10pm each day. The latest pilot will go through mid-December (good luck riding a scooter when the temperatures drop sometime in November) and, unlike last summer's experiment, will encompass the majority of the city. To offer transportation options to those who are truly in need, the city has designated priority zones on the West and South Sides of Chicago where vendors will need to deploy at least 50 percent of their scooters.
Ahead of today's launch of the e-scooter pilot, we spoke with representatives of Lime, Bird and Spin (each of which participated in the previous Chicago scooter pilot) about how they're operating within Chicago this year. We asked about pricing (still somewhat nebulous, unfortunately), new safety precautions in light of COVID, involvement with community organizations and how many folks are on the ground operating each fleet. Before you reserve a scooter and hop on for a ride, take a moment to read all the information we were able to gather.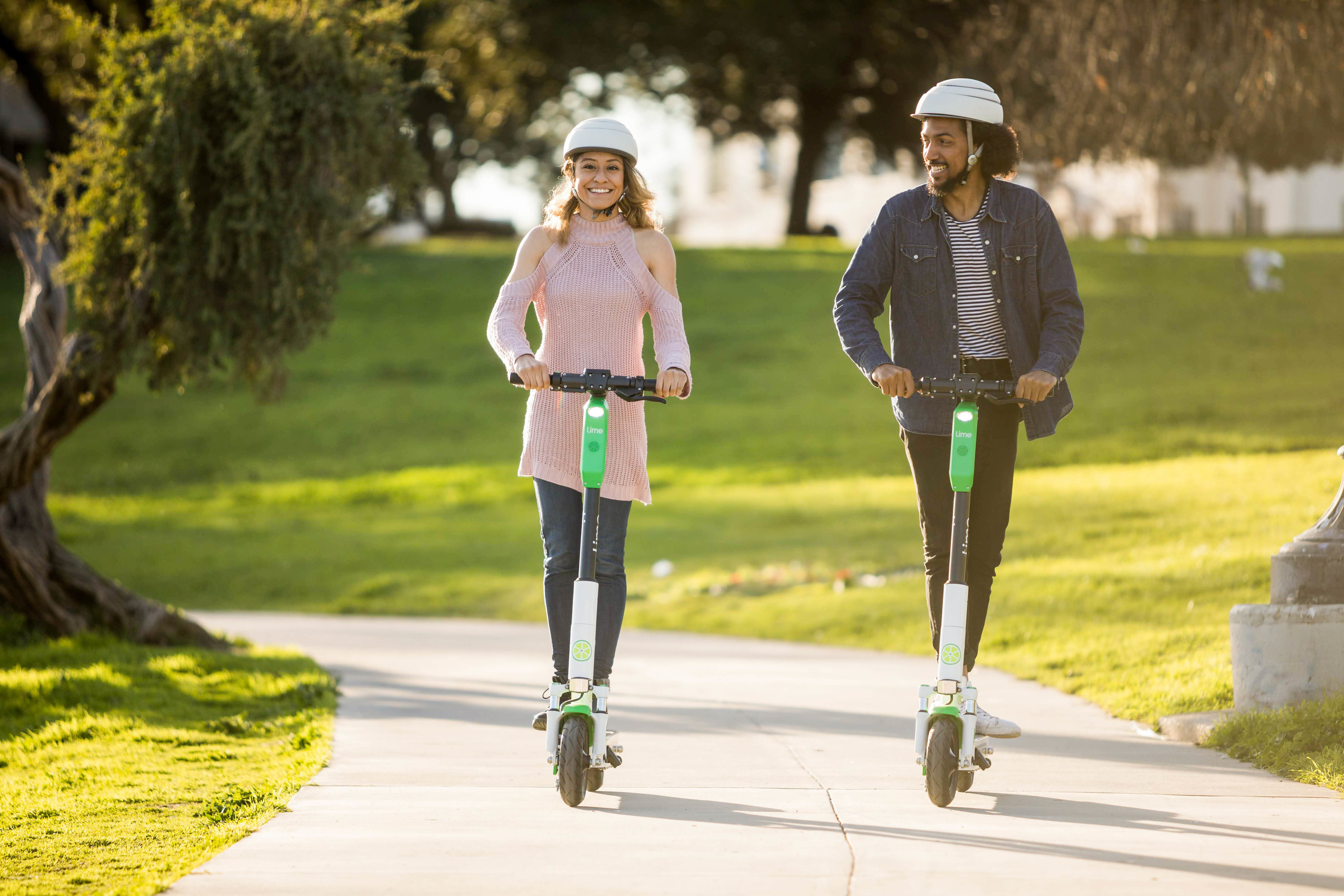 Lime
It's a triumphant return to Chicago for Lime, which is entering the city's second pilot at the top of its class. "Lime was the top-scoring applicant within Chicago's program [in 2019]," LeAaron Foley, Lime's director of government relations for the Midwest told us. The transportation company is in the process of hiring 30 operations specialists and mechanics to get its full fleet of scooters on the streets by the end of August. It will also allow Chicagoans to sign up to become Lime Juicers, gig economy workers who gather, recharge and redistribute scooters for the company, earning $5 to $12 per scooter according to rideshare website Gridwise.
Learnings from the first Chicago scooter pilot: Lime prides itself on how it uses data to drive scooter deployment to areas where the need for transportation options truly exists—according to Foley, 50 percent of Lime scooter rides in the initial pilot took place in priority areas. Additionally, Lime's data shows that a significant number of rides took place within several hundred feet of CTA train stations and bus routes, suggesting that they were being used as part of a commute. "Chicago is a very robust city, it has a strong transportation infrastructure and scooters are an absolute compliment to it," Foley said.
How it's confronting COVID: Lime initially pulled back its fleet globally when COVID struck, using the time to create a new set of cleaning protocols that prioritize CDC-recommended disinfectants and nightly sanitization. The company also published a white paper in collaboration with a cardiologist, arguing that "as an open-air mode that allows for social distancing, micromobility [i.e. shared scooters and bikes] carries a much lower baseline risk of transmission than other shared modes." It's worth noting that CDC guidance also states that surface transmission "isn't thought to be the main way the virus spreads."
Community-based initiatives: Lime has identified areas on Chicago's South and West Sides where it will be installing bike racks during the pilot programming, making it easier to find a place to lock up a scooter. It's also providing 1,000 free helmets to riders through various community organizations and offering free rides for first responders (fill out the online application to see if you qualify).
Pricing: $1 to unlock a scooter, with a per-minute cost of $0.39. Rides that begin or end on the South and West Sides of the city (the pilot's priority areas) will be 50 percent off ($0.19 per minute).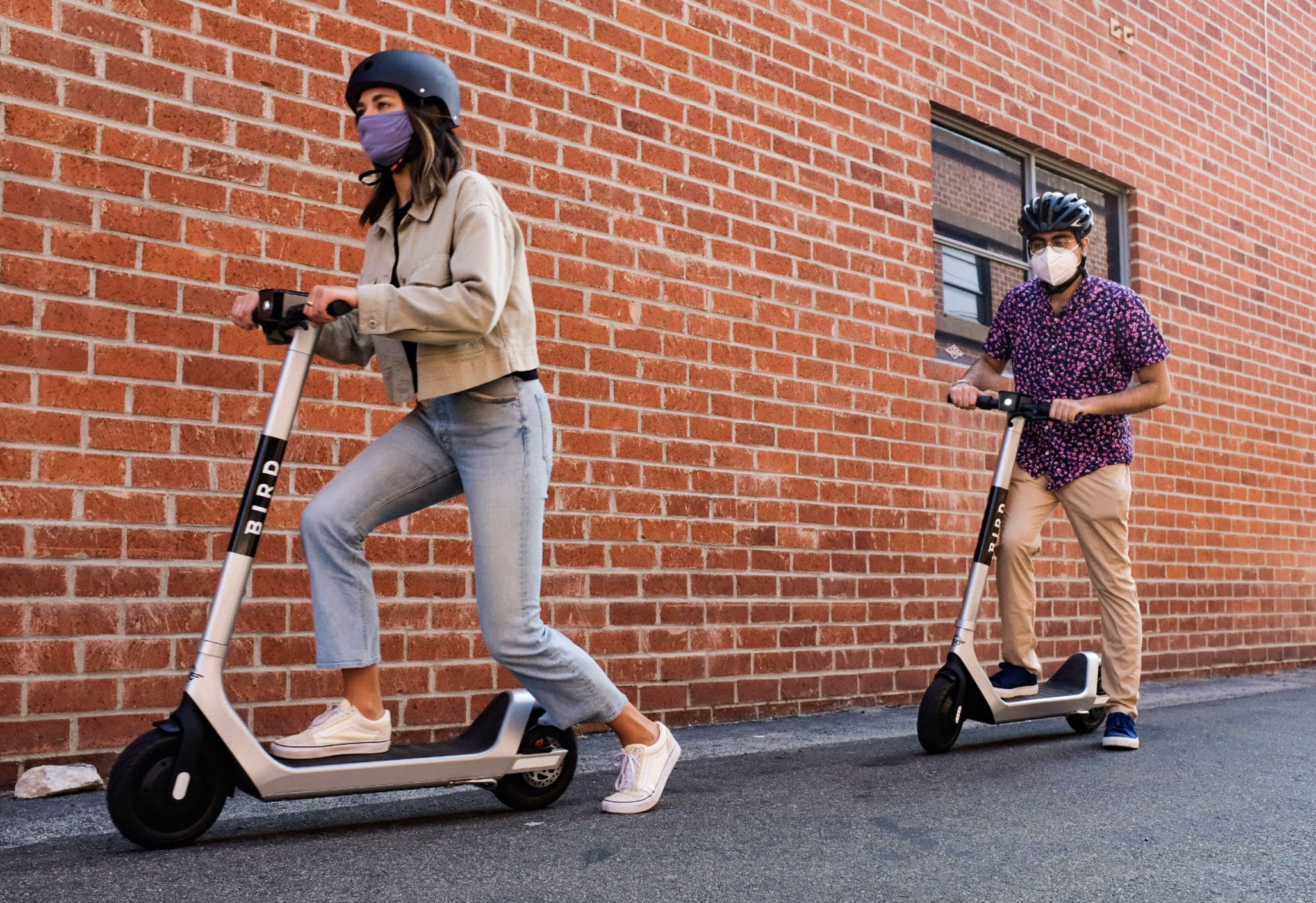 Bird
Founded in 2017, Bird was the first company to offer e-scooters to rent and it's banking on its experience as it reenters Chicago. "We originated this business, so we've been doing it longer than anyone else and we've learned a lot of lessons across the 125+ cities we've served," Maurice Henderson, director of government partnerships said. Chicago's lock-to requirements aren't new to Bird—it has operated in San Francisco, which has similar regulations, leaving its 40 Chicago employees with plenty of prior knowledge. Plus, Bird is serious about getting new riders comfortable on scooters via its Warm Up mode, which restricts scooters to a lower speed (and gentler acceleration) for new riders and gradually gets them up to the maximum speed of 15 miles per hour.
Learnings from the first Chicago scooter pilot: According to Henderson, the most valuable takeaway from the initial Chicago scooter pilot was the citywide demand for alternative modes of transportation. "There are some priority zones in various parts of the city that [the pilot is] going to be focused on, so we're looking forward to being in a position to service as many Chicagoans as possible," Henderson said. Just don't get too excited about the virtually citywide range of the scooters—the 606 and the Lakefront Trail are still off limits to scooters.
How it's confronting COVID: Even before the pandemic arrived, Bird had established a deep clean process (they call them Bird Baths) for its scooters, cleaning them at least once a week. Now, every time that Bird personnel encounters a vehicle, they use CDC-approved solvents and cleaners as well as new towels to wipe them down. "Although the new guidance and science is showing that surface contact is not as much of a transfer concern... we're making the effort to clean the vehicles as often as possible," Henderson said.
Community-based initiatives: Bird representatives will be appearing at events with Chicago Department of Transportation's Chicago's Safe Ambassadors program, when possible, but the company is also planning to team up with local organizations to present virtual education about e-scooter offerings. Additionally, Bird is offering free rides for healthcare providers via the Bird website.
Pricing: $1 to unlock a scooter, with a per-minute cost TBD (around $0.32 per minute for most riders). Low-income riders may be eligible for the Bird Community program, which offers rides with half-price unlock fee and regular per-minute fee—riders can apply via the Bird website.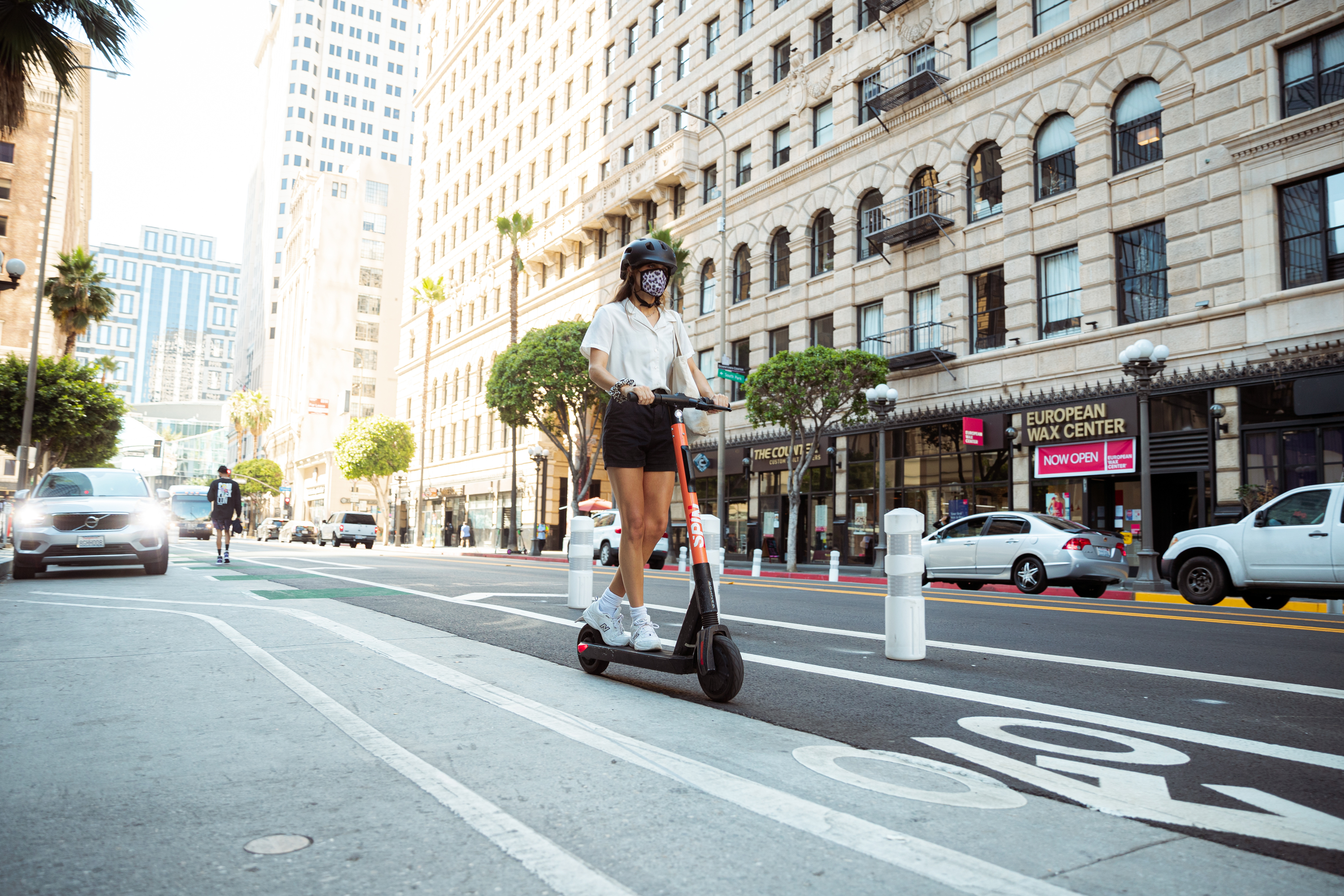 Spin
Operating out of a warehouse in Pilsen, Spin (which is owned by the Ford Motor Company) is bringing back staff that worked for the company during the 2019 scooter pilot to lend their experience to the company's second deployment in Chicago. "A big distinction between Spin and our competitors is that we mainly use a W-2 workforce," Spin's community partnerships manager Shannon Dulaney told us. More than 60 employees, many hired through the Chicago Cook Workforce Partnership, will help Spin get its scooters on the streets, debuting a model with a slightly wider base (for additional stability) and a longer-running battery than last summer.
Learnings from the first Chicago scooter pilot: Chicago's initial scooter pilot went relatively smoothly, but sidewalk clutter was a frequent complaint from residents who quickly got fed up with pushing abandoned scooters out of the way on sidewalks. Dulaney thinks that the city's decision to require that scooters be locked to a bike rack or sign post at the end of each trip is a smart move that will keep walkways clear and make it easier for vendors to track down their scooters for cleaning and charging.
How it's confronting COVID: Spin continued operating in some cities during the pandemic, providing PPE to its entire workforce as well as time off and sick days so that anyone who felt unwell wasn't pressured to return to work—there have been no outbreaks among Spin staff thus far, according to Dulaney. Scooters are wiped down and sanitized whenever they're brought back to the warehouse, which is typically at least once a week.
Community-based initiatives: Spin reached out to more than 100 organizations throughout Chicago during its application process to promote its Spin Safe safety procedures. "Most of the time we deliver this information through in-person events... but we're really trying to transfer the safety content online," Dulaney said. Riders can take a quiz on Spin's website to get a $5 promo code (if they score 100 percent) and secure a discount on a helmet. Spin will also distribute helmets through community events organized by the Chicago Police Department and the Chicago Department of Transportation's Chicago's Safe Ambassadors program.
Pricing: $1 to unlock a scooter, with a per-minute cost TBD. Through August 18, Spin scooters will be free to unlock and $0.39 per minute. Individuals with limited income may be eligible for half-price rides through Spin Access.
Most popular on Time Out
- Lakeshore Drive-In brings live music to a parking lot near Adler Planetarium
- Access to downtown Chicago has been temporarily limited
- 6 takeaways from our first ride on a Divvy e-bike
- These 15 Chicago streets are open for outdoor dining
- These 5 Chicago lakefront restaurants reopen this week
- Local artists collaborated on this Black Lives Matter street mural in Uptown