The best rooftop restaurants in Chicago
When a view is just as important as the food and drinks, head to the best rooftop restaurants in Chicago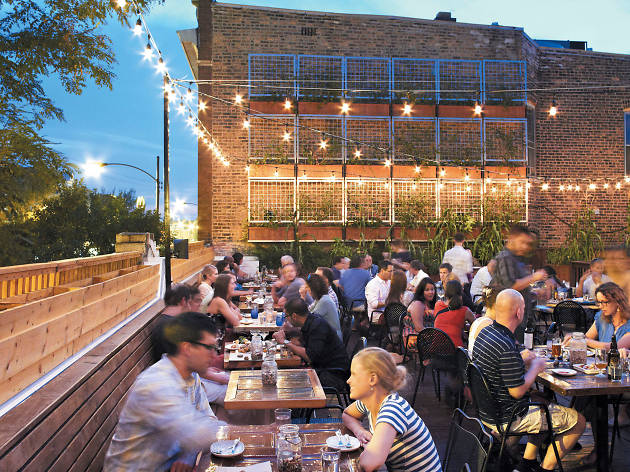 The best rooftop restaurants offer both great food and city views, whether you're gazing at views of the Chicago Loop or glimpses at neighborhood architecture. From one of the best Italian restaurants in the city to a spot for brunch in Chicago, here's where to head this summer.
RECOMMENDED: Beer gardens, rooftop bars and outdoor dining spots in Chicago
The best rooftop restaurants in Chicago
Seasonal fare and impeccable service are on deck at this River North spot that serves brunch, lunch and dinner. If the weather permits, ask for a seat on the huge rooftop patio, which is also equipped with a bar. A few of our favorite summer-ready treats include tuna crudo with avocado and mango, sweet and spicy eggplant, Bernie's BLT and s'mores made with butterscotch pudding and chocolate ganache.
Book now
Read more
There's no sweeter place to grab a bite to eat and soak up the sun than atop Stephanie Izard's West Loop diner, Little Goat. The second floor space is adorned with a glowing goat, so it's impossible to miss. If the deck isn't closed for a private event, head upstairs for burgers, snacks and cocktails.
Book now
Read more
Scott Harris's Taylor Street spot combines elements of the Purple Pig (a menu full of schmears and charcuterie) with the Italian sensibilities of his Mia Francesca's chain. There are a few fumbles on the menu, but mostly the dishes succeed due to their sheer decadence. Harris's best move: turning the roof into a cozy, 45-seat patio.
Book now
Read more
The restaurant seats hundreds of people, a good portion of them in a large, busy bar area and a sprawling (and surprisingly chic) roof deck. If you're wondering whether III Forks makes a decent Manhattan, the answer is yes, and the same goes for a 16-ounce USDA Prime New York strip, which arrives a perfect medium-rare.
Book now
Read more
If the name didn't tip you off, there's a terrace attached to this upscale Chinese restaurant and lounge (and a mighty nice rooftop one at that). Thanks to piped-in world music, loads of greenery and just the right amount of breeze, it might even fool you into believing you've made a tropical escape from the city. (Well, after a few lychee-vodka martinis or green tea mojito, it might.)
Book now
Read more
When you begin brunch by showing your ID at the door, you know you're in the right place for a Bloody Mary. Spicy and sweet, garnished with salami and completed with a beer back, it's practically a meal in itself. Don't let that distract you from the food, however. Breakfast tacos are a good way to spice up your egg intake. And the Spoke's signature "fatboy" burgers are thick, juicy and perfectly tender and served with fantastic fries.
Read more
Find more of the best rooftops in Chicago
Chicago has no shortage of awesome things to do in the summer—by which we mean drinking on rooftops with a great view of the city. But even if all you can see is surrounding buildings, these spots are worth a visit. From a cocktail bar to beer bars, here are our picks for the best rooftop bars in Chicago.
Read more